The Ins and Outs of the L.L.Bean Return Policy
If you want to return an L.L.Bean purchase but you've never made a return to that company—or at least not after the L.L.Bean return policy change—this guide is for you. Here, you can find up-to-date information about the L.L.Bean return policy, learn how to submit a return request, and get your money back in a flash!
The General L.L.Bean Return Policy
L.L.Beans allows you to return items within one year of purchase for a refund. After that time, any returns will undergo quality control and will be eligible for a refund only if the products are defective or poorly crafted.
All L.L.Bean returns require proof of purchase. In most cases, the company has a sales record that employees can use to look for their transactions when they request a return. You should still keep your receipt or order confirmation just in case, though.
Circumstances Under Which L.L.Bean Won't Accept Your Return
L.L.Bean's return policy is generous, but the company won't accept your return if your product is damaged by:
Misuse
Accident
Negligence
Natural disaster
Other reasons L.L.Bean might not consider your return and issue a refund are as follows:
The products are entirely functional, but you want to exchange them or get rid of them for personal reasons
You lost your items
The products are soiled or contaminated—you need to clean and decontaminate them before requesting a return
You're trying to return ammunition in store or by mail
The products require an import license
You're returning items with restricted import
Item labels are either unclear or missing
You abused the L.L.Bean return policy in the past
All the Ways You Can Request a Return From L.L.Bean
You can initiate a return with L.L.Bean:
In store
By mail
Using DoNotPay
L.L.Bean In-Store Returns
To return your items in L.L.Bean stores:
Prepare your items and proof of purchase
Visit the L.L.Bean location you purchased your item at
Ask an L.L.Bean staff member to initiate your return
Provide the necessary information to the staff member and wait for them to process your request
If you buy large indoor or outdoor furniture, you can only return it in person at the Davis Warehouse. If you need assistance, contact the Home Store at 1-877-755-2326 or L.L.Bean customer service at 800-341-4341. The address of the Davis Warehouse is:
Davis Warehouse
27 West St
Freeport, ME 04033
Return Your L.L.Bean Products by Mail
To return your L.L.Bean products by mail:
Complete the return form on the packing slip if you purchased your items online. If you're returning an in-store purchase:

Go to the Customer Service page
Find the return form
Download, print, and complete it

Pack your product and include the return form and proof of purchase
Use the UPS convenience label on your packing slip. If you don't have one, you can request one on the Customer Service page
Take your package to a UPS Drop Box, location, or driver to ship it
UPS will charge you a $6.50 shipping fee per return package.
Return Your Items to L.L.Bean Using DoNotPay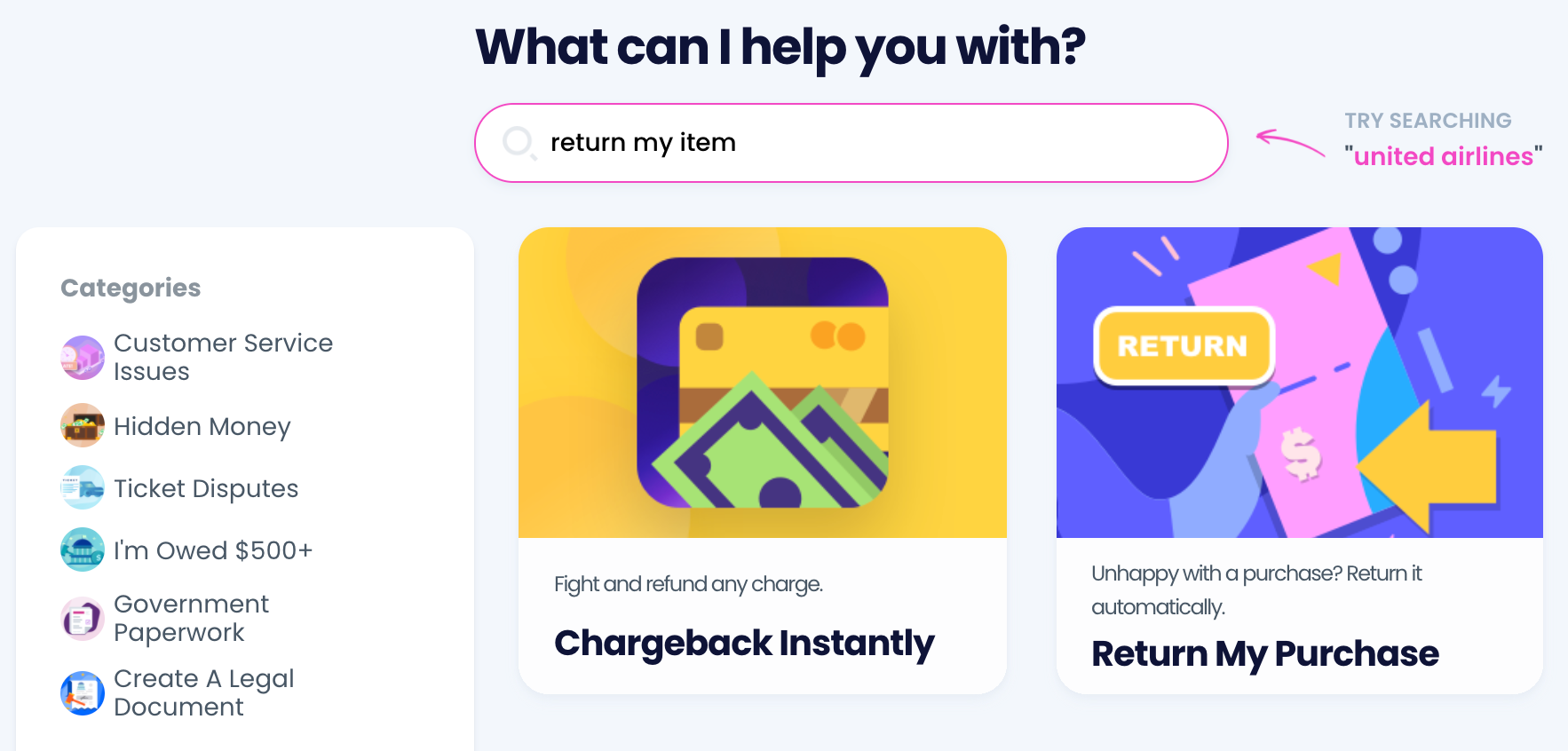 If you're unable to visit the exact location where you bought your products or you want to avoid shipping fees, DoNotPay can help you return your items to L.L.Bean for free—no stress involved!
To initiate a return request:
Locate and open the Item Return Request product
Answer some questions about your L.L.Bean purchase
Submit your request
We will include all the information you provided in a custom-generated return request letter and mail it to L.L.Bean. We will also provide a shipping label you can use to return your items for free!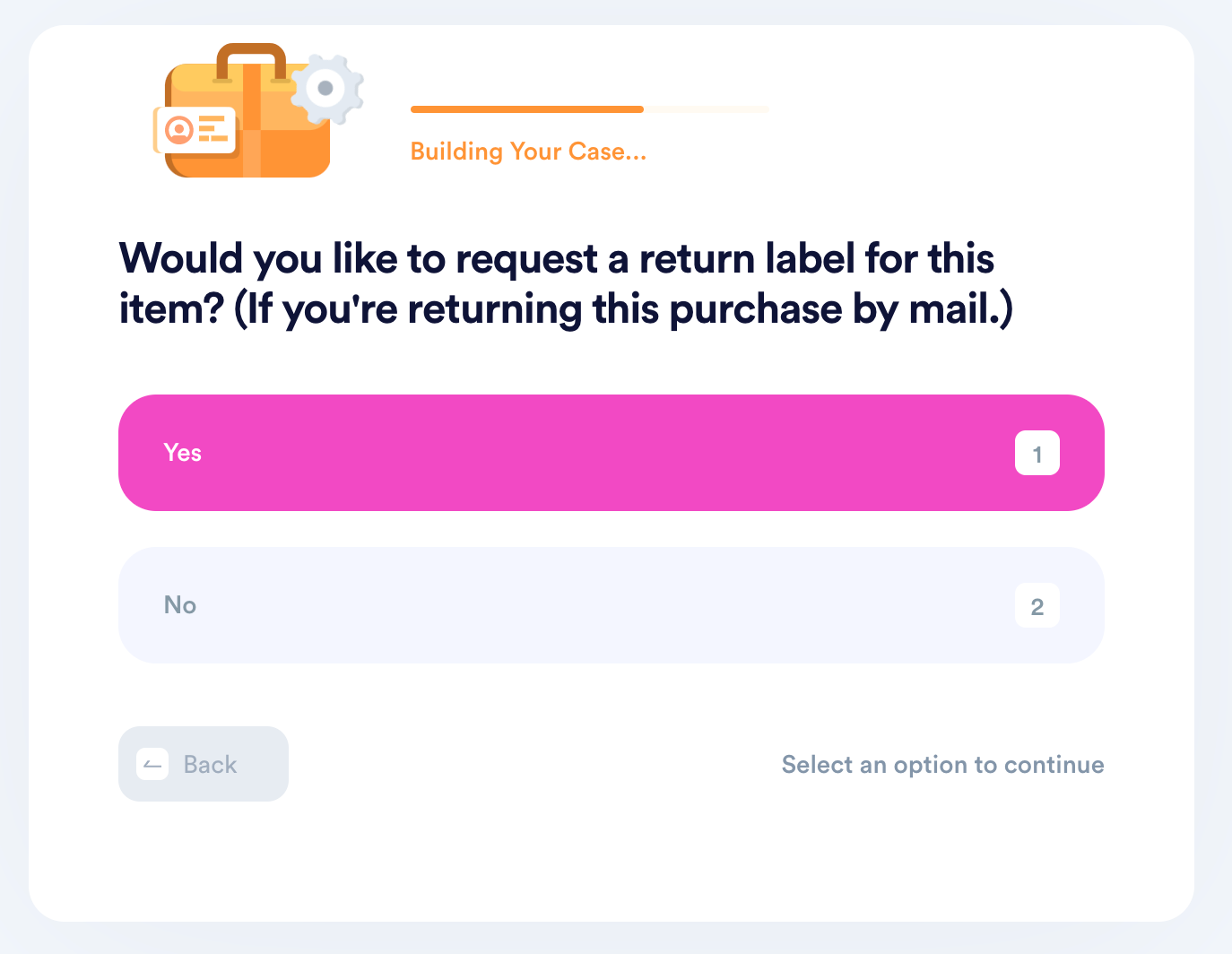 L.L.Bean isn't the only retailer we can help you with—check out other return policies we've explained:
When Will L.L.Bean Process My Return?
L.L.Bean staff members process in-store returns immediately, whereas shipped returns can take up to three weeks from the shipping date.
If L.L.Bean accepts your request, it will issue a refund to your original payment method. In-store returns you originally paid for using PayPal are eligible for refunds in the form of a gift card or cash. If you paid for your items using a gift card or Bean Bucks, L.L.Bean will issue your refund in the form of a gift card.
Has L.L.Bean Wronged You? You Can Sue It in Small Claims Court With DoNotPay
If L.L.Bean infringes on your consumer rights, you can sue the company in small claims court and get justice!
, and we'll help you:
Write and mail a demand letter
Fill out court forms
Gather all the required paperwork
File a complaint
Create a convincing script you should use at your hearing
Want To Save Money and Avoid Bad Purchases? Look No Further!
Aside from helping you send a return request to any company, DoNotPay can also assist you in getting a refund in a flash! We can also help you request a refund for any late, missing, or damaged delivery.
Do you want to stop wasting your money on useless services? Our app can help you cancel them and provide you with a virtual credit card that terminates free trials before companies get to charge you!
If you want to discover some forgotten assets you may have, we can help you find them in just a couple of minutes. With DoNotPay, you can both save money and earn it!
Once you sign up, you can report text and email spammers, annoying robocalls, and real-life stalkers and harassers and earn off them. We can also help you sue any company or individual in small claims court if you feel like they did you dirty.
Getting Rid of Bureaucratic Procedures Has Never Been Easier
The process of composing a return request letter is tiring, which is why you should turn to DoNotPay for help. Our app will assist you if you want to avoid similar bureaucratic hassles, such as:
Sign up for DoNotPay to utilize all of our nifty products!