Everything You Need To Know About the EVGA Return Policy
Buying hardware and other electronic devices can be risky since many stores offer warranties for their items, but many don't accept returns. Read on to find out what the EVGA return policy says about returning or exchanging products!
If you're having trouble navigating the return process on your own, you can use DoNotPay to initiate return requests effortlessly!
EVGA Return Policy—The Key Elements
The EVGA return policy says that you can return a product within 14 days of purchase. Here are the basics:
Products must be in good condition
You must acquire a Return Merchandise Authorisation to return an item
All products bought in a bundle must be returned even if you're unhappy with only one item
If you want to return multiple orders, you need to file return requests for each separately
How To Return an Item to EVGA on Your Own
To return an item to EVGA, you must do the following:
Log in to your EVGA account and register the product you want to return
Obtain a Return Merchandise Authorisation (RMA) ID
Fill out the form explaining why you want to return your order and input personal details
Submit the RMA
Wait for the RMA to be approved
Once you receive confirmation that your RMA is approved, you need to send the product to EVGA on your own.
You cannot initiate a return request without the product's serial number. If the item doesn't have one, you should contact customer service at 1-888-881-3842 or email them at support@evga.com.
What Should You Know About Bundle Returns?
Purchasing a product as part of a bundle is not the same as having multiple products in the same order. To clarify—if you:
Include two products in the same order, you can choose to return one and keep the other
Order two products as part of a bundle offer, you must return both, or you won't get a refund
Order two products a part of a bundle and add a separate product to the same order, you can choose to return one or the other
Requesting an Exchange From EVGA
EVGA offers their customers the opportunity to exchange defective products. To initiate an exchange request, you should follow the steps described above. Once you complete them, you can select one of the two options:
EVGA standard RMA
Cross shipping service
EVGA Standard RMA
If you choose the standard RMA option, you will need to send the defective items first. Once EVGA receives the parcel, they will process your replacement request in 1 to 3 business days.
EVGA Cross-Shipping Service
If you don't want to spend more than a week shipping and waiting for the replacement product, you can choose the EVGA cross shipping service. Your replacement will be sent out before the company receives the returned item.
You will be expected to pay the full replacement cost of the product the company is shipping. Once the company receives the product you sent back, they will inspect it. If it's free of defects, they will send you the full collateral in 7–10 business days.
Does EVGA Provide a Full Refund?
EVGA doesn't offer free shipping of products you want to return or exchange. In addition to shipping fees, you will also be required to pay for restocking the product. Here are the key details about EVGA's refund policy:
| Issue | Details |
| --- | --- |
| Amount of time taken to process refunds | 7–10 business days |
| Shipping fees | As indicated by the retailer |
| Restocking fees | 15% of the total amount |
Having Trouble Navigating the EVGA Returns? DoNotPay Has a Solution!
Does the EVGA return policy sound confusing and exhausting? DoNotPay offers a quick, hassle-free tool that makes initiating return requests easier!
The process only takes a few minutes if you do the following:
Log in to the app and navigate to the Return My Purchase product
Provide a few details about yourself and the product
Click Submit
DoNotPay will generate a custom return request letter and send it over to EVGA. We will include a processing request deadline to ensure a timely response. We will also provide you with a free shipping label, so you won't have to pay extra to send the product back!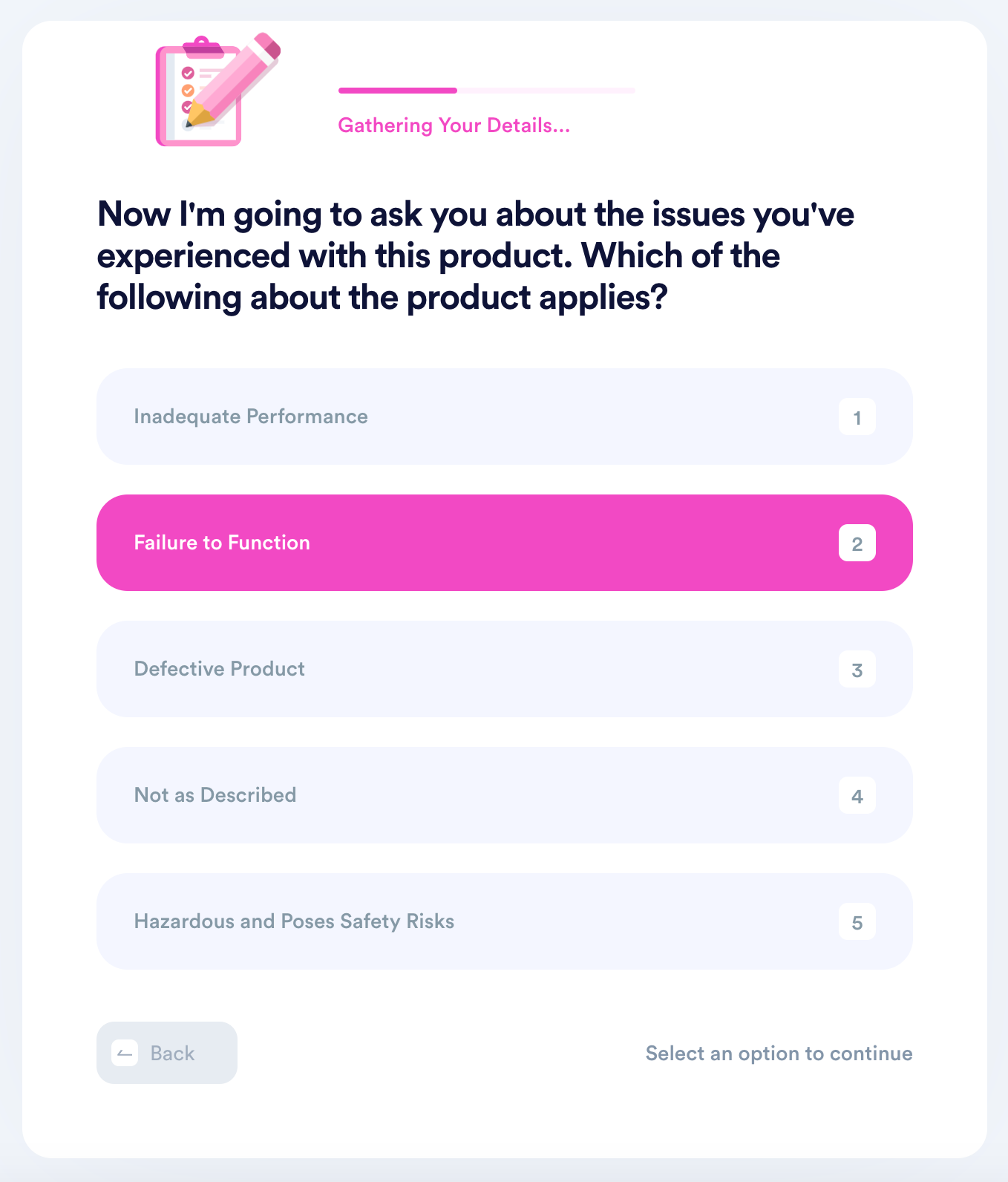 Want To Return Items to Other Retailers? We Can Help!
DoNotPay can help you return items quickly and efficiently to numerous retailers, including:
Demand a Refund Using DoNotPay
If EVGA refuses to provide you with a refund, enlist the world's first robot lawyer's help! Log in to DoNotPay and:
Locate the Chargeback Instantly product
Choose Get Protected
Answer a few questions, then click on Sign and Submit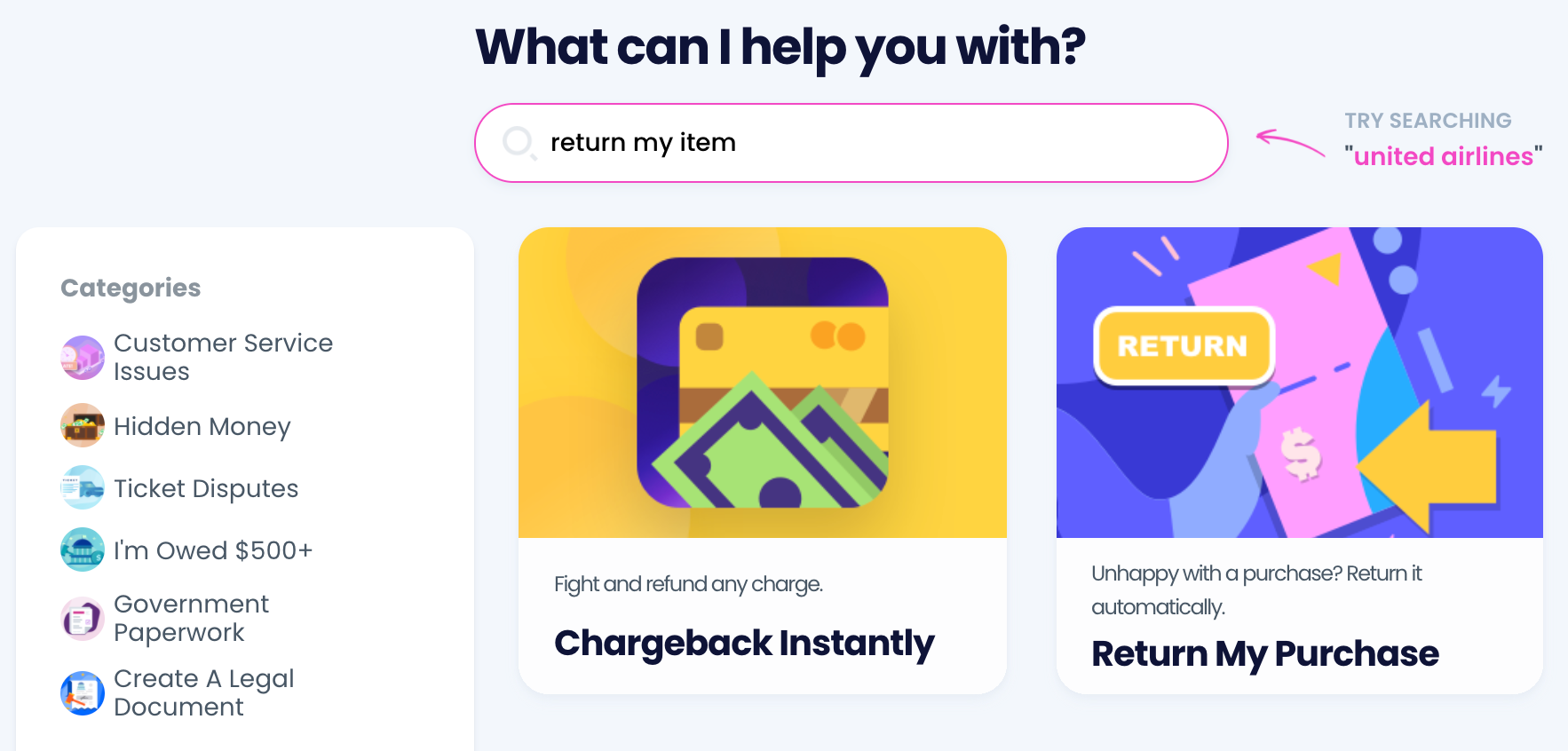 Sick of Dealing With Companies? We'll Take Over
Companies that don't respect your consumer rights are the reason why DoNotPay exists—our range of AI-powered products is here to help you fight for justice.
If you want to demand a refund for a rescheduled flight, cancel your free trial using our virtual credit card, sue any company or individual in small claims court, appeal your parking tickets, protect your work from copycats, claim warranty and insurance, rely on your AI-driven personal assistant.
Don't want to pay sky-high lawyer fees for simple legal tasks? You shouldn't—use DoNotPay to draw up any legal document, including a child travel consent form, divorce settlement agreement, power of attorney, and many more.
Complete All Tasks From the Comfort of Your Home
As soon as you subscribe to our versatile app, you'll be able to do all of the following without leaving your home: