Earned Sick Time for Employees Act in Illinois—All You Should Know
Each U.S. state has specific sick leave laws, but the Land of Lincoln has gone the extra mile by implementing the Illinois Employee Sick Leave Act (ESLA). This law was introduced in 2017 to help employers provide decent sick leave benefits to employees and their families.
If you reside and work in this state but aren't sure what the earned sick time for employees act of Illinois is about, this guide is everything you need! Discover all about this law, check what types of sick leave these rules mandate, and learn how to file a paid sick leave request in a jiffy by !
What Is the Illinois Employee Sick Leave Act?
The Illinois Employee Sick Leave Act (ESLA) obligates companies to grant employees the right to use a part of their sick leave time to care for their relatives. It's a state law that comes into effect only under specific employers' sick leave policies. The employees are allowed to use this benefit if they want to be there for their family members, including:
Children/stepchildren
Spouses
Parents
Stepparents
Siblings
Domestic/long-term partners
Parents-in-law
Grandchildren
Grandparents
While some employers are generous with sick leave time available for such situations, others propose certain limitations.
According to the ESLA, companies have the right to limit the number of sick leave days or hours for these purposes to the number of hours accrued within six months. For example, if an employee earns 40 hours of sick leave benefits, they can use 20 hours for taking care of a family member.
Chicago and Cook County are exempt from this rule, as the employees in this area can use up to 40 hours for these purposes.
What Type of Sick Leave Does the Illinois Sick Leave Law Offer?
Here's a table showing what type of sick leave the ESLA approves or doesn't approve:
Approved Sick Leave Reasons
Sick Leave Reasons That Are Not Approved

Illness or injury of a family member
Medical appointments of a family member
Personal care of a sick or injured relative/family member

Long-term disability
Short-term disability
Insurance policy
Other comparable reasons
If necessary or applicable, you can also check if you qualify for additional unpaid sick leave based on the Family and Medical Leave Act (FMLA) or the Emergency Paid Sick Leave Act.
What Is the 2021 Amendment Change in the Employee Sick Leave Act in Illinois?
The main difference between the old version and the amended one from 2021 is that personal care for a family member became a valid reason for sick leave. Before that, injuries, illnesses, and medical appointments of relatives were the only situations in which this type of leave was applicable.
Personal care involves:
Providing the necessary medical care to a person
Ensuring all nutritional and safety needs are met
Helping with the hygiene routine
Providing transportation for medical appointments
Offering emotional support
DoNotPay Helps You File a Sick Leave Request in Record Time!
Do you need to call in sick or get some time off to care about your loved one? There's no better way to handle this task than to let DoNotPay file a sick leave request on your behalf! You won't need to check state laws or directly communicate with the employer—our app will do all that for you.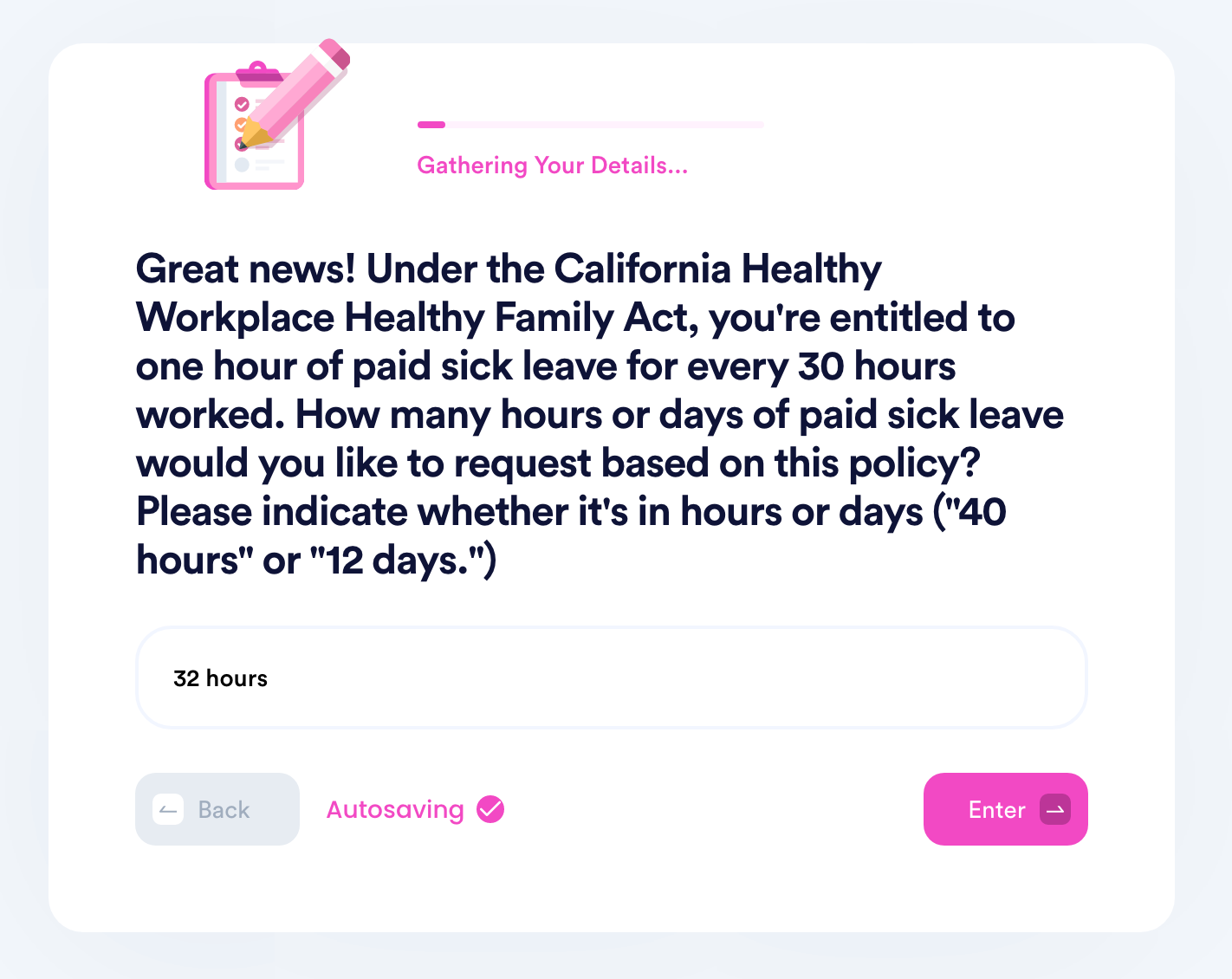 Here's how our service works:
and click on Request Sick Leave
Name the state your company is located in
Answer a few questions about your employment
Select the amount of time you want to use for sick leave
DoNotPay will generate a personalized request letter better than regular email sick leave requests in minutes! You can choose if you want to send it yourself or have our app do it!
We can also provide the necessary assistance with suing your company for firing you while being sick or forcing you to work in such a condition. Thanks to dozens of handy guides in our learning base, you can also discover what sick leave laws mandate in:
Get the Best Solutions for Everyday Tasks With Our App
DoNotPay has come up with multiple handy products whose purpose is to make your life simpler and more enjoyable! Don't hesitate to check out the features that will help you:
Complaints and Appeal Letters Have Never Been Easier To Draft With DoNotPay
Dissatisfied with a delivery? Use DoNotPay to file an item return request and get a refund from the merchant if the product didn't meet your expectations! We can also help you apply for a late delivery refund or help you claim your warranty or insurance if the product you purchased gets damaged or breaks down. Our multi-functional app also allows you to appeal potentially inaccurate property tax assessments, banned accounts, and seatbelt or parking tickets.
If you subscribe to our platform, you will have a chance to file anonymous HR complaints and prevent discrimination at work more effectively.