Chicago Paid Sick Leave Ordinance—All You Need To Know
To successfully request and go on paid sick leave, you must know how many days you can take per year. Besides companies' sick day rules, Chicago laws protect the citizens' rights to paid sick leave and stipulate the minimum amount that every employer must provide. This guide explains what the Chicago paid sick leave ordinance entails, how sick leave accrual works, and the easiest way to call in sick!
What Is the Chicago Paid Sick Leave Ordinance?
The Chicago paid sick leave ordinance regulates the accrual and use of paid sick leave for Chicagoans.
Check out the answers to some of the common questions regarding the Chicago paid sick leave ordinance:
Question
Answer
Who does the Chicago paid sick leave ordinance apply to?

Full-time workers
Part-time workers
Temporary workers

How much paid sick leave can employees get?
The ordinance mandates a minimum of five days (or 40 hours) of paid sick leave per year
How do employees accrue paid sick leave?
Employees earn one hour of paid sick leave per every 40 work hours. Accrual starts on day one, but employees are permitted to use sick leave only after working at least 80 hours in a 120 days
How much sick leave can employees use per year?

Up to 40 hours the first 12-month period
Up to 60 hours the second 12-month period (given that they have sick days from last year that rolled over to the next)

When can employees use paid sick leave?
Employees can use sick leave when:

They need medical care
They or their family member is a victim of domestic violence
Their place of business or their children's school or daycare has been closed due to a health hazard
They're ordered to stay home due to a health hazard
How To Make Use of the City of Chicago Paid Sick Leave Ordinance
You can call upon the Chicago paid sick leave ordinance and get time off when you need to. If your employer doesn't have a communication channel dedicated to personal matters and sick leave requests, you can call in sick via:
Phone
SMS
Are you insecure about calling or drafting a message for your employer, but you don't want to work while sick? With , you only need to provide the essential information about your sick leave, and our app does the rest!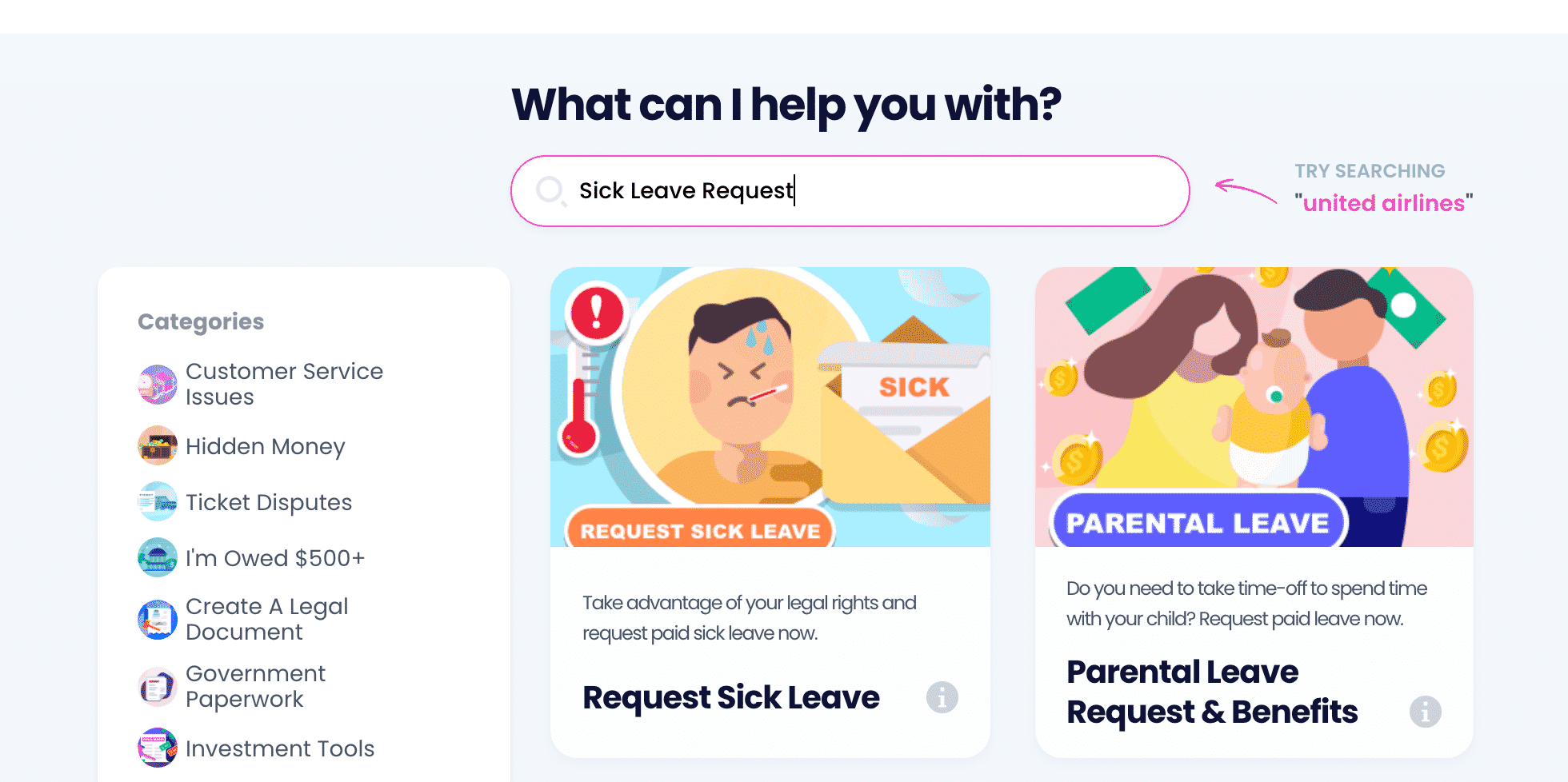 Request Sick Leave in Chicago in a Flash With DoNotPay!
Sending a sick leave request was never quicker and easier! Informing your boss about your leave takes minutes if you:
Navigate to the Request Sick Leave product
Answer a few short questions
Select whether you want the app to send the request to your employer or you (to bring it to work yourself)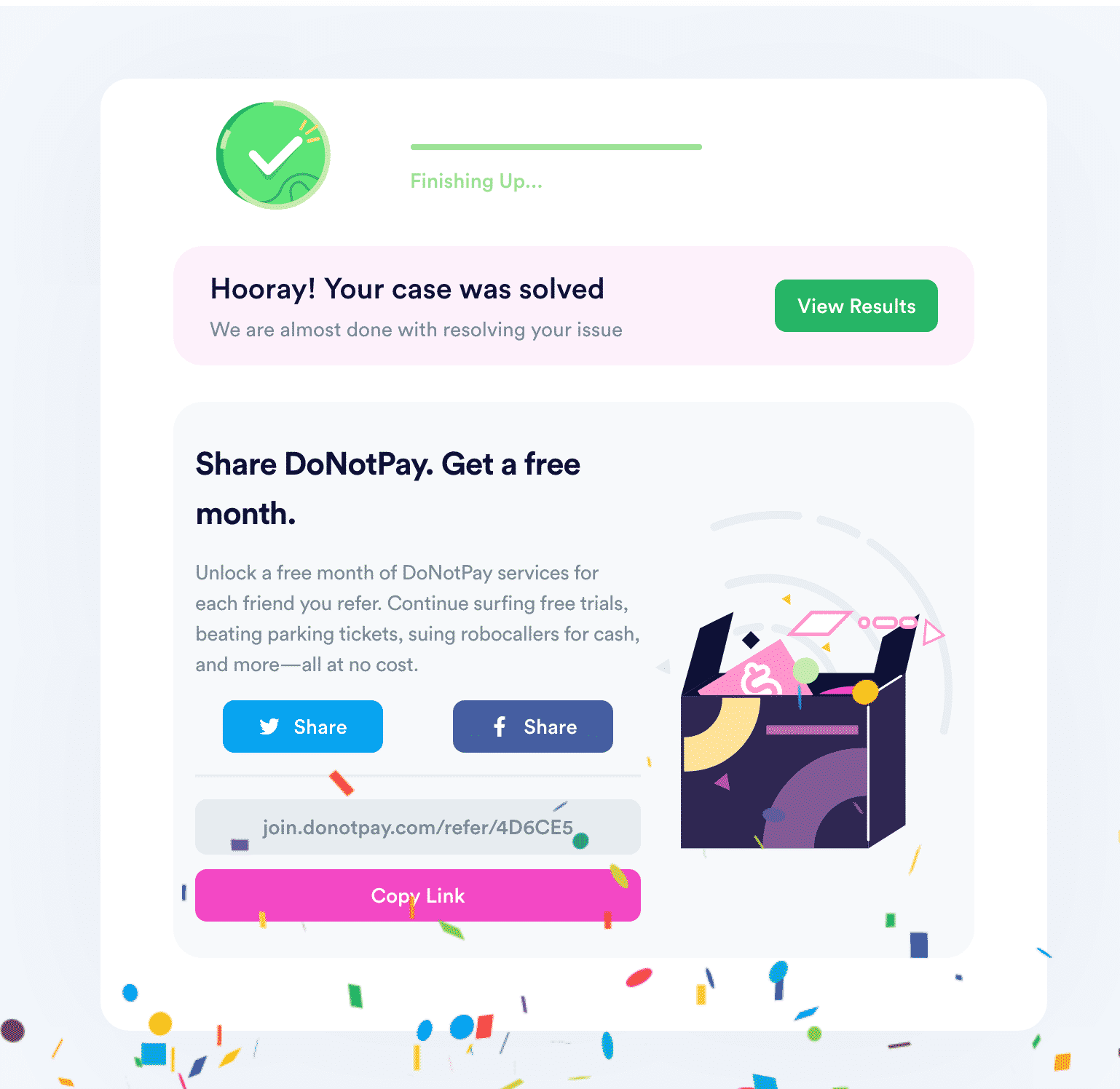 Don't know if you're entitled to sick leave? Our app researches the law for you! After you answer the first few questions, our app will have enough information to inform you about your sick leave rights.
Get the Gist of Sick Leave Laws
Did you know that many acts work in your favor besides the Chicago paid sick leave ordinance? Explore our knowledge base to find out:
DoNotPay Handles Lengthy and Challenging Tasks on Your Behalf
No time to dedicate yourself to drawn-out procedures or solve administrative issues yourself? Keep calm—that's why DoNotPay is here! By creating an account on our platform, you will be able to:
Convert various files into different formats
Keep the Cash in Your Pockets With Our App
DoNotPay doesn't bring you money-saving hacks—it actually assists you in cutting out expenses and living more economically. The tools we provide are made to help you pay less for utilities, end unwanted paid memberships, have college fees waived, or get lower tax bills. You can also save more on education-related costs by applying for scholarships and other financial aid via our app!
If you have a few forgotten gift cards lying around, don't let them go to waste. DoNotPay can cash them out and send the remaining funds to your home address!