Cook County Paid Sick Leave—Here's What You Should Know
If you've ever gotten sick in the middle of a workday, you've probably had to ask for a day off. The real question is whether that time off was paid or unpaid. This comprehensive guide will help you navigate the Cook County paid sick leave laws.
You can also to apply for sick leaves and fight unjust denials!
What Is the Cook County Earned Sick Leave Ordinance?
The Cook County Earned Sick Leave Ordinance states that all businesses in Cook County are required to provide paid time off for sick leave to their employees. This means your employer cannot legally force you to work if you are sick or avoid paying you in your absence.
The following rules apply:
To be eligible, an employee must have worked for their employer for at least 80 hours over a 120-day period
The sick leave hours are accrued on a pro-rata basis, starting from the first day of the year
Sick leave is counted on an hourly basis—if you take a day off, it counts as 24 hours
The total number of sick leave hours is capped at 40 hours a year
The exact rules of requesting sick leave may depend on your employer.
Cook County Ordinance for COVID-19
Cook County has passed laws to protect its residents from losing paid hours due to COVID-19 and COVID-19 vaccinations. Apart from being able to take paid time off if you are affected by COVID, you are also entitled to paid time off if you need to get vaccinated.
The following table provides more details in case you need time off for vaccination:
| Does Your Employer Require You To Get Vaccinated? | What To Expect |
| --- | --- |
| Yes | You can get up to four hours of pay per dose |
| No | You can use your paid sick or vacation days |
Paid Sick Leave in Chicago
The city of Chicago also requires employers to provide employees who have worked for at least 80 hours over a 120-day period with paid sick days. Employees who fall under these criteria accrue one hour of paid sick leave for every 40 hours they work.
State-Wise Sick Leave Laws
Chicago's paid sick leave laws are almost the same as those of the state of Illinois. In addition to the eligibility criteria, Illinois allows an employee to carry over 2.5 hours of yearly sick leave to the next year.
The laws are different in other U.S. states. Take a look at the table below for more information:
Why Do People Come to Work Sick?
Many people are reluctant to call in sick even if their employer provides paid leave days. This could be because an employee:
Has used up all their paid leave days
Wants to save paid days for future emergencies
Is afraid of upsetting their employer and getting fired
How To Request Sick Leave in Cook County
There are several ways to request sick leave in Cook County, and it depends entirely on the policies of your employer. You can apply for sick leave by:
Calling in
Sending an email
Filling out a form
Using DoNotPay
Applying for Sick Leave With DoNotPay
If you are having trouble requesting time off on your own, you can use the DoNotPay app to simplify and speed up the process. To do so:
Locate the Request Sick Leave product and provide some details about yourself
Enter the amount of time you would like to request off
We will generate a custom request letter on your behalf. You can also choose to email the letter directly to your employer from the app!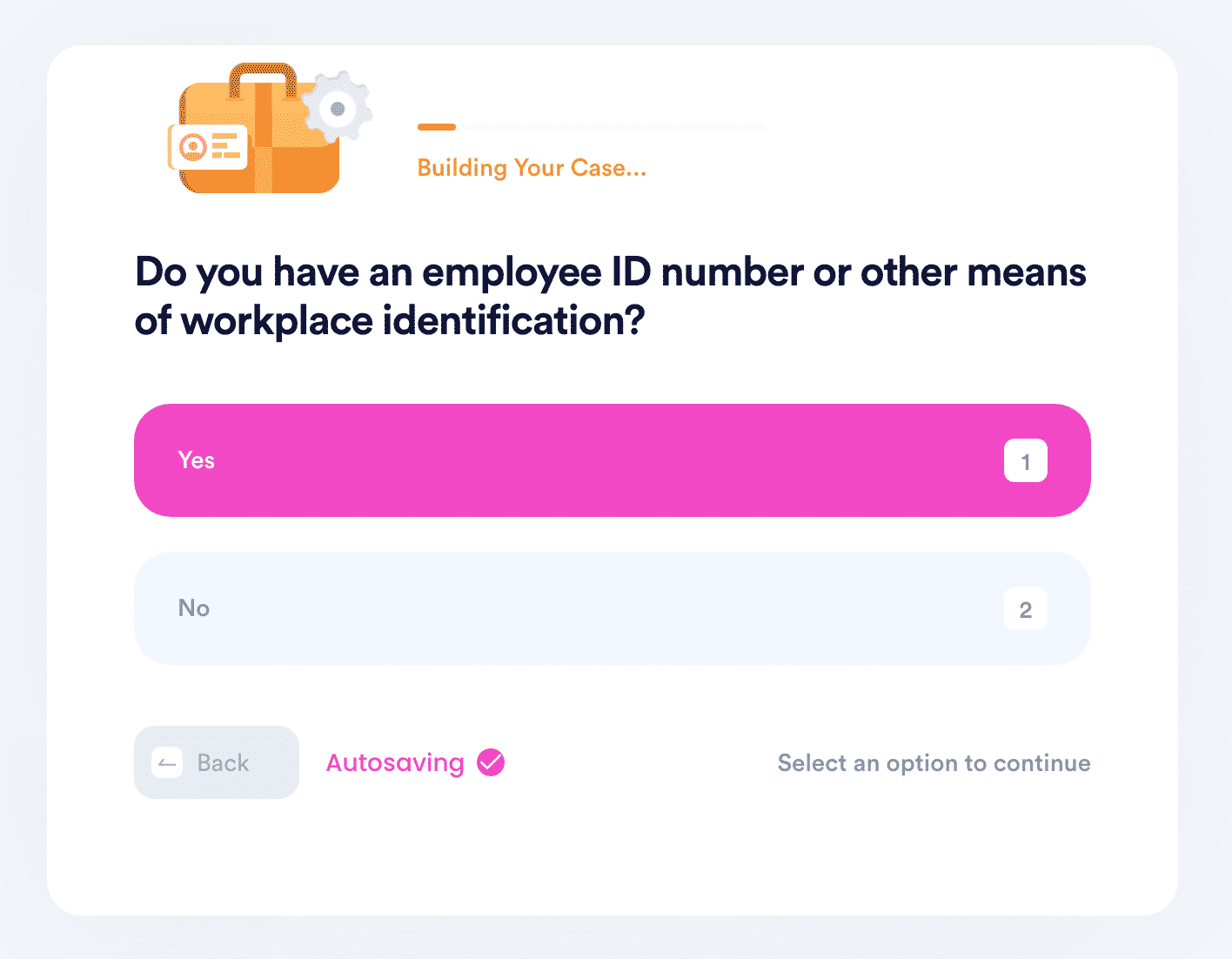 Our Platform Makes Your Life Simpler
DoNotPay offers a vast spectrum of life-changing services, including the ones listed below:
| Services | With Our App, You Can: |
| --- | --- |
| Eliminating spam and harassment | |
| Saving and getting more money | |
| Providing other useful services | Convert various files to other formats |
DoNotPay Helps You Get the Necessary Paperwork in a Heartbeat
Do you need to compose a power of attorney, revocable living trust, or a health care directive but don't know how? No worries—DoNotPay can do it for you! If you need comprehensive and valid legal documents tailored to your wishes and needs, there's no better way to get them than subscribing to our app!
We can also draft personalized FOIA requests, divorce agreements, homeschool notices of intent, and various complaints.