Become Familiar With Cornell Financial Aid Deadlines so You Can Apply in Time
Tuition at Cornell University can reach up to $76,997, which is no easy burden to handle. Fortunately, the school offers a generous amount of support to students who apply for it in time. Are you an aspiring Cornell University student that has no clue when to apply for the Ivy League school's financial aid program? Find out what the Cornell financial aid deadlines are so you can qualify for all types of aid and secure the greatest amount of support possible!
What Are the Most Important Cornell Financial Aid Deadlines?
Check the following table to find out when to apply for Cornell financial aid, depending on the student category you belong to:
Student Category
Deadline
First-year students

Early decision—November 21
Regular decision—February 15

Transfer students

Spring transfer—October 15
Fall transfer—March 15

International students

Early decision—November 16
Regular decision—January 2

Continuing students
March 1
How Much Financial Aid Can I Get From Cornell University if I Apply by the Deadlines?
The sooner you apply for financial aid, the greater are your chances of receiving a substantial award. To better understand the amount of aid you may be qualified to get, check out the average funds Cornell University disbursed during the 2020/2021 academic year:
48% of first-year students got an average financial aid package valued at $52,033 per student
1,517 incoming students received scholarships averaging $43,096 per student
537 incoming students were awarded grants averaging $6,810 per student
You can use the school's financial aid calculator to get a rough estimate of the amount of support you can get.
Missing the regular decision deadline can result in the school having no remaining funds for institutional awards. If you fail to submit your FAFSA by June 30, you will be ineligible for any financial aid for the following academic year.
Steps You Need To Take To Apply for Cornell Financial Aid
The financial aid application process at Cornell requires you to submit the following applications:
You must include the correct school code so that Cornell University accepts your financial aid application and sends you an award letter—001856 for FAFSA and 2098 for CSS Profile.
If necessary, you can also submit the following documents using IDOC:
Noncustodial Parent Waiver Petition
Tax Non-filer Statements
Who Can I Contact for Questions About the Cornell Financial Aid Application?
If you encounter any difficulties during the application process, you can reach the advisors at the Cornell University Financial Aid Office by:
Calling 607-255-5145
Sending an email to finaid@cornell.edu
Cornell Financial Aid—Deadline To File a Financial Aid Appeal
If Cornell University rejects your application or offers an insufficient amount of support, you can file an appeal. You can fill out a financial aid appeal application form or draw up an appeal letter explaining the circumstances that affect your and your family's financial situation.
Cornell University accepts appeals in case of:
Significant decrease in income because of a job change or loss
Incorrect income information stated in your financial aid application
Medical emergencies, natural disasters, and other unexpected life events
Tremendous family, medical, or educational expenses
Even though there is no guarantee that the University will increase its financial aid offer, the chances are higher if you submit your appeal by February 15.
To convince the Cornell Financial Aid Office to reconsider your application, you should include:
Reasons why Cornell is your first choice
A detailed description of your financial situation
The amount that would enable you to attend the University
Higher offers you received from other schools (if any)
If you don't know how to write a financial aid appeal letter, you can rely on our product to create one for you in minutes! to get your appeal letter on its way to Cornell University before the deadline!
Request More Financial Aid From Cornell University in a Flash With DoNotPay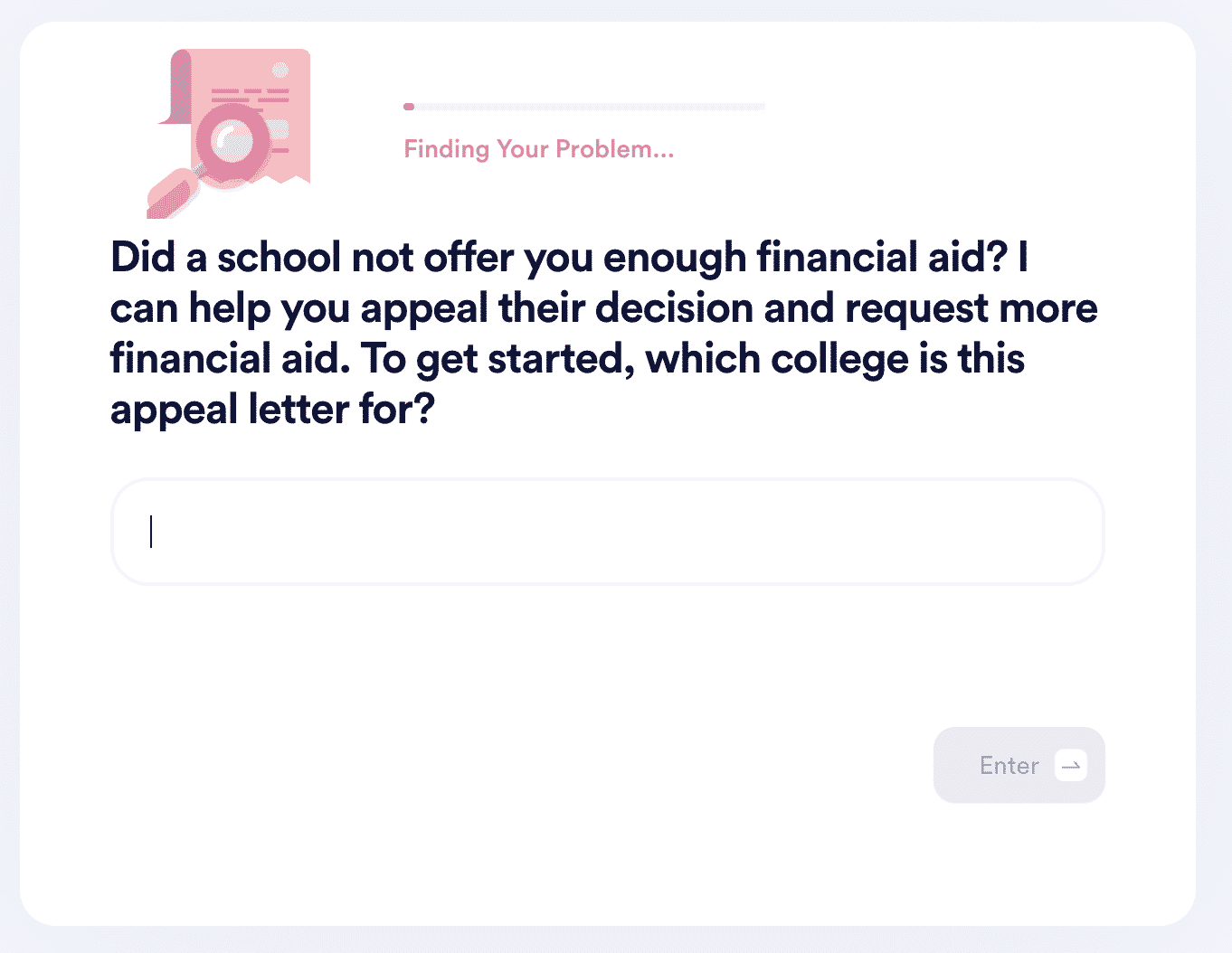 Why would you struggle with writing a convincing appeal letter by yourself when DoNotPay can do it for you? Follow these steps to request the financial aid you deserve:
through any web browser
Enter Appeal for More Financial Aid in the search bar
Answer a few questions about your financial situation
After you complete all steps, you can sit back while the app generates and sends your custom appeal letter to Cornell University with no effort on your part. We guarantee that Cornell University will contact you shortly after with a response!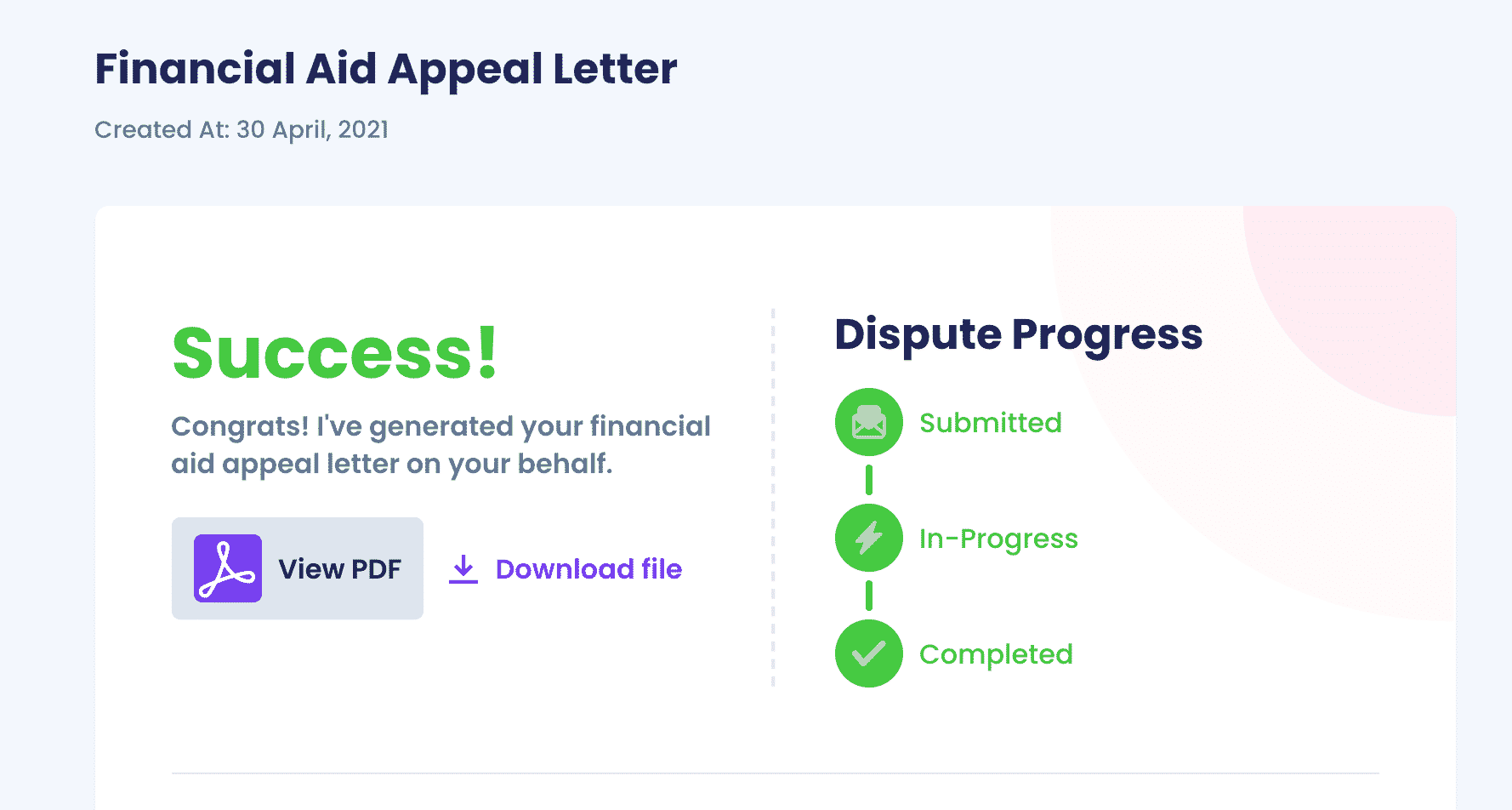 Make the Most of Our Learning Center and Explore Viable Alternatives to Cornell University
Our ever-growing learning center can answer all of your financial-aid-related questions, such as:
Did Cornell University not meet your financial needs? You can find an option that suits you better in the table below:
Solve Any Issues Like a Pro With DoNotPay
DoNotPay is an AI assistant that is able to solve almost all issues you're facing. Whether that be your noisy neighbors, the annoying text and email spam you're receiving, or the frustrating robocalls that won't leave you alone. We'll even cancel your unneeded subscriptions and get you a few extra bucks you've been cheated out of.
The world's first robot lawyer app can help you get:
DoNotPay Helps You Deal With Any Administrative Issue Effortlessly
Tedious administrative tasks are always headache-inducing, but they don't have to be if you use DoNotPay. With our AI-powered app, you will be able to: