Learn About Drexel Financial Aid and Reduce Your Tuition Cost
Drexel University offers numerous and diverse academic programs to undergraduate and graduate students, but the tuition and attendance costs—reaching $52,146—can be a dealbreaker to some.
Luckily, the Drexel financial aid program can help you overcome your financial hurdles.
In this article, DoNotPay will explain how much support you can expect and what the application process entails. We'll also help you if the financial aid office doesn't offer you enough aid!
What Types of Financial Aid Does Drexel University Offer?
Prospective Drexel University students can qualify for the following types of financial aid:
Grants and scholarships
Federal Work-Study program
Loans
Grants and scholarships don't have to be repaid and can be awarded based on merit or financial need. The Federal Work-Study program enables students to earn for their college education by providing them part-time jobs on- and off-campus. While loans have to be repaid after graduation, they can still provide significant financial relief to students struggling to cover their college expenses.
Drexel University Financial Aid—Grants and Scholarships
Check out all grants and scholarships Drexel University offers in the table below:
Category
Awards
Grants for undergraduate students

Drexel Grant
Federal Pell Grant
Federal Supplemental Educational Opportunity (SEOG) Grant
Pennsylvania Higher Education Assistance Association (PHEAA) Grants
State Scholarship Programs (Non-Pennsylvania)
The Fostering Independence Tuition Waiver Program

Scholarships for undergraduate students

Drexel Merit Scholarship
Westphal Portfolio Scholarship
Drexel Athletic Scholarships
Drexel Global Scholar Program
Drexel Legacy Scholarship
Drexel Liberty Scholars
Drexel Performing Arts Scholarships
Materials Summer Institute Scholarship
Phi Theta Kappa (PTK) Scholarship
ROTC Scholarships
Tuition Exchange Program
A Better Chance Scholarship
Delaware Valley Science Fair Winners Scholarships
Drexel Distinguished Service Scholarship
Eagles Fly for Leukemia Scholarship
Intel Science and Engineering Fair
Maguire Scholars College Program
Undergraduate Fellowship in Business Research

Grants for graduate students

Drexel Grad Grant
School of Education Teacher's Incentive Grant

Scholarships for graduate students

Drexel Dean's Fellowship
Drexel-Kaplan Graduate Degree Advantage Program
Teaching/Research/Graduate Assistant Awards
College of Arts and Sciences Dean's Doctoral Award
LeBow Alumni Merit Scholarship
LeBow Underrepresented Minority (URM) Scholarship
Noyce Scholarship Program
School of Education Teacher's Incentive Grant
Arthur L. Frank Endowed Scholarship
Dornsife Public Health Research Fellowship
Joseph C. Tringali Memorial Scholarship
The Marla J. Gold Endowed Scholarship for MD/MPH Students
Urban Health Collaborative Master's Fellowships
Teaching and Research Assistantships
City Year Partnership
Federal Work-Study Program at Drexel University
Drexel University participates in the Federal Work-Study program and offers its students on-campus employment opportunities. To find open spots and check the required qualifications, you can refer to the Federal Work-Study Positions page. After a department hires you, the Drexel Human Resources Office will send you all required New Hire Paperwork you need to submit before you start working.
Drexel University Financial Aid—Loans
Students can choose between the following loans to afford tuition at Drexel University:
Federal Direct Loans

Subsidized Loan
Unsubsidized Loan
Graduate PLUS Loan
Parent PLUS Loan

Private loans
How To Apply For Drexel Financial Aid
To apply for financial aid, Drexel University requires you to complete two forms:
The early action deadline for financial aid applications is November 15.
If you find any step of the application process confusing, you can reach the Drexel University Financial Aid Office by:
Completing the contact form
Calling 215-895-1600
Visiting any of the three Drexel campuses
Drexel Offered Me a Modest Financial Aid Sum—What Can I Do?
Depending on your student status, you can do the following:
DoNotPay helps students receive the maximum financial aid possible from their dream schools. Our handy feature will get your appeal letter ready and on its way to Drexel University in no time!
Use DoNotPay To Request More Aid From Drexel University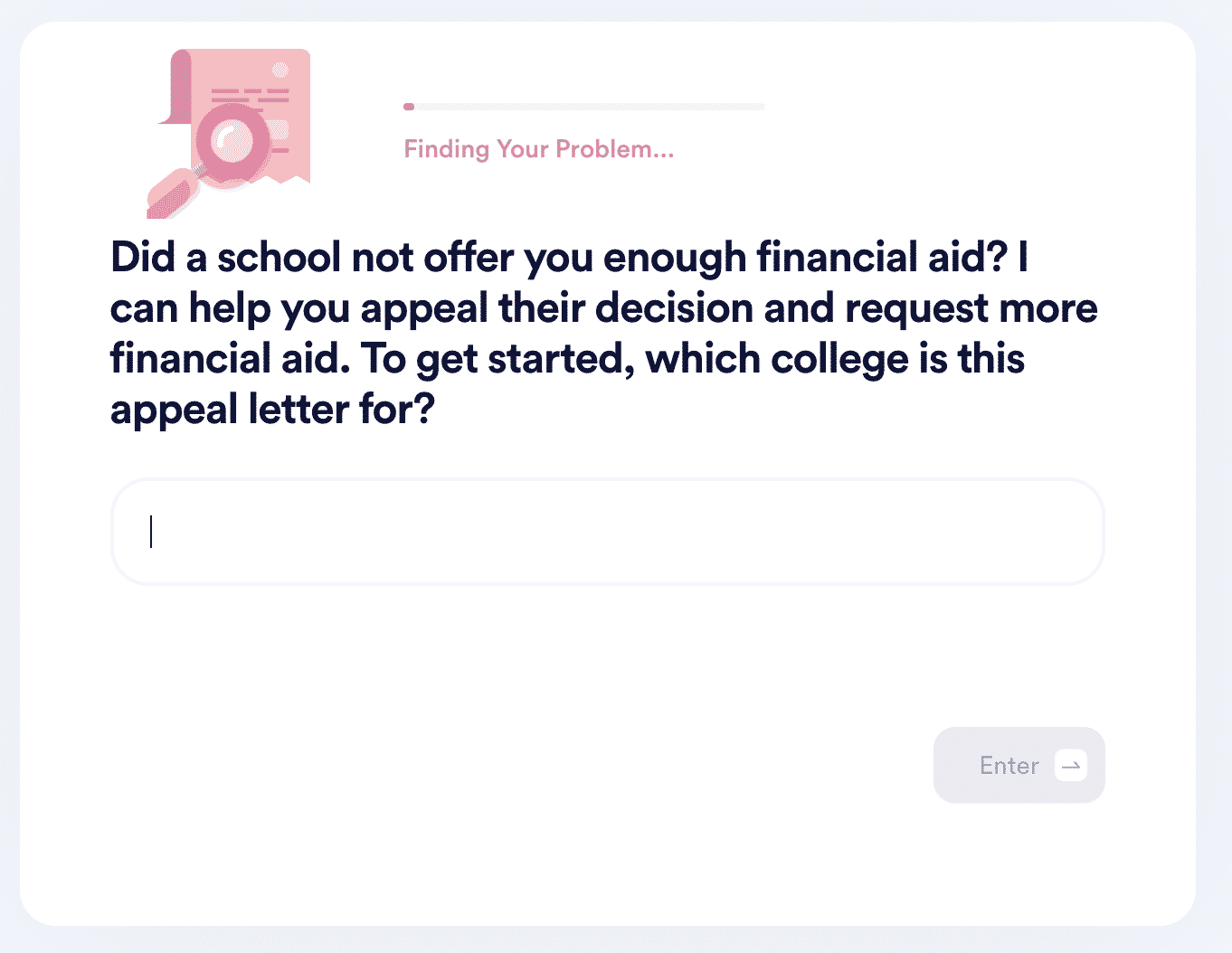 DoNotPay can generate a convincing appeal letter and send it to Drexel University in a matter of moments! Appeal the University's decision in three simple steps:
Search for Appeal for More Financial Aid
Provide information about your financial circumstances
Once we send the letter, you can expect the university to contact you regarding your financial award as soon as possible!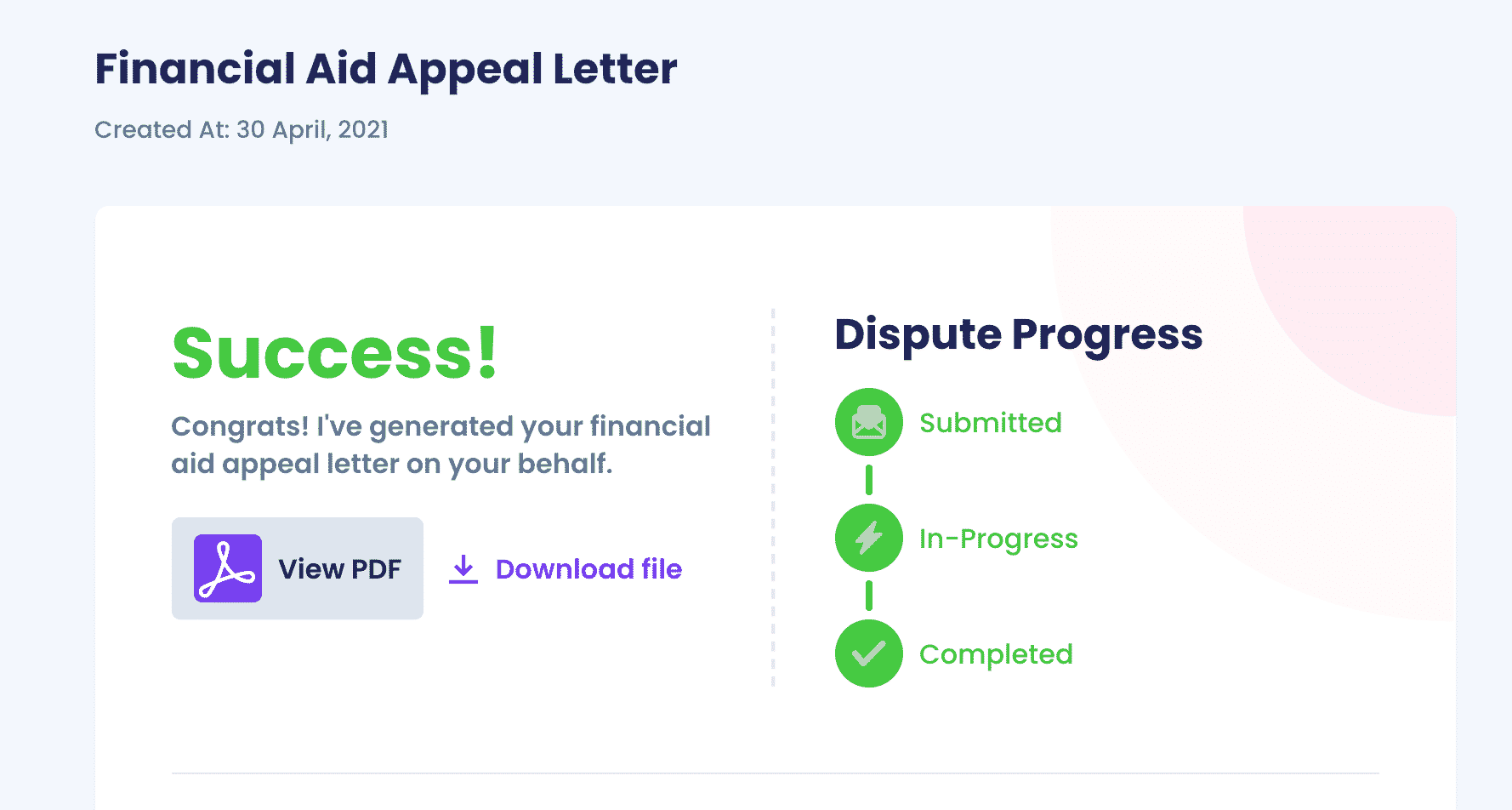 Our comprehensive knowledge base can provide more info about financial aid, such as how long you can receive financial aid, whether independent students get more aid, and when you can expect your financial aid award letter.
Alternatives to Drexel University
If Drexel University doesn't offer you enough financial assistance, you can always explore other, more generous options. We hand-picked a few for you in the table below to help you get started:
Solve All of Your Bureaucratic Issues With DoNotPay
Do you need to file an insurance or warranty claim? Need help with setting up DMV appointments or appealing parking tickets around the U.S.? Don't worry because your AI-based helper can step in!
We can help you get professional powers of attorney and divorce agreements, so you don't have to waste money on expensive lawyers! Once we draw up these documents for you, we'll set you up with an online notary, and you can get them notarized in no time!
Subscribe to Various Services Hassle-Free With DoNotPay
Did you ever get charged by a subscription service after using their free trial? DoNotPay can put a stop to that once and for all! We can get you a virtual credit card or a burner phone number, which you can then use to subscribe to any service stress-free! When you want to cancel a subscription, turn to your virtual assistant for help, and we'll do it for you in seconds!
If the company is giving you a headache, we'll hook you up with their customer support or even sue them in small claims court. Possibilities with DoNotPay are endless!
DoNotPay can also turn mailing into a piece of cake and save your inbox from email and text spam!