Everything You Should Know About the College Bound Scholarship
Parents of many middle school students save up for their child's college funds, but the rising education costs can be a nagging cause of concern for them. The pandemic-triggered economic slump has only amplified parents' worries—almost 70% of U.S. parents fear they may not be able to afford their child's college tuition in the coming years.
If you are a parent looking into the future college financial aid options for your middle-schooler, the College Bound Scholarship (CBS) is your answer! DoNotPay is here to provide updated info about the CBS program.
What Is the College Bound Scholarship Program?
The College Bound Scholarship program is an early college scholarship commitment made by Washington State to middle school students in seventh and eighth grade. Eligible students enrolled in this program stand to receive the scholarship benefits after:
Graduating from a Washington State

high school

or a recognized homeschool program as per CBS guidelines
Getting accepted by one of the 60+ colleges approved by CBS
The program is managed by Washington Student Achievement Council (WSAC) that makes decisions on:
Who can qualify for the Washington State College Bound Scholarship
What amount is offered to each student
Which colleges should be approved for CBS purposes
The College Bound Scholarship Requirements Explained
Being a delayed benefit program, the CBS lists out different eligibility requirements for two phases:
Enrolment eligibility
Post-high school eligibility
The College Bound Scholarship—Enrolment Eligibility
If you're a parent looking to enroll your kid in a CBS program, one of the requirements your family has to meet is receive food or living expenses benefits from the state. It should also be classified as a low-income family as per Temporary Assistance for Needy Families (TANF), and have a total family income equal to or below the amount mentioned in this table:
| Family Size | Gross Annual Family Income |
| --- | --- |
| One | $32,500 |
| Two | $43,000 |
| Three | $53,000 |
| Four | $63,000 |
| Five | $73,000 |
| Six | $83,000 |
| Seven | $85,000 |
| Eight | $87,000 |
| Nine | $88,500 |
| Ten | $90,000 |
Students in foster care or those dependent on the state can be added to the program automatically by a school's financial aid consultant.
Once a student is enrolled in the College Bound Scholarship program in middle school, they'll receive a confirmation certificate via email provided in the application form. Most students get further emails about program updates throughout high school.
Post-High School Eligibility for the College Bound Scholarship, Washington
To qualify for the College Bound Scholarship after high school, a student should:
Graduate with a cumulative GPA of 2.00 or higher
Be a model student free from any felony convictions
File the following forms in their junior or

senior year of high school

:
Get admitted to an eligible college within one year after graduation
Meet Washington State residency requirements—the state has different residency rules for legal immigrants,

tribal members

,

undocumented students

,

veterans

, and

military service

members and their families
Remember that the above-listed requirements are not absolute and that the WSAC may modify the eligibility criteria every year.
Use DoNotPay To Check if You Qualify for Any Scholarship
If you hate keeping track of the changing eligibility rules for scholarships, to handle the task for you!
Our app's Apply for Scholarships tool lets you search for scholarships as per your unique student details—like your grades, minority background, household income, disability status, and athletic and academic interests.
We will use your data to check which latest scholarships you qualify for in the U.S. (including those issued by the College Bound Scholarship program). You'll be able to browse through your personalized list of attainable scholarships in less than five minutes!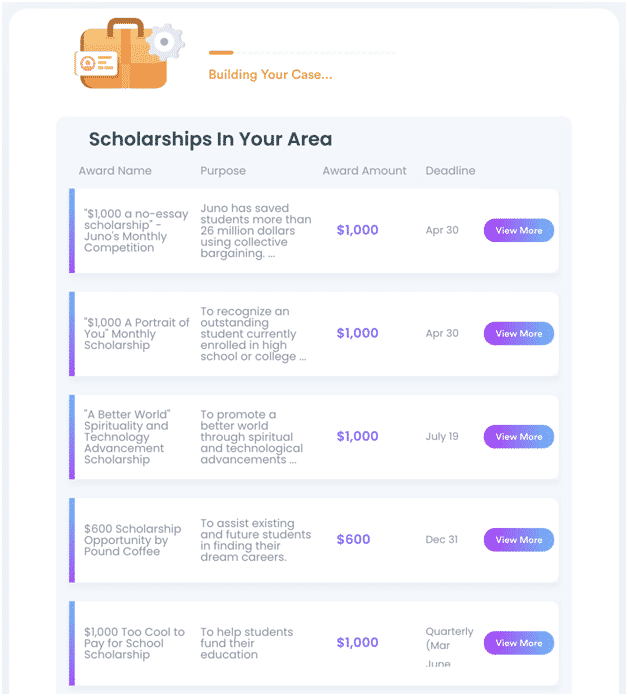 What Is the College Bound Scholarship Amount?
Once you fulfill the post-high school eligibility requirements, you'll receive a scholarship or grant for:
Part of the full tuition fee amount, depending on whether you're a full-time or a part-time student
An allowance for books split throughout your

freshman

,

sophomore

,

junior

, and senior years
Other auxiliary fees for undergraduates
Refer to the table below to see the maximum yearly financial aid amount that CBS offers to different institutions (updated 2021):
| Institution | Maximum Award Per Student |
| --- | --- |
| Technical, vocational, or community college | $4,719 |
| Western Governors University (WGU) | $6,280 |
| Public comprehensive university | $7,881 |
| Public research university | $11,540 |
| Four-year private college or university | $11,904 |
Where To Find the College Bound Scholarship College List?
At present, a total of 68 colleges participate in different scholarship and grant schemes monitored by the state of Washington. Here are a few examples:
Washington State University
City University of Seattle
DigiPen Institute of Technology
Northwest College of

Art and Design

Seattle Film Institute
Evergreen

Beauty

College-Everett/Renton
International Air & Hospitality Academy
Many of these institutions also offer grad school and doctoral scholarships after you finish college, provided you have a good resume and top-notch recommendation letters.
The College Bound Scholarship in Washington State—Drawbacks
The College Bound Scholarship program is often criticized for the following reasons:
Failing to provide continuous support—Once you start receiving college benefits, the WSAC officers may pick your family for income verification. If your family income is higher than the maximum qualifying amount in any year, you won't receive any financial assistance for that year
Ignoring demographic groups—The CBS program doesn't specifically offer financial assistance to struggling or underrepresented demographic groups—like women, black women, transgender people,

Hispanics

, Jews, adult learners, international students, etc.
Offering insufficient aid—All College Bound scholarships are offered at U.S. public school rates, so they don't cover complete education expenses in private institutions
The CBS program can be both unreliable and inadequate, so many students apply for several other scholarships to reap maximum financial rewards.
Use DoNotPay To Apply for Multiple Scholarships at Once!
From checking eligibility to sending application emails—applying for scholarships can be a pain in the neck. DoNotPay simplifies the whole process for you by helping you apply for no-essay scholarships directly through our app!
DoNotPay's Apply for Scholarships product creates a list of all scholarships without an essay task (only the ones that fit your student profile). You can browse through the list, select the ones you like, and we'll apply for them automatically on your behalf.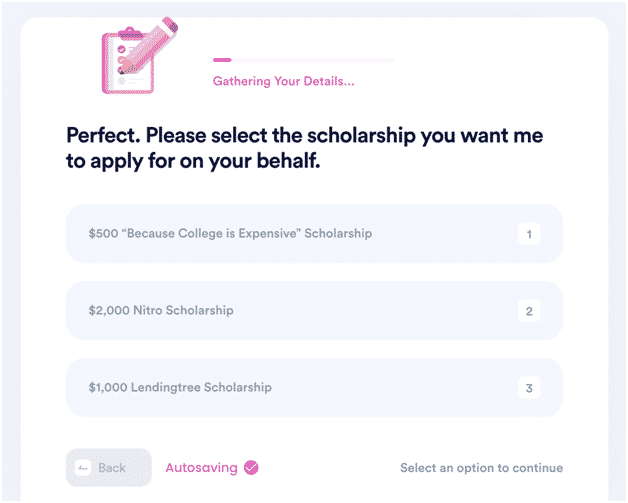 This is what you need to do to use our services:
account and click on Apply for Scholarships
Complete the questionnaire
Choose if your want to find or apply for scholarships
Use our app every week to apply for the maximum number of scholarships!
What's Next?
Once you complete the task at hand, you don't have to stop there—we offer a myriad of products that can relieve you of the stress that comes with dealing with admin and legal hurdles.
DoNotPay can assist you in drawing up a divorce settlement agreement, child travel consent form, power of attorney, and other legal documents, contacting government representatives, getting tourist visas, fighting workplace discrimination, getting a burner number, appealing banned accounts, getting access to public records, scheduling a DMV appointment, and much more.
Tackle Any Energy-Draining Task With DoNotPay
With DoNotPay by your side, you don't have to worry about how you'll cover your utility bills at the end of the month—we'll provide swift assistance as soon as you sign up!
Wondering what else our app is capable of? Check out how we can: