Scholarships for 8th Grade and Middle School Levels Deciphered
When speaking of school awards, most people refer to college and scholarships for high school seniors, but scholarships for 8th grade students and other middle schoolers are also available and can come in handy.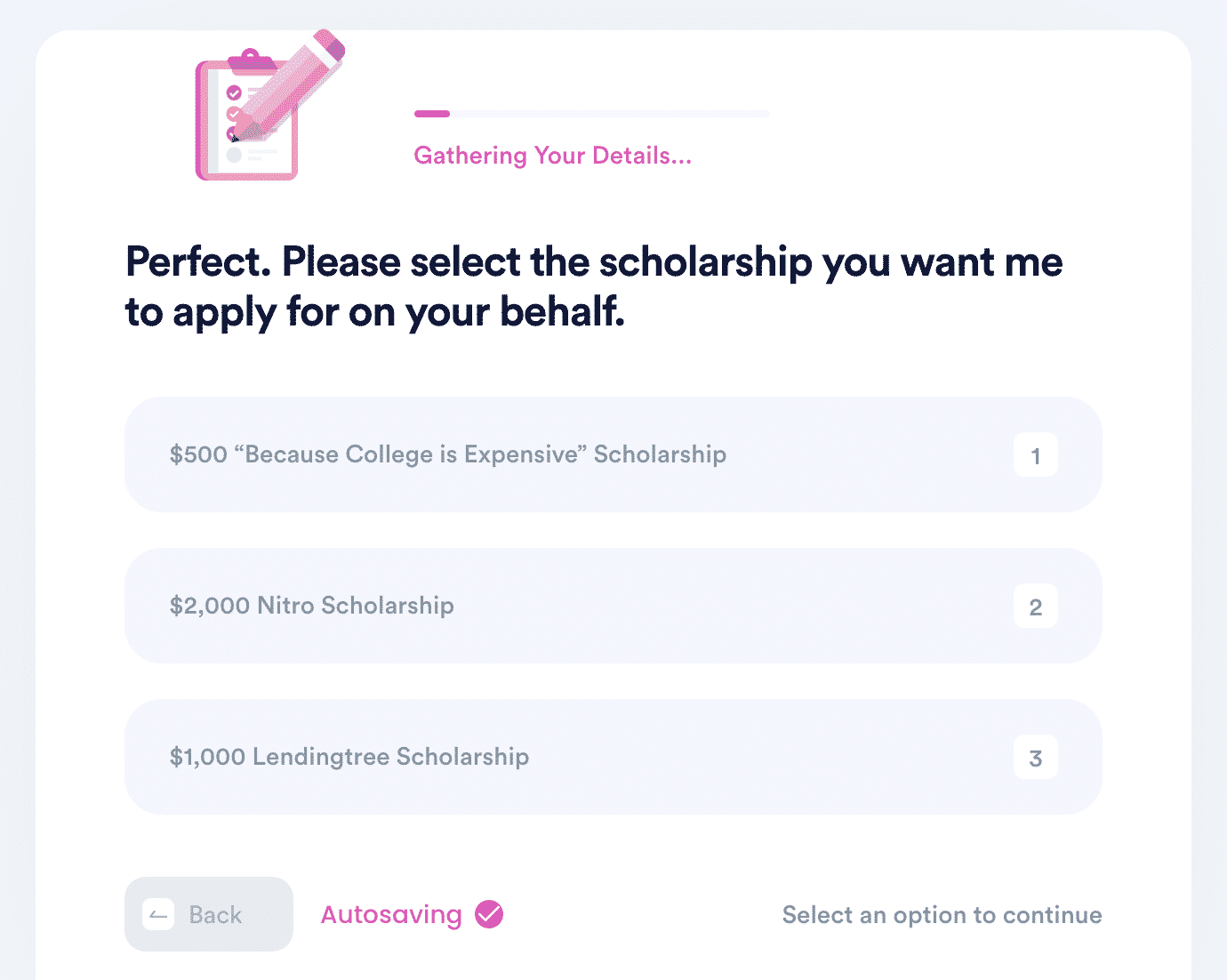 It is also wise to start looking for scholarships and grants early to benefit from more options and build up a college fund on time. Many families need more time to collect money, so consider applying as soon as possible. Scholarships for middle schoolers are awarded based on their performances and are meant to prepare future graduates for college application procedures.
Who Qualifies for Scholarships for 8th Grade?
Scholarships for eighth-graders and other middle school students are aplenty if you know where to look. They cater to various student categories, some of which are:
Young filmmakers
Prospective artists
Nature enthusiasts
Candidates inclined toward geography
Students that excel in maths, technology, literature, performing arts, etc.
The application procedures and eligibility requirements differ, so you should do thorough research before applying for a scholarship. Note that most scholarships for middle school are funded independently, and their purpose is to reward high-performing students and those taking extracurricular activities.
Benefits you can enjoy aren't only financial. You also get a glimpse of a highly competitive college application environment.
Scholarship for Middle School Students—Requirements and Benefits
The requirements you must meet to qualify for a middle school scholarship depend on the program. Some of them may be gender-specific (available to young female students only, for example). Depending on the scholarship you apply for, you may need to meet other criteria:
Oblige to enroll in an accredited post-secondary higher education institution
Write a letter to elaborate on a specific topic
State which hero you would like to become for one day and explain why
Conduct an experiment and disclose photos
Prove originality, out-of-the-box thinking, or technical skills
The application deadlines and amounts vary, depending on:
The age of the eligible students
The organization offering the funds
How demanding the overall application procedure is
Whether an essay is mandatory for the application or not, etc.
The awarded amount may range anywhere from a few hundred up to $100,000. Since online research requires time and effort, use DoNotPay to find scholarships filtered to your specific qualities.
Make Me Laugh
Make Me Laugh Scholarship is available to candidates who are at least 13 years old. They must reside in the U.S. legally and enroll in an accredited post-secondary higher education institution if they accept the award.
To apply for financial aid of $1.500, you must submit a 250-word essay. The deadline is usually in late summer.
Patriot's Pen Essay Contests
Students from 6th to 8th grades are eligible for this scholarship whose total worth is over $50.000. State winners get a minimum of $500 each, while the national winner receives $5.000 and a paid trip to Washington, D.C. The application deadline is usually around mid-fall.
Shout It Out Scholarship
Shout It Out scholarship is open to future community or college students enrolled no later than 2025. The candidates must be at least 13. They must submit a 250-word essay. The application deadline is usually in early fall, and the winner gets $1.500.
DoNotPay Can Help You Find Scholarships You Qualify For
With numerous scholarships available, your search for the right one can go on forever. You might even miss the ones that would be most beneficial. The eligibility criteria tend to be presented in a confusing way—so we will explain the terms in plain English.
Keep in mind that you may need a letter of recommendation to apply and that you should focus on awards for international students if you are not a U.S. citizen. To avoid inconveniences and get personalized results in the blink of an eye, subscribe to DoNotPay.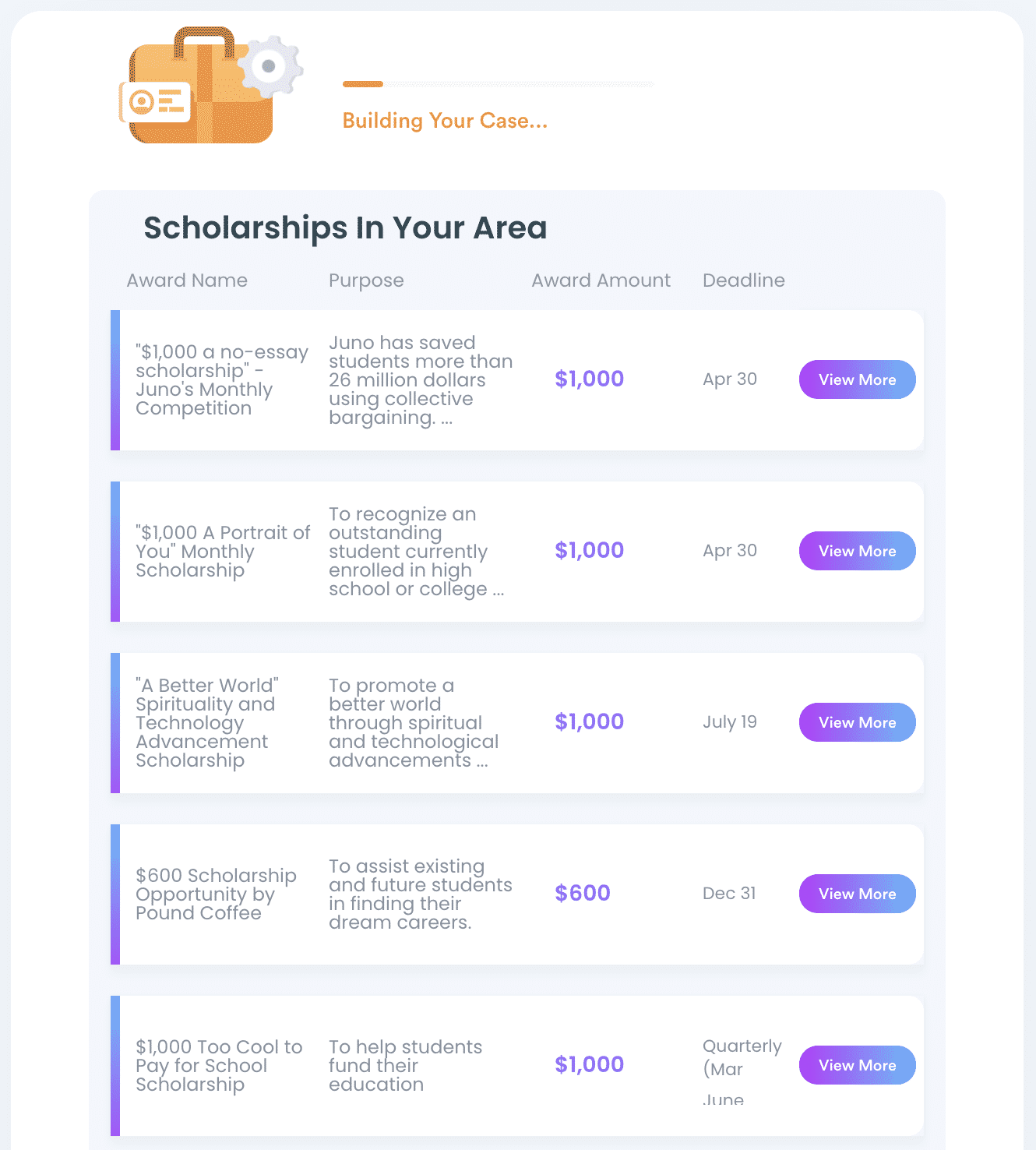 You should answer our questions about your:
Residency
Career goals
Educational level
Academic interests
Any special qualifications, such as the veteran status, etc.
Once you submit your answers, DoNotPay will list options you qualify for in a few minutes. That way, you will never miss out on scholarships perfectly matching your interests and qualifications. Our help doesn't end there because you can authorize DoNotPay to apply for no-essay scholarships on your behalf.
To benefit from our convenient and efficient assistance, complete the following steps:
Access DoNotPay and navigate to Scholarships
Opt for Apply for Scholarships
Select your preferred level of study
Answer questions to get personalized information
Refer to the following table for an overview of advantages DoNotPay offers compared to online search:
Scholarship Research Method
Main Features
DoNotPay

The process lasts several minutes
You get personalized results corresponding to your interests and background

Online search

Searching the web can take you weeks
You cannot know if you shortlisted the most beneficial scholarships
Save Time With DoNotPay
DoNotPay is not done helping you! We offer you assistance in completing a variety of tasks quickly and efficiently, such as:
Canceling Subscriptions Has Never Been Easier!
If you keep getting charged a monthly subscription fee even though you no longer want to use a certain service, don't let your money go to waste! Some companies tend to renew your subscription automatically, but that doesn't mean you have to put up with it—use our app to terminate your membership or subscription in a few clicks!
Do you want to sign up for free trials and create a virtual credit card or a burner phone number to protect your sensitive info? Once you subscribe to DoNotPay, we will walk you through the process of doing all of the above in no time!
You can also count on our assistance if you need to get rid of spam or robocalls.