How To Find and Apply for University of Washington Scholarships
There are numerous scholarships and grants for University of Washington students. You just need to find the ones that you are eligible for and apply.
We have prepared this guide to help you pin down and apply for all the University of Washington scholarships without wasting time.
Types of Scholarships at the University of Washington
UW offers different scholarship opportunities depending on the campus where you are studying—University of Washington-Seattle scholarships are not the same as those offered to students on Bothell or Tacoma campuses.
These are the types of scholarships meant for undergraduate students:
Out-of-state scholarships
Resident freshman scholarships
Transfer scholarships
Academic departments scholarships
Campus specific scholarships
University of Washington Out-of-State Scholarships
Although most scholarships at the university are open to Washington state residents, a few are available for out-of-state students. Here are some examples:
The Purple and Gold Scholarship—This merit-based program assists students who plan to attend the UW Seattle campus
UW Honors Program
Resident Freshman Scholarships
The following scholarships are available to freshmen who are Washington state residents:
Presidential Scholarship—a $10,000 award renewable every year. Washington state residents are considered automatically for this award upon application for admission
UW Diversity Scholarship—$10,000 per academic year for students with good grades and strong financial need. This program is for applicants from underserved communities, such as minority students, first-generation college students, foster youth, etc.
WSGC Scholarships for Incoming Freshmen—awarded to students pursuing science, technology, engineering, and math majors
Transfer Scholarships
Community college transfer students can benefit from the following programs:
Martin Family Foundation Scholarship programs—open to students attending UW's Seattle campus
The Next Step Scholarship—for students transferring to UW's Tacoma campus
Transfer Priority Scholarship—open to students attending UW's Tacoma campus
WSGC Community College Transfer Scholarships
Academic Departments Scholarships
Both resident and non-resident students may qualify for scholarships offered by different UW academic departments. These programs can be merit- and need-based.
You should check open opportunities and submit your application to the relevant department, such as:
Campus-Specific Scholarships
Below are some of the general scholarships open to all students on their respective campuses. All students are considered automatically for the UW Seattle scholarships listed here based on their FAFSA applications—no separate application is required.
UW Campus
Scholarships
University of Washington Tacoma scholarships

UW Tacoma General Scholarship
Dressel Scholars Program

UW Bothell scholarships

UW Bothell Alumni Scholarship
Richard C. and Lois M. Worthington Endowed Scholarship

UW Seattle scholarships

Academic Scholarships
UW Undergraduate Academic Excellence Awards
The Army ROTC Tuition Scholarship and UW Army ROTC Housing Scholarship are open to all undergraduates enrolled full-time and taking ROTC Military Science majors.
University of Washington Grants
Grants are awarded by various institutions and federal and state governments. They differ from scholarships since grants are primarily need-based, while scholarships tend to be merit-based. Grants are available to both undergraduate and graduate students.
The following are undergraduate grants:
| Undergraduate Grant | Explanation |
| --- | --- |
| Federal Pell Grants | Eligibility for this federal grant depends on the FAFSA |
| Federal Supplemental Grants | Being eligible for the Pell Grant is the primary criterion for awarding these as well |
| Washington College Grants | Being a Washington state resident with a financial need makes you eligible for this grant |
| Tuition Exemption and University Grants | Being enrolled in a state-funded program is the primary criterion for securing the grant |
Grants for graduate students and professional grants include:
Graduate Tuition Exemption and Graduate University Grant programs—available for graduate students enrolled in state-funded programs
TEACH Grant
Note that this list is not exhaustive—you should check with your graduate school and the academic department for other grants available to you. Out-of-state students can also check the state-supported programs in their respective states.
How To Find University of Washington Scholarships
Here are some of the strategies you can use to find scholarships:
Visit the university's financial aid office on your campus or your academic department
Visit the Office of Merit Scholarships, Fellowships, and Awards, if you are already enrolled at the UW
Consult your high school counselor
Search online to find outside scholarships
Check out the resources of your state's education agency
File the FAFSA to get federal opportunities
How about finding all the scholarships you are eligible for in less than five minutes? It is possible with DoNotPay. Sign up now and start applying for scholarships right away.
Our platform can help you find scholarship opportunities for women, veterans, college students, international students, high school students, etc. Whatever category you fall under, DoNotPay can find the right scholarship for you!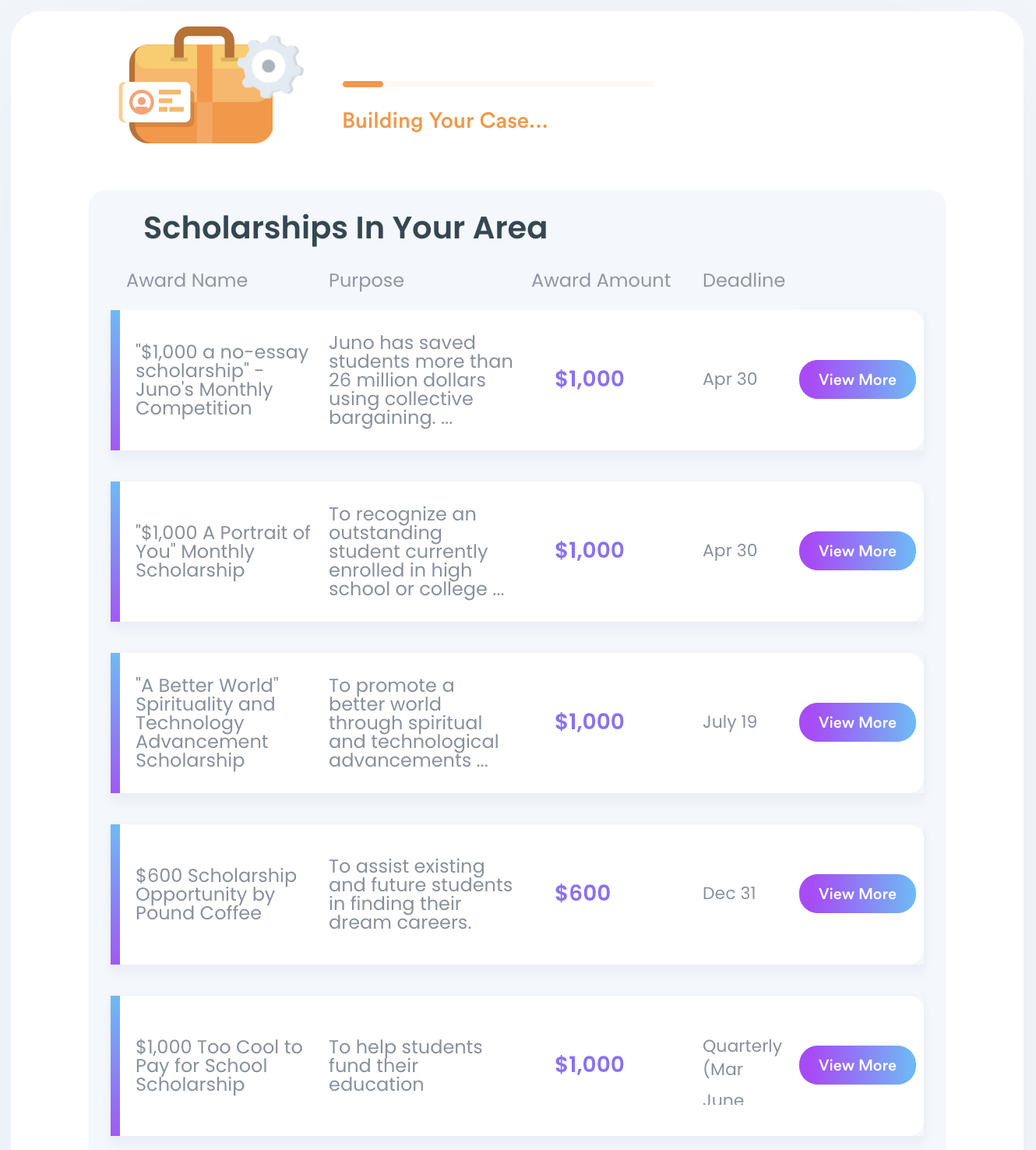 How To Apply for University of Washington Scholarships
The University of Washington automatically considers freshmen for certain scholarships based on their application for admission. This is the case with the University of Washington Purple and Gold Scholarship, for example.
In other cases, the university uses FAFSA to award scholarships. The general application process for University of Washington scholarships requires you to do the following:
Apply for admission
Complete the FAFSA or WAFSA by January 15th for the next academic year—use the UW code—003798—for any campus
Check your UW email and MyUW account frequently from spring to summer and accept the award
Submit any additional documents as requested
For most external scholarships, you will need to check application steps carefully and possibly submit:
Tired of Searching for Scholarships? Use DoNotPay!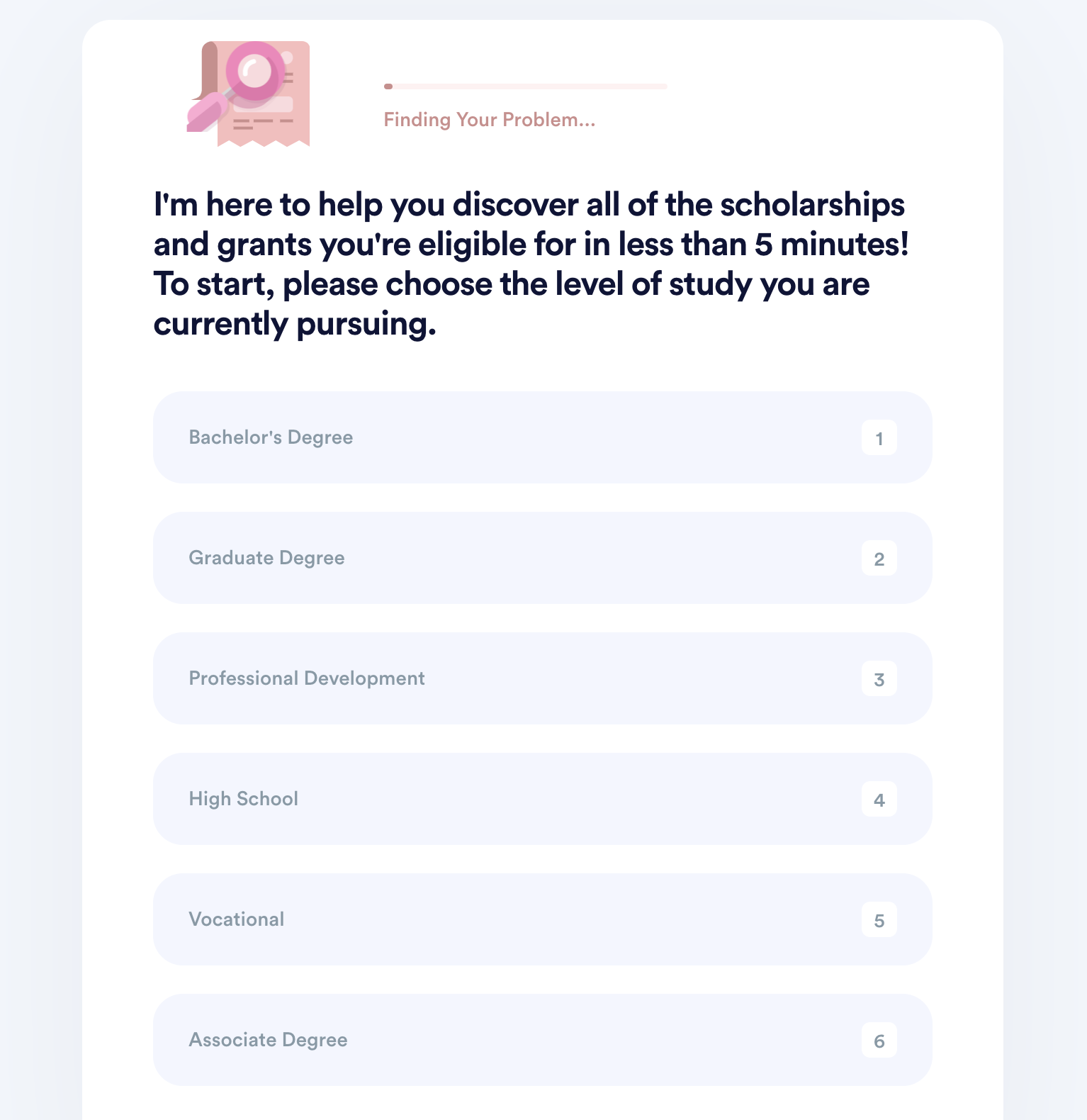 There are a lot of scholarship opportunities you qualify for and may never find on your own because of overlapping results and confusing search filters. Searching for scholarships can be challenging, but it gets easier when you know where to look!
You can discover all the right opportunities with DoNotPay by following these steps:
Go to Apply for Scholarships
Answer a few questions about your academic level and interests
That's it! We can also send your applications for no-essay scholarships automatically to speed up the process further.
Is Bureaucracy Getting on Your Nerves? We Have a Solution!
We all know that dealing with bureaucracy isn't pleasant, and it often leads to overwhelming frustration. The good news is that DoNotPay has found a workaround! You can now do the following by using our app:
Let DoNotPay Make Your Legal Troubles Disappear!
Drafting contracts and other legal documents isn't a task you should handle on your own. Don't want to spend a fortune on lawyers? That is why DoNotPay—the world's first robot lawyer—is here to take the lead and help you out! Check out the list below to see some of the legal documents that our app can draft for you:
We don't stop there! Cut through the red tape and let DoNotPay assist you in taking anyone to small claims court, getting your documents notarized, submitting anonymous HR complaints, or requesting crime victims' compensation.