Auburn University Scholarships Balance Diversity, Merit, and Inclusion
Auburn University (AU) is one of Alabama's premier educational institutions providing multiple academic programs to over 30,000 students each year.
Currently, there are hundreds of Auburn University scholarships and grants based on diversity, merit, inclusion, low income, and field of research—but you cannot claim more than one for an academic year.
Do you feel lost in the maze of scholarship options for AU? In this article, DoNotPay will help you evaluate which type of financial aid available at Auburn University will serve you the best. We can also apply for selected ones on your behalf!
Auburn University Academic Scholarships—Types Explained
As per Auburn University Scholarship Opportunity Manager (AUSOM), the university presently offers five different types of undergraduate, graduate, and professional scholarships—they are:
Merit and achievement scholarships
General scholarships
Departmental scholarships
Alumni scholarships
Diversity and inclusion scholarships
Auburn University Merit and Achievement Scholarships
Upon admission, all incoming freshmen, transfer students, and international students are automatically considered for the following:
Merit scholarship
Achievement scholarship
This table will help you understand the differences between a merit and achievement scholarship:
Factors
Merit Scholarship
Achievement Scholarship
Evaluation
You will be evaluated based on your high school senior year GPA and standardized test score
You will be evaluated according to your competitive academic test taken before admission
Timing
Scholarships are awarded in November, December, and January
Scholarships are awarded in late January
Number of active programs
There are three active annual merit scholarships:
There are two active annual achievement scholarships at the moment:

Alabama Resident Achievement Scholarship
Non-Resident Achievement Scholarship
If you qualify for both academic and merit scholarships, you'll be awarded the one that holds greater financial benefit for you.
General Scholarships in AU Explained
Whether you are a female student in the STEM camp or a first-generation college student, anyone applying for an Auburn University's general scholarship has to maintain a consistent 3.00 GPA.
Note that these scholarships may be exclusively earmarked for students of a particular high school, town, county, or state. The university authorities may also prioritize students who have:
A GPA of 3.50 or higher
Major financial setbacks
Never received a scholarship
Understand Auburn University's Departmental Scholarships
Departmental scholarships are awarded to the tune of $1,500 to $2,000 a year and are issued individually by AU's 13 colleges and schools.
Depending on your major or interest, you may find departmental scholarships for subjects such as:
AU Alumni Scholarships Have No Fixed Criteria
These scholarships are awarded by the Auburn Alumni Association, but there are no clear-cut criteria for selecting the winners.
Every year, alumni scholarships are offered to numerous students based on their merit, geographical origin, or financial situation. The reward amount is usually between $1,000 and $2,000.
Currently, you will find four different alumni scholarships issued annually:
Auburn Alumni Association Endowed Scholarship
Golden Eagles Annual Scholarship
Student Alumni Association Annual Scholarship
Auburn Club Scholarship
AU Diversity and Inclusion Scholarships
You can find several AU scholarship management unions catering to different demographic groups. Here are some examples:
How To Find the Right Auburn University Scholarships
You constantly need to check with the administration or search the internet to learn about the available scholarships at Auburn University, and this complicates your scholarship search to no end. Since you can only win one AU scholarship, you need to spend hours assessing the financial benefits of each option to pick out the best one.
If you hate spending your precious free time hunting for scholarships, consider using DoNotPay's scholarship finder tool. Our app simplifies the scholarship search process and gives you relevant results in under five minutes. All you need to do is provide your student details—like GPA score, hobbies, location, diversity, and special qualifications—to our chatbot, and we will curate a comprehensive list of all the scholarships available to you right now!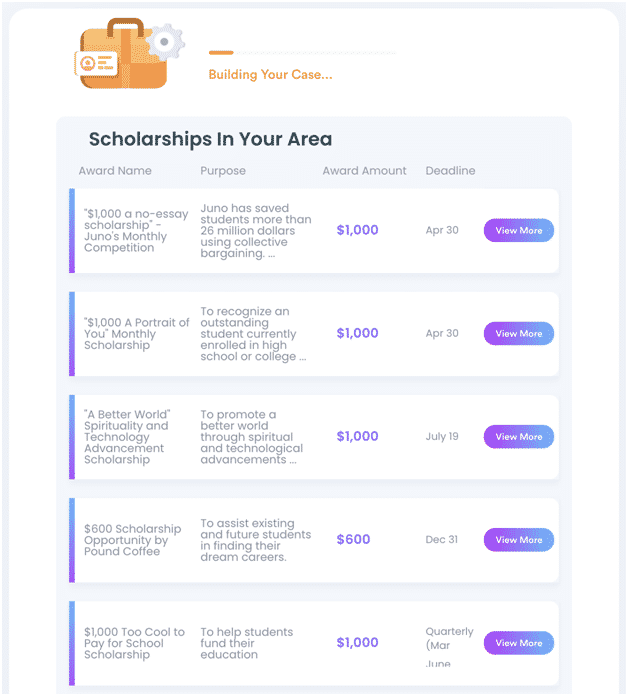 Sign up today to view your personalized list!
Auburn Scholarship Requirements—What Else Should I Know?
You are required to take certain steps before you apply for any Auburn University scholarship. Here's what you need to do:
The university authorities recommend students to maximize their financial aid by looking for external scholarship opportunities—you can do this by:
Checking federal, state, and private scholarships websites individually
DoNotPay Helps You Find All Kinds of Scholarships in the Blink of an Eye
Auburn University may limit your scholarship options to one at a time, but you can still get all the financial support you need by applying for external scholarships.
DoNotPay is your one-stop solution to finding all scholarships available to you, whether sponsored by a university or another organization in the country. If you use our app, you won't be limited to Auburn scholarships—you will get access to numerous other ones in the U.S.!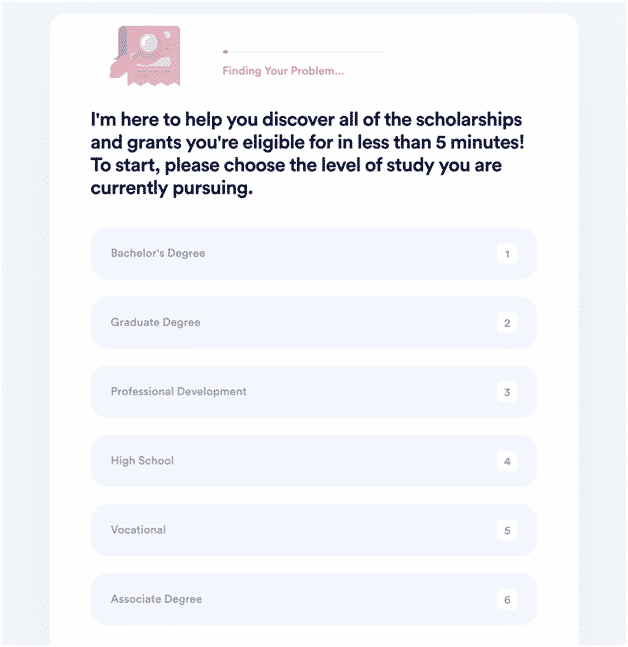 Our AI-powered app helps you by:
Giving you an informative list of all scholarships you can apply for
Segregating all no-essay scholarships from the essay ones
Letting you apply for no-essay scholarships directly through the app
Our app instantly applies for the no-essay scholarships you selected in your name. That leaves you with enough time and energy to work on all the essay scholarships available to you!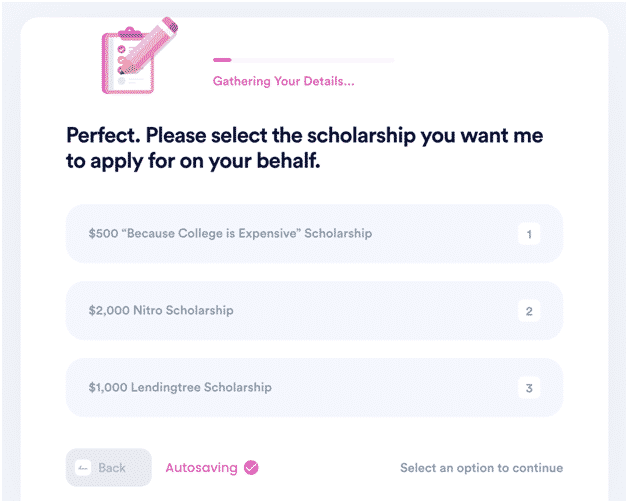 To use our seamless scholarship support services, do this:
Create a DoNotPay account and click on Apply for Scholarships
Enter your student details through a quick questionnaire
Tell us if you want to view all scholarships or apply for no-essay ones
Make sure to use our app regularly to get updates on all recently announced scholarships!
Use DoNotPay To Deal With a Plethora of Bureaucratic Tasks!
Tired of dealing with bureaucracy? We understand the struggle, and that is why our app makes handling administrative tasks a breeze!
Regardless of whether you need to compose a legal document, such as a power of attorney or a child travel consent form, appeal property taxes or your parking tickets, file a financial aid appeal and a FOIA request, or get a document notarized, DoNotPay has got you covered!
In case you also need to submit anonymous HR complaints, our app will provide you with the easiest way to do so!
Go on a Stress-Free Shopping Spree With DoNotPay
Do you like to shop until you drop? With DoNotPay, you won't have to worry about dropping! We'll make sure you can:
If you need more money to continue your shopping spree, let our app help you find any unclaimed funds under your name and enter numerous giveaways and sweepstakes!