Is Walmart Exchanging Gift Cards? Find Out Now!
Getting a Walmart gift card can be a real perk since you can choose from a variety of items in their physical and online stores. That is why your close ones might have decided to give you one.
What happens if you already have a couple of these cards and do not need another one? Could you return it, and is Walmart exchanging gift cards?
We help you get the answers to these questions. Access DoNotPay to find out how to get cash back for a Walmart or any other gift card.
Are Walmart Gift Cards for You?
If you haven't had much experience with Walmart gift cards, you should know that you can get either their eCard or plastic gift cards. Here's how to use them:
Walmart Gift Cards
Information
eCards
They come in denominations from $5 to $200 and are delivered by email. You can use them for:

Online purchases on the Walmart and Sam's Club websites
Shopping at Walmart and Sam's Club stores by printing the eCard out or showing it to a cashier on your mobile phone

Plastic cards
You can load a minimum of $10, need to activate the $250+ value gift cards (for security reasons), and can use them in the USA and Puerto Rico at:

Walmart stores and gas stations
Sam's Club stores
Most Walmart gift cards have card numbers and PINs. You will need these details to check the remaining balance. You can do so:
In any Walmart store
By contacting Walmart customer service
If your plastic gift card does not have a PIN on the back, you can only use it in stores and cannot make any online purchases.
Can You Exchange a Gift Card for Cash at Walmart?
Walmart gift cards cannot be:
Replaced if they get lost or stolen
Returned or refunded for cash unless required by state laws
Walmart used to have a gift card exchange program, but it does not exist anymore.
What Can You Do?
You can sell different gift cards online or in nearby retail stores (e.g., gift card exchange kiosks). If you do not need a Walmart gift card, you can try to get cash for it. Here are some ideas:
Choices
Tips
Buy products and resell them
You could purchase items at Walmart or Sam's Club and sell them:

To your friends or colleagues

Sell the card
As someone you know might be planning to shop at Walmart, you could ask them if they would be willing to buy the gift card from you
Turn it into airline miles
You can save some money by exchanging your gift card for airline miles. One of the airlines that offers this kind of deal is United through its MileagePlus Gift Card Exchange program
Other Ways To Exchange a Gift Card From Walmart
Since reselling Walmart gift cards is against the company's policy, you can explore other options to put your card to use, including the following:
Give it as a present—Instead of trying to get some cash for it, you can give it to someone for their birthday or some other occasion. It's a way to save some money as you would not have to buy a birthday gift
Donate the card—Another option is to donate it to a charity organization and do a good deed
Exchange it for another gift card—If you have not already used your gift card, you can exchange your gift cards at some retailers, e.g., Target
If you have used your Walmart gift card and are left with the remaining balance of a few bucks, do not toss it away! to get your cash back easily!
DoNotPay Helps You Get the Money Left on Gift Cards Back!
While Walmart and many other gift card providers claim they cannot reimburse you for the remainder on your card, these companies are obliged by law to get you your money back in certain U.S. states.
You can try to find out if your state is among them and head to a Walmart store to talk to a shop assistant about it. Don't be surprised if the salesperson is not familiar with the state cash back policy and refuses to pay out the money.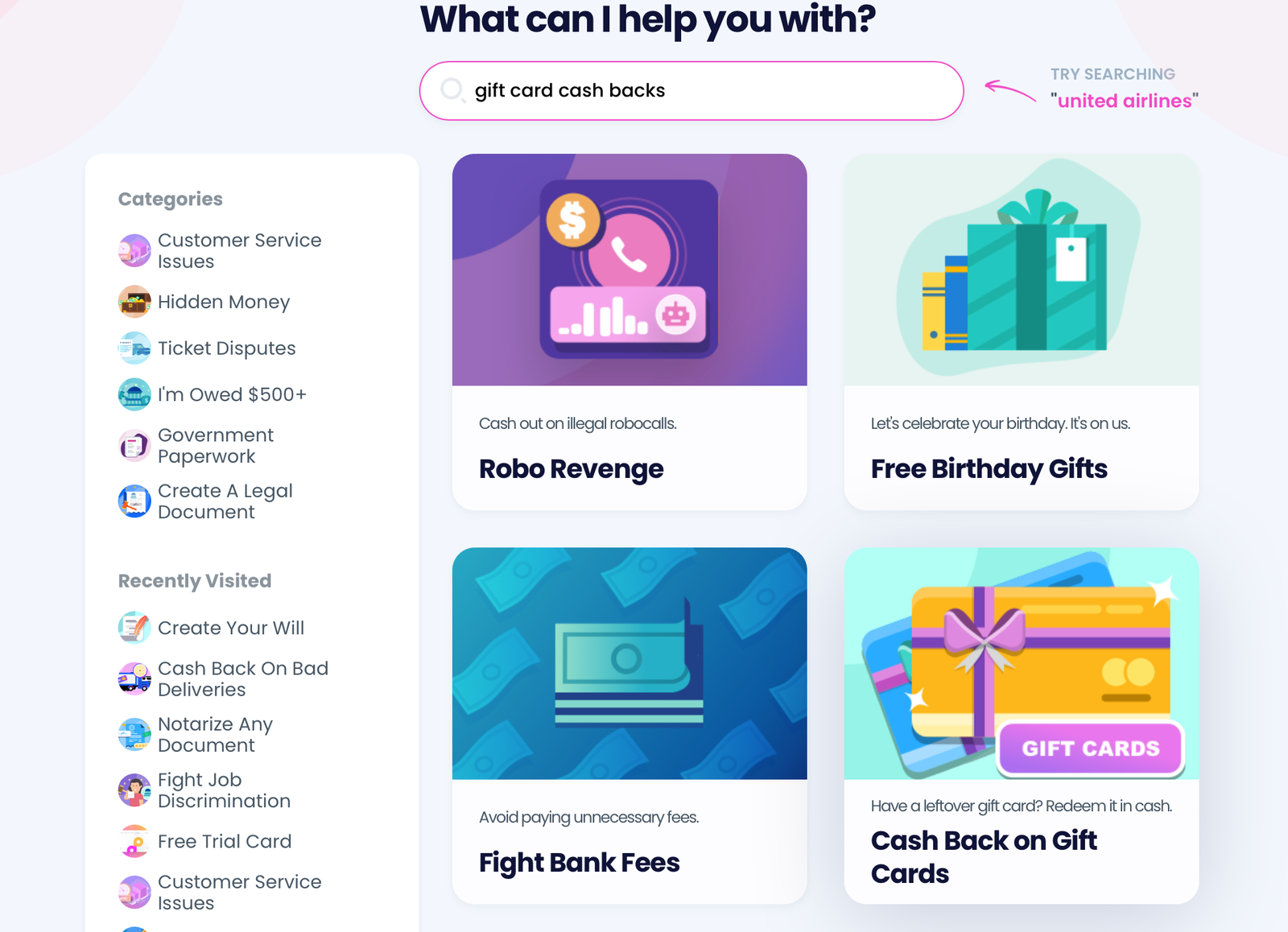 There is an easier way, though! DoNotPay will check your state legislation automatically in a flash. If we find that your state is not among the ones with a cash back policy in place, our app will run another search to determine if the company has an office in the ones that do. We will send your request to that office directly.
To get your money back, and take these simple steps:
Select our Gift Card Cash Back product
Provide relevant information (e.g., the company name, card number, date of purchase, and remaining amount on your gift card)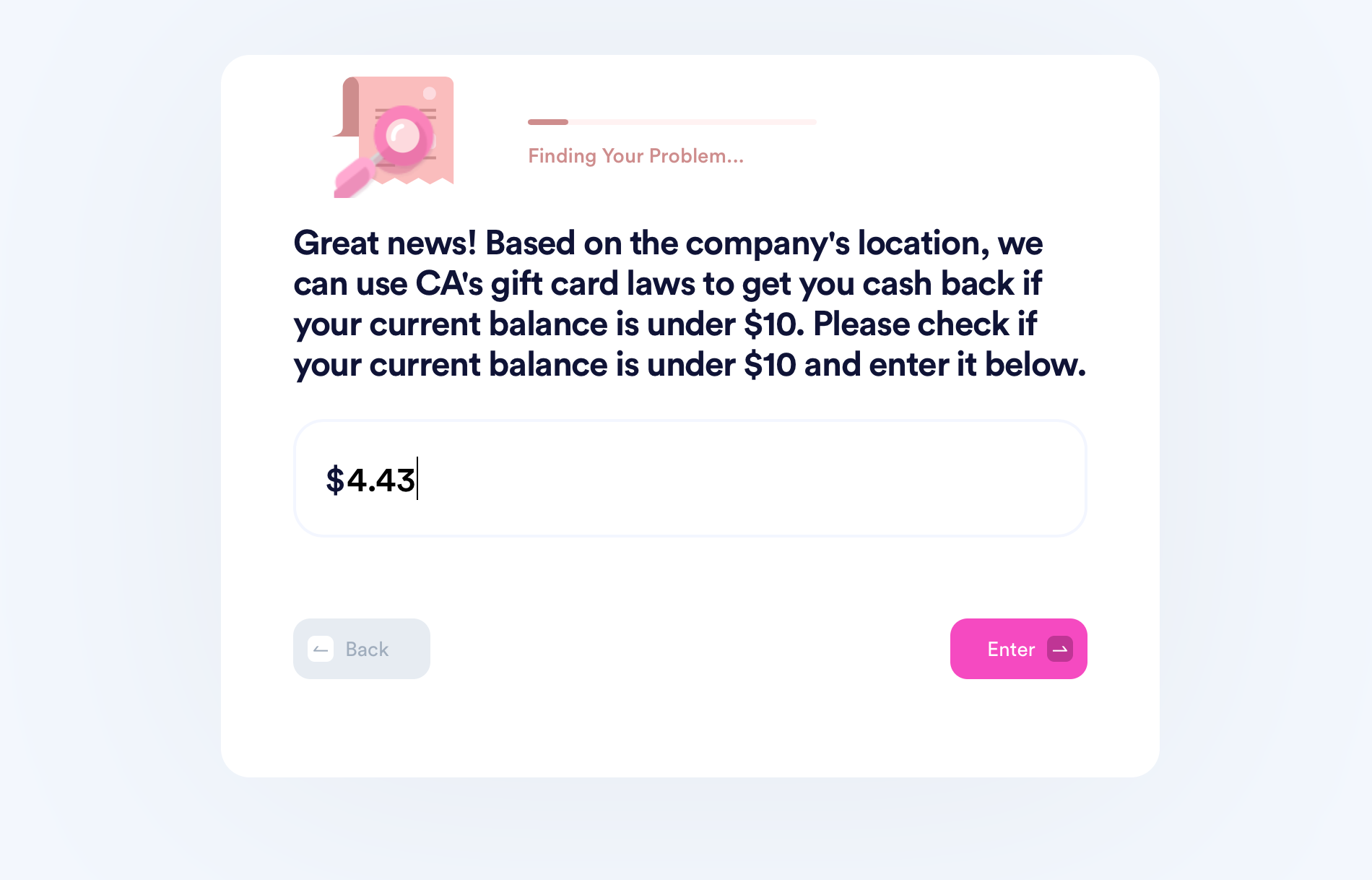 What's next? Expect to get cash or a check via mail within 14 business days.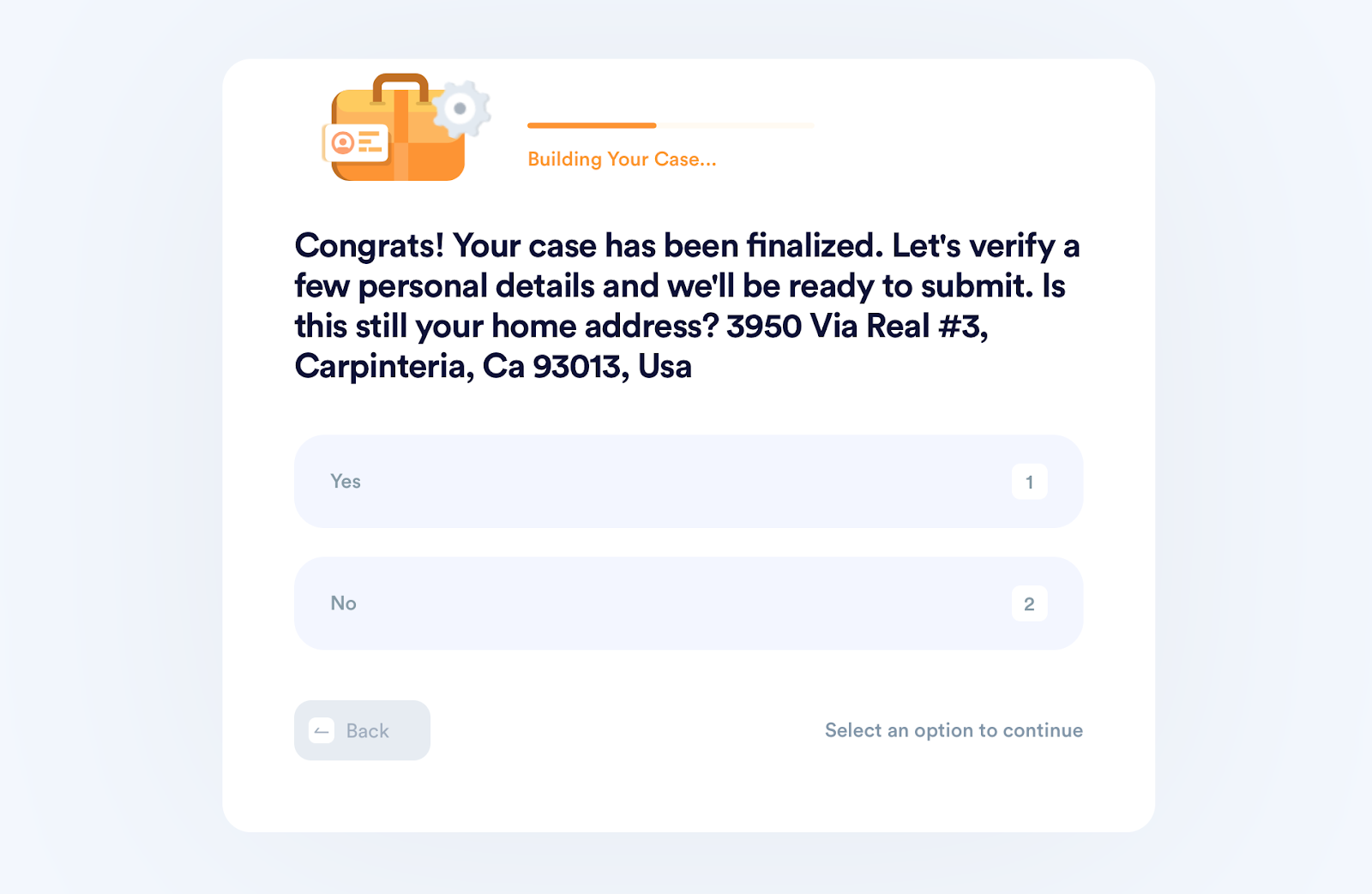 Would you like to know how to get free gift cards? Browse through our website whenever you need relevant information on various topics about gift cards. We keep publishing new guides and designing up-to-date tools to help you solve your issues smoothly.
DoNotPay Helps You Deal With Various Problems Worry-Free
DoNotPay has developed a wide variety of products you can use to manage numerous tasks.
Do you want to get a refund from a company? Are you wondering whether you can request compensation from airlines for poor Wi-Fi or canceled flights? Is hiring a lawyer to draw up legal documents too expensive for you? Sign up for DoNotPay and solve your issues in a matter of minutes!
Use our AI-powered app to get rid of robocalls, spam emails, and text messages.
Need help locating and canceling all your unused memberships? DoNotPay has a product for that too!
Prepare for your driving test using our Government Tests Prep feature and schedule a meeting with the DMV to take the test through the same app. We can even help you claim your car insurance or warranty and contest parking tickets in a flash!
Learn How To Protect Your Privacy With DoNotPay
Protecting your personal info online can be challenging but not impossible. The next time you come across a service that requires phone verification, make sure to use our Burner Phone product and have us generate a fake phone number you can use.
Our virtual credit card can help you sign up for free trials without having to disclose your name, email address, or credit card info.
Are you thinking about connecting with an inmate pen pal? Make sure to keep your real address a secret by relying on DoNotPay. Besides helping you send letters to inmates, we can also receive mail from the prison on your behalf, scan each letter, and send it to your email address.