A Comprehensive Guide on How to Check Your Steam Gift Card Balance
Do you have a new or partially used Steam gift card but don't know how much money you have on it? You're on the right website!
We'll tell you how to check your Steam gift card balance and what you can do with the remaining funds. DoNotPay will also help you turn your gift card into cash in a few simple steps.
How Does the Steam Gift Card Work?
Steam offers both physical and digital gift cards. They come in various denominations, from $5 to $100. You can use a Steam gift card to buy games, software, and similar items on their website.
To use a digital Steam gift card, you need to accept it from your account once your Steam friend sends it. After you accept the gift, funds will be delivered to your Steam Wallet.
Follow the steps below to redeem your gift card:
Open Steam
Go to your profile
Click on View My Wallet
Tap on Redeem a Steam Gift Card or Wallet Code
Type in your gift card code in the Steam Wallet Code field
Press Continue
How To Check Your Steam Gift Card Balance?
You can check your Steam gift card balance via your Steam account or DoNotPay. Find details in the table below:
How To Check Your Balance Via
Instructions

Steam Account

Log in to your

Steam account

Check the top right corner below your profile name to see your

Steam Wallet balance

DoNotPay

Select the

Check Gift Card Balance

feature

Upload photos of your gift card (front and back) and confirm your email address
What Can You Do After a Steam Gift Card Balance Check?
When you find out what the remaining balance on your Steam gift card is, you can do the following:
Purchase an item—If you have enough money in your Steam Wallet or on your Steam gift card, you can redeem it for a game, or any other item on Steam
Donate the physical card—Some charities accept gift cards as donations
Sell the gift card for money—You can find various kiosks and websites that resell gift cards and sell your new or used card there. A downside of kiosks is that you have to visit them in person, which might take too much of your time. Another drawback is that these places usually don't accept gift cards below a certain balance (usually $20). As for the websites, some of them might be a scam, so you need to be careful when you're selling your gift cards online. Note that you probably won't be able to get the full amount of your balance because both websites and kiosks offer around 70% or 80% of the card's value
Exchange the card—You can exchange your Steam gift card for a card from a different merchant. There are many websites and stores that offer this possibility
Request cash back—Officially, Steam doesn't reimburse gift card funds in cash, but the law might be on your side. Use DoNotPay to find out how to get your money back stress-free
How To Get Cash Back From a Steam Gift Card
No company will make cash back requests easy for their customers. In most states, there is no law that obligates these companies to give money back.
In some states, companies must return the remaining gift card funds to the customers provided that their balance doesn't exceed a certain amount of money. The reimbursable amount is different in every state, and it usually ranges from $3 to $10.
Filing a cash back request can be a complex matter, but DoNotPay has an effortless solution.
What's the Easiest Way to Get Cash Back from Your Steam Gift Card?
If you want to avoid the complicated process of filing a cash back request by yourself, sign up for DoNotPay. We will explore whether you live in one of the states that have a cash back policy. Even if your state doesn't obligate the companies to provide the reimbursement, DoNotPay will find a Steam office in a state that does, and we will send your request to them.
To file your request, follow the steps below:
Type in Gift Card Cash Back in DoNotPay's search bar
Add all the necessary information—your gift card number, the remaining balance, your email, and similar
Click on Sign and Submit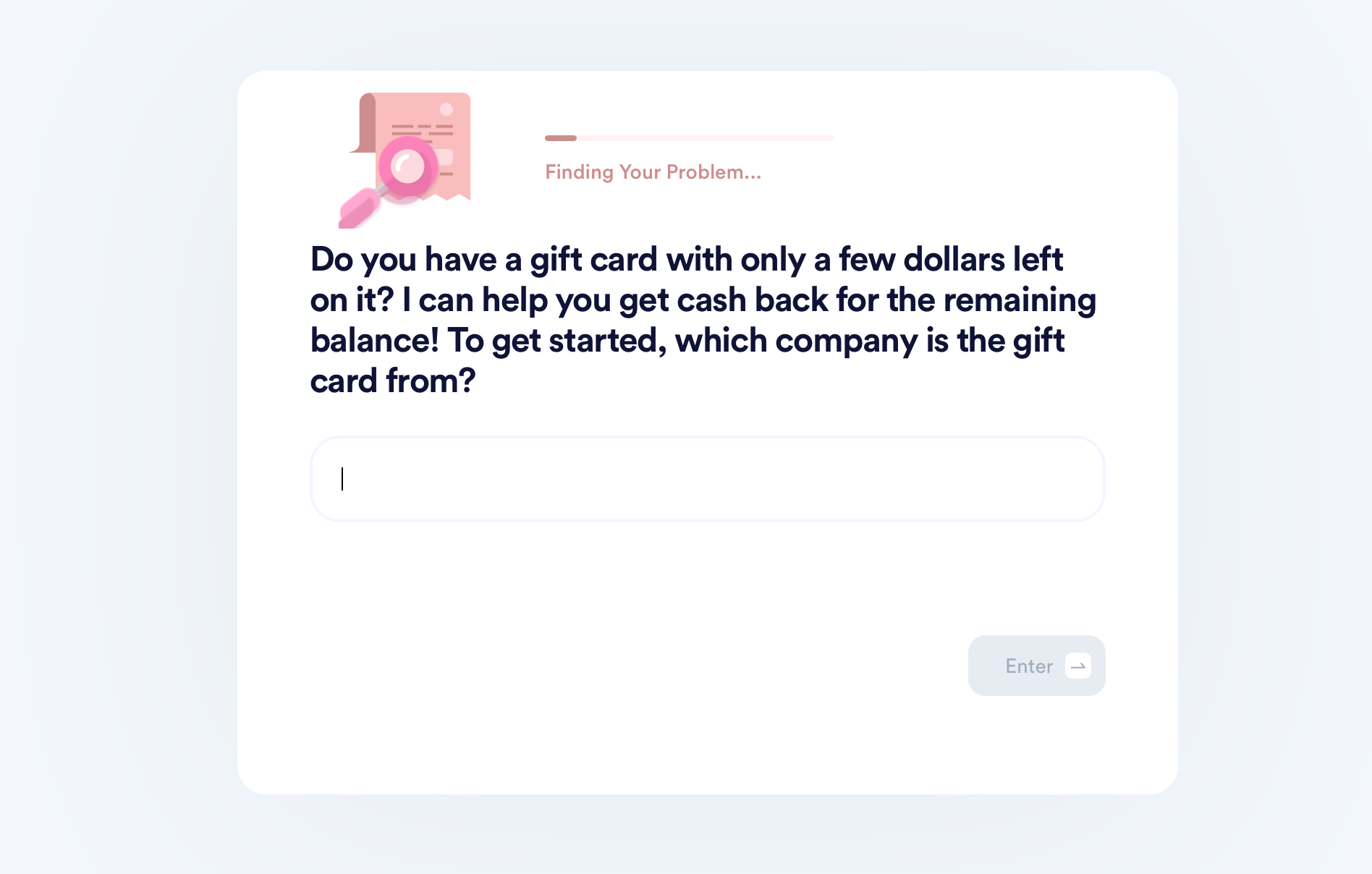 As soon as you click on Sign and Submit, DoNotPay will file your cash back request. You should get your money in cash or receive a check within 14 business days.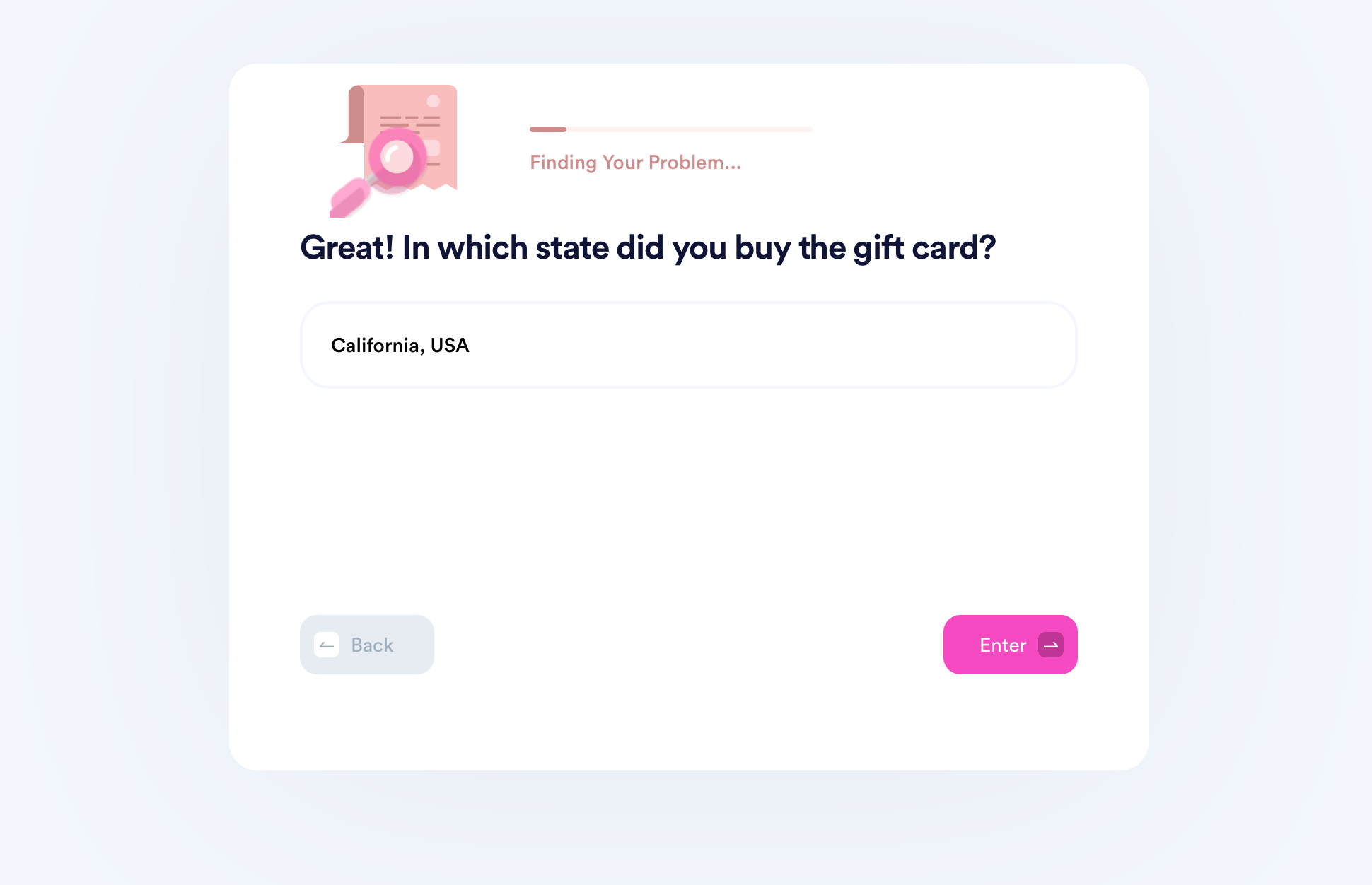 DoNotPay Has More Gift Card-Related Information for You
DoNotPay has a helpful learning center where you can find all the necessary information regarding gift cards. Check out how to:
Check your balance on gift cards from various companies, including:
DoNotPay—Easy Fixes for Your Daily Struggles
Calling customer support takes hours. Dealing with refunds and chargebacks takes weeks or sometimes months. And don't even get us started on DMV appointments. The good news is that, with DoNotPay, you don't have to stress out about these tasks any longer.
Our platform can help you turn exhausting administrative troubles into two-minute tasks. Thanks to AI technology, you can easily create legal documents, request compensation for canceled flights, send a complaint letter to your neighbor, or book appointments with online notaries.
Diversity of services is one of the biggest advantages DoNotPay offers, and the best part is that our subscription won't cost you an arm and a leg.
Do You Need Help With Anything Else?
All you need to do is ask, or in this case, sign up for DoNotPay, and the world of practical, user-friendly products awaits. Finishing boring or annoying tasks with the help of our AI bots is fun, easy, and super intuitive—you won't need any special knowledge of legalities or administrative terminology.
With our help, you will be able to: