Bloomingdale's—Check Your Gift Card Balance and Collect the Remaining Amount
Gift cards make the best gifts—both to give and receive—and Bloomingdale's gift certificates are among the most popular ones.
What happens if you buy everything you need or like but still have some leftover cash on your card? It would be such a waste to throw that money away, yet the remaining amount may be too low to purchase anything else.
If you're running out of ideas on what to do with your Bloomingdale's gift card, we got you covered! Follow this in-depth guide to figure out Bloomingdale's check-the-gift-card-balance process and learn to get cash from your card effortlessly with the help of DoNotPay!
Bloomingdale's Gift Card Balance Check Made Simple
You can conduct a gift card balance check in a few ways:
| | |
| --- | --- |
| Can You Check Gift Card Balance Via | Yes/No |
| Website | Yes |
| Email | No |
| In person | Yes |
| Phone | Yes |
| Contact form | No |
| DoNotPay | Yes |
Bloomingdale's Gift Card Balance Check on the Website
If you're looking for the most convenient way to check your Bloomingdale's gift card balance, choose the online option. All you have to do is:
Open the Gift Card Balance page
Remove the scratch-off tab from your card (if you haven't already)
Enter the 18- or 19-digit number on the back of your card
Click View Balance
How To Check Your Balance Over the Phone
You can always check the remaining amount on your gift card by:
Calling Bloomingdale's at 1 800 511 2752
Explaining why you're calling
Providing the representative with the requested information
The Bloomingdale's gift card department is available Monday through Saturday from 9 a.m. to 12 a.m. ET and Sunday from 9 a.m. to 11 p.m. ET.
Bloomingdale's—Check the Gift Card Balance in Person
If you're near a Bloomingdale's store and you prefer to get things done face to face, you can check your gift card's balance by:
Asking a staff member to check your balance
Scanning the barcode at a price checker terminal
Be aware that Bloomingdale's can't scan codes from mobile devices, so you'll need to have a printed version of the gift card with you.
Luckily, Bloomingdale's gift cards don't have an expiration date. Even if your gift card is old, you can return it for cash.
How Can I Use Bloomingdale's Gift Cards?
Whether you have an e-card or a paper gift card, you can use it online or at any Bloomingdale's store. The same applies if you want to use the remaining balance on your card.
If you choose to use it online, you'll have to enter your card information on the Payment & Billing page.
In case you have an e-card that you wish to use in a store, you'll have to:
Click Get Barcode in the email with your card info
Print the page
Take the printed page with you to the store and present it when paying
Many people wonder whether they can use their Bloomingdale's gift card at Macy's—Bloomingdale's parent company. The answer is no. If you don't want to use your card at the designated store, you can try exchanging or selling it.
Am I Eligible for Bloomingdale's Cash Back for My Gift Card?
Bloomingdale's doesn't offer cash back for your gift cards unless required by law. It can't be applied as credit or payment to any credit card account either.
DoNotPay knows the cash back laws by state, and we will help you get the money back in no time! Puerto Rico and 11 U.S. states mandate merchants to return the leftover funds from gift cards to the holder. If your state doesn't, DoNotPay can help you collect your money in a few clicks.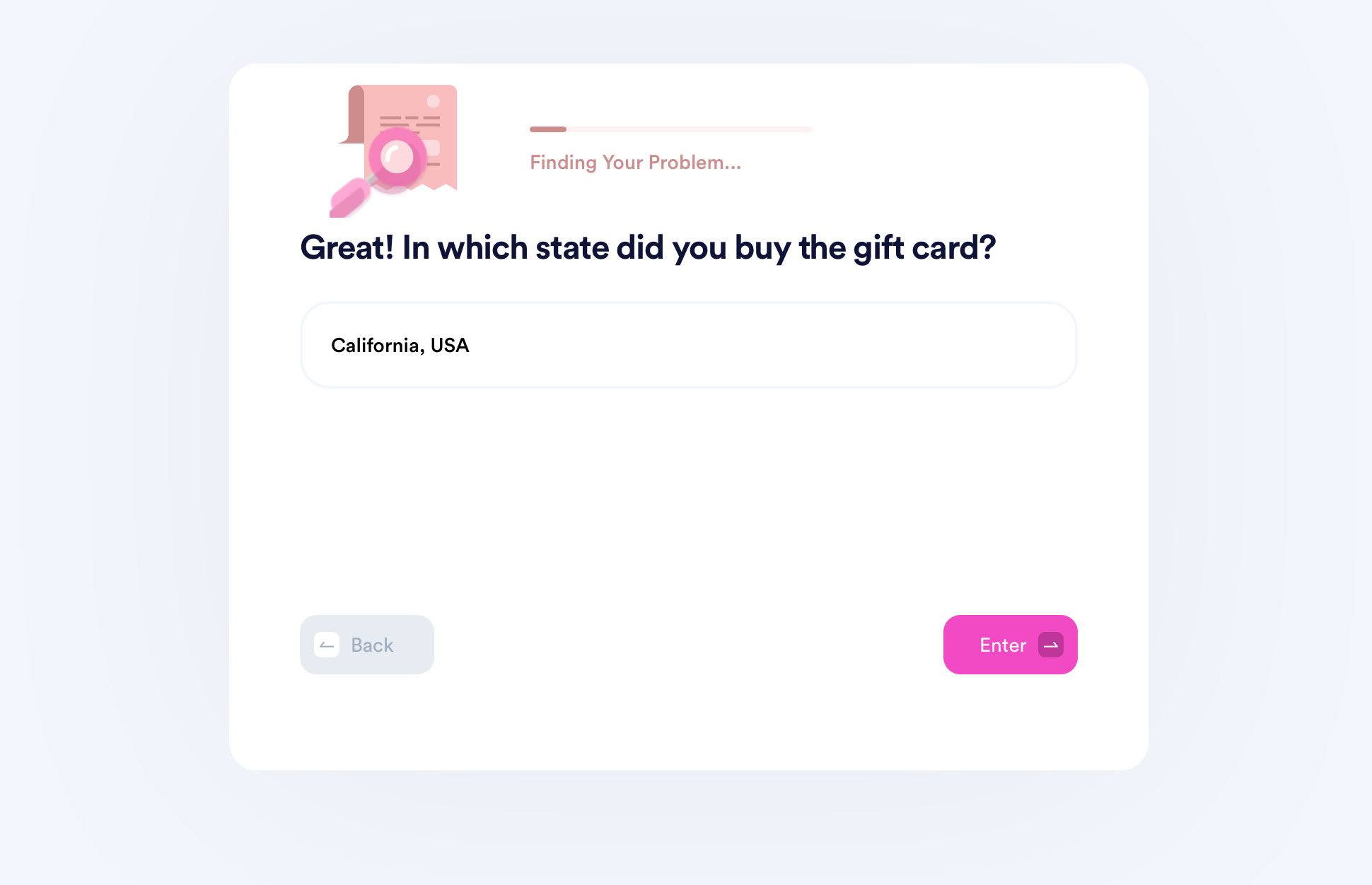 When There's No Way To Get Cash Back, DoNotPay Makes One
To get the remaining funds on your Bloomingdale's gift card effortlessly, let DoNotPay take charge. Regardless of the type of card you have, or whether it is used or not, you can turn it to cash with the help of DoNotPay! All you have to do is:
Select our Gift Card Cash Back feature
Provide the requested information (company name, remaining balance, and card number)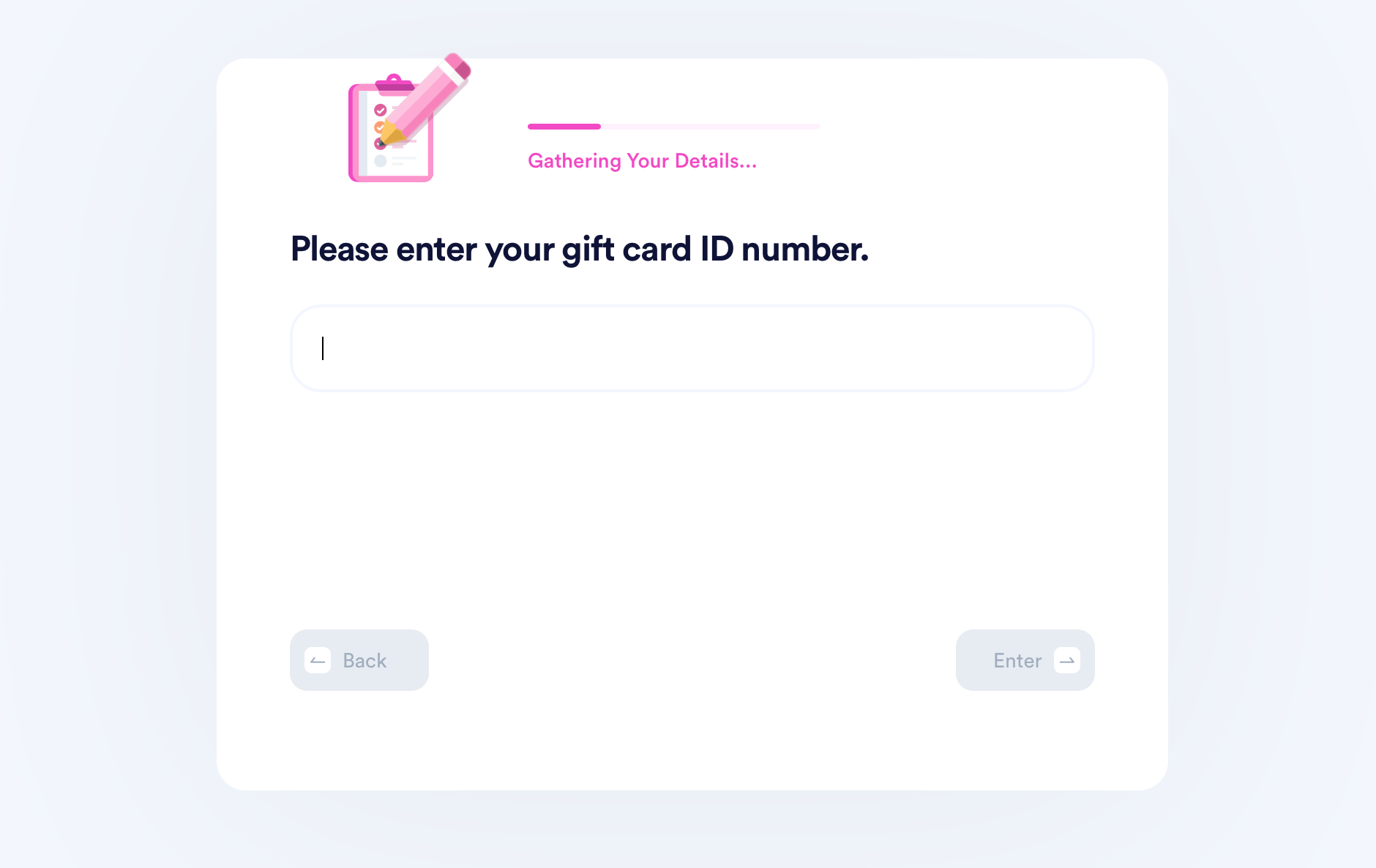 We'll check your local cash back laws and send the request to Bloomingdale's on your behalf. In case your state did not pass the necessary law, we'll direct your demand to a Bloomingdale's office in one of the states that did. Sit back and relax—you'll receive cash or check by mail in 14 days.
If you like giving or getting gift certificates, DoNotPay explains how to get free gift cards. Once you finish your shopping, let the app work its magic to get you some cash back!
These are some of the companies that DoNotPay can help with:
Save Some Coins With DoNotPay
Are various subscriptions and memberships burning a hole in your pocket? DoNotPay can help you cancel all of your memberships in a matter of minutes without having to contact customer service reps.
Next time you want to register for a free trial, prevent unexpected costs with our virtual credit card. Once the trial is over, you'll be unsubscribed right away because our virtual credit card doesn't contain any money. We will also generate a random email address you can use if you want to protect your privacy and avoid spam marketing emails.
Do you need help claiming warranties and insurance policies? DoNotPay can help with that too.
Should you need assistance returning an item or requesting refunds for purchased products, canceled flights, or late deliveries, we've got your back!
Avoid wasting money on lawyers—DoNotPay is here to help you sue anyone in small claims court and create numerous legal documents in the blink of an eye!
DoNotPay Can Help You Earn Money Too
DoNotPay users can save hundreds of dollars thanks to our app, but did you know that we can help you earn a few bucks as well? Our app enables you to claim missing money under your name or file your application for paid clinical trials in less than five minutes.
You can even get compensation for reporting robocalls or apply for a crime victims compensation program in your state by signing up for our app and following a few simple steps.