Check Your Xbox Gift Card Balance Swiftly With DoNotPay's Help
Having an Xbox gift card means you can purchase games, movies, consoles, and other equipment without being billed—a dream come true for many gamers.
If you don't know how to check your Xbox gift card balance, you should consult the step-by-step guide that we provide in this article.
In case you want to turn your gift card into cash, register for DoNotPay, and we'll help you retrieve the unused money within minutes!
Xbox Gift Cards—All You Need To Know
Xbox offers physical and digital gift cards. You can select an amount of up to $100. Xbox gift cards can be used:
On Xbox
On Windows
In the online Microsoft Store
You can use it to purchase apps, games, movies, TV shows, devices, and consoles. Xbox gift cards don't expire unless they're free promotional gift cards.
Here's what you're not allowed to do with an Xbox or Microsoft gift card:
Redeem it for cash, except where it's required by law
How To Check Your Xbox Gift Card Balance
It can be difficult to keep track of how much money there's left on your used gift card. We are here to help you find out! Consult the following table for the instructions on how to check the balance on an Xbox gift card:
How To Do an Xbox Gift Card Balance Check
Explanation
Online
Checking your gift card balance online is the best option, especially if you have a digital card. Here's how to do it:

Visit the official Microsoft website
Choose Xbox from the top of the homepage
Select All Microsoft
Choose Gift Cards from the dropdown menu
Choose between an Xbox and Microsoft gift card
Scroll down to the Q/A section and find the Check Your Account Balance section
Sign in and follow the further instructions

By phone
If you have trouble checking your gift card balance on your own or you prefer to inquire about it over the phone, you should check the website to find the customer support number for the state you live in. Once you get connected with a Microsoft representative, you should provide them with your gift card information and wait for them to inform you of the remaining balance

With DoNotPay

DoNotPay provides you with a simplified way to check your gift card balance! All you need to do is follow the next steps, and we'll check your balance for you:

Select the

Check Gift Card Balance

feature

Provide us with photos of your gift card (front and back)

Once you confirm your request, we'll contact the card issuer and check your balance
Is There Money Left on Your Xbox Gift Card? Here's What To Do With It!
Balance checks rarely uncover huge amounts of money. If the remaining balance on your Xbox gift card is not that big, you might not be able to continue using it. Microsoft gift cards are not reloadable, so you cannot rely on that either. Here's how you can use the remaining balance:
Buy something—If you don't want those couple of bucks to go to waste, you can purchase a smaller item, such as an app, to empty the card
Sell it on an eMarketplace—Don't want to use your Xbox gift card anymore but are reluctant to throw it away? You don't have to. Determine the card's value based on the remaining funds and put it up for sale on eBay, Craigslist, or some other reliable online marketplace
Can You Redeem an Xbox Gift Card for Cash?
According to the Microsoft terms and conditions, you can redeem your Xbox gift card if required by law—which it is in Puerto Rico and 11 U.S. states. In these locations, companies are legally required to give their customers unused cash from their gift cards if it doesn't exceed state-specific limits.
In the following table, you can see the U.S. locations and their predefined balance limits:
| | |
| --- | --- |
| Location | Balance Limit |
| Vermont | $1 |
| Rhode Island | $1 |
| Connecticut | $3 |
| Maine | $5 |
| Oregon | $5 |
| Missouri | $5 |
| Colorado | $5 |
| Washington | $5 |
| Puerto Rico | $5 |
| New Jersey | $5 |
| Massachusetts | $5 |
| California | $10 |
Get Cash Back From a Microsoft Gift Card Using DoNotPay
Even if you live in one of the states with a cash back policy, retrieving unused money can be tricky. Fortunately, DoNotPay can help you whether you live in a state that has that policy or not.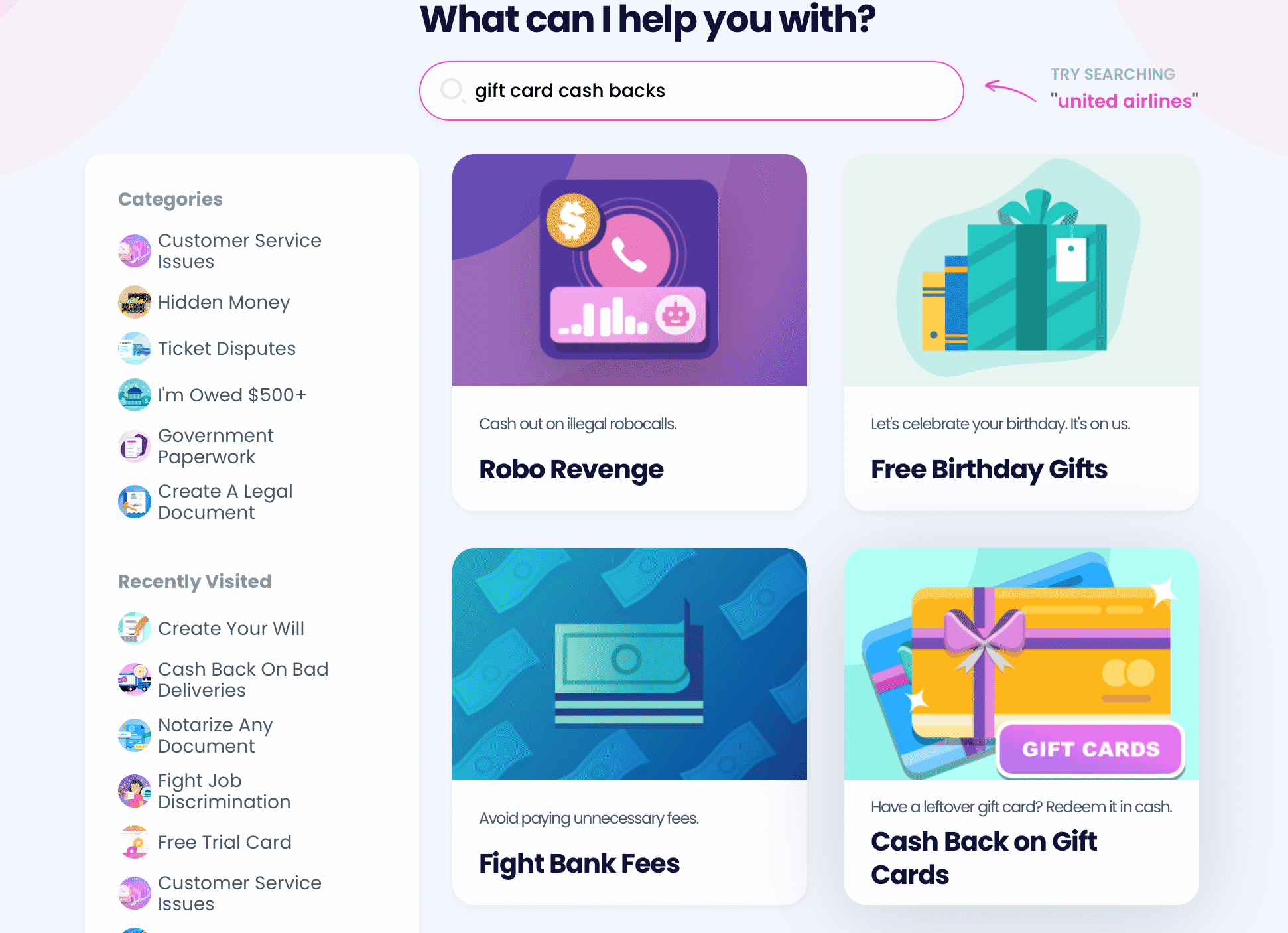 We made the process simple—here's all you need to do:
Find the Gift Card Cash Back feature
Give us your gift card details, such as the number, company name, and remaining balance
DoNotPay will immediately check if your state has the cash back policy in place. If that's not the case, we'll locate the company's branch in one of the states that do have it and send your request there. You can expect to receive your money via mail within the following 14 days.
What About Other Gift Cards?
Do you have more used gift cards whose balance you don't know? We can help you check the remaining funds on the majority of gift cards and turn that money into cash. Some of the companies we can assist you with are:
DoNotPay Covers All the Bases
From getting you ready for various government tests to helping you reduce your property taxes, DoNotPay offers valuable assistance with the tasks that make most people at least roll their eyes. Dealing with bureaucracy isn't fun, but it also doesn't have to be as difficult as it is.
Every product in DoNotPay's portfolio is designed to efficiently deal with a specific issue within a few minutes and without sacrificing your comfort. Take a look at the tasks our app can make much more simple:
A Little More Money Never Hurt Anybody
Hardly anyone would turn down a chance to earn some more cash. That's why DoNotPay not only protects your rights and interests but also offers great opportunities to improve your financial situation.
With our help, you can find paid clinical trials, locate your missing money in any state, get your cash back from used gift cards, or enter various raffles and win great prizes.