Everything You Should Know About Syracuse Financial Aid
Syracuse University (SU, Syracuse, or 'Cuse for the cool kids) was established in 1870. This private research university in New York has around 22,000 students. The tuition for this school is high—$53,849 per year. Most students can't pay that much for education expenses and need to apply for Syracuse financial aid.
In case you are among the majority, check out DoNotPay's guide on how to apply for financial assistance and see your options. If Syracuse rejects your application or you get an unsatisfactory offer, we can help you file an appeal!
How To Contact the Syracuse University Financial Aid Office
For any questions regarding financial aid, you should turn to Syracuse's Financial Aid Office. The advisors are at your disposal from Monday to Friday between 8:30 a.m. and 5:00 p.m. Here is the contact information you will need:
Address—700 University Ave Room 107 | Syracuse, NY 13244
Email—finaid@uc.syr.edu
Phone—315-443-3261
Fax—315-443-6689
Syracuse University Financial Aid—Forms of Aid You Can Apply For
Syracuse University offers its students multiple options when it comes to financial aid. Take a look at the table below to see what types of financial aid you can apply for:
Type of Aid
Is Repayment Required?
What You Can Apply For
Scholarships
No

Merit-based scholarships
Scholarships awarded by outside sources

Grants
No

Syracuse University grant
New York State grant
Pell Grant
Federal Supplemental Educational Opportunity Grant (FSEOG)
Federal Teacher Education Assistance for College and Higher Education (TEACH) Grant
Indigenous Pathways Grant

Loans
Yes
Federal Direct:

PLUS loan
Subsidized loan
Unsubsidized loan
Graduate PLUS loan

Student employment
No

On-campus jobs
Off-campus jobs

Special programs
No

Today's Students, Tomorrow's Teachers (TSTT)
Syracuse University Co-Generation Scholarship
Syracuse Challenge
Student Support Services Program (SSSP)
RaiseMe
Posse Leadership Scholarship
On Point for College
Liberty Partnerships Program
KIPP
High School for Leadership and Public Service (HSLAPS)
Higher Education Opportunity Program (HEOP)
The type of aid you apply for and get will determine the amount of aid you get as well as the period you can keep receiving it.
Forms You Need To Submit When Applying for Financial Aid at Syracuse University
If you want to apply for financial aid at 'Cuse, you need to complete the following forms:
Other Forms That May Be Required at Syracuse University
In addition to FAFSA and CSS Profile, you may need to submit other forms, such as:
Income tax forms—The school will notify you if your income tax returns are required
Noncustodial Profile (NCP)—If your parents were never married to each other or are separated or divorced
Independent students (due to age) may need to provide more parent information.
Syracuse University Financial Aid—Important Deadlines
It's important to respect the set deadlines if you want to receive financial aid. Take a look at the table below to see relevant deadlines for the 2021-2022 academic year:
| | |
| --- | --- |
| Type of Decision/Student | You Should Submit Your FAFSA and CSS Profile By: |
| 2021–2022 Early Decision First-Year | November 15, 2020 |
| 2021–2022 Regular Decision | January 1, 2021 |
| 2021–2022 Transfer Students | July 1, 2021 |
| 2021–2022 Returning Students | February 1, 2021 |
| 2021–2022 EDII First-Year | January 1, 2021 |
Didn't Get the Offer You Expected From SU? File an Appeal With DoNotPay!
If Syracuse rejects your financial aid application or is not generous with its offer and you need more money, you can count on DoNotPay to file an appeal. Our app will generate a financial aid appeal letter in a few minutes after you follow these simple steps:
Choose the Appeal for More Financial Aid product
Provide us with the info about financial aid offers from all the schools you applied for
Inform us about your family's income and financial status
DoNotPay will mail the financial aid appeal letter on your behalf to Syracuse as soon as possible.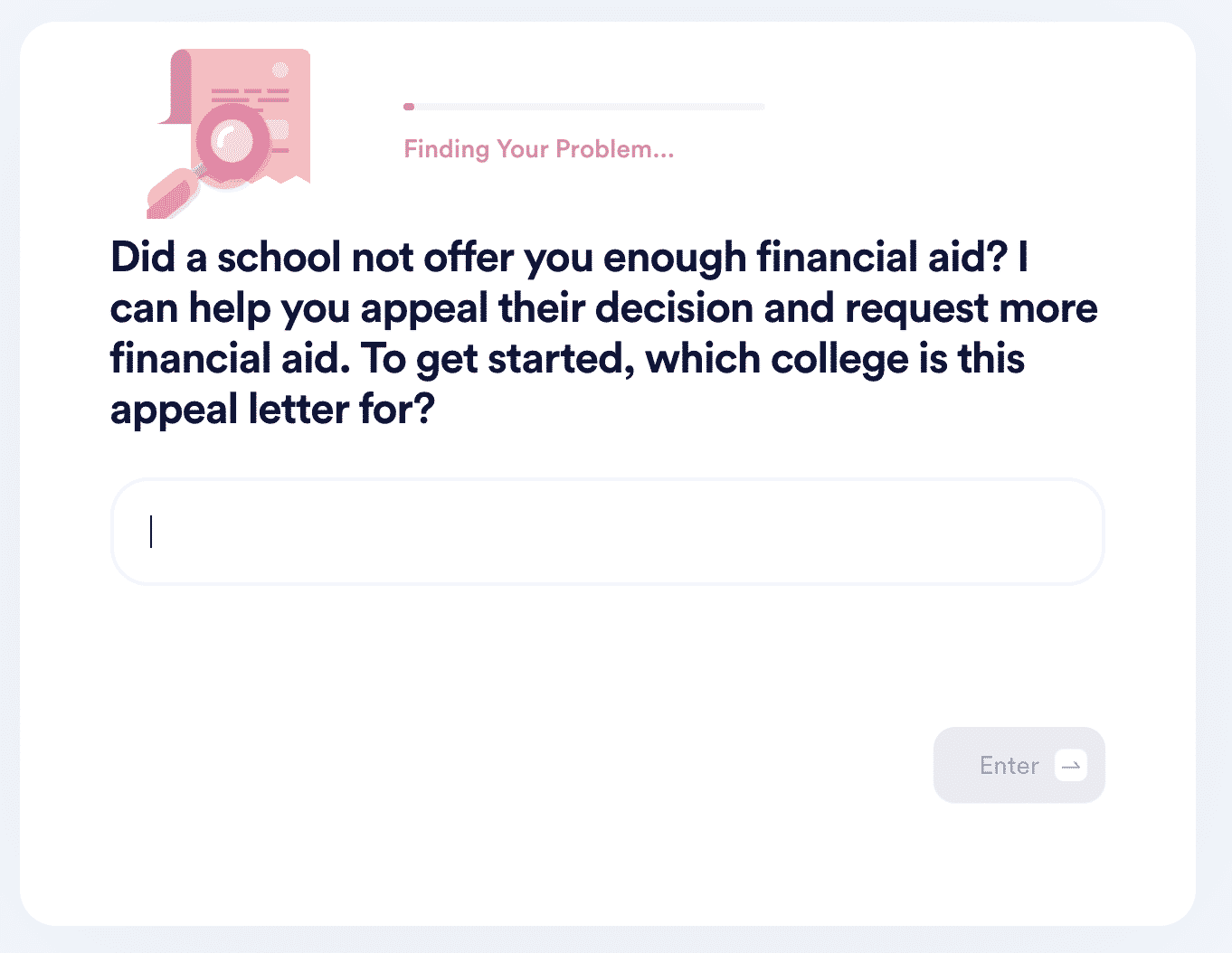 DoNotPay can also answer the following questions related to financial aid:
Financial Aid—What Do Other Schools Have To Offer?
It is possible to get a better financial aid offer from a different school. Check out the table below to see options available for graduate and undergraduate students at some of the most popular universities:
Choose From a Variety of DoNotPay's Amazing Tools
Did you manage to solve the issue with our app? If the answer is yes, you may also be interested in checking out other interesting features we offer. DoNotPay can help you:
| | | |
| --- | --- | --- |
| Get Rid of Spammers By | Deal With Uncooperative Merchants By | Get Help With Your Studies By |
| | | |
Let DoNotPay Prepare Important Documents for You
Are you having a hard time drawing up a contract due to insufficient legal expertise? Say goodbye to failed drafts—DoNotPay can generate divorce settlement agreements, powers of attorney, child travel consent forms, and many other legal documents in under five minutes!
We will also help you create anonymous HR complaints and demand letters for your neighbors if you are experiencing any issues with them.