Do You Apply for Financial Aid Before or After Acceptance?
Considering the sky-high tuition that schools require students to pay, it's no wonder the majority of them have to apply for financial aid. When applying for support, you need to pay attention to the financial aid application deadline. The question is—do you apply for financial aid before or after acceptance at a college? can help you find out!
Our app will also help you file an appeal if you get rejected by the school or need more funds.
What You Should Know Before Applying for Financial Aid
Financial aid can be need- or merit-based, and it comes from federal, state, and institutional resources. To successfully apply for aid, you need to complete the Free Application for Federal Aid (FAFSA). This form will determine your financial aid eligibility based on the info you provide.
To access the FAFSA form electronically, you need to obtain a Federal Student Aid (FSA) ID (made up of a username and password). The FAFSA form should include:
Your Social Security number
Lists of schools you're interested in attending
Records of any untaxed income and other assets
Tax records for a requested year
In addition to FAFSA, some schools require students to complete a CSS Profile. This form offers more detailed info about your financial status and is used to determine your eligibility for some non-federal aid.
Do You Need To Be Admitted to a College Before You Can Apply for Financial Aid?
You can apply for financial aid before being accepted to college or vice versa—it is a personal preference. If you go with the first option, note that the schools will not put together a financial aid package before you're enrolled.
Submitting your FAFSA and other eligibility forms as early as possible will ensure that you don't miss any "first-come, first-served" aid options. The sooner you complete the FAFSA, the better chances you'll have of receiving more financial aid.
When Should You Apply for Financial Aid?
When applying for financial aid, you need to keep federal, state, and institutional deadlines in mind. Take a look at the table below to see detailed information on when to apply for aid:
| Type of Financial Aid Deadline | What You Should Know |
| --- | --- |
| Federal | The FAFSA deadline for the 2021–2022 school year is June 30th, 2022, 11:59 p.m., CST. You can submit corrections to the form by September 10th, 2022, 11:59 p.m., CST |
| State | Most states recommend that you apply as soon as possible after October 1st, but each state has specific deadlines for applying for financial assistance |
| Institutional | Universities also have specific deadlines. You will need to get in touch with the school's financial aid office and find out the exact info |
What Happens if You Miss the Federal FAFSA Deadline?
While you should respect the application deadline, it is not the end of the world if you miss it. You should still submit the FAFSA even if you missed the deadline and hope for the best. The possible consequences of late submission include:
Not receiving the maximum amount of aid (you will be considered for the remaining aid)
Not getting any aid (if there are no more funds left)
Financial Aid Offers and Deadlines for Some Universities
DoNotPay provides detailed information on financial aid at some of the most popular universities in the U.S. Take a look at the table below to see financial aid offers and application deadlines for the following schools:
What Should You Do if the School Rejects Your Application or Makes a Poor Offer?
In case you got rejected for aid or expected a better offer, you should send a financial aid appeal letter to the school. If you do so, the school may reconsider its decision and possibly offer you more funds to finance your education.
Luckily, you don't need to deal with filing an appeal by yourself—DoNotPay will help you out!
DoNotPay Creates a Financial Aid Appeal Letter in a Flash
Writing a financial aid appeal letter is time-consuming and requires you to follow specific guidelines. DoNotPay can handle the task for you in a matter of minutes. You only need to follow these simple steps:
Search for Appeal for More Financial Aid product
Include the amount of financial aid other schools offered you (if you are applying for more than one)
Provide relevant info about your family's current financial status
DoNotPay will mail the appeal letter to the school's financial aid office on your behalf.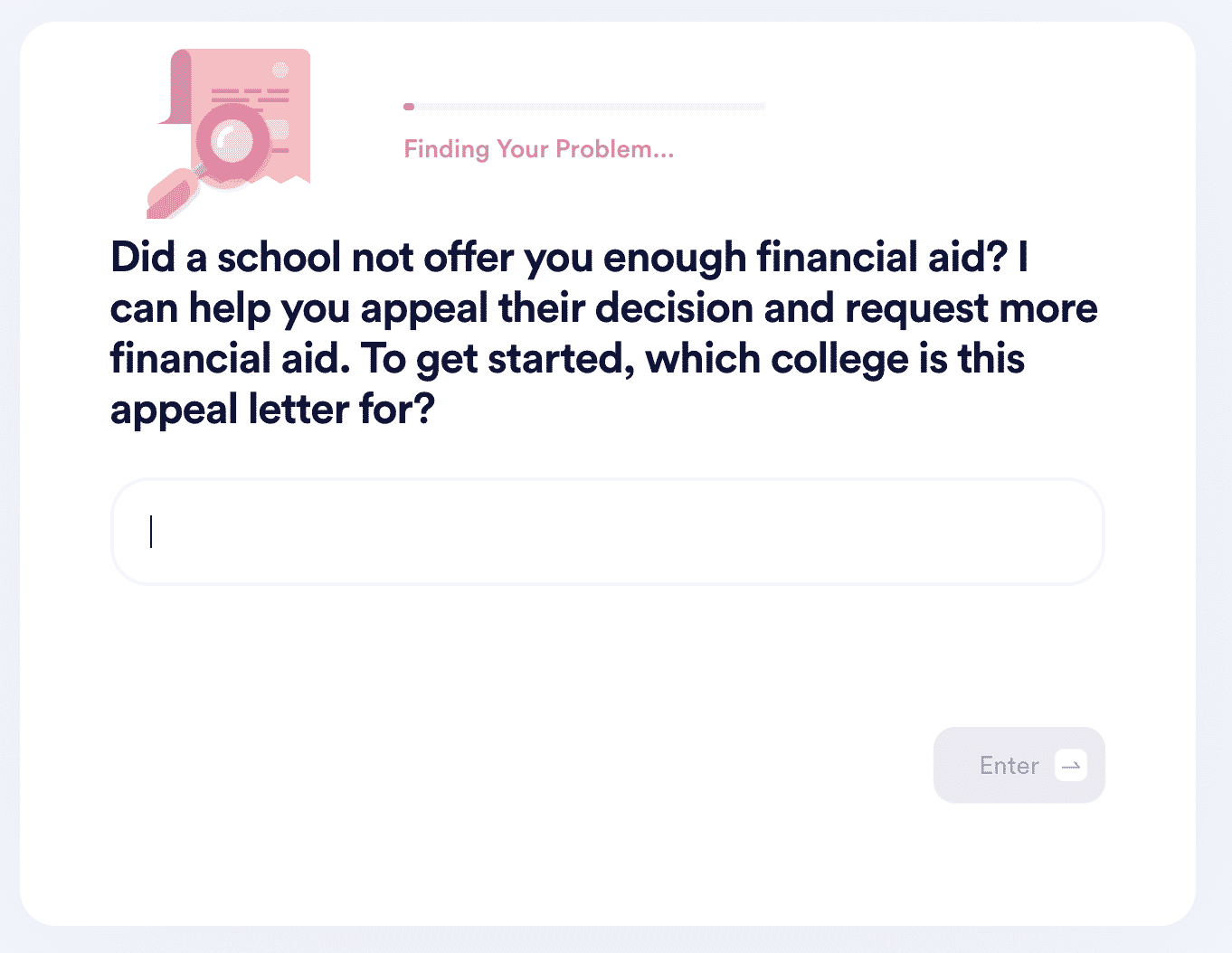 We can also answer the following financial aid questions:
Let DoNotPay Be Your Virtual Assistant!
Why bother with deciphering legal terminology or figuring out how to write a legal document when you can let us do it for you? You don't have to waste your time any longer. Once you sign up for DoNotPay, we'll do much more than draft your legal documents or help get them notarized!
DoNotPay will show you how to perform a number of tasks with ease, including suing any company in small claims court, filing insurance claims, claiming warranties, creating passport photos, and sending your neighbor a complaint letter!
Should you need assistance with requesting a refund for a delayed flight or fighting workplace discrimination, our virtual assistant shows you how it's done.
There's More We Can Do!
Tired of dealing with mundane tasks and spending hours running dull errands? We offer the perfect solution!
DoNotPay can assist you in completing tedious tasks with ease! The best part is that you will spend significantly less time on them, and you can get them done from the comfort of your home!
Paying bills, getting a free trial, canceling subscriptions, getting revenge on robocalls, requesting refunds, or making a DMV appointment is only a few clicks away!