When and How Often Do You Have To Apply for Financial Aid—Find Out Now!
Applying for college is stressful enough without having to worry about the tuition costs. Luckily, most colleges offer various types of financial aid to prospective students to help them pay for their education.
The question is—when and how often do you have to apply for financial aid? DoNotPay is here to give you the answer and help you get a sufficient sum for any college you want to attend!
Key Facts About Financial Aid for Colleges
Financial aid can come from various sources, such as:
Federal
State
Institutional
Private
If you decide to apply for financial aid, you can typically choose between the following types:
Grants
Scholarships
Loans
Work-study programs
While grants and scholarships are non-repayable (they represent awards for deserving students), loans must be repaid after graduation. Work-study programs help students find part-time jobs to pay for their college expenses.
Check out what financial aid packages at some of the most renowned universities in the U.S. look like:
The application process requires you to complete a Free Application for Federal Student Aid (FAFSA) form that serves to determine your financial aid eligibility. Depending on the college, source of aid, and type of award, you may have to fill out additional eligibility forms.
How Often Do You Have To Apply for Financial Aid?
You typically have to fill out the FAFSA form once a year for every year you want to receive financial aid. The reason for that is a potential change in your financial circumstances since you last applied. Note that you have to check when the FAFSA is due because deadlines for submitting the form can change.
If you filed your FAFSA before, you typically only have to renew it every following year. It means that you don't have to re-enter all the information you provided the first time. The Renewal FAFSA will already contain details that are not likely to change in a year (such as your demographic data), which will save you a lot of time. Bear in mind that you can update any information (not just financial) that has changed since your last submission.
How Often Do You Get Financial Aid?
The frequency and manner of getting financial aid depend on the source and type of award you've applied for. Take a look at the table below for more details:
Type of Award
When Will I Get It?
How Will I Get the Money?
Grants and loans

Students typically get grants and loans in two payments (called disbursements) at least once per semester
Schools that don't use terms like semesters or quarters will most likely disburse your money at the beginning and midpoint of the academic year
Students who have taken out a loan for the first time may have to complete additional steps or wait a specific amount of time before getting the money

College typically applies the grant or loan towards your tuition, fees, and room and board first. Excess money will be paid to you directly for other college expenses
If you get the loan money but decide you don't need it, you can cancel it within 120 days without paying any interest

Work-study programs

You'll be paid at least once a month

College will pay you directly unless you request them to:

Send the payment to your bank account
Use the money to cover your education-related charges (e.g., tuition, room, board)
When Do You Have To Apply for Financial Aid?
If you want to elevate your chances of getting enough aid, you must submit your FAFSA application soon after October 1st. Students can apply for financial aid until June 30th of the year they want to receive financial assistance (e.g., you can submit FAFSA until June 30th, 2021, for the 2020-2021 academic year).
Bear in mind that state and college deadlines for submitting FAFSA are typically much earlier. You should also get familiar with those time frames if you want to receive aid in time for the start of your academic year.
DoNotPay Comes to the Rescue if You Don't Get the Financial Aid You Need
A college rejecting your financial aid plea or awarding you a modest sum is a common occurrence. In those cases, you should consider appealing the college's decision with a well-drafted letter. Writing the letter yourself may be time-consuming, especially if you applied to multiple backup colleges. It is far simpler to use DoNotPay and let us generate as many appeal letters as you need!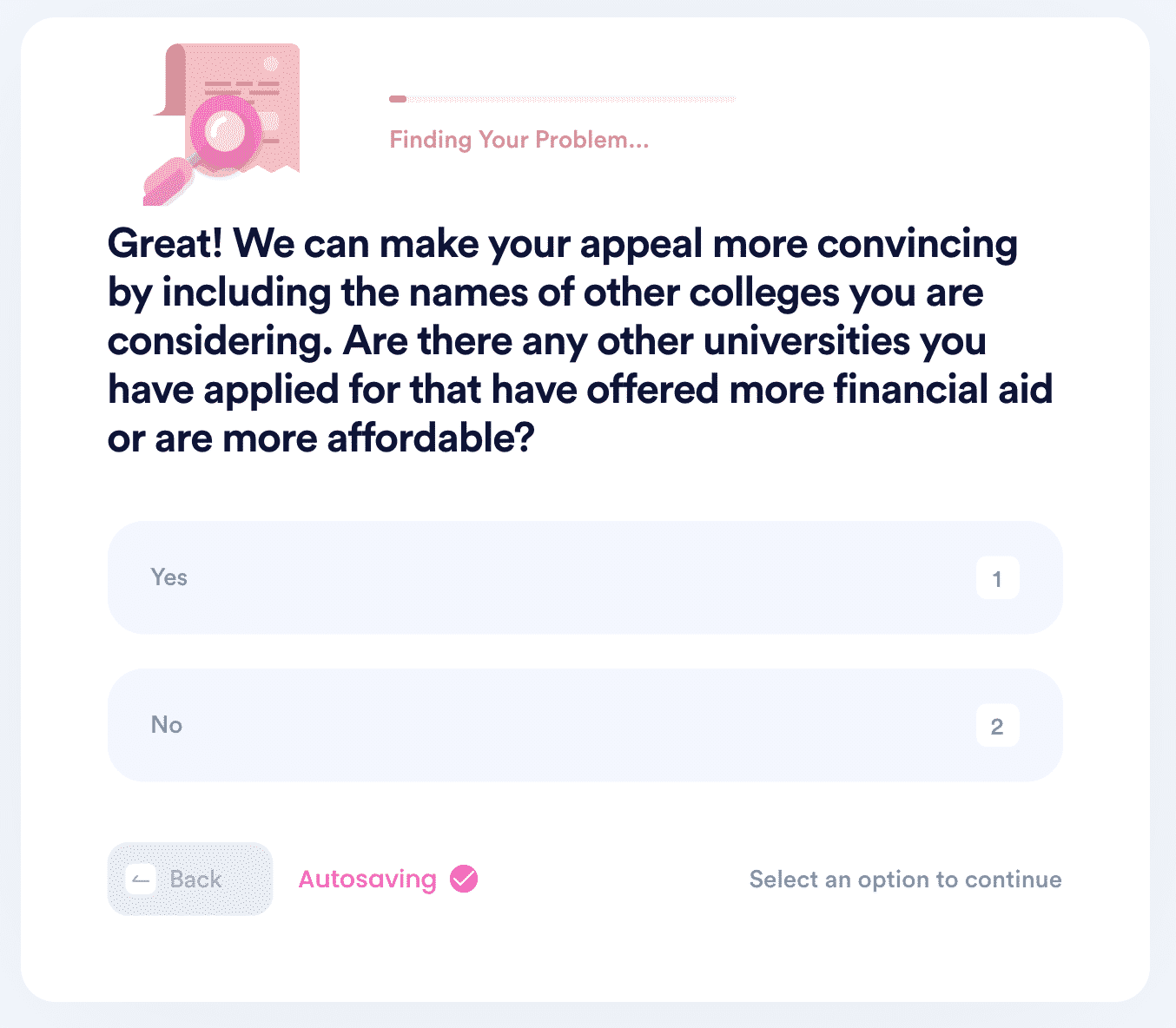 Most undergraduate and graduate students apply for grants so they can finish their studies without debts. While creating your appeal letter for a grant, we will make sure to:
Use a polite tone
State your case in an assertive way
Explain the reasons why you need (higher) financial award thoroughly
Here's what you should do first:
Find our Appeal for More Financial Aid product
Provide us with the details of your financial circumstances
We will create a letter using the information you gave us and send it to your desired college. You can expect an answer shortly after!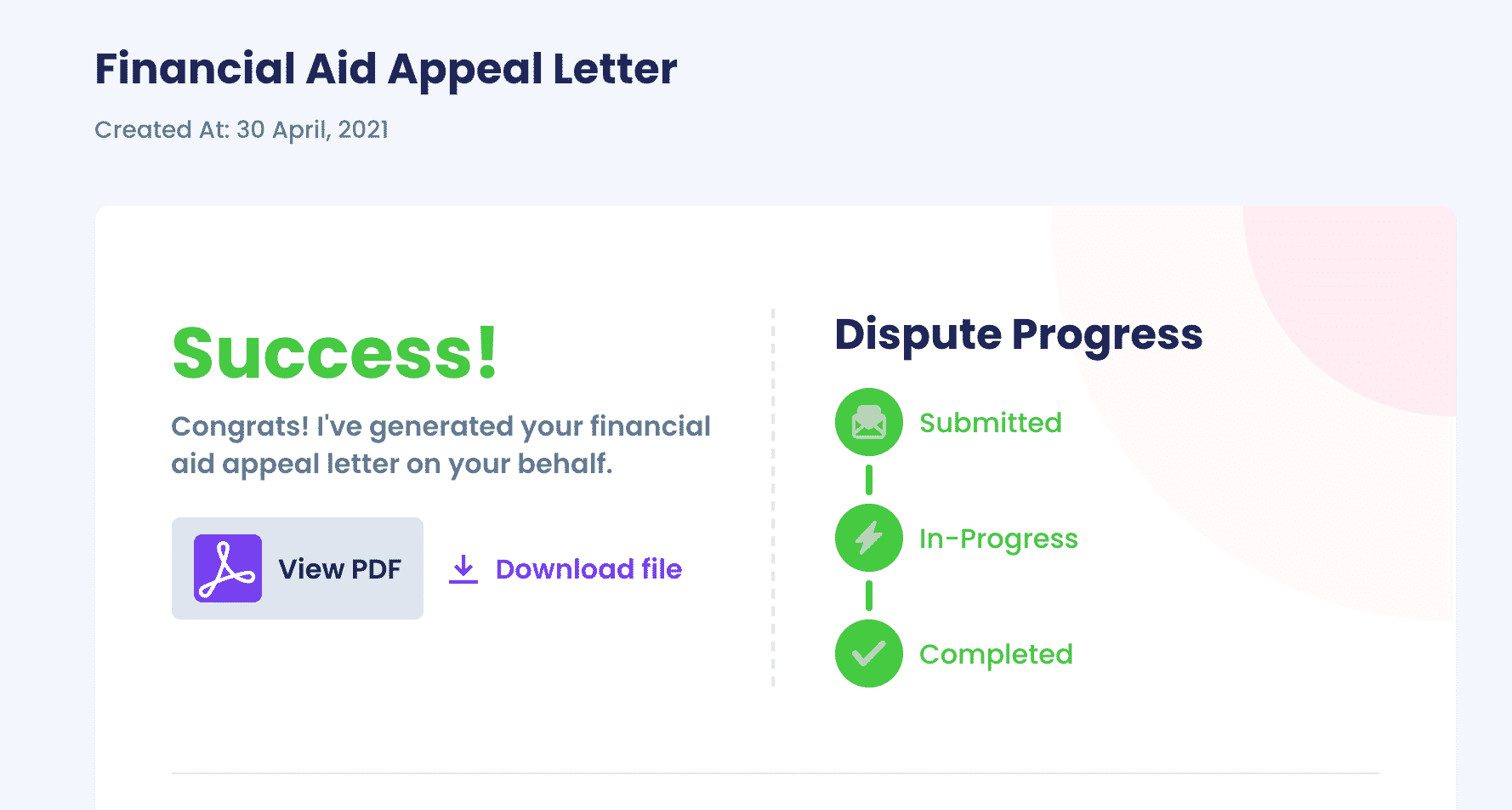 DoNotPay Makes Your Troubles Go Away
If you want an app that gets the job done, subscribe to DoNotPay! We have various features that can help you with almost anything—from canceling subscriptions and filing insurance claims to getting in touch with inmates!
It doesn't matter if you need help with bureaucracy issues or with everyday struggles because DoNotPay is your go-to app! We can help you:
Protect Your Customer Rights With DoNotPay
Have you been wronged by a company? Why not sue it in small claims court with our AI-based app? We can also help you claim any warranty or file an item return request in a few clicks! Trying to reach customer service representatives, but the phone keeps ringing? Your virtual assistant can help you jump the queue for any company in the blink of an eye!