Is the Rooms To Go Return Policy Hard To Deal With? DoNotPay Can Help!
Rooms To Go customers have often complained of receiving underwhelming furniture that's either defective or appears cheap. Several innocent online buyers felt straight-up deceived upon receiving discolored, peeling furniture that looks nothing like the website photos!
Unfortunately, the Rooms To Go return policy remains tight-lipped about various aspects of returning a defective item. The company's uncooperative customer service only makes it harder for customers to return their purchases.
If you dislike your recent Rooms To Go buy, and let us handle the tedious return process for you!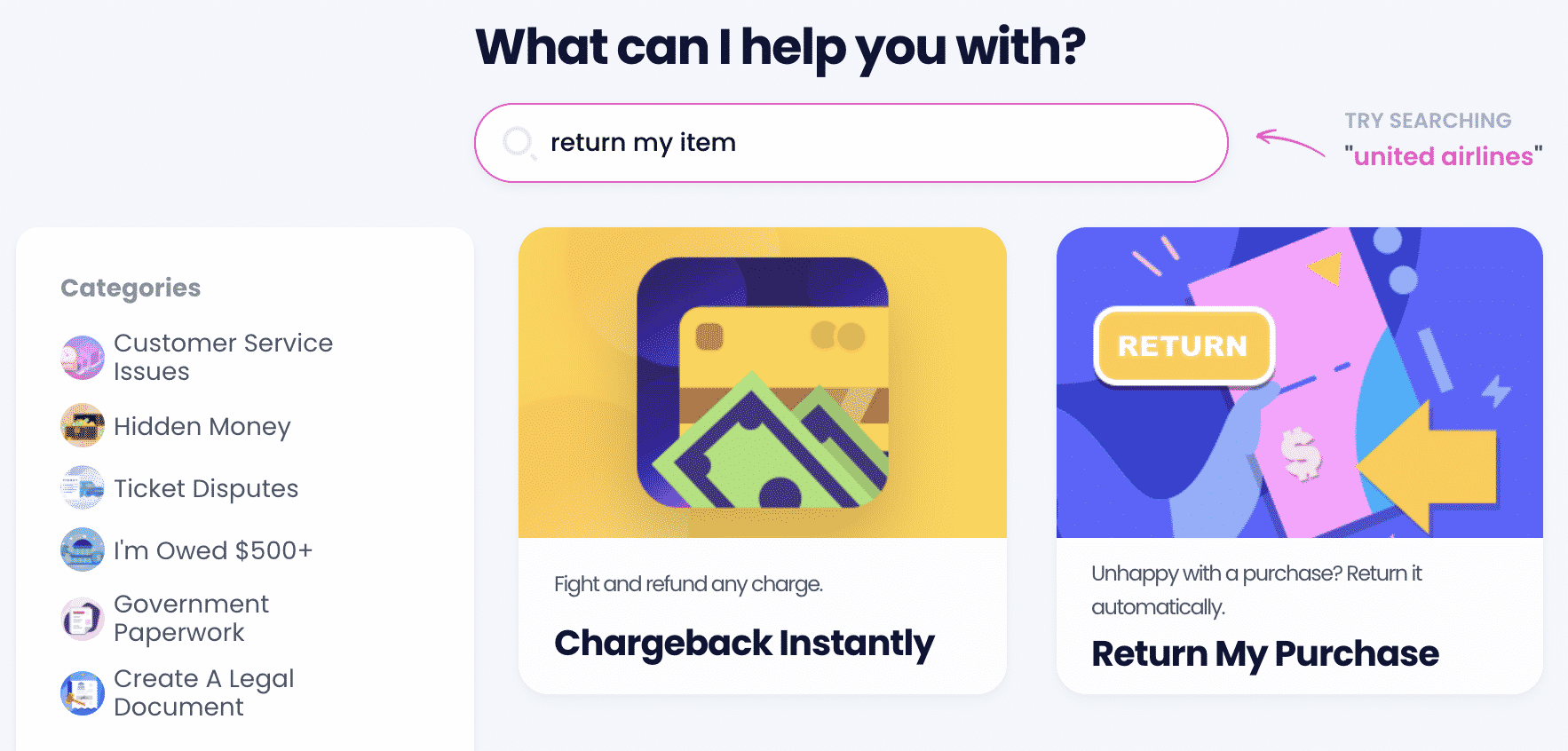 A Detailed Insight Into the Rooms To Go Return Policy
Rooms To Go (RTG) dictates different return guidelines for e-commerce and brick-and-mortar sales. We'll help you understand the intricacies of RTG's standard return policy for both online and in-store purchases.
Rooms To Go Return Policy for Online Sales
RTG's return guidelines for online purchases depends on whether your merchandise has been delivered or not—refer to this table for details:
Situation
Return Guidelines
Your merchandise is yet to be delivered

You can request a return (or cancellation of delivery in this case) only if the merchandise is not loaded on the delivery truck as per the latest order status
You are disqualified from canceling a delivery if you chose RTG's express or next-day delivery service

Your merchandise is delivered or loaded on the truck

You can return the item within 48 hours of receiving it if your merchandise is delivered or already loaded on the truck for delivery
You must return the item via UPS at your own expense and also ensure that it is delivered in intact condition
Rooms To Go Return Policy for Showroom Sales
RTG's return policy for showroom sales can be pretty harsh—you cannot return an in-store purchase once it has been delivered to you!
When you've already paid for a showroom item, but it's yet to be delivered, you can cancel the sale only within 48 hours of purchase (to be eligible for a full refund).
In case it's past 48 hours of purchase and the merchandise is still not delivered, you can cancel it, but RTG will only refund you for 80% of the amount paid.
Considering the strict guidelines and tight return window, be extra prudent while making a showroom purchase.
Rooms To Go Return Policy—Common Questions Answered
Rooms To Go conveniently avoids explaining several important elements of their return policy, which leaves buyers confused. Based on the company's prevalent return practices, we have answered some of the most commonly asked questions about their return policy.
When Can I Return a Defective Rooms To Go Item?
If you received a defective or damaged Rooms To Go item, you can:
You cannot access the above remedies for final sale purchases.
What Is the Rooms To Go Mattress Return Policy?
Rooms To Go has a uniform return policy for all its products, including mattresses. Most mattresses, however, get rejected for refunds because they are not returned in original condition.
Can I Return an Online RTG Purchase at a Store?
No, Rooms To Go showrooms don't accept physical returns of any kind.
Will It Cost Me To Return Rooms To Go Merchandise?
If you're returning a Rooms To Go item, you may have to bear the following expenses:
To-and-fro delivery expenses (between $400 and $500)
Restocking fee of $199
Other taxes or charges set by RTG
How To Set Up a Rooms To Go Return—Explained
You have a limited set of options if you want to return your Rooms To Go merch—this table will give you the big picture:
| Can You Initiate a Return Request Via | Yes/No |
| --- | --- |
| DoNotPay | Yes |
| Email | No |
| Phone | Yes |
| Letter | No |
| Website | No |
| In-Person | No |
One of the biggest drawbacks of RTG's return policy is their inflexible return mechanism—but we can help you work your way around it. If you want to initiate a return on your own, follow these steps:
Ensure your item is eligible for return
Contact Room To Go's customer service during work hours and state your sales order number
Explain why you want to return the item (this step is typically time-consuming as service representatives usually ask a bunch of questions before accepting your return)
Note down the customer support staff's instructions related to packing and delivery
Follow the instructions and use the nearest UPS service to ship the item
Track the package until it is delivered
Remember that RTG holds you responsible for the safe delivery of the package. Since most of the company's products are super pricey, it's better to insure your package to cover the risk of delayed deliveries and lost or damaged packages.
Don't Delay Your Return—Use DoNotPay To Place a Return Request ASAP!
Room To Go's return deadlines are merciless—it's certainly a bad idea to hold on to a shabby RTG purchase for long. If you're pinched for time, use DoNotPay to place an item return request in under two minutes!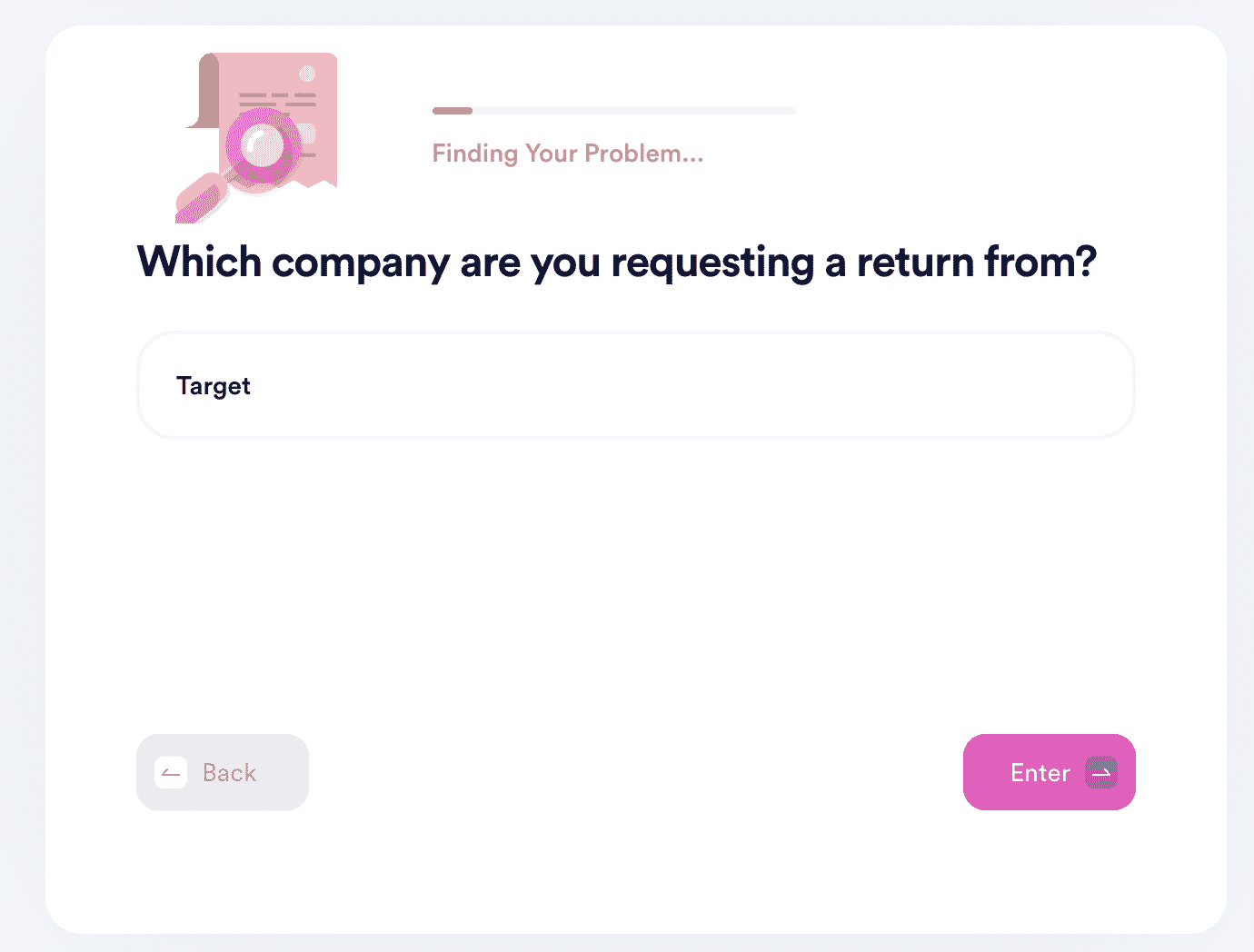 Our app not only speeds up the return process but also help you with:
Setting a deadline for quicker refunds
Securing a free shipping label (wherever applicable)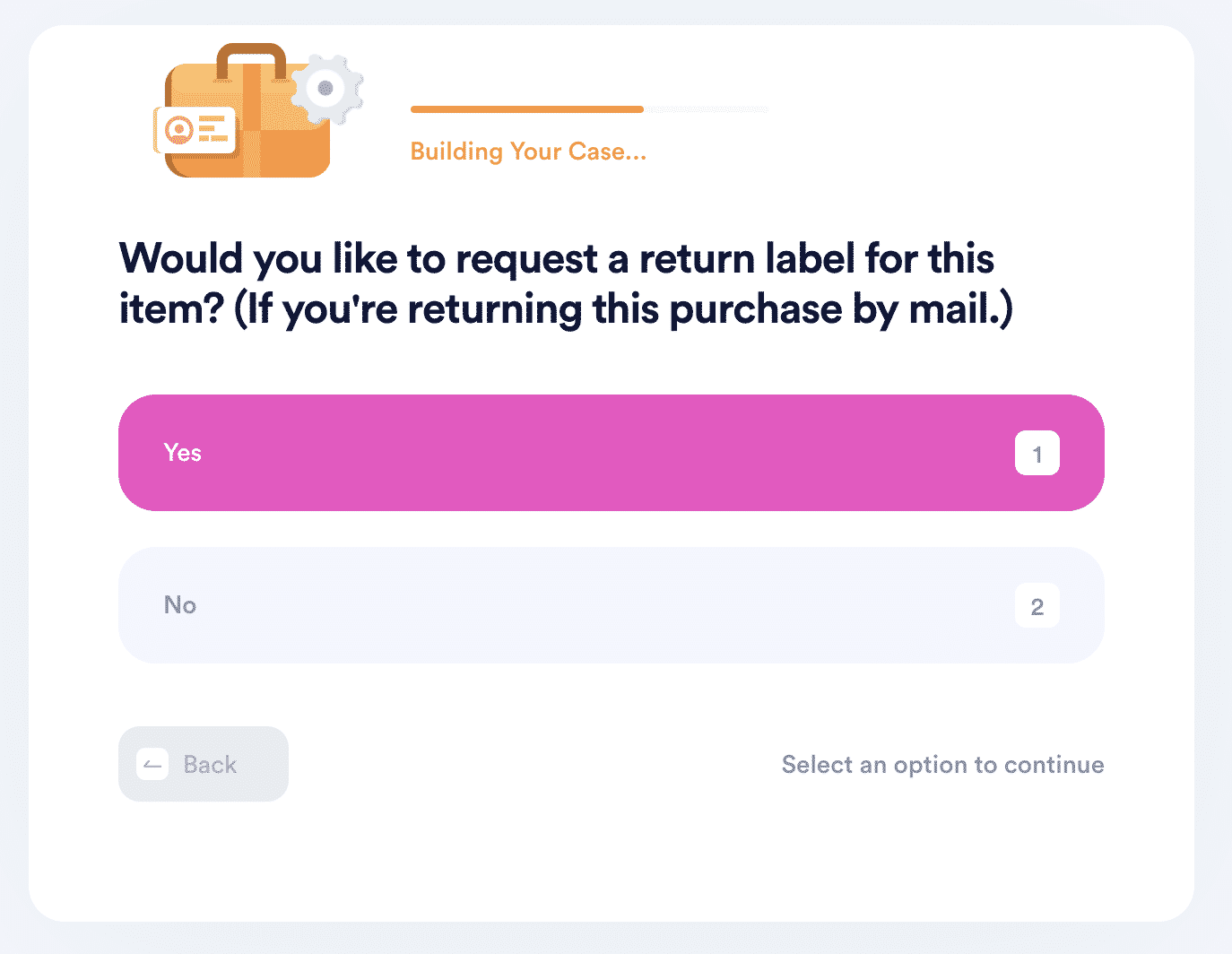 Follow these instructions to return your RTG merch with our help:
Navigate to our Item Return Request product
Interact with our chatbot to enter your purchase details
Click on Submit
We will instantly draft a customized return request letter and send it to Rooms To Go. We'll also keep tabs on the refund status for you.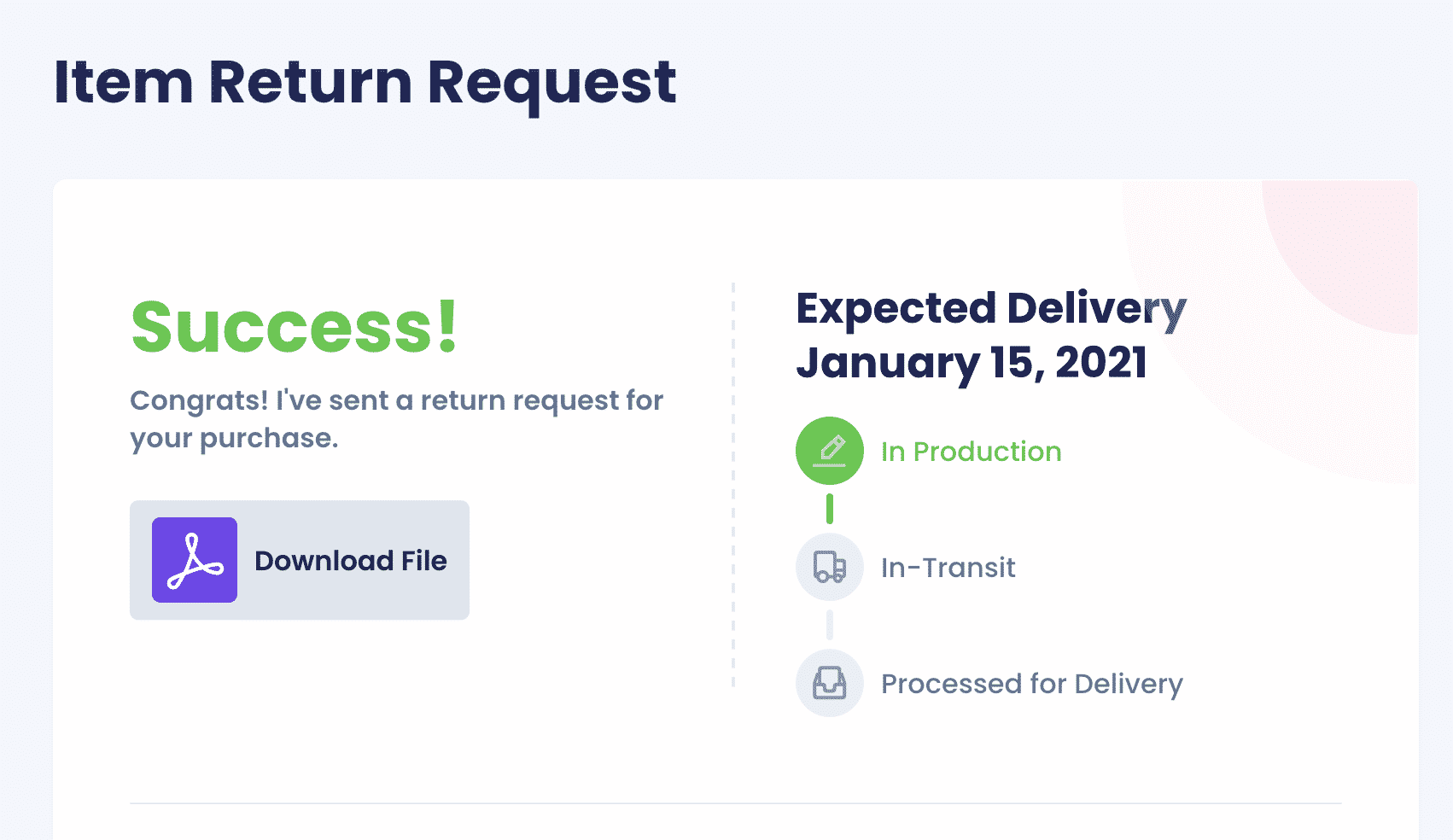 If RTG takes longer than ten days to process your refund or disputes it, we can help you:
Write a demand letter
File a formal complaint
Sue them in a small claims court
DoNotPay Offers Solutions for Multiple Return Policies!
DoNotPay's learning center has return policy guides for hundreds of merchants—you can check out some in this table:
DoNotPay Offers More Than Swift Returns
Our AI-driven app has a plethora of products that can help you save time and money. Once you sign up for DoNotPay, you will be able to:
Check Out Our Full Product Range
There's so much more to DoNotPay than filing return requests. With our app, you can cancel any membership, sign up for a free trial risk-free, get a virtual credit card, sign up for a clinical trial, map sex offenders in your area, and demand a refund from any airline.
If you want to reduce your property taxes, get help paying your bills, enter raffles and sweepstakes, find your unclaimed funds, or prepare for a government test, DoNotPay is the only solution you need!
Sign up today to access all of our products!