Do You Need To Visit a Notary Public in Columbia, MD?
Finding the most convenient way to get your documents notarized can be demanding. It takes time and energy to do the necessary research.
What are your options besides heading to an office of a notary public in Columbia, MD? Access DoNotPay whenever you are looking for answers to this and similar questions. We provide notary-related information together with the most practical notary service.
What Can a Notary Public in Columbia, MD, Do?
A notary public in Columbia, Maryland, performs the notarization of various legal documents, including:
Apart from notarizing documents, a notary can also take acknowledgments and administer oaths and affidavits.
A Notary in Columbia, MD—The Most Practical Type
Depending on your preferences, you can choose from different types of notaries public. To get a better understanding, you might want to check out the following list of available notaries:
Notary Type

Explanation

Regular notary

Regular notaries public perform notarial acts:

Face-to-face

In their offices

Independently or within an institution

Electronic notary

E-notaries also provide notary services:

In person

In their office

The sole difference between electronic and regular notaries is that the former notarize electronic documents

Mobile notary

Mobile notaries offer all notary services at a venue you choose, i.e., at:

Your home

Mall

Jail

Cafe

Hospital

Nursing home

Your business

Keep in mind that these notaries charge special mobile notary fees that are higher than the regular ones

Online notary

Online notaries provide

remote online notarization

:

Via a live audio-video call

Regardless of where you are, i.e., across the States
How To Organize Notarization With a Notary Public in Columbia, MD
To get your documents notarized, you should follow these steps:
Locate a notary

—you can search for one on the internet or at nearby places

Get in touch with a suitable notary

—once you have selected a convenient notary type and obtained his or her contact information, you need to contact the notary to:

Schedule an appointment

Ask about the required documents and fees

Set up an appointment

—make sure you are not late for your agreed meeting as notaries can charge you extra for that

Gather the necessary documentation

—you can use DoNotPay's

Standardized Legal Documents

feature to prepare your contracts or documents

Bring an ID document

—as a notary public has to confirm your identity, you need to provide a valid photo ID document

Meet with a notary

—depending on the selected notary type, you can meet a notary public at:

His or her office

Practical location

Remotely
The notarization process is complete once:
You settle the agreed fees

The notary issues a notarial certificate and puts the

signature

and stamp on the document
Can a Notary in Columbia, MD, Refuse To Notarize Your Documents?
As one of the notary's main responsibilities is to help deter fraud, a notary public can refuse to provide notary services in case he or she:
Cannot identify you using satisfactory identification methods

Determines you do not understand what you are signing

Establishes you are not signing the document of sound mind

Believes you are under duress

Finds the notarization would result in an improper or illegal act
Where To Look for a Notary Public in Columbia, MD
You can get the contact information of available notaries in Columbia by:
Visiting a company or institution close by, including:

Law offices

AAA

offices

Courthouses

Public libraries

Accountant offices

Real estate agents

Police departments

Insurance companies

Colleges or universities

Shipping companies, such as

UPS

Credit unions and financial institutions

Banks

, such as

Citibank

,

Bank of America

,

Huntington

, or

Wells Fargo

Browsing through various websites, including the following:

Using a notary service provider—

to connect with an online notary quickly and dodge:

Searching for contact information

Visiting a notary's office

Paying high mobile notary fees
DoNotPay's Remote Online Notary Service Is Available 24/7
Using a traditional notary service can be taxing and time-consuming. Why would you want to waste your energy and time to go through the whole notarization process by yourself when DoNotPay provides an automated product you can use?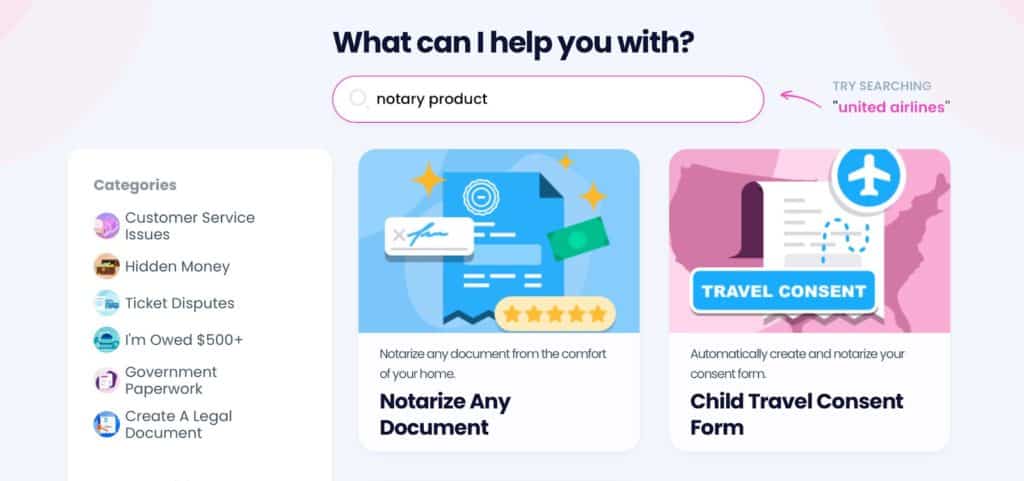 We collect and update the relevant information on notaries across the USA and offer you a direct connection with an online notary. All you need to do is and:
Select our

Notarize Any Document

product

Upload the document you want to get notarized

Type in your email address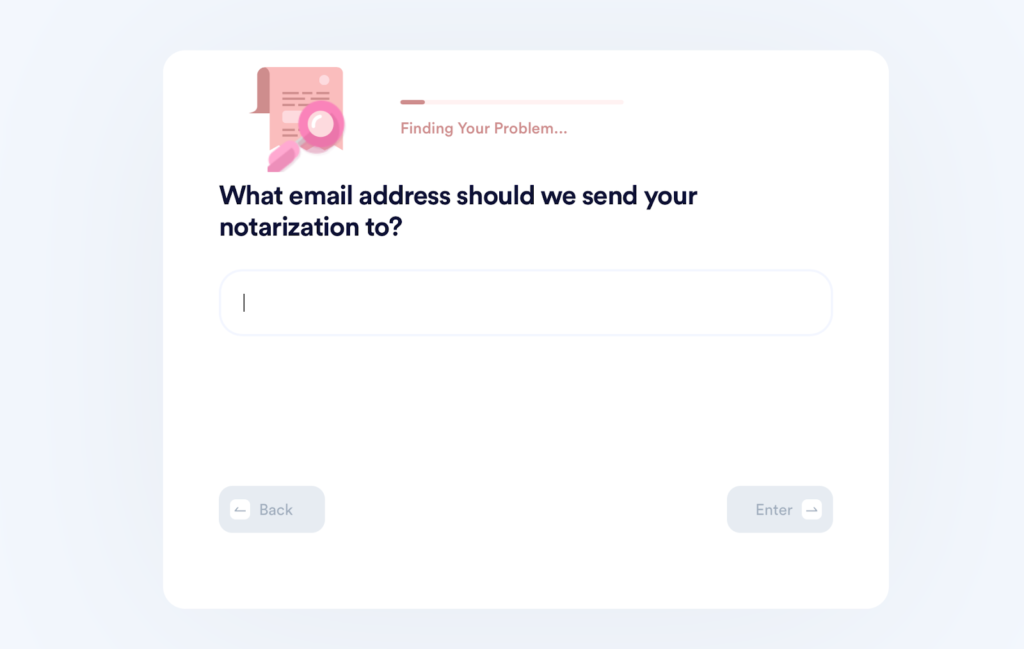 You will get an email from us with a link that will direct you to a notary's schedule. Choose and confirm a suitable time for your virtual appointment.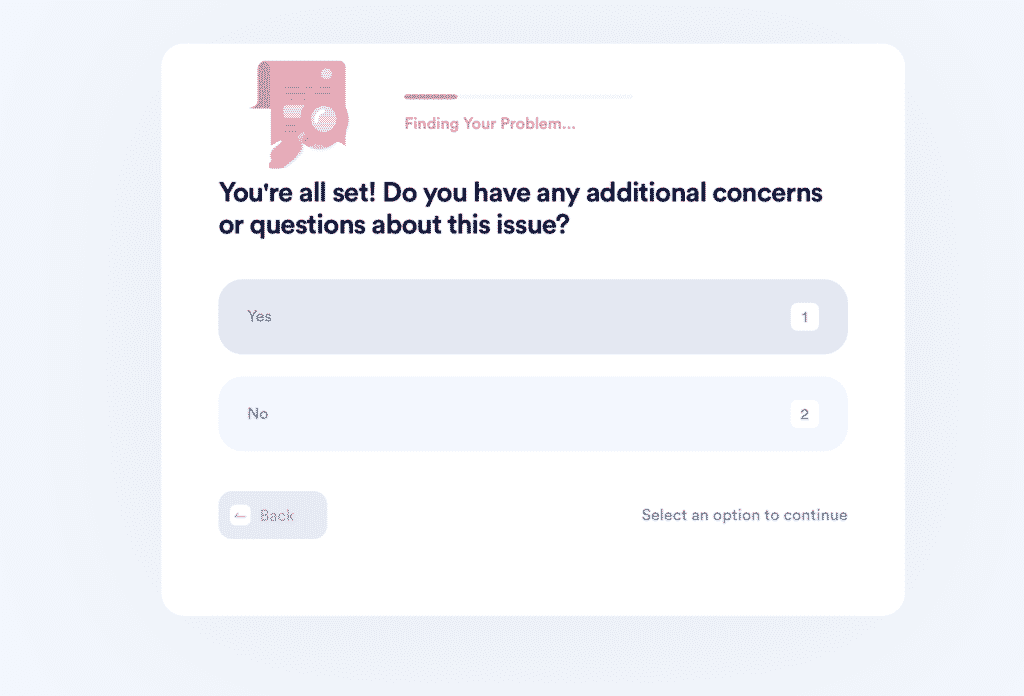 The whole process is:
Safe

—remote online notarization preserves your health

in pandemic times

Fast

—not only can you connect with a notary in three clicks, but you can also book an appointment 24 hours a day, seven days a week
DoNotPay Helps You Deal With Various Problems Worry-Free
DoNotPay has developed a wide variety of products you can use to manage numerous tasks.
Do you want to get a refund from a company? Are you wondering whether you can request compensation from airlines for poor Wi-Fi or canceled flights? Is hiring a lawyer to draw up legal documents too expensive for you? Sign up for DoNotPay and solve your issues in a matter of minutes!
Use our AI-powered app to get rid of robocalls, spam emails, and text messages.
Need help locating and canceling all your unused memberships? DoNotPay has a product for that too!
Prepare for your driving test using our Government Tests Prep feature and schedule a meeting with the DMV to take the test through the same app. We can even help you claim your car insurance or warranty and contest parking tickets in a flash!
Learn How To Protect Your Privacy With DoNotPay
Protecting your personal info online can be challenging but not impossible. The next time you come across a service that requires phone verification, make sure to use our Burner Phone product and have us generate a fake phone number you can use.
Our virtual credit card can help you sign up for free trials without having to disclose your name, email address, or credit card info.
Are you thinking about connecting with an inmate pen pal? Make sure to keep your real address a secret by relying on DoNotPay. Besides helping you send letters to inmates, we can also receive mail from the prison on your behalf, scan each letter, and send it to your email address.