Get a Notary in Corona, CA, for Hassle-free Security
Getting legal documents notarized is the best way to ensure that they will be harder to contest in court. Whether you are preparing a will, signing a contract, or writing an affidavit, the process of notarization proves that the right parties have agreed to it and means that the document carries more legal weight.
If you are looking for a notary service in Corona, CA, DoNotPay has all the information you need to make the best choice!
What Is a Notary's Job?
A notary's job—before a document is signed—is to verify the signatory's:
Identity

Suitability

Competence
A notary signature and stamp on a document vet its authenticity.
Identity
You must prove to the notary that you are who you claim to be. You should bring a photo ID to the notarization appointment, and the ID should include a sample of your signature. Acceptable forms of ID are a current passport, a valid driver's license, or any form of government-issued ID that fulfills the criteria.
Suitability
A notary will want to ensure that the document you are signing concerns you directly. You should clarify your relationship to the document, stating whether you are:
The author

A named signatory

An affected third party
Competence
You must be of legal age (18 in California) and capable of understanding the contents of the document you are signing. To this end, notaries may ask you to explain your understanding of the document and will want to ascertain that you are not signing under duress or any outside influence.
A notary will only witness your signature if you pass the above tests successfully.
Where Can I Find a
Notary Public in Corona, CA
?
You have three options for finding notary services in Corona:
Notary Type
Explanation

The most common way to access notarial services is to visit a notary in person. Many notaries offer walk-in services, but you will most likely have to:

Make an appointment

Travel to the notary's office

Wait in line for your slot

Remember to bring all the necessary documents with you

Notaries are easy to find in Corona—your easiest route is to use one of these search engines:

Notarial services are also often offered in the following places:

Mobile notary

Mobile notaries take much of the inconvenience out of a notary appointment by coming to your location. While this means you don't have to leave your home or office, mobile notaries charge for their travel, so you may end up paying a premium for their services.

Mobile notaries are also often overbooked, so urgent notarizations may not be feasible

Online notary

The most convenient route is to use an online notary.

California does not allow its notaries to perform their duties via remote online notarization (RON) yet, but state law allows you to use an out-of-state online notary to verify your documents
Using an online notary is the easiest way to get your documents notarized, and DoNotPay can connect California residents to online notaries based in any of the 28 states that allow RON. These states are:
How Much Does a Notary Charge in Corona?
The State of California sets fixed rates for notarial services, as follows:
Fee Type
Rate

Signature/stamp fees

Acknowledgment $15

Jurat $15

Mobile service fee

$25 flat-fee plus an additional $1 per mile outside of a round trip distance of 25 miles

After hours fee (outside normal 9–5 business hours)

$20

Holiday fee

$20

Waiting fee (if you are more than 15 minutes late for an appointment)

$15 per 15 minutes waiting time

Loan documentation fees

$125

Printing charges

$0.20 per page

$25 for a full set of real estate documents

Living trust fees

$75

Witnessing service

$25

Returned check charge (if your check is not honored by your bank)

$35

Cancellation fee (if you fail to sign after the notary has attended the appointment)

$25
Does DoNotPay Offer a Notary Service?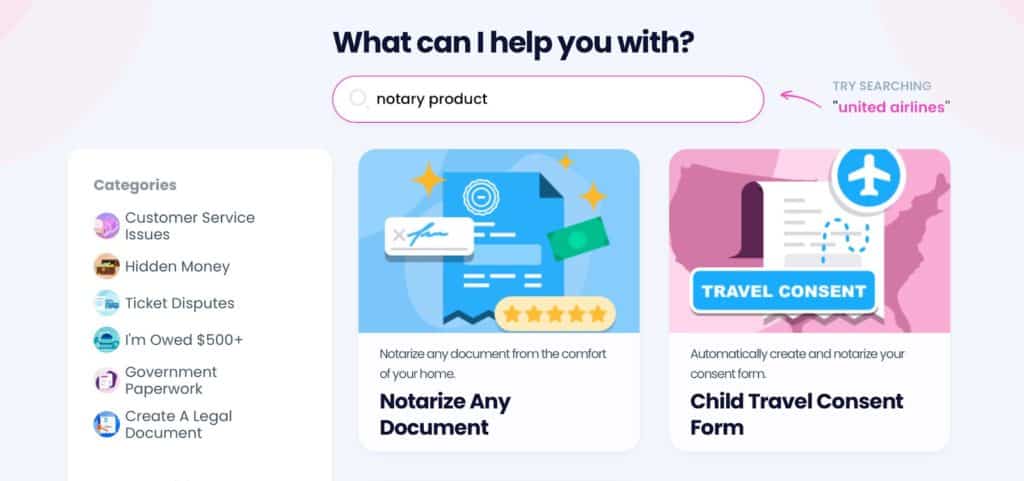 DoNotPay can help you get your documents notarized in a flash. With our online notarization service, you can access a notary with a few clicks:
Go to DoNotPay in your web browser and

Click on our

Notarize Any Document

product

Upload the document you want notarized

Fill in your email address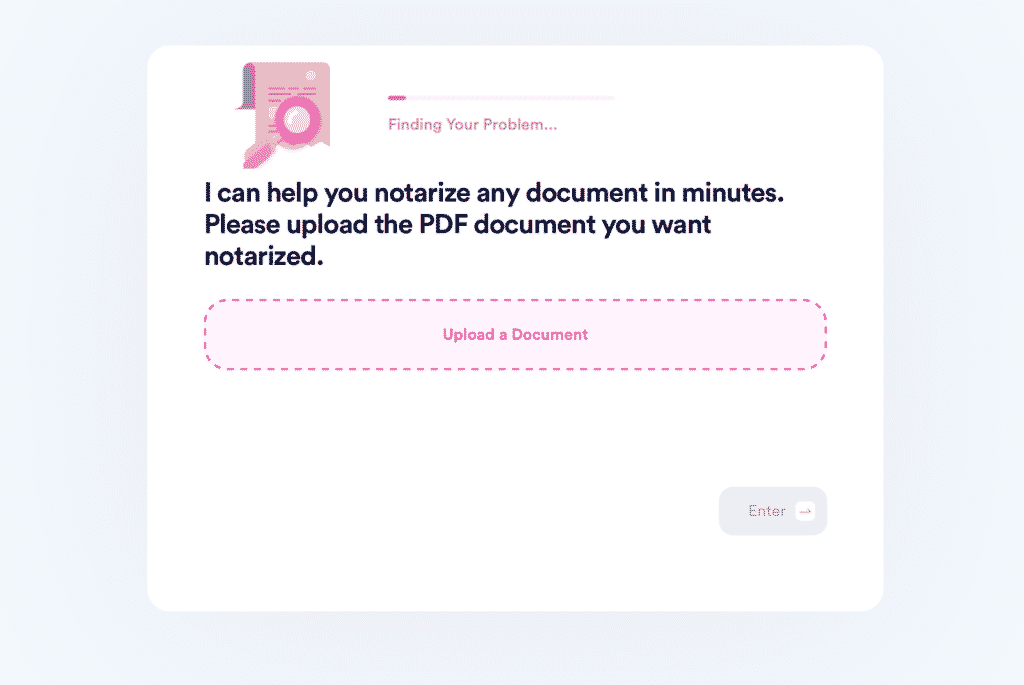 In an instant, we will send you an email containing a link for you to schedule your appointment with an online notary.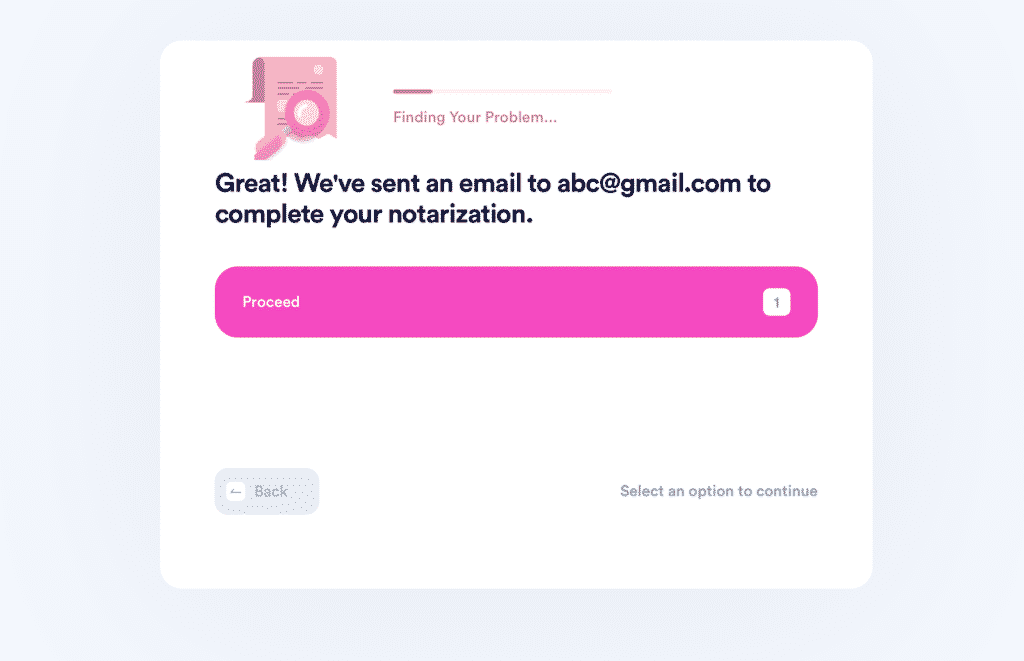 Need To Create a Legal Document? DoNotPay Can Help!
If you don't feel comfortable creating your own contract, DoNotPay has a range of legal documents and contract templates you can customize to your requirements.
To get your tailor-made legal document, here's what you need to do:
or sign in

Search for the document you need

Give us the details you want included

Wait while we generate your document
The range of documents we can offer is growing all the time, and here are a few examples:
Property:
Lease agreement

Real estate purchase agreement

Estoppel certificate

Quitclaim deed

Intent to purchase real estate
Business:
Non-compete agreement

Non-disclosure agreement

Operating agreement

Independent contractor agreement

Bill of sale

General business contract
Personal:
General affidavit

Custody agreement

Prenuptial agreement

Promissory note
Money Troubles Got You Down? Use DoNotPay To Get What You're Owed!
If you need help paying bills, you could benefit from our hacks for saving and earning money.
Our app can help you get free trials with no hidden charges, thanks to DoNotPay's virtual credit card. If you want to get rid of a service, we can assist you in canceling it or requesting a refund. We'll get everything done so that you don't have to deal with customer service. In case a company is playing dirty, our award-winning app can help you take it to small claims court.
A slow bureaucratic process shouldn't stop you from getting your money back. This is where DoNotPay comes in! We provide the fastest way of:
Rely on DoNotPay To Manage Different Tasks and Issues
DoNotPay is a multifaceted app making your life easier in numerous ways. Here's how you can benefit from your DoNotPay account: