Everything You Should Know About Homeschooling a Dyslexic Child
Parents who homeschool know the amount of dedication and energy teaching at home requires. If children have any special learning needs, the job becomes even more demanding.
Should you start homeschooling a dyslexic child? to get the essential info about teaching a child with dyslexia. We will present the benefits and challenges of teaching at home and create a notice of intent to homeschool on your behalf to take some administrative burden off your back.
The Downsides of Sending Dyslexic Children to Schools
It's no secret that public education is far from perfect, but it's important to understand how much it can affect children's development. Most public schools don't test for learning issues until 3rd grade, even though detecting problems as early as possible is of utmost importance.
A staggering 80–90% of students have dyslexia. Despite such a high percentage, the public school system does not test for dyslexia or attempt to address the issue by using the methods available.
Considering these disturbing facts, an answer to whether you should start homeschooling a dyslexic child is a simple one.
How to Start Homeschooling a Child With Dyslexia
Before you take your child out of school, you should be aware of the essential homeschooling requirements. As a parent of a dyslexic child, you should:
Learn about your state laws and how your district regulates homeschooling
Hire a reading specialist who is going to evaluate your child's strengths and weaknesses
Research the resources available and find out if your state gives homeschoolers with learning disabilities access to special services
Find the optimal homeschool curriculum for your child's learning needs
Learning Preferences of Dyslexic Children To Be Aware Of
Even though every child is unique, dyslexic children often have similar learning preferences. Kids who experience difficulties with reading:
Prefer shorter teaching sessions
Do better with auditory learning
Like discussing the material
Don't like writing exercises
Don't do well in reading exercises
Are not fans of rote memorization
Homeschool Curriculum for Dyslexic Students
The offer of homeschooling curriculums is endless, but you need to be careful when choosing one for a child with dyslexia. Here are some handy tips on finding a suitable learning program for your student:
Search for a curriculum that fits your child's learning style
Read all the reviews carefully
Ask other homeschooling parents with dyslexic kids for advice
Look for a curriculum with audio options
Search for a curriculum with hands-on activities
Challenges and Benefits of Homeschooling Dyslexic Children
Even though deciding to homeschool a dyslexic child will be beneficial for them, you will have to put twice as much time and effort into teaching. Refer to the table below for a brief overview of what you can expect during the process:
Benefits
Challenges

Customizing learning materials to your child's specific learning requirements
Developing lessons based on your child's interests
Adapting the pace
Hiring a specialist who can develop a customized instructional program in an effective way
Focusing on content
Not having to deal with peer pressure or bullying due to a special learning need

Having to be more patient than you would with children without special learning needs
Having to be more imaginative when it comes to creating engaging learning content
Needing to adjust to the higher cost of homeschooling education because you will probably need to hire a tutor, educational expert, or learning specialist
Do You Need To Inform Your School District Before Starting To Homeschool?
Most states mandate parents to send a letter of intent to homeschool to the superintendent of their school district. It does create additional paperwork to an already complicated and demanding process, but you don't have to deal with it alone. DoNotPay is at your service for creating this legal document!
DoNotPay Generates a Letter of Intent for You in the Blink of an Eye
If you choose to use DoNotPay to create a letter of intent, you've selected a straightforward way to handle the task. We will make sure the letter contains all the necessary information and meets the requirements of your school district.
We can send this legal document on your behalf, or you can download the PDF and mail it yourself. If you wish, you can also get the letter of intent notarized with DoNotPay's help.
To access these neat features, you should:
Choose the Notice of Intent To Homeschool product
Provide us with relevant info about your school district
Answer several questions about you and your child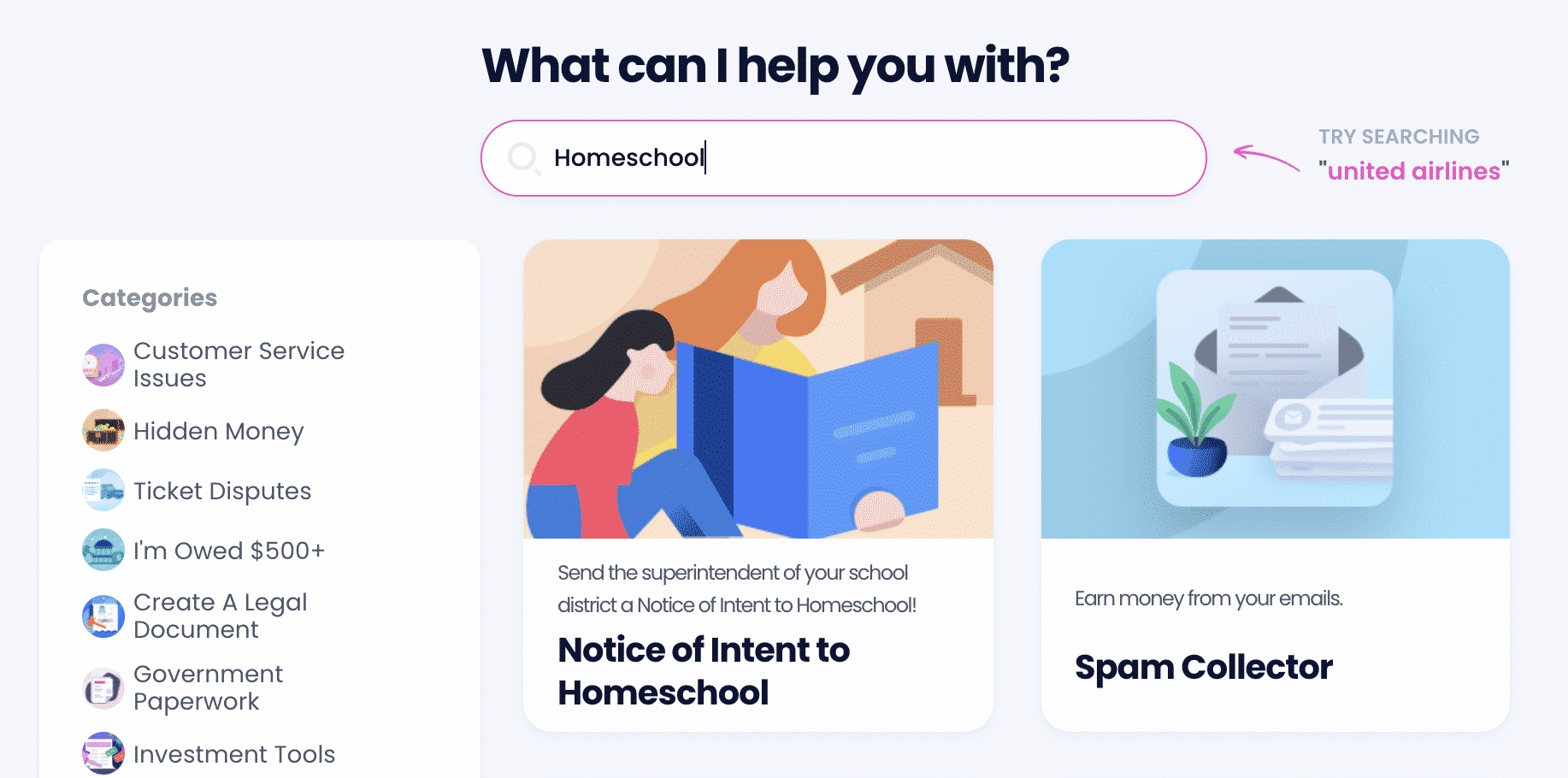 Have More Homeschooling-Related Questions? DoNotPay Has Your Answers
If you want to learn more about home-based education, check out DoNotPay's helpful articles on:
DoNotPay Helps You Run Errands Without Leaving the Comfort of Your Home!
If you're on a tight schedule and you can't afford to spend hours running errands, DoNotPay steps in with a perfect solution! You can skip going to the post office to request an item return or visiting a notary public to get your documents notarized—Our app will help you get it all done without going anywhere!
Visiting your local Walmart to have your passport photo taken is unnecessary since DoNotPay can help you get it at home!
Consult the list below to see what other tasks you can complete using our app:
Unsubscribe From Unwanted Services at Any Time
Companies tend to keep charging their clients monthly subscription fees automatically if they don't end their subscriptions. Stop wasting money on forgotten memberships—DoNotPay will show you how to terminate your subscription in a few clicks!
You can also learn how to sign up for a free trial without getting charged, create a burner phone number or a virtual credit card hassle-free!