Fresno City College Financial Aid—A Comprehensive Guide
Fresno City College (FCC) is a community college in California known for its health study programs and athletic teams, but the total cost of tuition and attendance, which can go over $30,000, complicates attendance for many students.
This guide will get you acquainted with the Fresno City College financial aid program, explain how to apply for it, and show you how to if it denies you aid!
The Basics of Fresno City College Financial Aid
Students can qualify for the following types of aid at Fresno City College:
Grants
Scholarships
Federal Work-Study
Loans
Tuition waivers
Grants at Fresno City College
Check this table to find out what grants are available at Fresno City College:
Category
Grant
Federal
Federal Pell Grant
Federal Supplemental Educational Opportunity Grant (FSEOG)
CARES Emergency Grant
State
California College Promise Grant
Cal Grant
Student Success Completion Grant
Chafee Grant for Foster Youth
Keep in mind that the 150% rule states that you can receive financial aid at a community college for a maximum of three years (if you're enrolled in a two-year program).
Fresno City College Financial Aid—Scholarships
Fresno City College students can use the Scholarship Manager to explore available opportunities and apply for them. The school also offers a scholarship database so that students can check out the criteria for each.
Federal Work-Study at Fresno City College
To participate in the Federal Work-Study Program, students must complete their FAFSA. Applicants who qualify for FWS must:
Maintain satisfactory academic progress (SAP)
Hold one FWS position at a time
Maintain enrollment in a minimum of six units per academic term
Participants receive their awards on the 10th of each month via check or direct deposit.
Loans Available at Fresno City College
Fresno City College participates in the Federal Direct Stafford Student Loan program that allows you to borrow:
Direct subsidized loans
Direct unsubsidized loans
To borrow a loan from FCC, follow these steps:
Complete your FAFSA
Attend counseling with the school's financial advisor to determine loan eligibility
Complete the loan questionnaire
Sign and submit your Entrance Counseling form or Master Promissory Note (or both) when you start school
Fresno City College Tuition Waiver
California residents applying for Fresno City College are eligible for a tuition waiver if they:
Are first-time students
Enroll in and complete at least 12 units each semester
Complete their FAFSA
To maintain the waiver in their second year, students must complete 12 units and submit their FAFSA the following year.
How Much Aid Can I Expect From Fresno City College?
In the academic year 2020/2021, 89% of first-year Fresno City College students received a financial aid package averaging $8,767. If you qualify for the FCC tuition waiver, you can save up to $7,664.
How To Apply for Fresno City College Financial Aid
Prospective students need to complete and submit their FAFSA/CADAA and include the school's code, which is 001307, to successfully apply for financial aid.
Check the following table for crucial application dates at FCC:
| | |
| --- | --- |
| Date | Description |
| October 1 each year | FAFSA and CADAA applications open for the next academic year |
| Around March 2 | Priority deadline for Cal Grant awards and FCC scholarships |
| September 2 | Final deadline for Cal Grants for the starting academic year |
If you need to send additional documentation to FCC to complete your application or have any questions about the application process, you can reach the Fresno City College Financial Aid Office using these methods:
Method
Contact Information
By phone
559-442-8245
Via fax
559-499-6024
By email
financialaidoffice@fresnocitycollege.edu
Via mail
Fresno City College

Attn: Financial Aid Office

1101 E University Ave

Fresno CA 93741
What Can I Do if Fresno City College Rejects My Financial Aid Application?
Fresno City College acknowledges financial aid appeals only under the following circumstances:
Loss of a parent or spouse
Getting married after filing the FAFSA
Loss of income

Alimony
Child support
Social Security
Worker's compensation

You or your parents divorcing
Loss of employment
If the worst happens and Fresno City College rejects your application, you can submit a Special Circumstances Request and write an accompanying letter. DoNotPay can help you get a rock-solid appeal letter ready and on its way to FCC in no time!
Use DoNotPay To Request More Aid From Fresno City College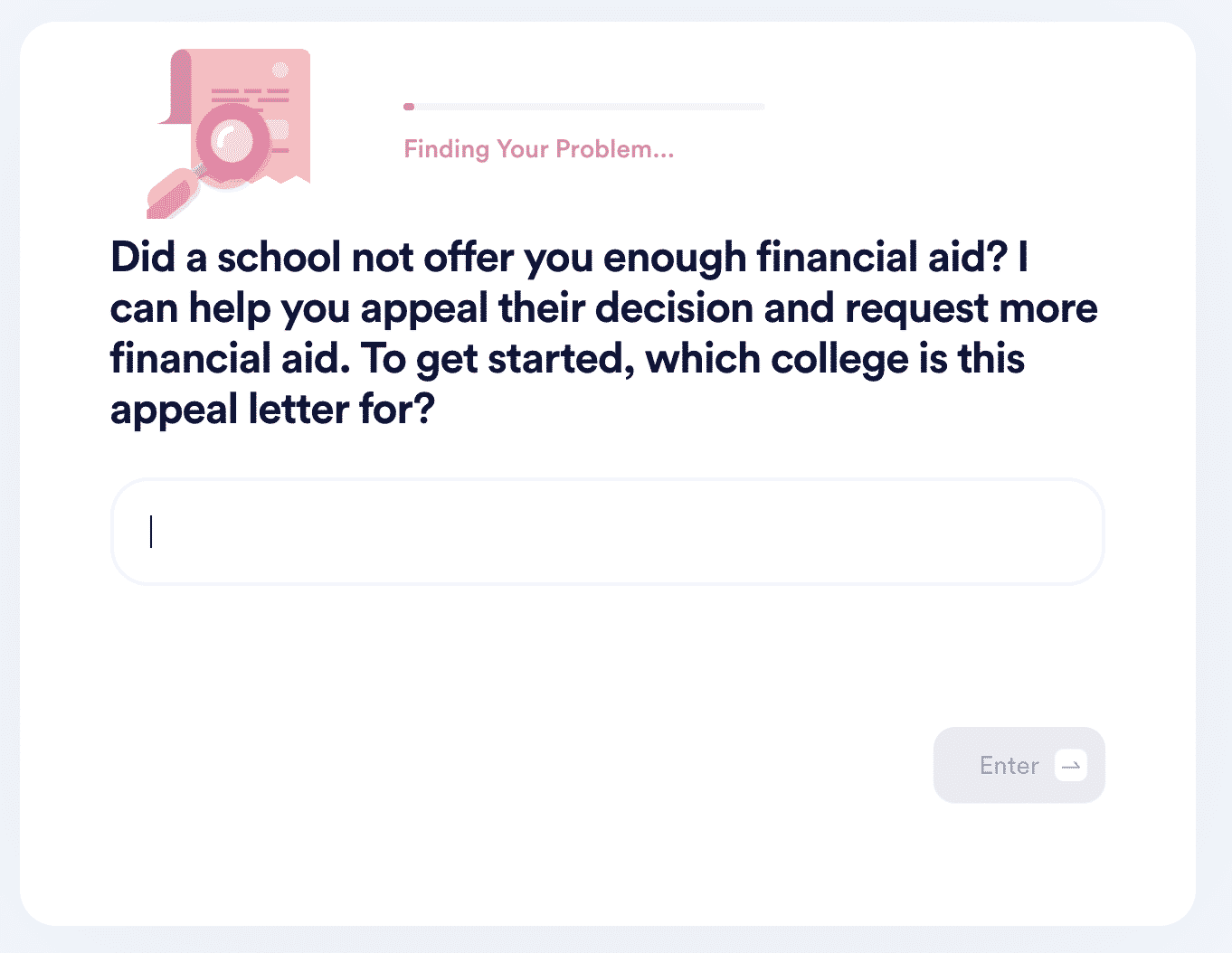 If FCC rejects your application or offers an insufficient amount, you can appeal the school's decision in a few simple steps:
in any web browser
Search for Appeal for More Financial Aid
Answer a few brief questions about why you need additional relief
After you complete the final step, you can send your customized letter to Fresno City College to request more financial aid.
Visit our learning center to learn more about:
Financial aid options in:
What Are Good Alternatives to Fresno City College?
Is Fresno City College not what you expected it to be? Whether you need a better alternative or a backup plan or you don't want to opt for a community school, here are more options you can explore:
DoNotPay Helps You Deal With Any Administrative Issue Effortlessly
Tedious administrative tasks are always headache-inducing, but they don't have to be if you use DoNotPay. With our AI-powered app, you will be able to:
Solve Any Issues Like a Pro With DoNotPay
DoNotPay is an AI assistant that is able to solve almost all issues you're facing. Whether that be your noisy neighbors, the annoying text and email spam you're receiving, or the frustrating robocalls that won't leave you alone. We'll even cancel your unneeded subscriptions and get you a few extra bucks you've been cheated out of.
The world's first robot lawyer app can help you get: