Everything You Should Know About Florida Financial Aid Opportunities
If you plan on continuing your education at any of the universities in the Sunshine State, you should research tuition costs thoroughly. In case you are struggling financially, you'd appreciate having a financial boost to help cover those expenses.
to learn everything about Florida financial aid options. We can also help you send a financial aid appeal letter if your application gets denied or you need more money.
Florida Student Financial Aid—Basic Info
When applying for financial aid in Florida, you need to keep in mind two important forms:
Free Application for Federal Student Financial Aid (FAFSA)—All students need to complete this form. FAFSA is used to determine who is eligible for federal, state, and local aid
Florida Financial Aid Application (FFAA)—Only the first-time applicants need to submit this form to the Office of Student Financial Assistance (OSFA). This allows you to apply for state scholarship and grant programs. You need to create an account that will let you complete the FFAA
You must complete the FAFSA form each year. The federal deadline for the academic year 2021–2022 is June 30, 2022, by 11:59 p.m. CT.
Florida College Financial Aid—What Aid Does the Sunshine State Offer?
In addition to federal and institutional financial aid, states can also provide financial support to students. Here are Florida state scholarships and grant programs reserved for students attending schools in the Sunshine State:
Access to Better Learning and Education Grant
Benacquisto Scholarship Program
Bright Futures Scholarship
Rosewood Family Scholarship
Mary McLeod Bethune Scholarship
First Generation Matching Grant
Florida Farmworker Student Scholarship
Scholarships for Children and Spouses of Deceased or Disabled Veterans
Effective Access to Student Education
Florida Work Experience Program
Honorably Discharged Graduate Assistance Program
José Martí Scholarship Challenge Grant
Florida Student Assistance Grant—Career Education
Minority Teacher Education Scholarship
Each state scholarship and grant has different qualification criteria that you need to meet to receive aid from that source.
Federal Financial Aid You Can Apply for in Florida
Federal financial aid is available throughout the country and is definitely an option for students in Florida. Take a look at the table below to see your options:
Type of Federal Aid
What You Should Know
Options
Grants
This form of financial assistance is need-based and doesn't require repayment

Pell Grant
Federal Supplemental Education Opportunity Grant
Teacher Education Assistance for College and Higher Education Grant

Loans
The eligibility criteria are the easiest to meet for this type of aid. Loans need to be repaid with interest

Direct Subsidized Loans
Direct Unsubsidized Loans
Parent PLUS Loans
Graduate PLUS Loans

Work-study programs
This type of aid is funded by the Department of Education. It gives students the opportunity to find part-time employment and study at the same time
Florida Financial Aid—Possible Issues and Solutions
If you find the type of aid you want to receive and apply for it following the required procedure, three scenarios may occur:
You receive the aid you applied for and are satisfied with the offer
You get an offer from the school that doesn't cover your expenses, and you need more money
The school rejects your offer entirely
The last two items on the list may seem like a huge problem, but there is a simple solution for your troubles—filing a financial aid appeal! The even better news is that you don't need to do anything on your own. DoNotPay can create a financial aid appeal letter for you in a matter of minutes!
Use DoNotPay To Send a Financial Aid Appeal Letter in a Jiffy
When leading a busy student life, there is not much time left for composing financial aid appeal letters. You shouldn't let the opportunity to receive a better offer go to waste either—DoNotPay will deal with the task for you! You only need to complete four simple steps:
Find our Appeal for More Financial Aid product
Give us the details about financial aid offers from all the schools you applied to
Provide us with the crucial info about your family's income and financial status
DoNotPay will mail the letter to the school in Florida that provided you with the disappointing first offer.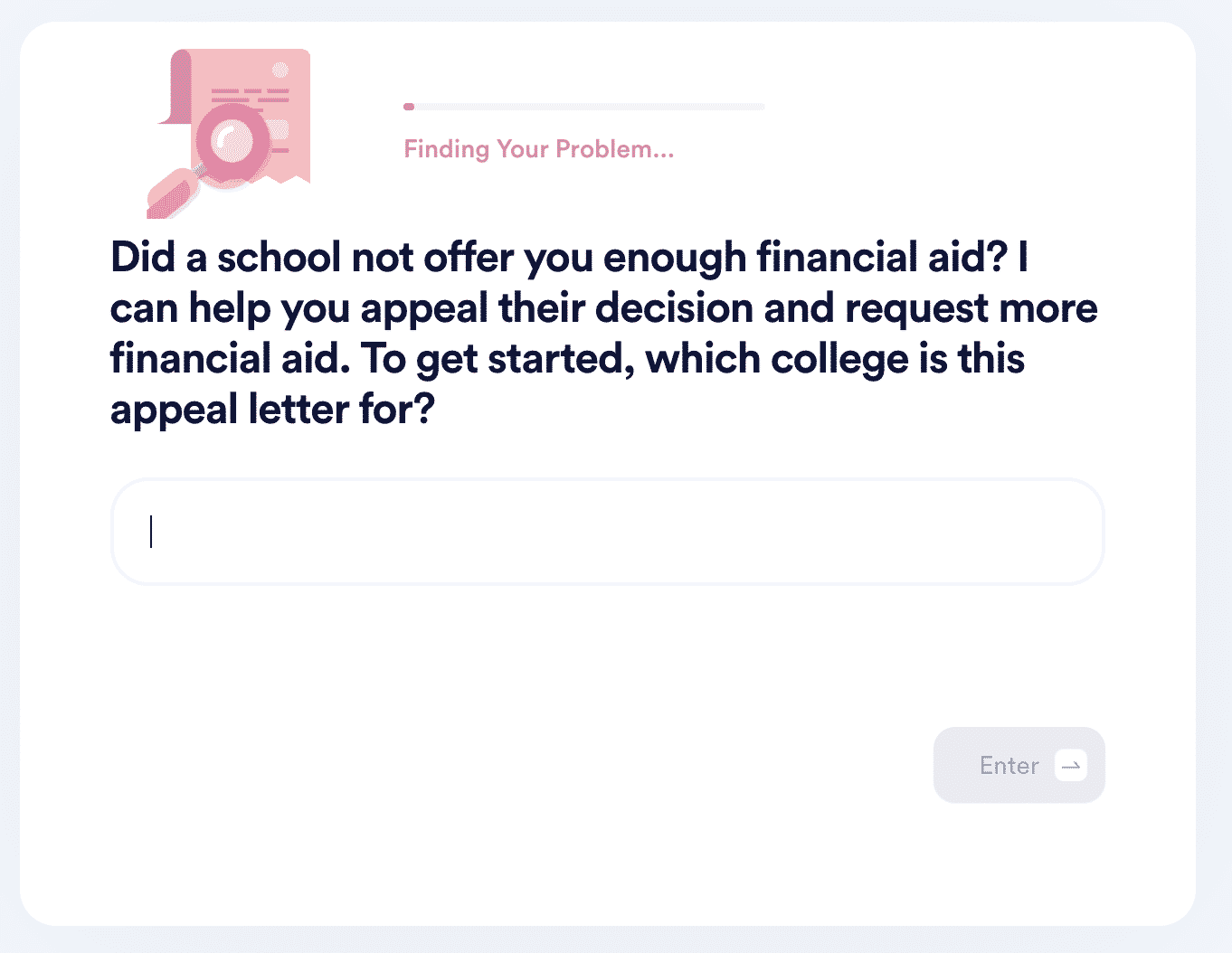 DoNotPay can answer more questions related to financial aid, such as:
See More Financial Aid Options at Schools Around the Country
You don't need to keep your options scarce and only look at financial aid offers from schools in Florida. Many other universities could have much better financial aid options for you. Take a look at the table below to see DoNotPay's guides for some of the most popular schools:
Do More With DoNotPay's Useful Features
DoNotPay offers a unique service when it comes to filing for divorce or drafting a divorce settlement agreement, but we don't stop there! Our app can also help you draft, fax, and get other legal documents notarized in a flash! From powers of attorney to child travel consent forms—we assist you every step of the way!
If you need to file an insurance claim, fight workplace discrimination, or sue a company in small claims court, you can use our app to get it done with ease.
Deal With Companies Stress-Free
If you like to shop and you often make purchases, you know that companies can cause all kinds of issues along the way. DoNotPay has a trick up its sleeve that helps you deal with any issue a company causes like a pro!
Wasting hours waiting for a customer support rep to pick up becomes a thing of the past once we get involved. We'll show you how to request a refund, cancel a subscription, apply for free trials, use a virtual credit card, and claim a warranty easy-peasy!
If your package is damaged or missing, we'll show you how to track it and file a missing package claim.