The Best Excuses for Nurses To Call In Sick—A Complete Guide
From being exposed to potentially sick patients every day to long and tiresome shifts—nursing is a noble but difficult career choice. Are you a nurse and need a breather but don't know what to tell your boss? DoNotPay introduces you to some of the best excuses for nurses to call in sick and the easiest way to request sick leave!
How Much Sick Leave Do Nurses Get?
There are 13 states and Washington D.C. with laws in place that require employers to provide paid sick leave. According to the leave accrual system, nurses only earn around 0.05 hours of paid sick leave per work hour and are not allowed to have more than 80 compensable hours within two weeks. This is around eight hours of sick leave per month.
The amount of unpaid sick leave a nurse can get depends on the:
Company policy—Every company has its sick day rules, and, although uncommon, some employers even allow extra leave as a benefit
Acts that benefit some categories of employees—Acts like the Emergency Paid Sick Leave Act (EPSLA), the Family Medical Leave Act (FMLA), and the Americans with Disabilities Act (ADA) ensure you get the rest you need
State, county, and city laws—Depending on your residence, you might (or might not) be entitled to unpaid leave
To find out how much sick leave you're entitled to in your state, locate it in the table below:
Whichever type of leave you opt for, you should get acquainted with ways to use that leave when you need it.
When Should a Nurse Call In Sick?
Take a look at some of the most common reasons for a nurse to call in sick:
Reason
Details
Sickness at work
Nurses are exposed to dozens of patients daily, many of which are ill. It's considered reasonable for a nurse to call in sick if they are:

Coughing
Sneezing
Having high body temperature

Patients of nurses who are forced to work sick are at risk of contracting an illness

Mental health problems
Exposure to various stressors is normal in nursing. Every day, nurses witness:

Death
Severe illness
Graphic scenes (blood, pus, bones sticking out of bodies, etc.)

These scenes combined with personal problems can significantly impact a nurse's ability to work

Chronic fatigue
Nurses spend entire shifts on their feet, but their physical work doesn't stop there. From carrying patients to changing their sheets while still in bed, nursing has many physical aspects, and they take their toll on nurses
How Can a Nurse Call In Sick?
Depending on your boss's preferred communication method, you can call in sick:
By phone
Via text message
Through social media
Do you want to request a day or two off without having to talk to your boss and explain the issue—!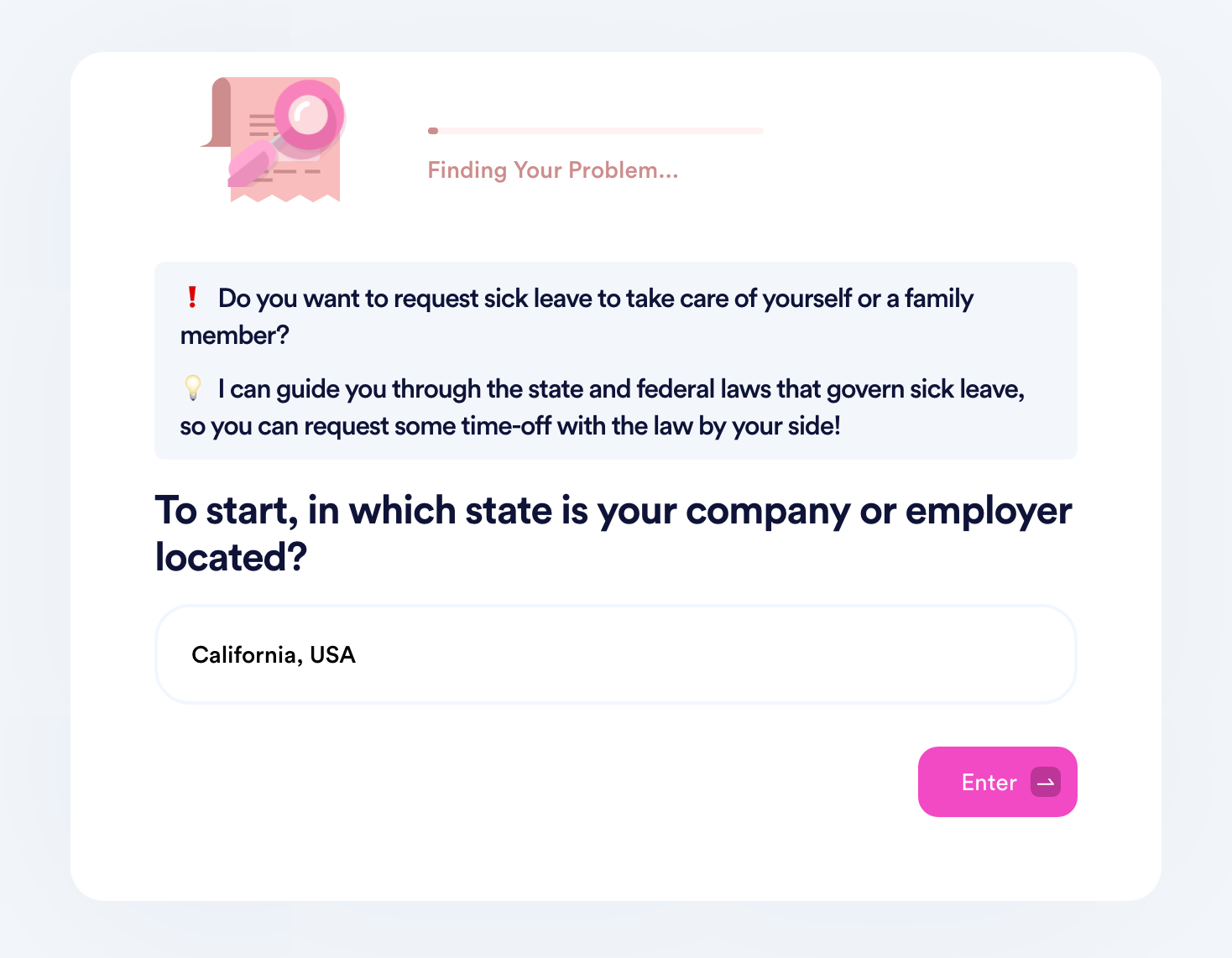 Requesting a Well-Deserved Sick Leave Is Easy With DoNotPay
Our handy app does all the hard work for you. It:
Researches local sick leave laws
Generates a rock-solid request letter
Updates you on your case
To send a sick leave request hassle-free:
Search for Request Sick Leave
Enter the name of your state and provide the reason for your absence
After completing all steps, decide whether you want the app to send the letter to your employer or to you so you can hand it over yourself.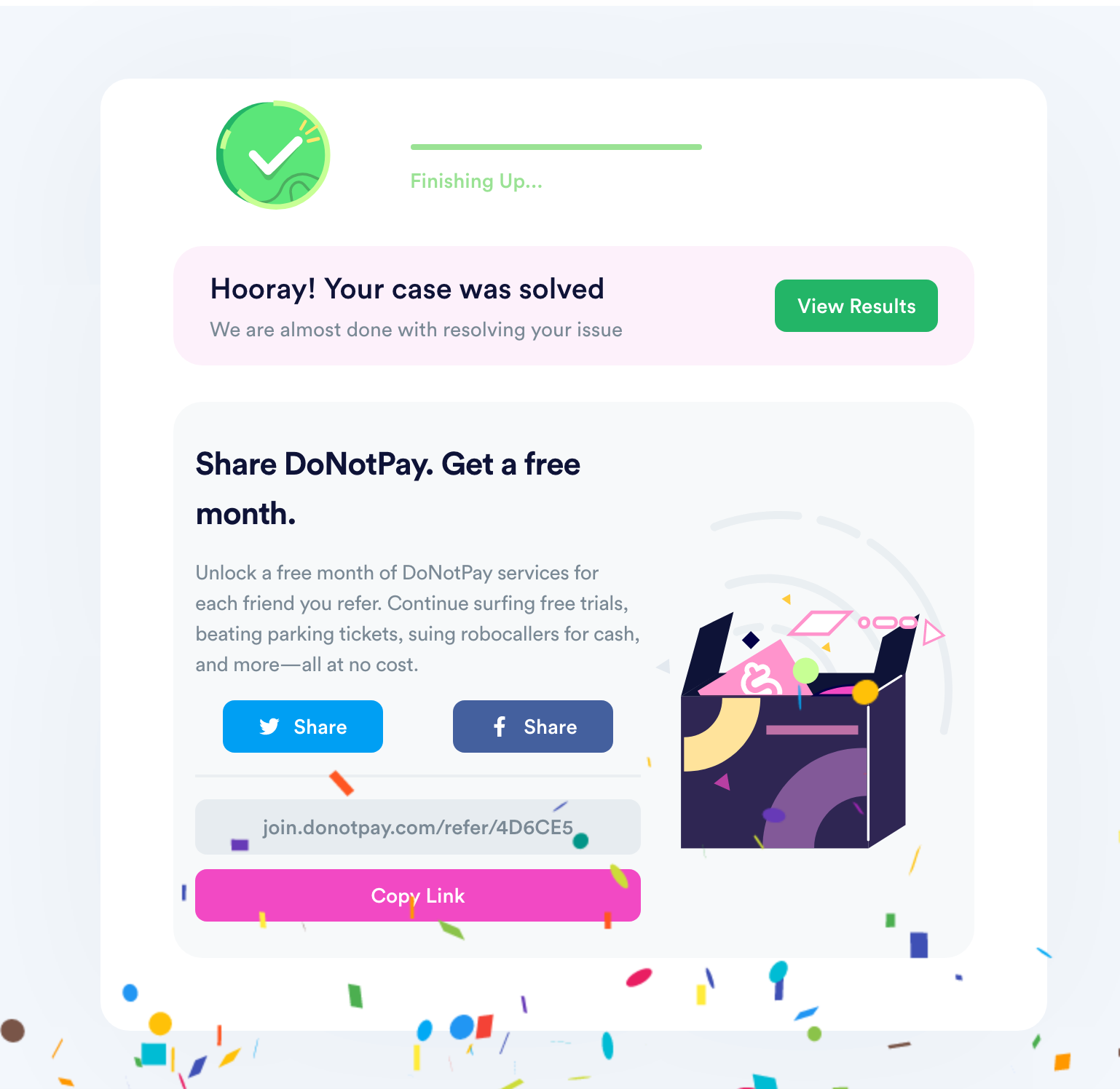 Is your employer denying you sick leave you have the right to? The ABA Brown Award winner—DoNotPay—can help you take your employer to small claims court by:
Writing a demand letter
Filling out court forms
Gathering all the necessary paperwork for the lawsuit
Filing your complaint
Drafting a script with arguments you should present at court
Our Virtual Lawyer Has Got Your Back
DoNotPay has solutions for all those burdensome tasks you would rather avoid or entrust to someone else. Our AI-empowered app can assist you with copyright protection, clinical trial applications, DMV appointments, FOIA requests, mailing services, item returns, and delivery refunds. It also generates standardized legal documents and gets them notarized or faxed with zero fuss!
Through the same app, you can:
File tourist visa applications
Make Education More Accessible and Affordable With DoNotPay
College expenses can be quite a burden for the entire family. Luckily, DoNotPay can have your tuition expenses waived or assist you in applying for various types of financial aid, such as scholarships.
We also offer you a chance to prepare for government tests in a much simpler way or contact embassies or consulates quickly and efficiently if you want to travel abroad to continue your education. If you are a parent who wants to withdraw their kid from a standard school, we will help you draft a notice of intent to homeschool and send it to the local authorities with no stress!