Check the Stop & Shop Gift Card Balance With DoNotPay—We Work Non-Stop
Are you done with your shopping spree, and you're ready to go and save some money? Check the Stop & Shop gift card balance first, and see if there's any leftover cash. It's up to you to decide what to do with the money—DoNotPay is here to help you do the rest.
Not only can we help you check any gift card balance in minutes, but we can also make a cash back request and send it to the company in your stead!
The Rundown on the Stop & Shop Gift Cards
Before you check the balance and figure out what you want to do with your Stop & Shop gift card, here's what you need to know:
Stop & Shop only offers physical cards, in denominations from $10.00 to $100.00
The gift cards serve as store credit, meaning you can use them to get any product, including gas, in any of the 415 U.S. locations
Neither unused nor used gift cards expire, and no extra fees apply to them
They are non-reloadable, which means once you use up the entire balance on a card, you can't use it again
People often leave a few dollars unspent on their gift cards because they didn't check the remaining balance. Don't be like those people—let DoNotPay help you check the balance!
The Best Ways To Check the Stop & Shop Gift Card Balance
There are three methods for checking the remaining Stop & Shop gift card balance:
Calling the Stop & Shop customer support service
Visiting a Stop & Shop store
Using DoNotPay to check the balance online in minutes
Call the Stop & Shop Customer Support Team
You can call the Stop & Shop gift card customer support reps and ask them about your gift card balance. The toll-free number you need to call is 1-800-767-7772. The working hours of the customer service are 9 a.m. to 5 p.m. ET Monday through Friday.
Visit a Stop & Shop Location
If you don't mind visiting your local Stop & Shop, you can ask any of the cashiers in the store for assistance. They will help you check the remaining balance on the spot.
Need help finding the nearest store? Use the Store Locator page by entering your ZIP code or city and clicking on the Search button.
Check Your Stop & Shop Gift Card Balance Seamlessly With DoNotPay
DoNotPay offers the easiest solution for checking the balance on any retail gift card, whether it's a card from Pottery Barn, Hobby Lobby, or Stop & Shop. Follow the instructions below to check the Stop & Shop gift balance:
Open the Check Gift Card Balance page
Upload the photos of your Stop & Shop gift card from both sides
Enter an email address where we can reach you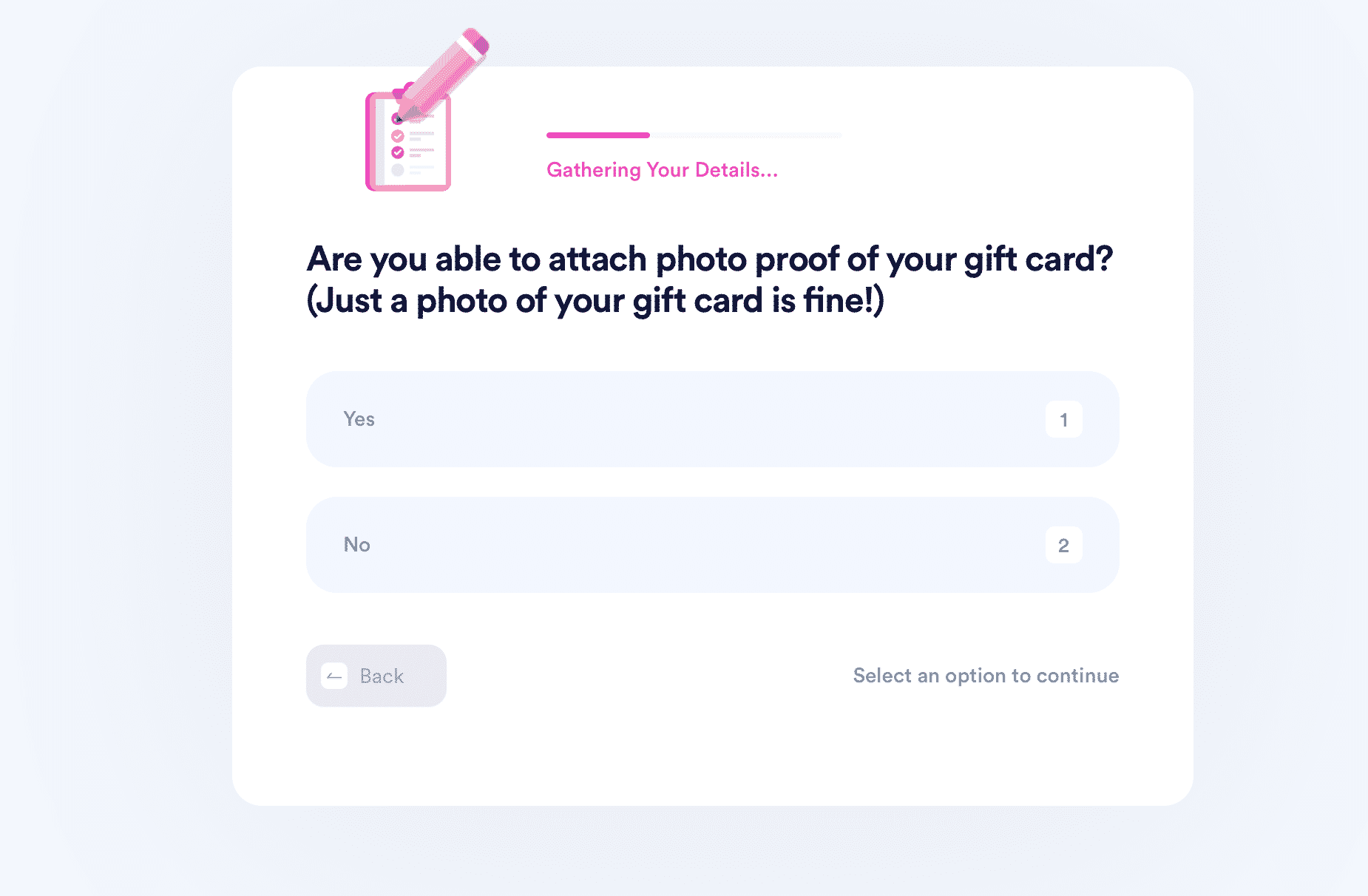 DoNotPay has many gift card balance checking guides for various companies. If you interested in finding out the balance on your other cards, browse the table below for popular retail brands, such as:
What Can You Do With the Stop & Shop Gift Card if There's Money Left on It?
You can sell or exchange your Stop & Shop gift card for cash either online or using one of the gift card exchange kiosks. Note that either method won't get you more than 70% or 80% of the remaining money back.
If you'd prefer a different gift card, you can exchange the card online, but be cautious of shady websites.
You may try to return your gift card to Stop & Shop, but note that gift cards can only be returned for cash in states that allow cash back for gift cards. The cash back U.S. territories include Puerto Rico and the following states:
Vermont
Colorado
Washington
Connecticut
Rhode Island
Montana
New Jersey
Maine
Massachusetts
California
Oregon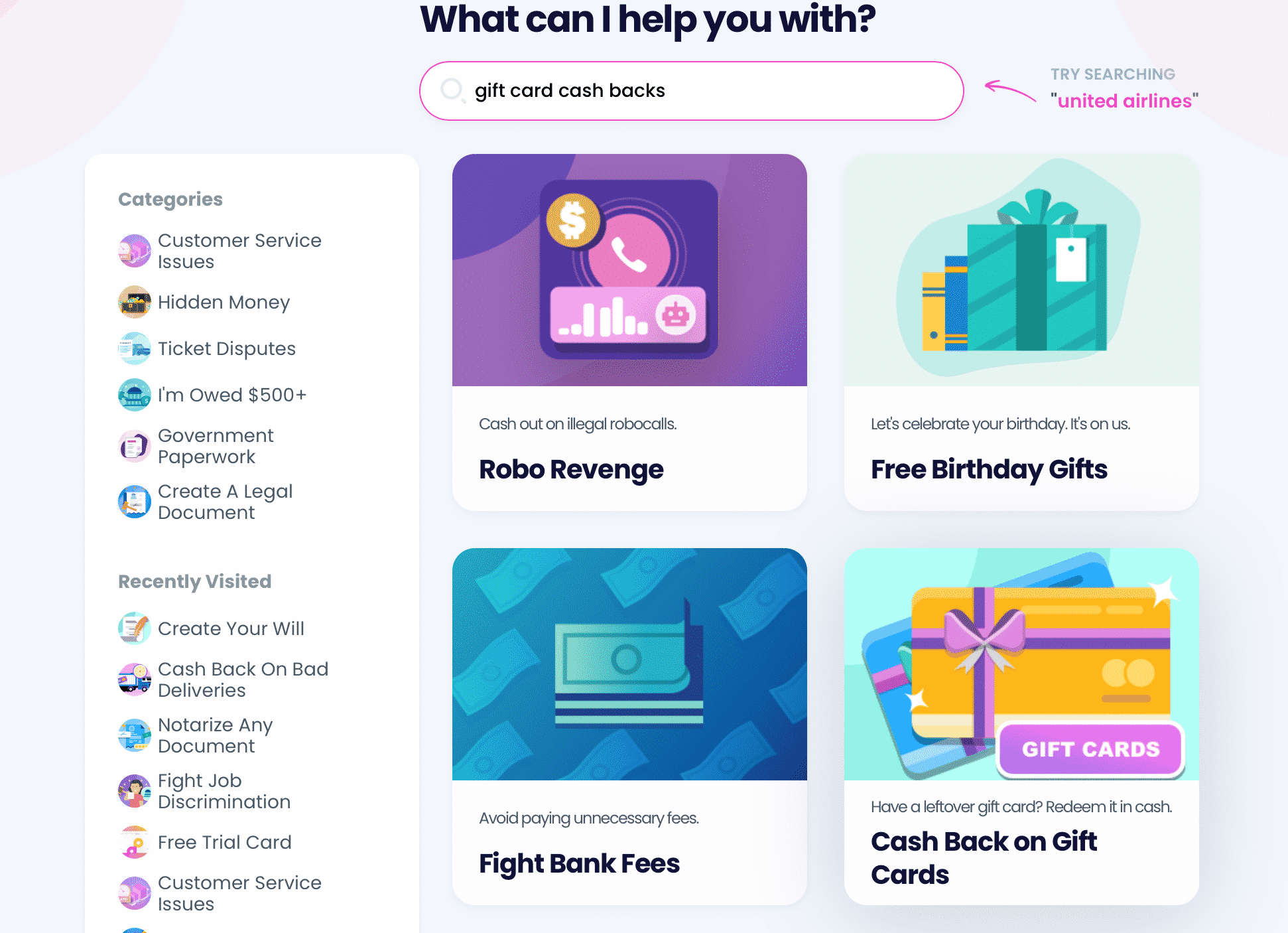 Let DoNotPay Request the Remaining Gift Card Cash From Stop & Shop for You!
If you are looking to turn a gift card into cash yourself, you'll soon discover that the process is often complicated and not worth your time. DoNotPay can save you the trouble and make a formal cash back request to the company that issued the gift card in your stead.
All you need to do is follow the instructions below:
Click on the Gift Card Cash Back product
Give us your information and tell us everything you know about the gift card
We'll let you know when we send the request, and you should have your money back by mail within 14 business days. If you are strapped for cash, you can read our guide on how to get free gift cards while you wait for the cash delivery from Stop & Shop.
Is There Anything Else We Can Help You With? You Bet!
Need further assistance? No problem! As soon as you sign up for our AI-driven app, you will get access to a myriad of nifty products. DoNotPay can:
Create customized legal documents
Don't Let Greedy Companies Take What's Rightfully Yours
Have you ever signed up for a free trial that auto-renewed into a paid subscription without your consent? We're here to make sure that never happens again with our virtual credit card!
Using it, you can sign up for a free trial and not worry about getting charged because the card has no funds. Once the free trial is over, the company won't be able to take your money and will terminate the trial on its own.
Do you feel like a company wronged you? You can count on us to help you sue it in small claims court and fight for your right!
DoNotPay can also help you get refunds, insurance, warranty, and so much more!