A Complete Guide to Trading Stop and Shop Gift Cards for Cash
Do you have Stop & Shop gift cards but won't use them? You should think about exchanging your Stop and Shop gift cards for cash. If you're not sure how to do so, you can and get cash back from your gift card in a few clicks.
How Do Stop & Shop Gift Cards Work?
Stop & Shop gift cards can be found in various denominations:
You can buy a Stop & Shop gift card at a cash register in a store or at Stop & Shop gift card kiosks. They are also available online.
Electronic gift cards can be used for online purchases only and won't be accepted in Stop & Shop stores.
Can You Exchange Stop & Shop Gift Cards for Cash?
Officially, Stop & Shop doesn't accept gift card returns in exchange for cash, but this doesn't mean that you can't find a way to put your card to good use. You can do several things with gift cards you don't need.
Consult the list below for options:
Exchanging Stop & Shop gift cards for different ones
Getting cash back
How To Sell Your Stop & Shop Gift Card for Cash
Before selling your Stop & Shop gift card, make sure to check what your remaining balance is. Once you discover how much money the card contains, you can convert it to cash in two ways:
In person—Plenty of gift card stores and kiosks offer to buy gift cards for cash. If you visit a kiosk, you'll need to insert your gift card, see the balance and the cash back offer, and decide whether you want to accept it
Online—You can find a number of gift card reselling websites. Selling your card online is easier than visiting a store, but you need to be careful as there are many fraudulent platforms
In most cases, you won't be able to get the full amount of your gift card value.
How To Exchange Your Stop & Shop Gift Card
If you don't want to use your Stop & Shop gift card, you can exchange it for a Walmart, Target, or any other company's gift card. You can find plenty of websites that deal with gift card exchanges.
How To Get Cash Back for a Stop & Shop Gift Card
The official policy of most retailers is that they don't reimburse their customers for new or used gift cards. This doesn't mean that you can't get your money back. Some states have a gift card cash back policy that forces companies to grant gift card reimbursement to their customers.
If you live in a state that has a cash back policy, you can get your money back, provided that your balance doesn't exceed a certain amount as determined by state laws.
Check out the table for information about gift card cash back limits in each state:
Balance Mustn't Exceed
Location
$1
$3
Connecticut
$5

Colorado
Maine
Montana
Massachusetts
New Jersey
Oregon
Puerto Rico
Washington

$10
California
To file a cash back request by yourself, follow the steps below:
Check the balance on your gift card and make sure it doesn't exceed the set amount
Visit a store and talk to the manager
Provide the required info
Filing a cash back request on your own can be a complicated process, but you can to get your money back effortlessly.
DoNotPay Helps You Get Cash Back From Your Stop & Shop Gift Cards
You don't have to go through the process of filing a cash back request by yourself because our platform can do it in your stead. The best part about DoNotPay is that we can get you your money back regardless of the state you live in. If you're not a citizen of a state with a gift card cash back policy, DoNotPay will find an office in one of the locations with the policy in question and contact them regarding your cash back request.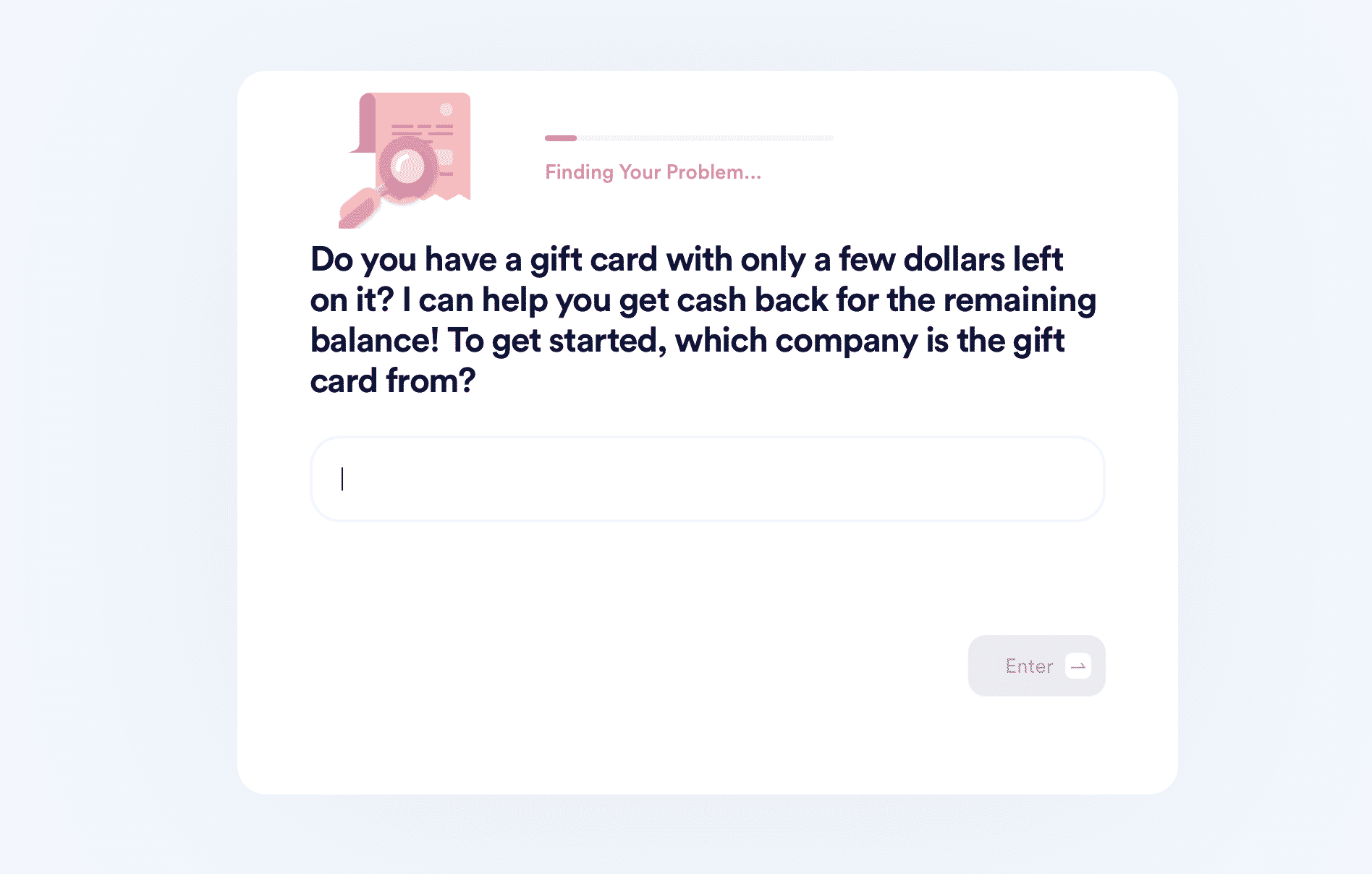 All you need to do is and follow the instructions below:
Find our Gift Card Cash Back product
Add the necessary info about your gift card, such as:

The company's name
The remaining balance on your gift card
Your gift card number
The state where the card was purchased

Tap on Sign and Submit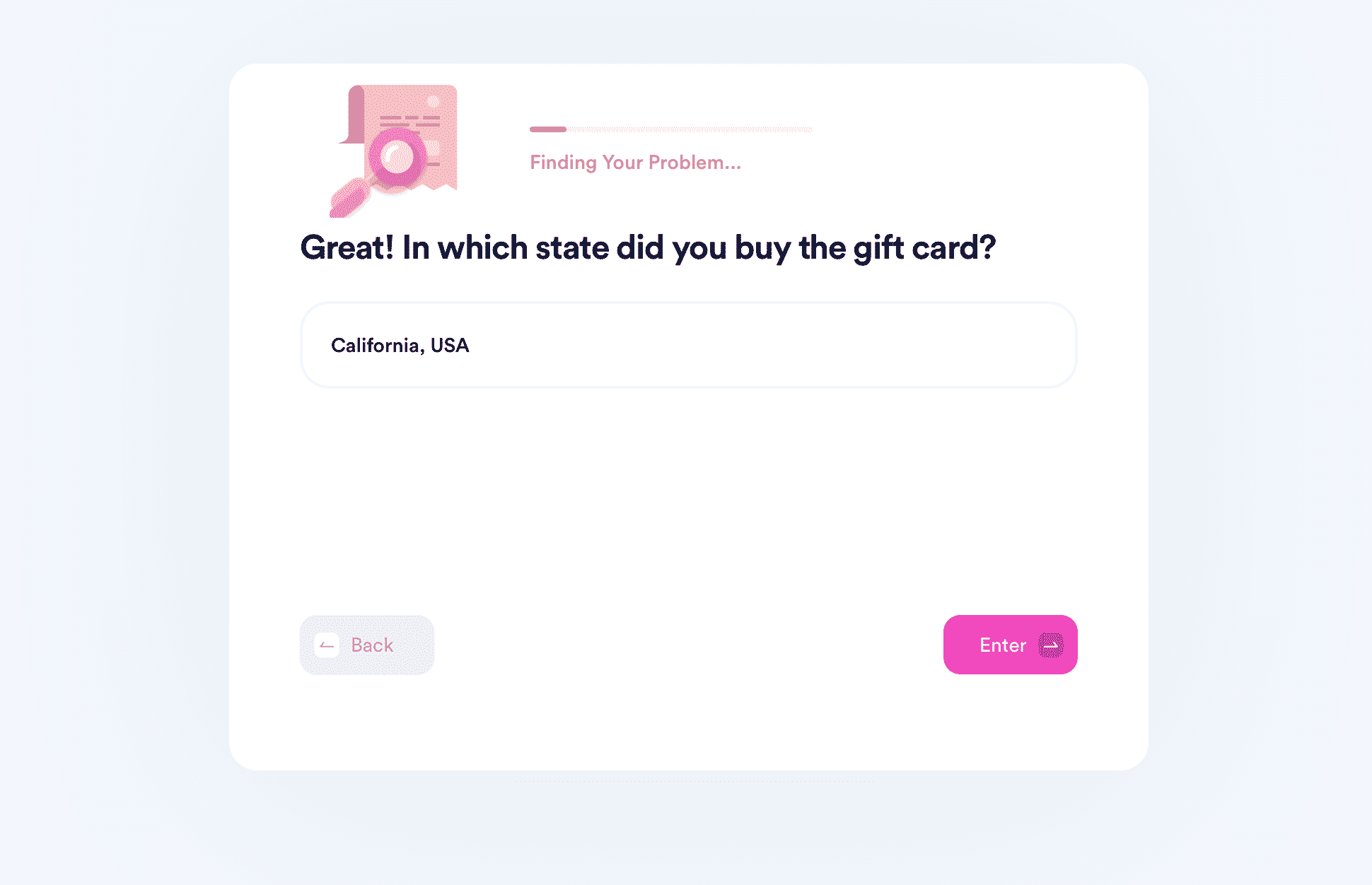 DoNotPay also has a helpful learning center that offers plenty of information about gift cards. Find out more about how to get free gift cards or check the balance on other gift cards and request cash back. These are some of the retailers we can help you with:
Shop Online on Your Terms
Have you ever had to deal with complaints about lost, late, or damaged parcels? Is reaching customer service over the phone always a pain? Don't you wish there was an easier way to request refunds and chargebacks for bad purchases?
Shopping can easily turn into a nightmare, but DoNotPay will take away some of that stress. We can help you with all of these issues and more!
If you need to file warranty claims for any kind of product, our AI bots will make the process painless. Those who like to try out new services will fall in love with our virtual credit cards and foolproof methods of signing up for free trials without risking charges.
When you get sick of your subscriptions, cancel them with DoNotPay. Also, don't throw away your used gift cards with a few bucks left—we can help you get your cash back.
DoNotPay Protects Your Interests
There are already so many ways you can use DoNotPay to improve your daily life, but we keep developing more and more features that will make our subscribers even happier.
On our platform, you can find useful resources to: