A Complete Guide on How To Check a PlayStation Gift Card Balance Effortlessly
A PlayStation gift card is the perfect gift for any gamer. If you have a used PlayStation gift card and you want to know what your remaining balance is, you're in the right place! We'll tell you how to check your PlayStation gift card balance in a matter of seconds.
That's not all—if you want to redeem your PlayStation gift card for cash, DoNotPay can help you get your cash back instantly!
PlayStation Gift Cards—The Gist
PlayStation has physical and digital gift cards. They come in denominations from $10 to $50 and are redeemable in the online store. You can use gift cards in three ways:
From a web browser
Through PlayStation 5
Via PlayStation 4
Check the table below for instructions on redeeming your PlayStation gift card:
Web Browser
PS5
PS4

Visit the PlayStation store
Click on Redeem Codes from the drop-down menu
Type in the code
Tap on Redeem

Go to Settings
Click on Users and Accounts
Select your account
Tap on Payments and Subscriptions
Press Redeem Codes
Enter the gift card code
Select Redeem

Go to the PlayStation store
Scroll to the bottom of the sidebar
Click on Redeem Codes
Type in your gift card code
Tap on Redeem
After you complete the steps, your credit will be applied to your account, and you can use it to purchase PlayStation content. Another way to redeem your voucher is at the checkout—you'll need to click on the Redeem Codes and Gift Cards in the payment method menu.
How To Check a PlayStation Gift Card Balance
You can check your PlayStation gift card balance in three ways:
Online
Over the phone
By visiting a PlayStation store
How To Check a PlayStation Gift Card Balance Online
Follow the steps below to check your PlayStation gift card balance online:
Go to the PlayStation Store Voucher section
Click on Cart
Your wallet balance will be displayed on the right.
Checking the PlayStation Gift Card Balance Over the Phone
To check your PlayStation gift card balance via phone, you'll need to call customer support. Do the following:
Call 1-800-345-7669
Ask the customer support agent to check your balance
Provide the agent with your gift card number
Perform a PlayStation Balance Check by Visiting a PlayStation Store
You can visit a PlayStation store to check your balance in person. Follow the instructions below to do so:
Visit a PlayStation store
Ask the cashier to swipe your gift card
After the cashier swipes your gift card, they'll be able to tell you your remaining balance.
DoNotPay Checks Your PlayStation Gift Card Balance for You!
If you don't want to use the methods we explained, you can let DoNotPay take some burden off your back by doing the PlayStation balance check for you! Once you complete the following steps, we'll contact the gift card issuer and inform you about your remaining balance promptly:
Use our

Check Gift Card Balance

feature

Submit photos of your gift card (front and back) and confirm your email address
What Can You Do With Your Remaining Balance on a PlayStation Gift Card?
After you check your used gift card for its balance, you can do any of the following:
Purchase a PlayStation item—Visit the PlayStation store to spend the rest of the funds on your gift card
Exchange your gift card—Multiple websites offer gift card exchange. You type in the remaining balance, and they offer you a gift card from a different retailer with the same balance you have on your PS card. You can send it by mail, and you'll receive the gift card of the brand you chose by mail as well
Give the card as a present—If your balance is high enough and you don't want to buy anything from PS, you can consider giving your card away
Sell the gift card for cash—Visit a kiosk or a store that deals with reselling gift cards. They will buy your gift card for cash. The only downside is that you won't get the whole amount because these places give back only around 80% of the gift card balance. You can also find websites that are in the gift card reselling business, but be careful because some of them might be a scam
File a cash back request—In some states, the law forces retailers to provide a cash back option if the gift card balance doesn't exceed a certain amount—usually $5 or $10. You can file a cash back request if you are eligible for a refund. Use DoNotPay to avoid the complicated process of filing the cash back request yourself
How To Get Cash Back With DoNotPay's Help
DoNotPay can help you get your cash back wherever you live. Even though only 11 states and Puerto Rico have a gift card cash back policy, we will make sure you get your money back.
After you complete the following three steps, we will check whether you live in a state that has the cash back policy. If you don't, DoNotPay will contact an office in a state that does. The money should be sent to you in the form of cash or check within 14 business days.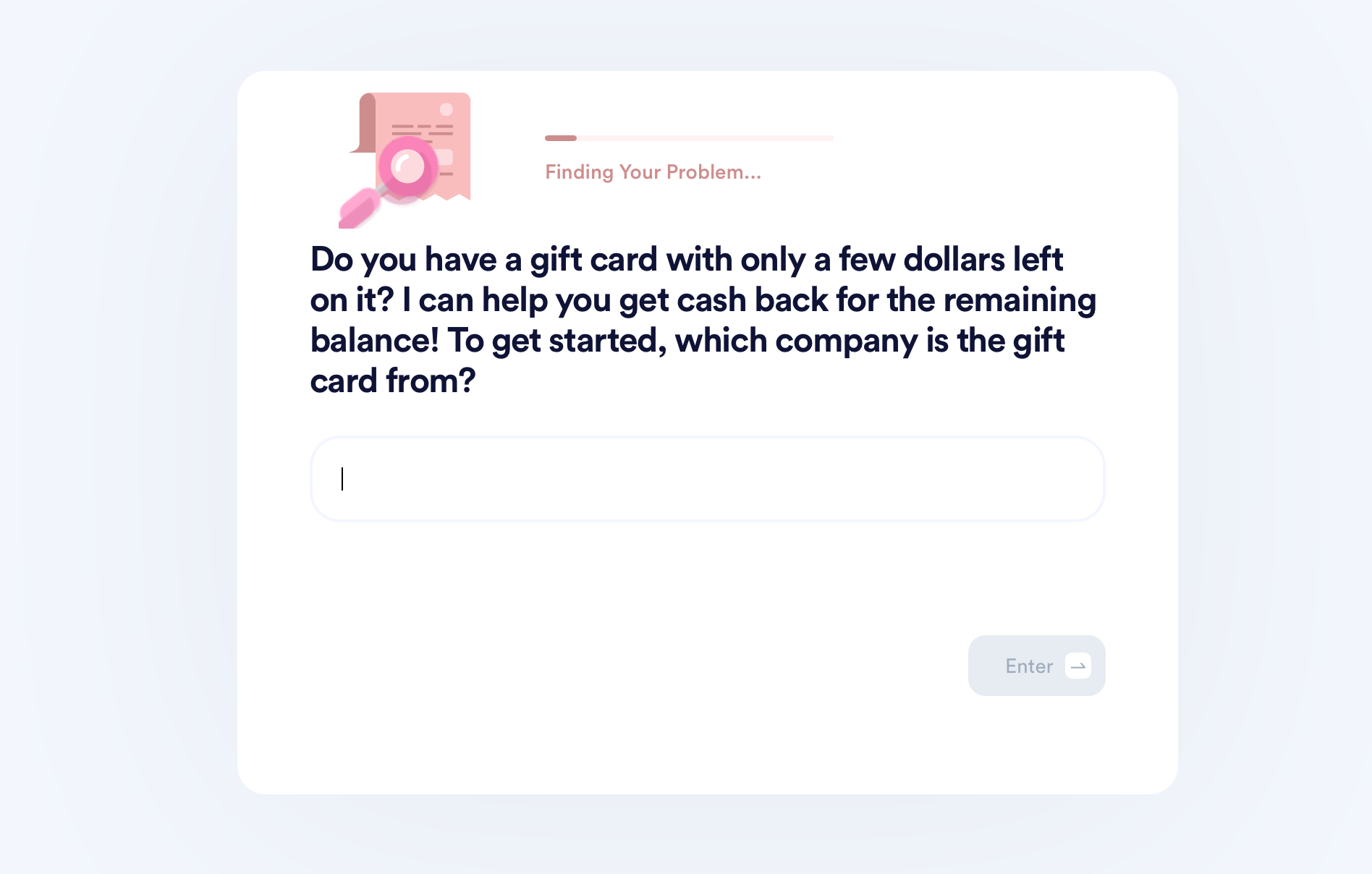 Sign up for DoNotPay and follow the step-by-step instructions below to get your money back:
Open the Gift Card Cash Back product
Provide the necessary information, like the company's name, your gift card number, the state you live in, and the remaining balance on your gift card
Submit your request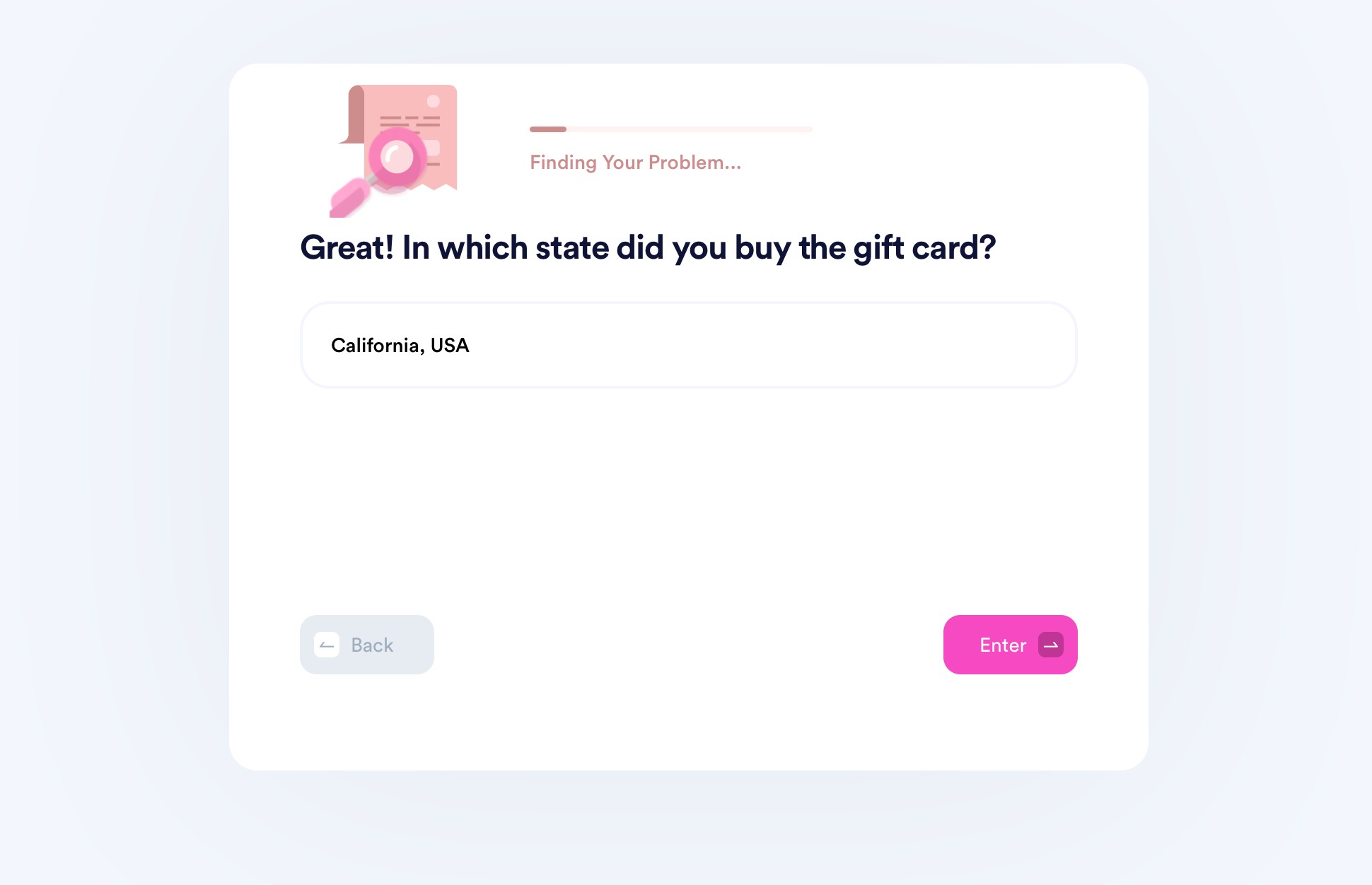 DoNotPay will also answer other questions for you, like how to:
Check balance on any of the following gift cards:
Shop Online on Your Terms
Have you ever had to deal with complaints about lost, late, or damaged parcels? Is reaching customer service over the phone always a pain? Don't you wish there was an easier way to request refunds and chargebacks for bad purchases?
Shopping can easily turn into a nightmare, but DoNotPay will take away some of that stress. We can help you with all of these issues and more!
If you need to file warranty claims for any kind of product, our AI bots will make the process painless. Those who like to try out new services will fall in love with our virtual credit cards and foolproof methods of signing up for free trials without risking charges.
When you get sick of your subscriptions, cancel them with DoNotPay. Also, don't throw away your used gift cards with a few bucks left—we can help you get your cash back.
DoNotPay Protects Your Interests
There are already so many ways you can use DoNotPay to improve your daily life, but we keep developing more and more features that will make our subscribers even happier.
On our platform, you can find useful resources to: