How To Check the Eddie Bauer Gift Card Balance Without Complications
Discounts at Eddie Bauer are always welcome, and having the company's gift card can really make a price difference. If you already used it some time ago, don't throw it away—there may still be some funds left! All you should do is check the remaining sum.
What's the easiest way to check the Eddie Bauer gift card balance, and do you need to get in touch with customer support to inquire about it? Do you have to spend the available amount, or can you use it in other ways? Find the answers to these questions by reading our guide and learn how to use DoNotPay to solve the matter easily and efficiently!
The Basics of Eddie Bauer Gift Cards
If you got a plastic or digital Eddie Bauer gift card as a present, you can redeem it in any participating retail locations in the USA. Regardless of the type, the card can be loaded with any sum between $10.00 and $500.00.
The good news is:
These cards can't expire
The company won't charge you any maintenance or inactivity fees if you decide not to spend all the funds right away
You can combine these gift cards with other accepted payment methods or join multiple gift cards for a single purchase
The merchant will replace a lost, stolen, or damaged gift card if you keep the proof of purchase
Despite numerous perks, there are certain restrictions. You can't use an Eddie Bauer gift card to buy other gift cards or as payment to a credit card account. It's also single-loaded, which means that once you spend the entire credit, you won't be able to add value to the card again.
How To See the Remaining Balance on Your Eddie Bauer Gift Card
Eddie Bauer proposes three balance checking methods:
Calling the retailer's customer care center
Entering your gift card details in the online balance checker
Having the used card checked at the nearest participating retail location
Checking Your Gift Card Balance via Phone
Here's how you can inquire about your gift card credit over the phone:
Dial (866) 398-9763
Ask the agent to check your balance in their database
Provide them with the necessary gift card details
Checking Your Gift Card Balance Online
If you prefer not to make calls or wait on hold, you can get the necessary info online by following the steps below:
Visit the official Eddie Bauer website
Select Buy Gift Cards
Find the Check the Balance on Your Gift Card section
Enter the gift card number and the PIN (security) code from the back of your card
Click on Check Balance
Note that this service can't be used if your gift card comes without the security code.
Checking Your Gift Card Balance in a Store
Is there an Eddie Bauer shop near you? Bring your card there and ask the shop manager to scan it with the price checker. Once they do it, the software will show the remaining amount on the screen.
Let DoNotPay Check Your Gift Card Balance Swiftly
Communicating with customer service or traveling to the store to inquire about your gift card balance can be exhausting. Luckily, DoNotPay has developed a feature that can do this on your behalf! You don't even need to type in any gift card details—here's what you should do instead:
Choose Check Gift Card Balance
Attach the photos showing both sides of your gift card
Leave your email address
We will contact the retailer in your stead and help you find out how much money is left on your card in record time!
Can You Get Gift Card Cash Back From Eddie Bauer?
Yes, you can do it, but only if the state you live in has an active cash back policy.
11 U.S. states and Puerto Rico have specific gift card statutes that oblige the merchants to provide reimbursement for unused gift card funds upon request. Each state that approves this policy has a specific cash back threshold that mustn't be exceeded, ranging from $1.00 in Vermont or Rhode Island to $10.00 in California.
Note that none of these rules apply if you want to cash out a free or donated gift card.
Besides returning the gift card for cash, you can also opt for:
Using the rest of the money for your next purchase in Eddie Bauer
Selling the card to someone online or at specific locations in the city
Donating the card to a charity, a non-profit organization, or a close friend or relative
Exchanging the card for another one that may be more useful
How Can DoNotPay Help You Request Gift Card Cash Back?
Demanding gift card cash back has never been easier since DoNotPay works in your favor! All you should do is give us your gift card details, and we will gladly check if the cash back option is allowed in your state and request the unused funds in your stead.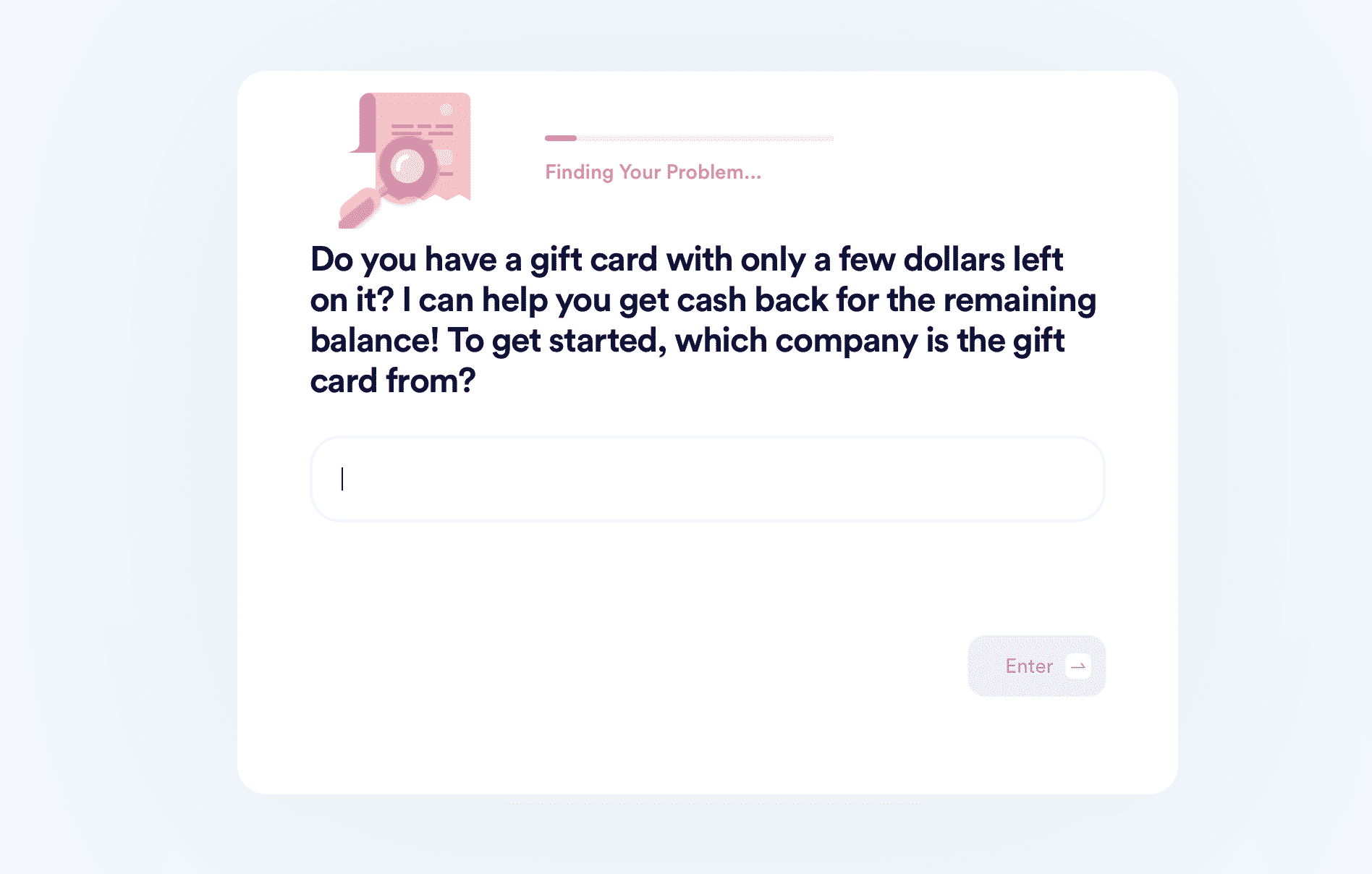 Here's what the procedure looks like:
from any web browser
Navigate to the Gift Card Cash Back feature
Respond to several questions from our chatbot
We will compose a request and send it to the company within minutes! Our system can also direct your demand elsewhere even if your state doesn't approve the cash back method. All we need to do is check if the retailer has any locations in the states that permit it!
The remaining gift card funds will be turned into cash and sent to your home address. You should receive them within 14 business days.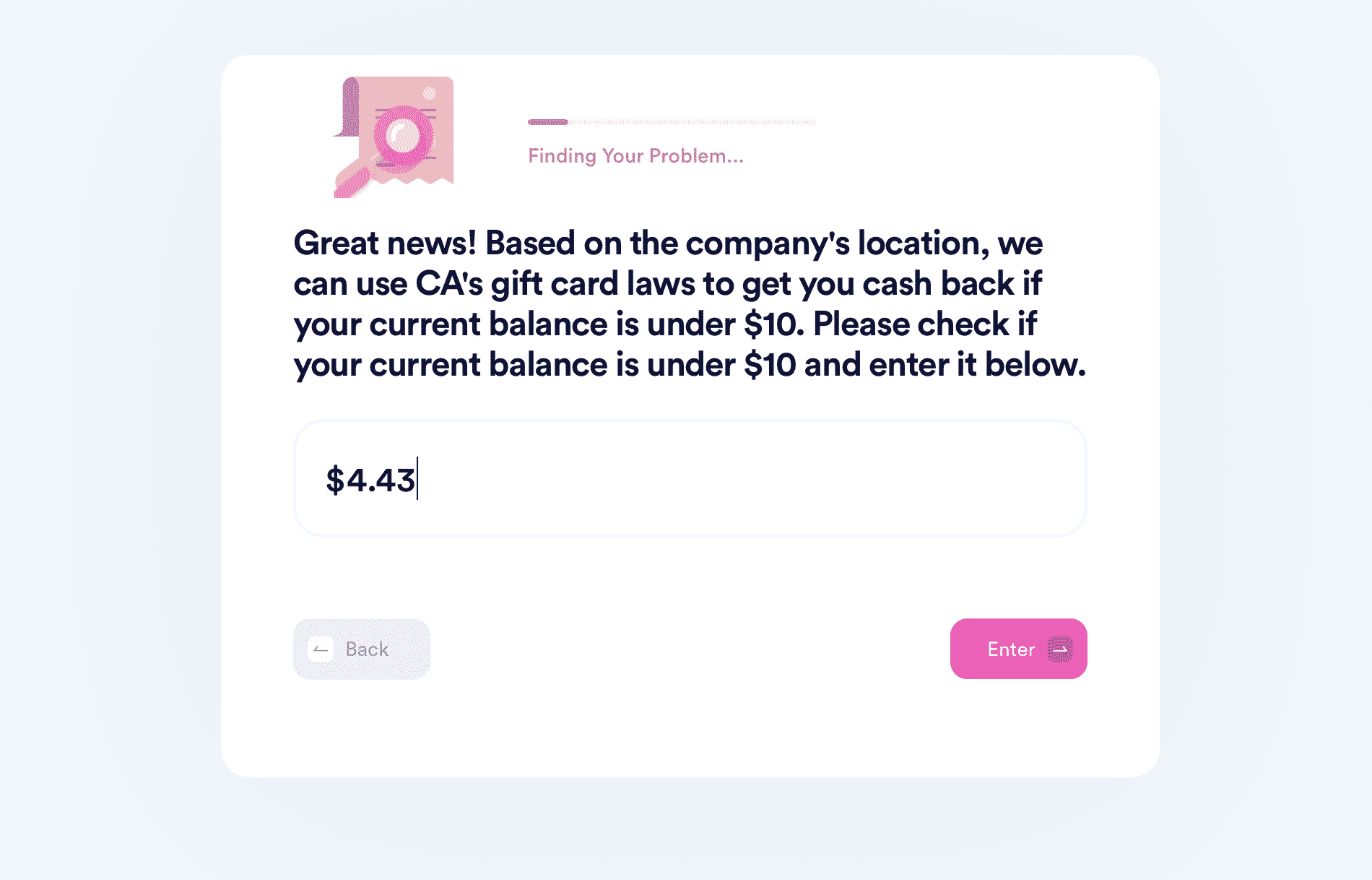 Here are some other companies we can request cash back from in your stead:
| | |
| --- | --- |
| Clothing Retailers | Other Merchants and Companies |
| | |
Only the Sky Is the Limit for DoNotPay
DoNotPay has an insane number of features that keeps growing. Our platform can help you:
Say Goodbye To Spam Mail With DoNotPay
DoNotPay has designed a feature that will put a stop to the flood of junk and spam mail into your inbox! We can help you join a class action against a spammer or take any person or company that's wronged you to small claims court!
Need a virtual credit card number or a fake phone number to protect yourself from scammers? We've got you covered! We can help you fight text spam or even assist you in sending mail without any chance of error.
Our users' safety is our number one concern, that's why we've developed a feature that will protect you from cyber stalking or harassment!