iTunes Gift Card Not the Apple of Your Eye? DoNotPay Shows You How To Convert an iTunes Gift Card to Cash
iTunes gift cards are one of the most popular choices for presents, rewards, and incentives.
Maybe an iTunes gift card isn't music to your ears, though. Whatever your reason, DoNotPay can show you your options to convert an iTunes gift card into cash without losing too much value.
What Can You Use an iTunes Gift Card For?
You can use an iTunes gift card to buy a range of virtual products from Apple, including:
Music, videos, and films from the iTunes store
Apps from the app store
Reading material from Apple books
Shows on Apple TV
Virtual subscription services like extra cloud storage, Apple TV+, or Apple News+
iTunes gift cards are sold as single-use cards in denominations of:
Can You Trade Your iTunes Gift Card?
There are several ways to sell your iTunes gift card for cash or other cards of similar value, as follows:
Gift card merchants
Kiosks
Card Exchanges
Gift Card Merchants
There are numerous companies that buy and resell gift cards online. If you input the details of your iTunes gift card, you will receive a cash offer for it.
Kiosks
You can find gift card vending machines in many grocery and department stores that pay instant cash for your gift card.
Card Exchanges
Several websites offer to swap your gift card for another card of a similar value.
These options may be right for you if you have a full iTunes gift card you don't want. You should bear in mind the following, though:
All the above businesses want to make money, so the offer you receive will probably not reflect the true value of your iTunes gift card. Expect to get 80–90% of its face value
The offer might go down below that level if a lot of people are selling iTunes gift cards at the same time—the rules of supply and demand apply
Does Apple Let You Get Cash Back on Your Part-Used iTunes Gift Card?
Once you have bought an iTunes gift card, you need to scratch off the security tape on the back of the card to reveal the gift card's code.
On your Apple mobile device or computer, you must then go to your Apple account and find the Redeem Gift Card feature. Once there, you should type in the gift card's code, and the value of the card will be credited to your Apple account.
On a PC, you can redeem your gift card similarly using iTunes.
Once you have submitted the code, all the value is wiped from the gift card, and you can dispose of it.
It is, therefore, impossible to get cash back on an iTunes gift card as you cannot "part-use" it.
What About Other Gift Cards?
iTunes gift cards are unique in being true one-shot cards. Most other gift cards can be used multiple times until their value is depleted.
Many gift card vendors—such as Domino's, AMC, JCPenney, and Chipotle—will tell you that their used gift cards are not redeemable for cash "except where required by law."
This refers to legislation in 11 states and Puerto Rico that makes it mandatory for vendors to exchange certain values on gift cards for cash.
The values and states are as follows:
| | |
| --- | --- |
| State | Cashback Limit |
| Washington | $5 |
| Oregon | $5 |
| California | $10 |
| Colorado | $5 |
| Missouri | $5 |
| Puerto Rico | $5 |
| New Jersey | $5 |
| Rhode Island | $1 |
| Connecticut | $3 |
| Vermont | $1 |
| Maine | $5 |
| Massachusetts | $5 |
This means that you can get cash back on your gift card up to these amounts in these legislations.
The downside to this is that you need to:
Be in one of the states listed
Go to an outlet of the company that issued the card
Explain the law to a member of staff who may or may not want to cooperate
Yet again, DoNotPay has come up with a solution, though. We can !
Use DoNotPay To Get Your Gift Card Cash Back

DoNotPay is on a mission to make your life simpler and save you money. Getting cash back for your gift cards is no exception—we can help you release the value on your card in three steps:
in your web browser,
Click on our Cash Back on Gift Cards feature
Enter your card details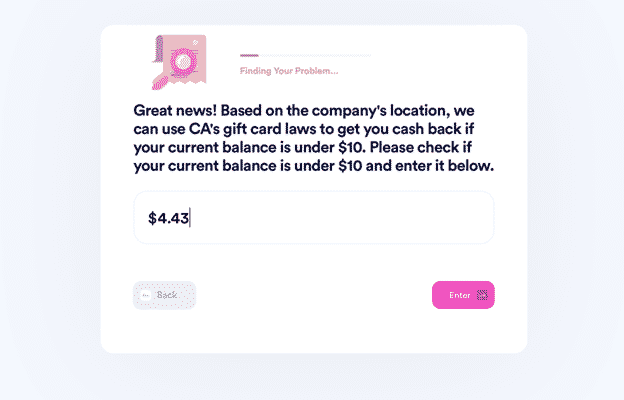 It doesn't matter whether or not you live in one of the cash back states—DoNotPay will send your claim to an outlet that is obliged to offer a cash reimbursement for them to process. You should get your money within 14 days.
What Kind of Gift Cards Does DoNotPay Help With?
While we aren't able to help with a cash back on an iTunes gift card, here are some of the cards we can get money reimbursed on:
We can even show you how to get free gift cards from some vendors, which you may be able to exchange for cash!
DoNotPay Helps Out in More Ways Than One
As a versatile app, DoNotPay is so much more than a money-saving hack. Check out the table below for an overview of what we can do for you:
| | | |
| --- | --- | --- |
| Earn and Save Money | Solve Legal Issues | Protect Your Privacy |
| | | |
Managing Tasks With DoNotPay Saves Both Time and Money
If your to-do list is overflowing and you need more hours in the workday to get everything done, we've got a solution! DoNotPay's products help you check off your errands in record time. Within minutes, you'll be able to get a free trial, cancel a service, or request a refund. Perhaps you're dreading wasting your time in lines or on the phone, but don't worry—we'll deal with customer service, book a DMV or a notary appointment in your stead.
We can also assist you in filing a FOIA request, getting in touch with an inmate, and prepping for government tests.