Check Your Wawa Gift Card Balance and Get Your Money Back With DoNotPay
Do you have a Wawa gift card that you think has some unused funds on it? You likely can't go on a shopping spree with it, but you can get a few extra bucks by redeeming your leftover balance.
Our article will teach you how to check your Wawa gift card balance and get cash for your gift card without a hassle!
Wawa Gift Card Explained
Wawa gift cards come loaded with amounts between $5 and $100. You can use them to purchase products at 900 Wawa convenience stores and gas stations all over the country.
Wawa Gift Card Policy
Wawa doesn't give refunds in case of a lost or damaged gift card. The company also won't allow you to redeem your used gift card for cash unless required by law.
The Ins and Outs of a Wawa Gift Card Balance Check
You have several methods at your disposal to check your Wawa gift card balance, including:
Through the company website
Via phone
In person
See Your Wawa Gift Card Balance Through the Company Website
To check your used gift card balance from the comfort of your home, go to the Wawa website and:
Hover over Fuel, Cards & More and find Check Balance
Enter your PIN and gift card number located on the back of your card
Click on Get Balance
Check Your Wawa Gift Card Balance via Phone
If you want to use a phone to check your Wawa gift card balance, you will have to:
Call 877-217-5366
Ask the customer support representative to check your remaining balance
Give them the necessary gift card information
Inquire About Your Wawa Gift Card Balance in Person
Checking your Wawa gift card balance in person will require you to:
Find a Wawa convenience store or gas station near you using the company's store locator
Visit it
Inquire about your remaining balance at the cash register
Give the cashier your ID and gift card
How To Use the Remaining Balance on Your Wawa Gift Card
Did you check your Wawa gift card balance and are now wondering how to spend the remaining funds? You have various options, such as:
Selling your card—There are various online platforms you can use to sell your used gift card, e.g., Facebook Marketplace or eBay. Note that you will have to be patient since your card won't be sold immediately
Spending the balance—If you don't want to wait to sell your card, you can spend the remaining balance at one of Wawa's locations where gift cards are accepted—you might need a few extra liters of fuel sometime!
Exchanging your card—Several states across the U.S. have gift card exchange kiosks. Find one near you, insert your card in it, and get your money back
Gifting your card—Although not the most profitable option, you can gift your card to a friend or a loved one
Which Areas of the U.S. Have a Gift Card Cash Back Policy in Place?
Puerto Rico and 11 U.S. states have a gift card cash back policy, including:
Maine
Oregon
Vermont
Missouri
California
Colorado
Massachusetts
New Jersey
Connecticut
Rhode Island
Washington
If you're located in one of these states, you can get your money back for your Wawa gift card. To do so, you will have to call Wawa customer service, explain the law to them, and ask for cash back.
In case you're not located in Puerto Rico or one of the above-mentioned states, or if you are but want an easy way to get cash back, for help.
We can send your cash back request to a Wawa office, and all you'll have to do is follow a few easy steps.
Try DoNotPay and Get Cash for Your Wawa Gift Card the Easy Way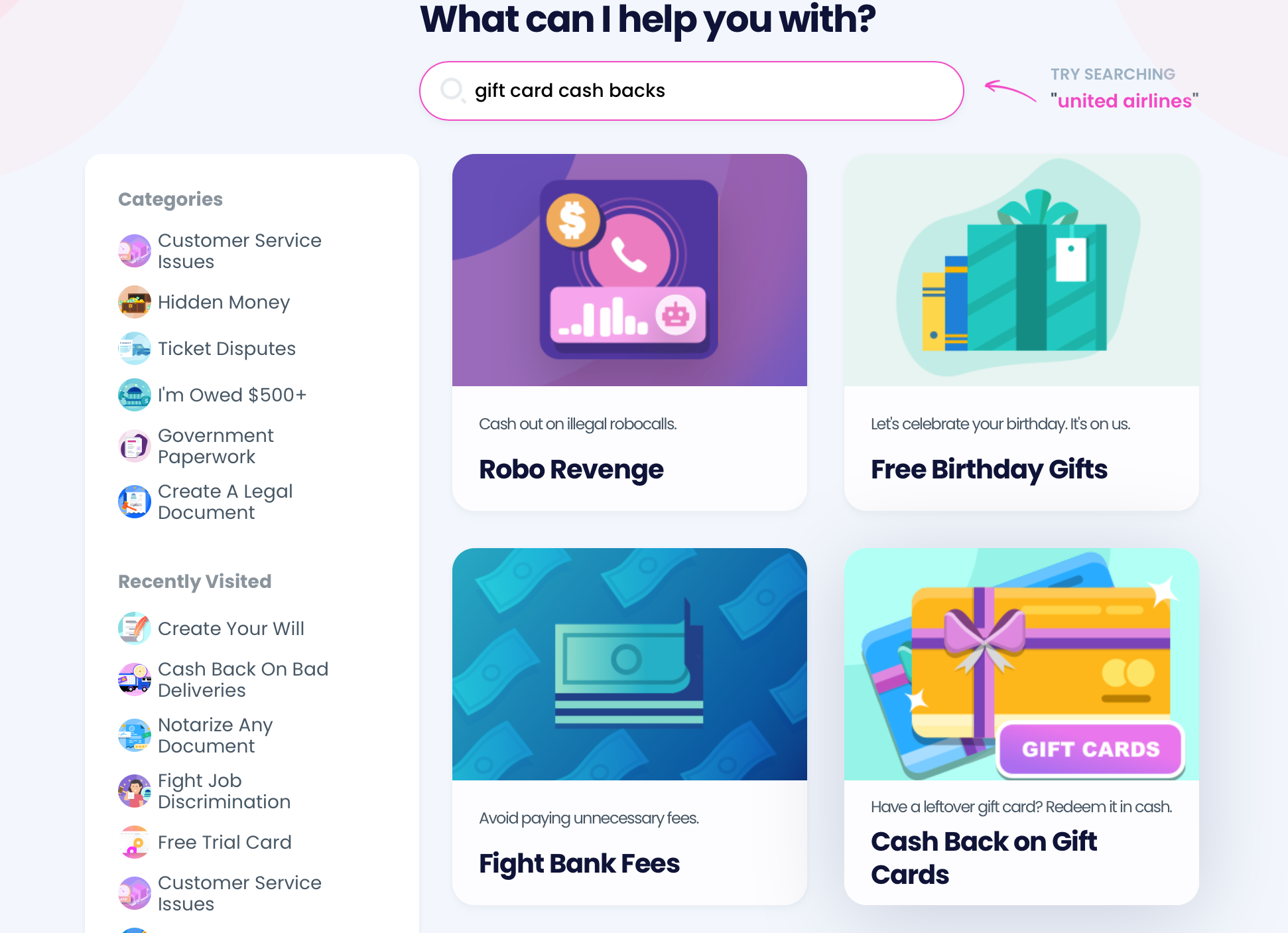 DoNotPay turns the gift card cash back process into a piece of cake. With our Gift Card Cash Back product, you'll be able to get your money back in a matter of clicks. You only have to and:
Select our Gift Card Cash Back product
Input the necessary information, such as:

Gift card number
PIN
Your name
Company name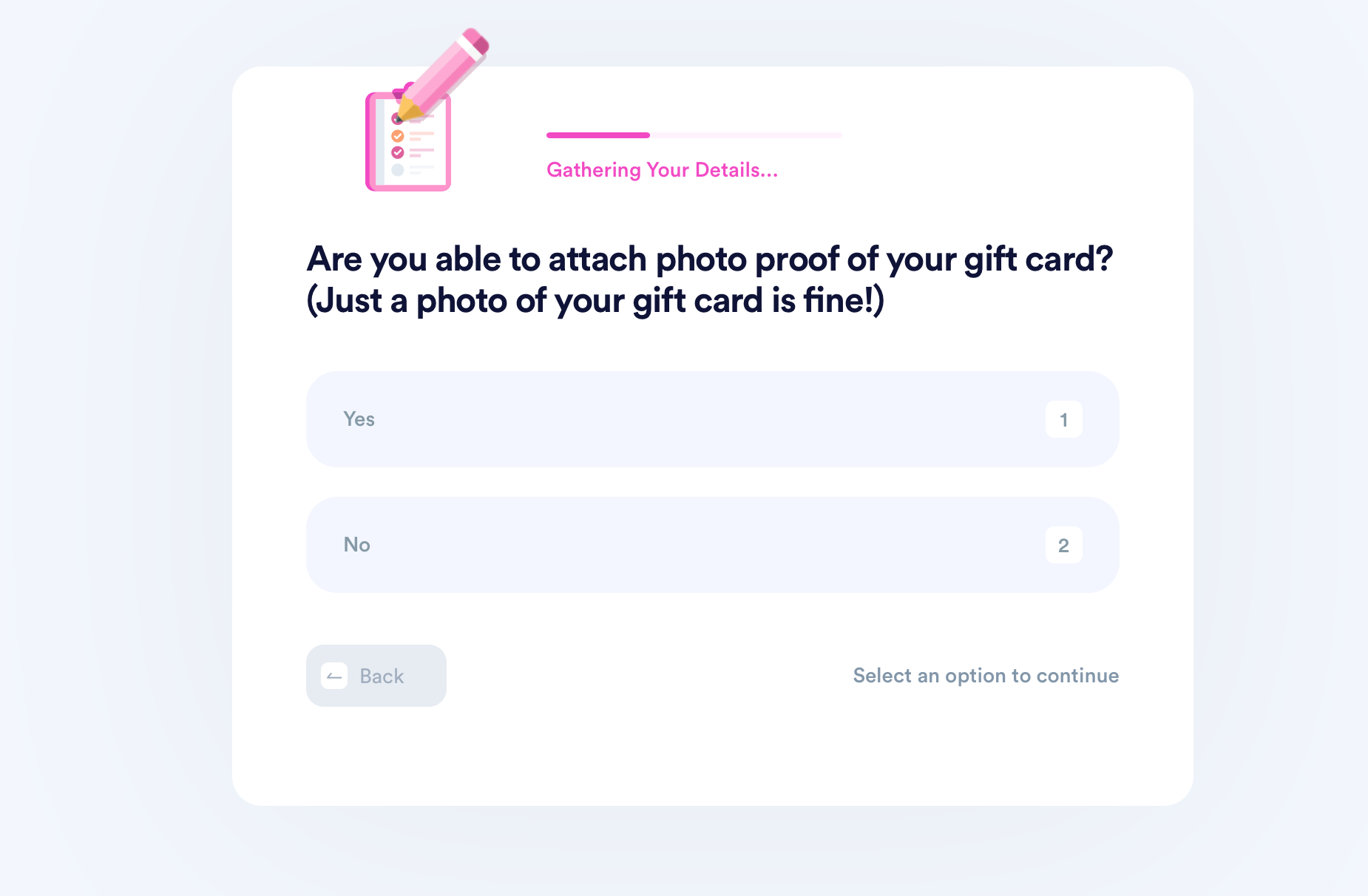 Once you submit your request, we'll get down to business and send it to a Wawa office located in a cash back state. You should receive your money within 14 business days.
Need more help with gift cards? DoNotPay will answer any questions you have, such as:
We can also help you get a refund from other companies, including:
Learn About DoNotPay's Awesome Products!
DoNotPay is a multifunctional app that can solve numerous everyday challenges swiftly.
You can use our app to protect your work from copyright violations, schedule your driving exam or any other appointment with the DMV, reduce your property taxes in a few steps, and similar.
We have created many useful products to help our users take care of their issues through the same app. With us, you can:
DoNotPay Connects You With Your Loved Ones
Sending letters to inmates can be difficult since you have to follow certain rules to a T to avoid having your letter rejected. The situation is even more complicated if you don't know where your incarcerated loved one serves time. DoNotPay's app can help you locate prisoners and correspond with them without worrying whether you're breaking any rules.
Do you want to send a letter, but you don't feel like heading over to a post office? By using our mailing service, you can mail as many letters as you want from the comfort of your home. With DoNotPay, you can also send online faxes in under five minutes!
Email and text spam is something that everyone experiences at least once in their lives. DoNotPay has a solution for that too. Access your DoNotPay account and count on us to help you block spam and get compensation by reporting pesky robocalls.