The Easiest Way To Check Your Airbnb Gift Card Balance
Did you use your Airbnb gift card, and now you find it difficult to keep track of the balance? Maybe you received the card as a gift and have no idea how much it's worth?
DoNotPay will show you how to check your Airbnb gift card balance and offer a few practical tips on how to handle any extra cash!
Basic Information on Airbnb Gift Cards
The first thing to know about your Airbnb gift card is that you need to treat it as cash. These cards are not reloadable, and if you lose or damage them, you won't get a new one.
Note that the Airbnb gift cards:
Cannot be used to pay for changes on existing reservations
Do not expire
Have no attached fees
Ways To Check Your Airbnb Gift Card Balance
If you want to find out how much cash you have left on your Airbnb gift card, you may do so:
Online
Over the phone

With DoNotPay
Learn How To Check Your Airbnb Gift Card Balance Online
If you are looking for a convenient and simple way to check your Airbnb gift card balance, you should pick the online option. Here is what you'll have to do:
Visit the Airbnb website
Log in to your Airbnb account in a web browser
Go to Payment Methods
Find a section called Airbnb Gift Credit
See how much money you still have
You may also click on Show Details to review a list of gift cards applied to your account.
Find Out How To Check Your Airbnb Gift Card Balance Over the Phone
In case you prefer to handle tasks the old-school way, you can check the remaining balance on your Airbnb card over the phone. You'll need to follow these steps:
Call 855-424-7262
Tell the customer service rep that you wish to check your gift card balance
Provide them with the information they ask for
You can use this chance to ask the customer service rep anything else you want to know or are unsure about when it comes to Airbnb gift cards.
Use DoNotPay To Check Your Airbnb Gift Card Balance Like a Pro!
Why bother checking your balance by yourself when you can have DoNotPay do it instead? Once you complete our quick guide, we'll find info about your remaining balance and inform you about the details shortly:
Click on the

Check Gift Card Balance

feature

Submit front and back photos of your Airbnb gift card
We'll ask you to confirm your email address and send you the info about how much money you have left on your gift card in no time.
What Can You Do With a Used Airbnb Gift Card?
You checked your balance, but there is not enough cash for another reservation? What can you do with the remaining money?
You may have only a few dollars left, but that doesn't mean that the card has to go to waste. Some of your options are:
Are Airbnb Gift Cards Redeemable for Cash?
Airbnb gift cards can't be redeemed for cash unless required by law.
If you live in Puerto Rico or one of the 11 states that have cash back policies, you should be able to get your money back.
The process can be complicated and time-consuming, but the good news is that you don't have to deal with it on your own. Use DoNotPay to file your Airbnb gift card cash back request in the blink of an eye. Our app can help you get your money back regardless of your location!
Use DoNotPay To Get Cash Back From Your Airbnb Gift Card
DoNotPay is the simplest way to get cash back from your Airbnb gift card. You don't have to go through the ordeal alone—trust your virtual assistant to handle the task on your behalf!
We will need you to complete these three simple steps:
in any web browser you want
Open our Gift Card Cash Back product
Provide us with some info about the card—the card number, company name, and remaining balance
We will contact Airbnb in your stead, and you should expect to get your money back within the next 14 business days.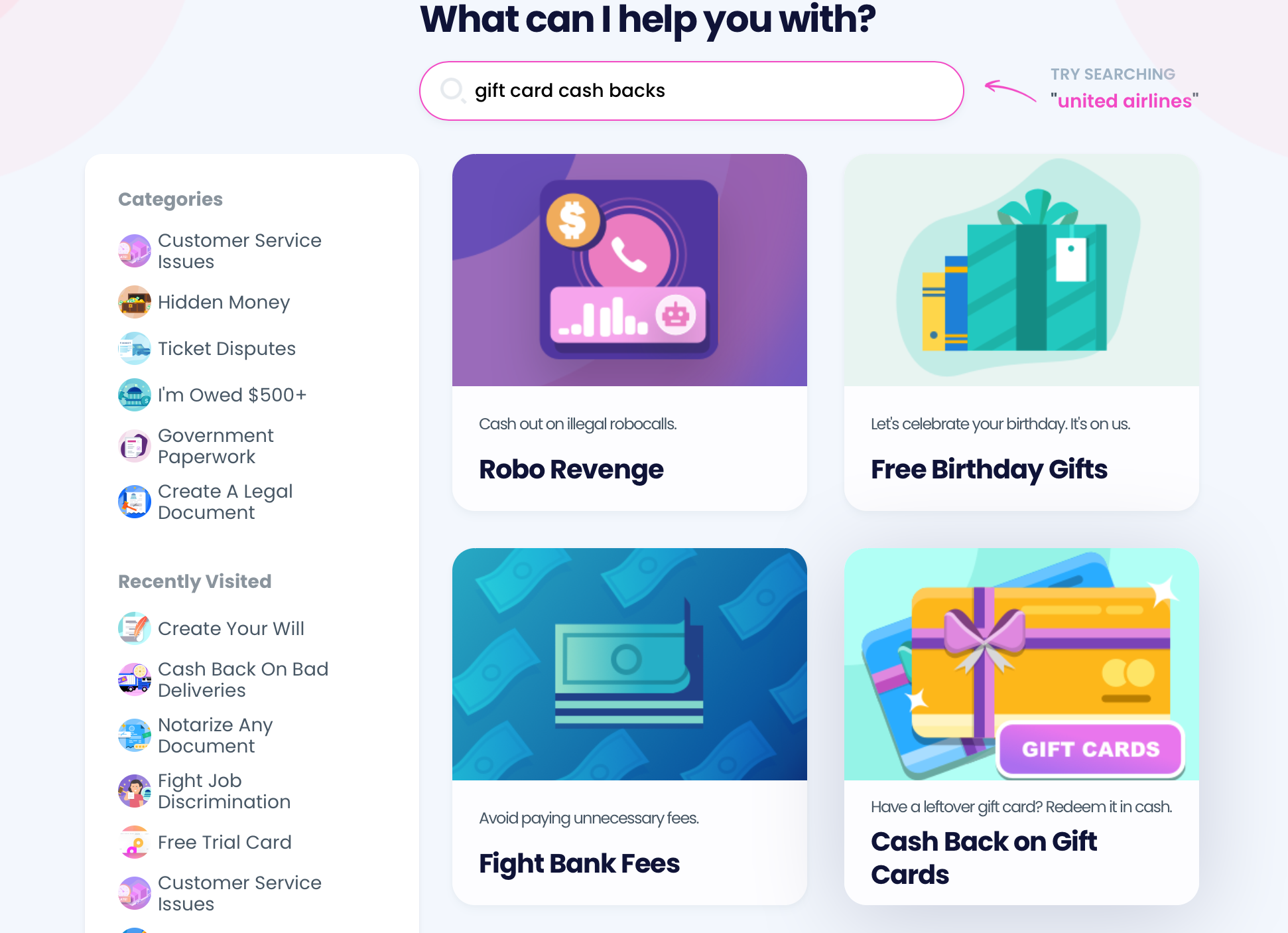 See How Much Money You Have Left on Your Other Gift Cards With DoNotPay
DoNotPay helps you find out how much cash you have left on your gift cards. We have guides for numerous companies, and you can see some of them in the table below:
| | | | |
| --- | --- | --- | --- |
| Food and Drinks | Clothes | Cosmetics | Other |
| | | | |
Our app can tell you whether it is possible to get free gift cards from any of these companies or whether you can return them for cash.
DoNotPay—Easy Fixes for Your Daily Struggles
Calling customer support takes hours. Dealing with refunds and chargebacks takes weeks or sometimes months. And don't even get us started on DMV appointments. The good news is that, with DoNotPay, you don't have to stress out about these tasks any longer.
Our platform can help you turn exhausting administrative troubles into two-minute tasks. Thanks to AI technology, you can easily create legal documents, request compensation for canceled flights, send a complaint letter to your neighbor, or book appointments with online notaries.
Diversity of services is one of the biggest advantages DoNotPay offers, and the best part is that our subscription won't cost you an arm and a leg.
Do You Need Help With Anything Else?
All you need to do is ask, or in this case, sign up for DoNotPay, and the world of practical, user-friendly products awaits. Finishing boring or annoying tasks with the help of our AI bots is fun, easy, and super intuitive—you won't need any special knowledge of legalities or administrative terminology.
With our help, you will be able to: