How To Do a Quick Books-A-Million Gift Card Balance Check
Are you looking forward to purchasing your favorite author's new release but are unsure of your gift card's balance? DoNotPay is here to help! We'll explain how to perform your Books-A-Million gift card balance check in minutes!
Do you have other gift certificates you no longer want to use? Sign up for DoNotPay to redeem any used gift card for cash
The Basics of a Books-A-Million Gift Card
Books-A-Million (BAM) gift cards come in different forms:
Classic gift cards
E-gift certificates
Gift cards from Books-A-Million work as alternatives to cash, meaning they cannot be replaced if lost or stolen. They can be loaded in the amount ranging from $5 to $500. While Books-A-Million e-gift certificates are redeemable only on the official website, you can use your BAM physical gift card:
Online
For over-the-phone purchases
In any of the BAM retail locations, including:

Books-A-Million
Bookland
Books & Co.
According to the Books-A-Million terms of use, gift cards and e-gift certificates are non-transferable and not redeemable for money. You cannot return them for cash or use them to purchase another gift card or e-gift certificate.
Books-A-Million also offers B2B gift cards to companies that want to reward their employees, but the company doesn't provide free or promotional options.
Ways To Perform a Books-A-Million Gift Card Balance Check
Consult the following table to learn all the ways you can check the balance on your Books-A-Million gift card:
Ways To Check a Books-A-Million Gift Card Balance
Steps To Follow
Online

Visit the Books-A-Million website
Find the Gifts section
Select the Gift Cards option from the dropdown menu
Click on the Check Balance button
Insert your 13-digit gift card number and four-digit PIN
Check that you're not a robot
Hit Submit

The other option is to:

Select My Account
Click on the Gift Card Balance section
Input the gift card number and PIN in the pop-up window
Click the Submit button

Over the phone

Call 1-800-201-3550 or 1-800-876-4510
Inquire about your gift card or e-gift certificate balance
Give the customer support agent your gift card number and PIN

You should wait for them to check the remaining balance

In a store

Use the Store Finder feature
Enter your address
Take your gift card and visit the nearest location
Ask a cashier to check your remaining balance

Via DoNotPay

Tap the

Check Gift Card Balance

feature

Provide photos of your gift card from the front and back

Once you confirm your email address, DoNotPay will get in touch with the card provider and inform you about your remaining balance
What To Do With the Leftover Money on Your Books-A-Million Gift Card
Did the balance check uncover a couple of dollars on your Books-A-Million gift card? If you don't know what to do with the remaining funds, try one of the following options:
Spending the leftover funds—You can check if the money left on the card is enough for another small purchase. If you don't have enough funds on the card, BAM allows you to add another payment method to cover the difference
Gifting the card to someone—If there is a reasonable amount of money left on your gift card, you should consider giving it away to a friend or donating it
Selling your gift card for cash—You can put your gift card for sale at some of the online marketplaces, such as eBay or Craigslist
Exchanging the card for a different one—You can find gift card exchange groups on many online platforms, including Reddit and Facebook, and get someone to trade cards with you
Can You Turn Your Books-A-Million Remaining Balance Into Cash?
Books-A-Million gift cards cannot be turned into cash unless required by law. The following locations in the U.S. require companies to give the cardholders their leftover money:
Puerto Rico
California
Colorado
Connecticut
Maine
Massachusetts
Montana
New Jersey
Oregon
Rhode Island
Vermont
Washington
This doesn't seem fair to those who live elsewhere, and that's why DoNotPay created the Gift Card Cash Back product!
DoNotPay Can Help You Get Your Unused Cash Back With Zero Effort!
Converting a gift card to cash is far from straightforward, even if you live in one of the places where the law requires it. You have to:
Check the state requirements
See if you're eligible for the cash redemption
Explain the cash back policy to the salesperson who probably isn't familiar with the law
If you'd like to avoid this overwhelming procedure, you should use DoNotPay!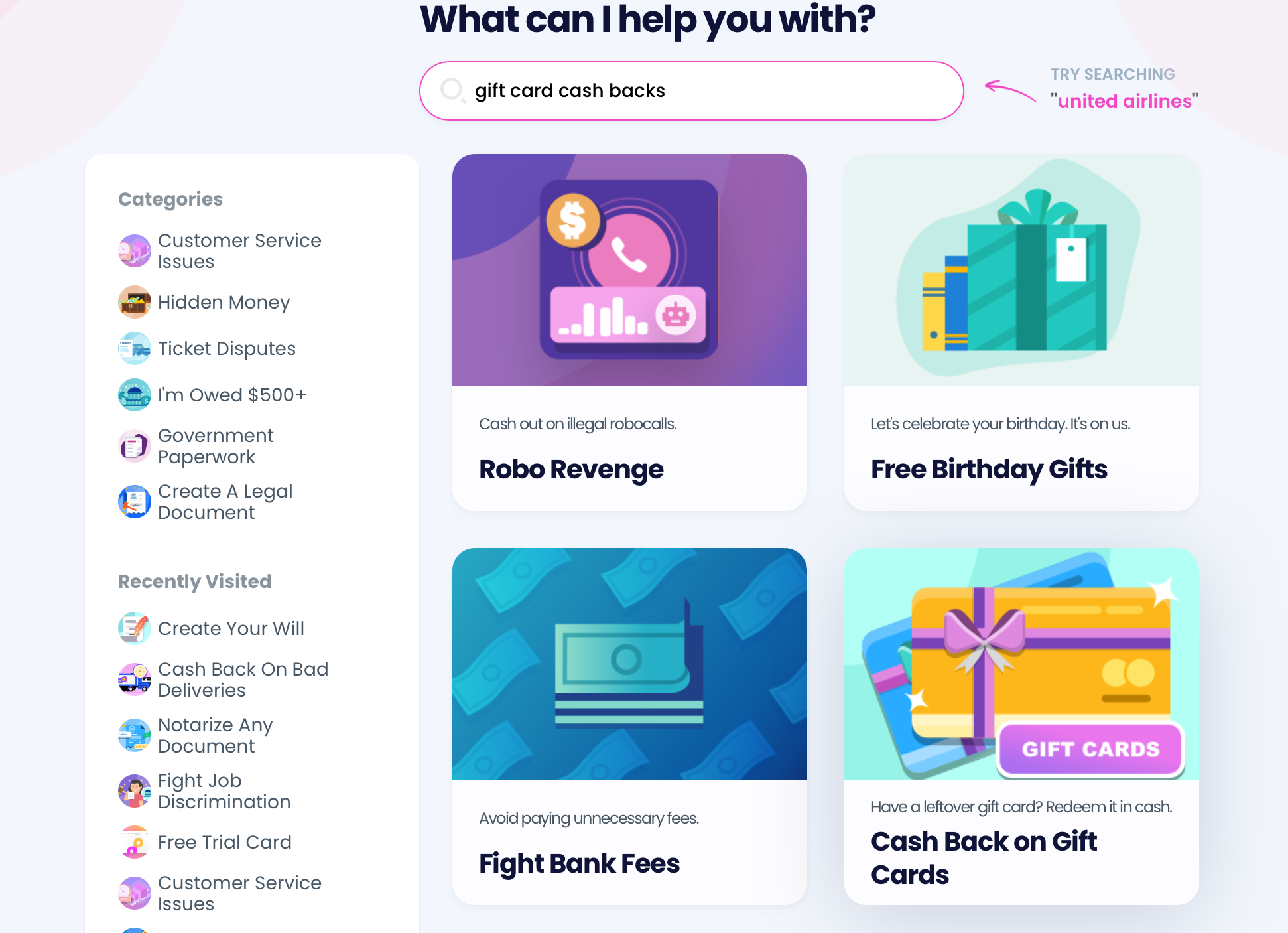 With our Gift Card Cash Back product, you can skip the complicated process and bypass your state's cash back policy with zero effort! Here is how:
Locate the Gift Card Cash Back tool
Provide the necessary information, such as your gift card number, the name of the company, and the remaining balance
First, we'll check your state's cash back policy. If there isn't one, DoNotPay will locate a Books-A-Million store in one of the places that do have it and file the request there. You can expect your cash or check to arrive in the following 14 business days.
We can help you check your balance and retrieve the leftover money from other companies' gift cards as well, including:
Outsmart Big Corporations by Using DoNotPay
Our platform is always on the side of regular people, and the number one item on our agenda is fighting for your rights.
If you need help requesting refunds for faulty products, late parcels, or canceled flights, you can turn to DoNotPay for help. Protect your privacy and stay one step ahead with our spam email collector, burner phone numbers, and virtual credit cards.
We will provide you with everything else you need in your fight—online fax, mailing service, and products for drafting legal documents and having them notarized online.
Improve Your Leisure Time Too!
You can win some serious battles with the help of DoNotPay—after all, our app can even get you ready for small claims court—but we offer numerous useful features that will improve the quality of your entertainment.
Signing up for free trials doesn't come with the risk of losing money anymore, and if you get bored with that new streaming service, you can easily cancel it using our app.
If entering raffles is your idea of fun, you'll be glad to know we can help you participate in all kinds of these games of chance. You can also review your knowledge using our government tests prep quizzes or retrieve any unclaimed money under your name and spend it on something fun!