Get Arkansas Notary Services With No Sweat!
To prove the validity of a document, you will often need to get it notarized. This is usually the case with affidavits, trusts, wills, real estate deeds, or car titles.
DoNotPay can help you find an Arkansas notary public. We will also show you how to notarize your documents without paying a visit to a notary's office.
Who Is a Notary Public?
A notary public is a person who is authorized and certified to:
Act as a witness to the signing of formal documents or transactions

Perform a

notary service

that validates the authenticity of your signature
A notary's main purpose is to prevent forgery or fraud by:
Identifying the signer(s)

Requiring the physical presence of the signer(s)
In states where remote notarization is allowed, the signer's presence is established through a live video call.
Arkansas Notary Types
Depending on how you'd prefer to get your documents notarized, you can choose one of the following notary types:
Traditional notaries

provide notary services in their office and in person

eNotaries

are the same as the traditional ones, i.e., you need to be physically present when signing a document. The only differences are that the document is in an electronic format (e.g., a PDF or Word document) and an Arkansas eNotary uses a digital form of signature

Mobile notaries

—they can visit you at your home, office, or any other location suitable for you. These notaries charge extra fees to compensate for their time and travel

Notary signing agents

—they mostly only notarize loan documents
One of the most convenient ways to get your documents notarized is remote or online notarization that can be performed over a video call. Some states, including Arkansas, don't allow this type of notarization. DoNotPay can regardless of the state you live in.
Before Visiting a Notary Public in Arkansas
To get a document notarized, you should take these steps:
Find an Arkansas notary

—search for one in places near you or online

Inquire about the notary fees

—make sure you're familiar with all the fees you'll need to cover

Set up an appointment

—agree when and where you'll get your documents notarized

Prepare the document(s)

—if you need help creating

legal documents

, you can hire a lawyer or use DoNotPay's affordable and easy solution

Take an ID document with you

—a notary public will ask you to present a valid government-issued photo and signed ID document. You can use your ID, passport, or driver's license for this purpose

Show up at the agreed time and place

—if you're late or don't show up, you might be charged additional fees
Where To Look for an Arkansas Notary
You can always use the internet to search for notaries public, but make sure you only use the information provided by reliable sources. Platforms that provide reviews or comments regarding notaries' work or fees are the best choice.
Consider the following platforms and locations for finding an Arkansas notary public:
How Much Does an Arkansas Notary Public Charge?
Notaries in Arkansas don't have to charge for their services. If a notary decides to charge notary fees, they should inform you about this before setting up an appointment.
Both you and the notary need to agree on the cost before the notarial act takes place. If the suggested fee isn't suitable for you, you might try to negotiate or look for another notary public.
What To Expect When Meeting a Notary Public in Arkansas
Once you've completed the above-listed steps and met with a notary, you should know that he or she will:
Ask a few questions to verify your identity

Check your ID document

Verify that you're signing a document of your own free will

Confirm you're of sound mind and not under the influence of any substances

Witness the signing of the document

Notarize the document by placing the

notary signature

and stamp
Choose DoNotPay and Get Your Documents Notarized Remotely and Rapidly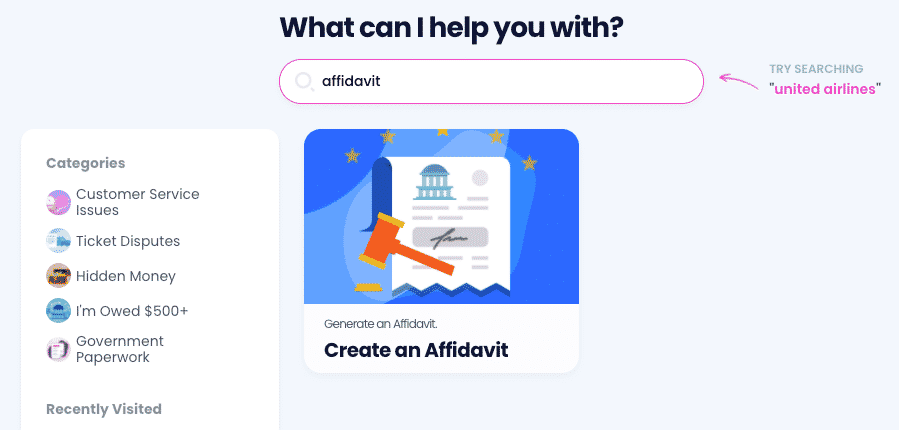 If you prefer to stay at your home and, at the same time, avoid paying extra travel notary fees for a mobile notary, opt for our convenient online notary service!
Do you think it's difficult to set up a meeting with a notary public? It doesn't have to be. and take these steps:
Choose the

Notarize Any Document

feature

Upload your document(s)

Type in your email address
Anything else? No, you're all set! You'll now receive an email with a link. Click on the link to set up an appointment with a notary public. Your document can get notarized quickly with an extra charge.
DoNotPay Is Your Shortcut Through Bureaucracy
With our app, you don't have to spend hours figuring out how to request a refund, cancel a service, or book a DMV appointment.
We take over all the hard work! Forget about waiting in a phone queue for hours in hopes of reaching a customer service rep. Our AI-powered app will call any company for you and ping you when a human appears on the other end of the line.
DoNotPay also speeds up the process of filing insurance claims, claiming warranties, reducing property tax, and drafting various legal docs.
Keep the Communication Lines Clear With DoNotPay
Do you know how powerful DoNotPay's virtual credit card is?
This super-smart feature can not only sign you up for no-risk free trials but can provide you with an alternative email address. You can test any service without giving out your real email, which will keep your inbox clean from spam!
If you have family or friends within the U.S. prison system, our app helps you get in touch with them quickly.
We can also make sure you don't become a target of text and robocall scammers! Keep your phone number private and avoid this type of harassment by using our Burner Phone feature!
In case you need to fax a document, there is no need to search for the instruction manual on how to operate a fax machine. DoNotPay makes it simple to send online faxes anywhere!