Vanderbilt Financial Aid Programs—All Your Burning Questions Answered
The average cost of attendance at Vanderbilt University exceeds $80,000, which may be an inconvenience for students who can't set aside such an amount annually. Most of them decide to give financial aid programs a go, as it's the only way to afford tuition, books, housing, and other educational supplies.
If you are hesitant to request financial support at this college due to a lack of information, we can help. We created a complete guide on Vanderbilt financial aid to help you cope with the entire application procedure. Find out how can assist you in getting the financial aid amount you need!
Steps You Must Complete To Apply for Vanderbilt Financial Support
Here's a short checklist containing the parts of the financial aid application process at Vanderbilt:
Fill out a College Scholarship Service (CSS) PROFILE—It's necessary if you are interested in receiving need-based financial awards from the college
Submit a Free Application for Federal Student Aid (FAFSA)—You must complete it regardless of whether you are applying for state, federal, or institutional financial assistance
Use the Institutional Documentation Service (IDOC) to submit student and parent federal tax information
By processing the information gathered from these forms, the university will evaluate your eligibility for available financial aid schemes.
The application procedure must be repeated each year if you want to continue receiving the awarded financial support. The maximum time frame for getting financial aid at Vanderbilt University is eight semesters or four academic years.
Types of Financial Aid at Vanderbilt University
Before applying, you should consider all the financial support schemes you may qualify for. Vanderbilt University has several available programs:
Scholarships

University need-based scholarships
University restricted scholarships
Tennessee Education Lottery Scholarship Program

Grants

Federal Pell Grant
Federal Supplemental Educational Opportunity Grant
Tennessee Student Assistance Award

Employment programs

Federal Work-Study
Vanderbilt Institutional Employment Program

Federal loans

Direct Undergraduate Subsidized Loans
Direct Undergraduate Unsubsidized Loans

Academic Year Student Contribution
Veterans Educational Benefits
Undergraduate Yellow Ribbon Program
Vanderbilt University Financial Aid Application Deadlines
The university has specific deadlines for filing a financial aid application. Below is a table showing time frames for freshmen during the 2020/2021 school year as an example:
Important Events
Early Decision I
Early Decision II
Regular Decision
Deadline for merit scholarship applications
December 1st, 2020
Priority filing FAFSA/CSS PROFILE deadline
November 5th, 2020
January 2nd, 2021
February 3rd, 2021
Preliminary financial aid awards available
Mid-December 2020
Mid-February 2021
Late March 2021
The future deadlines for the 2021/2022 academic year are yet to be announced. Make sure you check the official Vanderbilt Financial Aid website for updates.
How To Get in Touch With Vanderbilt Financial Aid Office
Do you need some assistance with your application process or additional explanations? The financial aid office at Vanderbilt University can help. Here are some ways to contact its team:
Set an appointment and visit them at Office of Student Financial Aid and Scholarships, PMB 407810, 2309 West End Ave., Nashville, TN 37240-7810
Call them at (615) 322-3591 or (800) 288-0204
Send your query via fax to (615) 343-8512
Send an email to finaid@vanderbilt.edu
Note that the communication channels are available only during the operational hours—Monday through Friday from 9 a.m. to 4 p.m.
Did the Financial Aid Office Offer Too Little? Appeal the Decision With DoNotPay
Student responsibilities may not leave you enough time to compose an appeal letter from scratch, especially if you have never done it before. To skip the fuss and speed up the procedure, subscribe to DoNotPay and let our app generate a personalized claim for you!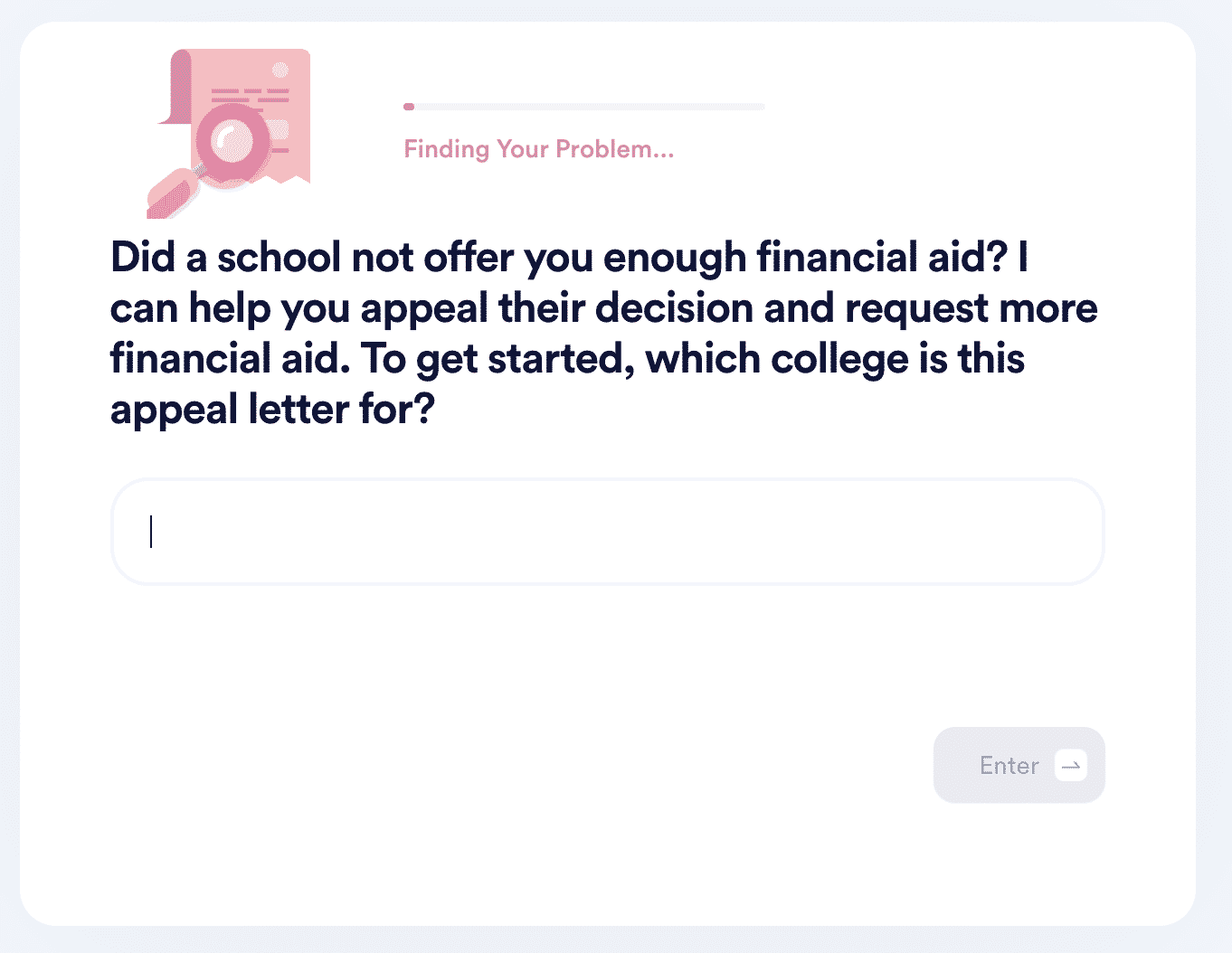 Here's what you need to do:
and sign in
Select the Appeal for More Financial Aid product
Tell us more about:

Your preferred college
Other universities you are considering
Your financial situation
Upon receiving your answers, we will need only a few moments to create and send an appeal to the chosen college or graduate school in your name! This way, our app helps you make the institution in question rethink its decision and potentially give more financial support!
Another perk we offer is a vast knowledge base with dozens of articles about financial aid options at various universities. We can teach you what receiving student aid looks like at: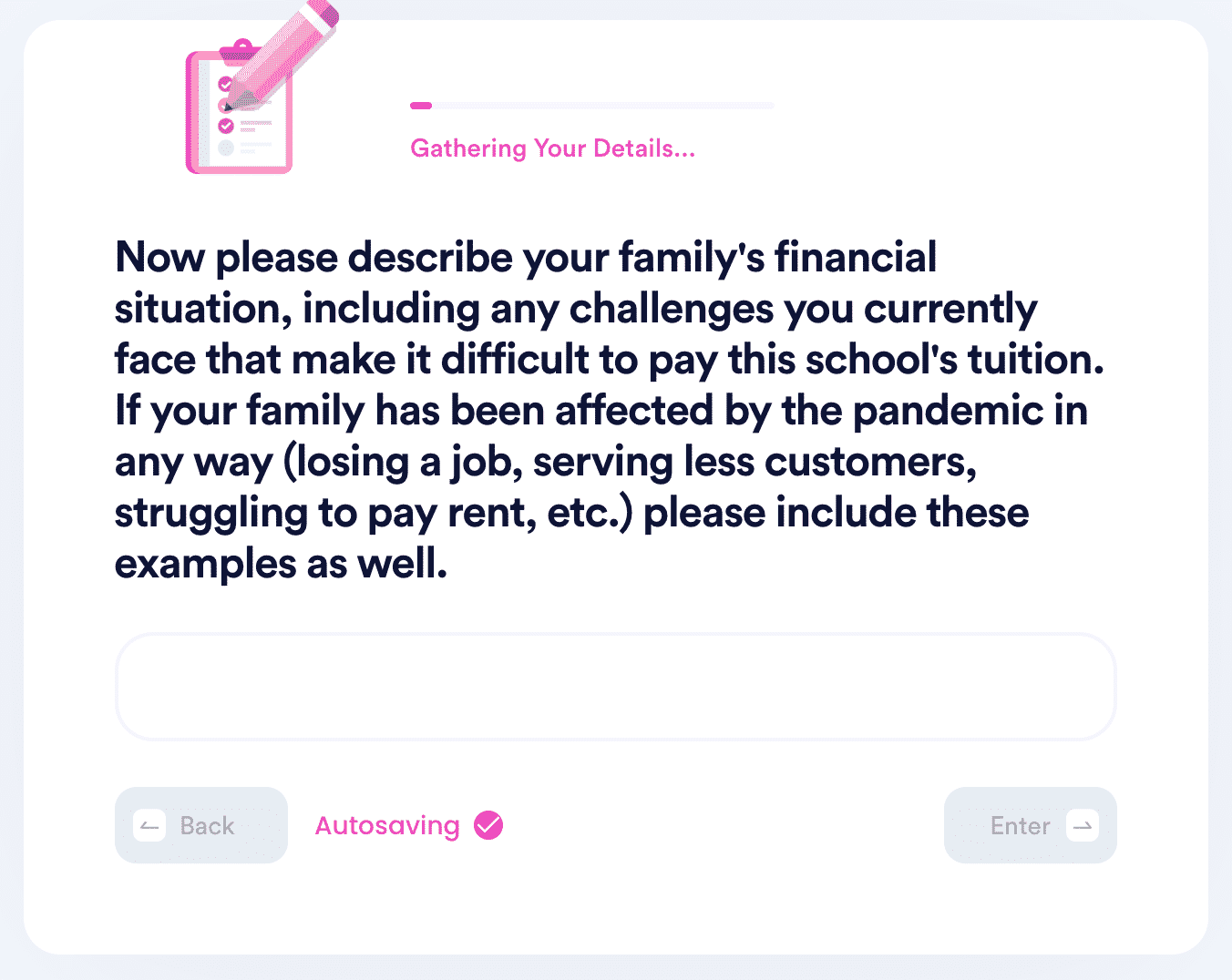 Our learning center also offers answers to numerous dilemmas, such as:
Only the Sky Is the Limit for DoNotPay
DoNotPay has an insane number of features that keeps growing. Our platform can help you:
Say Goodbye to Spam Mail With DoNotPay
DoNotPay has designed a feature that will put a stop to the flood of junk and spam mail into your inbox! We can help you join a class action against a spammer or take any person or company that's wronged you to small claims court!
Need a virtual credit card number or a fake phone number to protect yourself from scammers? We've got you covered! We can help you fight text spam or even assist you in sending mail without any chance of error.
Our users' safety is our number one concern, so we've developed a feature that will protect you from cyber stalking or harassment!