Can You Get Financial Aid for Summer Classes?
For some students, summer is the time to unwind, but for others, it is an opportunity to cross off some classes from the list. Whether your plan is to attain the degree faster or improve your grades by retaking classes, the summer is the time to do it.
What can cause some hesitation is the funding. Do you have to cover the costs on your own, or can you get financial aid for summer classes? DoNotPay will answer that question.
This simple guide explains all you need to know about financial aid—including what the criteria for receiving it are, which types of aid are available, and how to apply.
How Do You Get Financial Aid for Summer Classes?
Yes, you can get financial aid for the summer semester. There are some rules and exceptions, though. Depending on which school you go to, your options for financial assistance will differ. For example, the cost depends on whether you'll take the classes at your university or community college or elsewhere.
Not all universities and colleges offer summer financial aid. Contact the financial aid office at your school to get specific information. You can start collecting info by revising these summer-specific financial aid guides at some of the most popular schools:
Which Types of Financial Aid for Summer Classes Can You Get?
Students interested in summer financial aid can receive monetary help in these forms:
Grants
Scholarships
Work-study programs
Loans
Grants
Some schools and states have special grants awarded to students who attend summer classes. For example, the Pennsylvania Higher Education Assistance Agency offers a Pennsylvania State grant for the summer semester.
The Federal Pell Grant provides students with year-round funds that cover summer sessions as well. You can take up to 150% of the grant if part of it goes toward a summer semester.
Scholarships
There are no restrictions regarding which term you need to use your scholarship for. If you get a scholarship from a school or a nonprofit or for-profit organization or business, you can take part of it to cover the summer classes.
Work-Study Programs
If your school provides work-study programs, you can get summer financial aid through it. You can find a summer job that is in line with your major and that doesn't interfere with your classes.
Loans
Both federal and private loans can be put toward financing your summer semester. There are no specific loans for the summer, though. Check out the yearly student loan limit:
Academic Year
Student Loans (Per Year)
A Part of the Loan That Can Be in

Subsidized Loans

Dependent Students
Independent Students
First-Year Undergraduates
$5,500
$9,500
$3,500
Second-Year Undergraduates
$6,500
$10,500
$4,500
Third-Year and Higher Undergraduates
$7,500
$12,500
$5,500
Lifetime Loans
$31,000
$57,500
$23,000
The overall limit for all the years you receive the funds for undergraduate studies is $138,500.
Financial aid for graduate students falls under a different policy. They qualify only for unsubsidized federal loans, with an annual limit of $20,500.
Do you want to know how much financial aid you can get in the form of a loan? Go to the National Student Loan Data system to find out.
What Are the Criteria for Receiving Financial Aid in the Summer?
There are some general requirements that every student who aims at summer funding needs to know about. What you need to be wary of when applying for financial aid in the summer is:
The eligibility criteria for financial aid must be met for summer aid as well
Summer courses you withdraw from will be accounted for in the maximum withdrawal limit for the rest of the academic year
Correspondence, continuing education, and online credits may not qualify
Courses that don't fall under your degree requirements may not qualify
The requirement can be that your summer semester has the same number of course hours as the semester of the regular academic year
The school's satisfactory academic progress (SAP) must be met for the summer semester, just like for the other semesters in the academic year
How To Apply for Summer Financial Aid
Initiate the process for getting your summer financial help by doing the following:
Contact the financial aid office at your school and inquire about your options
Ask the financial aid office about the FAFSA year you need to select—it can differ from one school to another
Revise the types of financial help that works best for you
Complete the FAFSA form
When you need to apply again depends on the university or college you attend. The deadline for summer aid is typically in the spring.
What To Do if You Don't Receive Enough Funds
If your financial aid offer isn't what you had hoped for, don't despair. You can appeal the decision and ask for more funds. If you received a year-round award, you need to appeal it the moment you get it—don't wait for the summer.
The appeal process usually consists of writing an appeal letter that explains why you need a better offer. The letter and the submitting supporting documents need to be delivered to your school.
Whether the financial aid committee will rule in your favor depends on how well you explain your situation in the appeal letter. If you want to make sure that your letter is spotless, subscribe to DoNotPay and have no worries!
Turn to DoNotPay and Send an Appeal Letter Within Minutes
Do you want to compose an appeal letter in the blink of an eye and send it to any school? Follow these three steps to make that happen:
Find and choose the Appeal for More Financial Aid product
Answer the questions about the school, your financial situation, and other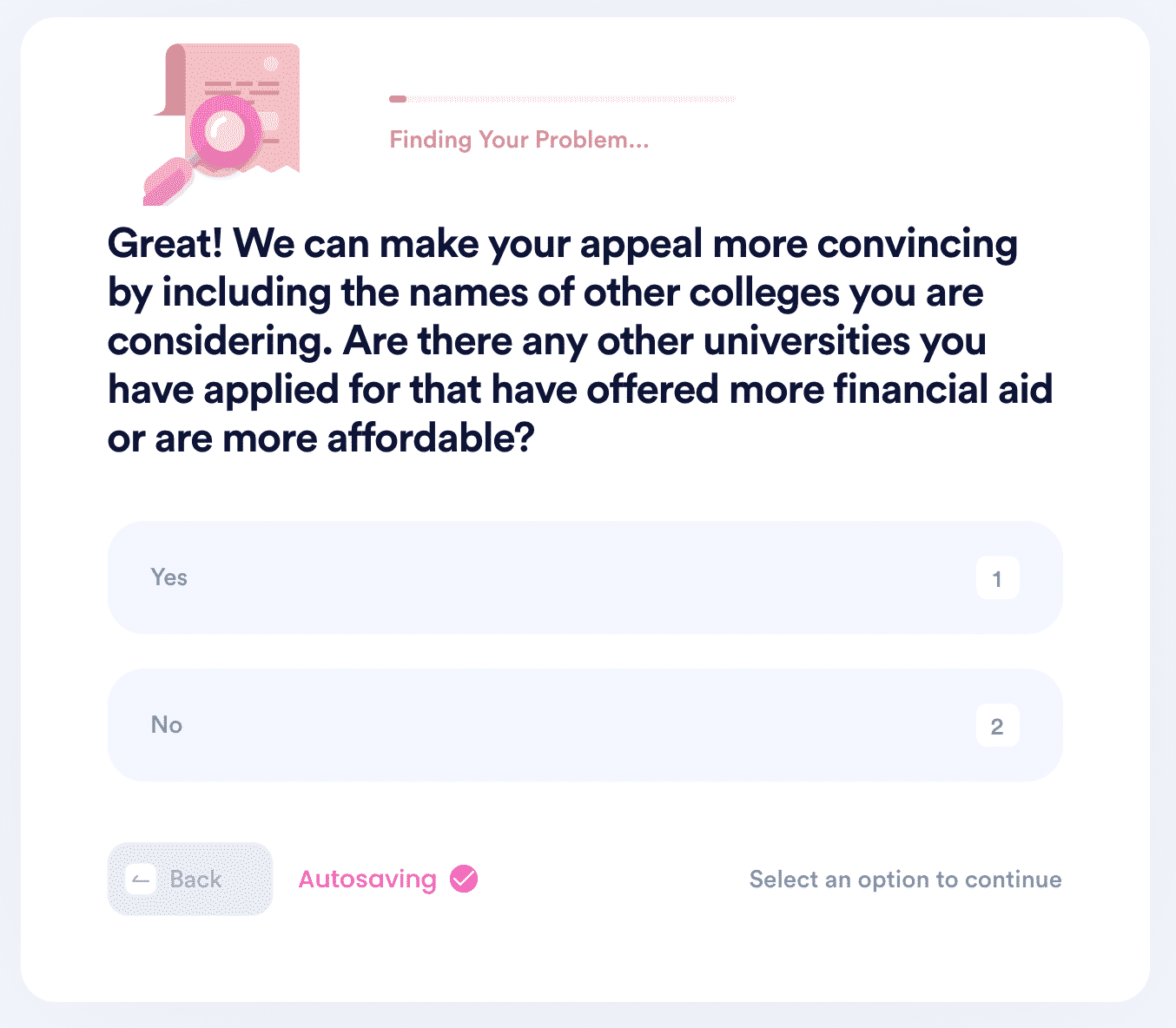 This is where you pass the baton to DoNotPay. We will generate a top-notch customized letter and send it to the school of your choice.
We can also help you learn more about financial aid programs at numerous universities and colleges, such as:
Have Your Documents Created and Notarized in Less Than Five Minutes!
Why spend hundreds or even thousands of dollars on lawyers when the ideal solution is only a few clicks away?
DoNotPay saves the day by enabling you to generate numerous legal documents. Creating proper child travel consent forms, divorce settlement agreements, and powers of attorney has never been easier!
Our perks don't stop here—you can also have your documents notarized electronically from any location. Once you obtain a notary stamp and signature, your paperwork can be faxed online without outdated machines.
Explore Everything DoNotPay Has To Offer
Day-to-day tasks you must deal with don't have to be a burden or rocket science. Signing up for DoNotPay is your ticket to performing them the easy way! We offer a wide selection of products that don't cost an arm and a leg but do excellent work when it comes to solving your administrative issues!
Our services will help you: