How To Get the Most Out of the University of Houston Scholarships
The University of Houston (U of H, or UH) in Texas offers over 280 degree programs across multiple disciplines, but the overall tuition costs can cause a great financial setback. Many undergraduate students are forced to consider unfriendly loans or back-breaking part-time jobs to cope with the rising course fees and living expenses throughout college.
Getting an education won't be a financial burden with University of Houston scholarships and grants to boost your funds, but you need to ensure you're applying to the right ones. If you're confused about which UH financial aid option can work for you—DoNotPay can narrow down your options in a jiffy!
Categories of Scholarships at the University of Houston
You can find dozens of scholarships at the University of Houston every year, but it's a pain to figure out which ones are for you.
Currently, you can find UH scholarships or grants classified under the following four categories:
Majors
Funding source
Advanced research and studies
Student transfer
You should browse through the available options for each of the above categories to ensure that you're not missing out on relevant scholarships.
The University of Houston Scholarships Based on a College Major
The University of Houston has 14 different schools on campus, all offering short-term or long-term college scholarships to promising students. Depending on your choice of major, you can look for UH scholarships offered by:
C.T. Bauer College of Business
Conrad N. Hilton College of Hotel and Restaurant Management
Cullen College of Engineering
University of Houston Law Center
College of Natural Sciences and Mathematics
College of Technology
College of Optometry
College of Pharmacy
College of Nursing
College of Social Work
Gerald D. Hines College of Architecture
The Honors College
College of Education
College of Liberal Arts and Social Sciences
You can apply for these scholarships as a high school senior or incoming freshman or if you change majors during your sophomore year.
Understand UH Scholarships Based on the Funding Source
The UH students have access to scholarships funded by a variety of sources—you can check them out in the table below:
Source of Scholarship
Details and Examples
University-funded merit scholarships

They are offered by various departments in the university and can be partial or full-ride scholarships
You need to have a high SAT score and class rank, as well as an unweighted GPA higher than 3.00, to be eligible for merit scholarships
Examples:

UH Academic Excellence Scholarship
National Merit Finalist Scholarship

Endowed scholarships

Endowment scholarships are awarded annually from the funds donated by benefactors (an individual or an organization)
Each endowment scholarship has its own set of eligibility requirements—they can be need- or merit-based
Examples:

The Aldredge Family Scholarship Endowment
The Woman's Club of Houston Scholarship
Astronaut/Space Studies Scholarship Endowment
Carole and Jim Hegenbarth Scholarship for first-generation students

Privately funded scholarships

UH's privately funded scholarships are issued by foundations promoting a specific heritage or geographic background
Scholarships are available for students who are Hispanics, Filipinos, Indians, Africans, Asians, Muslims, Catholics, Christians, or Jews—or belong to any other minority group
UH also offers great funding options to international students
Private scholarships are unpredictable and may not be available if the source organization refuses to release funds
Examples:

Bangladesh America Literary Scholarships
Diamond Family Scholars Program for foster youth

State-funded scholarships

State-funded scholarships are only awarded to UH students who are Texas residents
Examples:
UH Scholarships for Advanced Research and Studies
The University of Houston offers advanced research scholarships. They require you to research under the leadership of a university mentor for a stipend. You cannot qualify for any research scholarship more than once. Some examples include:
University of Houston Scholarships Available for Transfer Students
Transfer students are ineligible for University of Houston freshman scholarships. They can apply for the following:
Transfer Excellence Scholarship
Transfer Achievement Scholarship
You need a 3.00 GPA (on a four-point scale) to qualify for both scholarships, along with sufficient transferable credit hours and recommendation letters from your previous educators.
Confused About Which UH Scholarship You're Eligible For? Let DoNotPay Help!
If you're looking for a scholarship at the University of Houston, chances are you're having a hard time streamlining your options. You can sacrifice hours of your precious time exploring eligibility rules and deadlines for each scholarship and still have no clear idea where to apply.
DoNotPay's scholarship finder tool can help you pick out relevant options from the massive pool of UH scholarships. Our app maintains a database of all the latest scholarship opportunities in the U.S. All you need to do is fill in a student questionnaire—we will use your answers to create your student profile and match you with all the scholarships you qualify for.
to view your customized report within five minutes!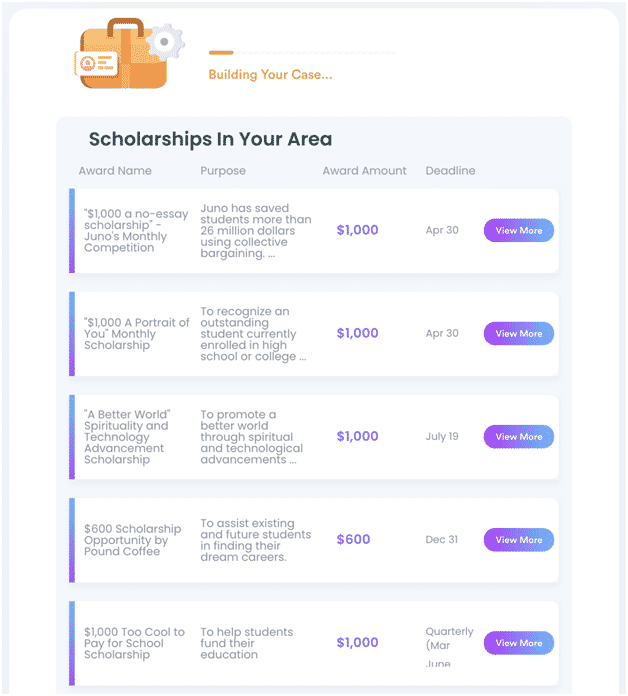 Your Odds of Winning Scholarships Shoots Up With DoNotPay
Most students never realize that they qualify for hundreds of scholarships that can help them pay for college. It makes no sense to rely solely on a university for financial support when you can find all kinds of financial opportunities at your fingertips!
DoNotPay does more than giving you a relevant list of scholarships—we can also help you apply for some! You can use our app to apply for all the scholarships that don't require you to write an essay or complete a competitive task.
We let you select all the no-essay scholarships that you like and use your student profile to apply on your behalf. You will also get an email confirmation from us to help you keep track of all the scholarships you applied for.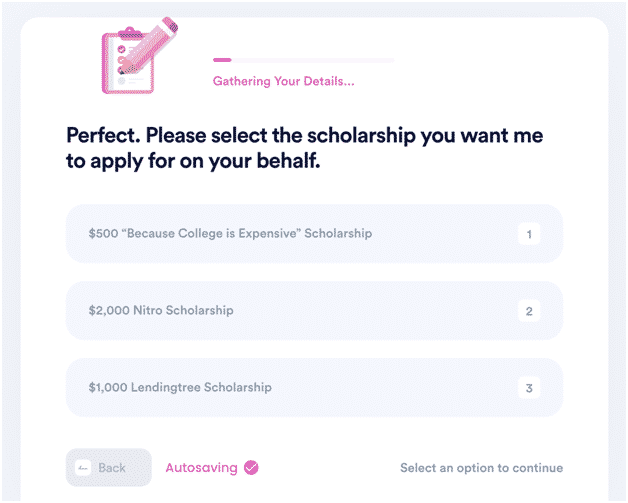 To start searching and applying for scholarships, and do this:
Search for our Scholarships product
Fill out our questionnaire to create your student profile
Choose between our search and apply functions
Use our app every week to note down or apply for new scholarships that fit your profile—it's a super productive way to increase your odds of winning more of them!
Save Time With DoNotPay
DoNotPay is not done helping you! We offer you assistance in completing a variety of tasks quickly and efficiently, such as:
Canceling Subscriptions Has Never Been Easier!
If you keep getting charged a monthly subscription fee even though you no longer want to use a certain service, don't let your money go to waste! Some companies tend to renew your subscription automatically, but that doesn't mean you have to put up with it—use our app to terminate your membership or subscription in a few clicks!
Do you want to sign up for free trials and create a virtual credit card or a burner phone number to protect your sensitive info? Once you subscribe to DoNotPay, we will walk you through the process of doing all of the above in no time!
You can also count on our assistance if you need to get rid of spam or robocalls.