How To Prepare for a Scholarship Interview—Get the Expert Tips
Being selected for a scholarship interview is a significant accomplishment. It means you are one step closer to landing the scholarship or grant. Although exciting, the thought of an interview may be anxiety-inducing.
That's why you should learn how to prepare for a scholarship interview. Mastering interview skills will help you not only to secure scholarships but also leave a better impression in job or grad school interviews.
How To Prepare for a Scholarship Interview
Interview preparation ensures that you present yourself in the best possible light so that the interview committee can recognize you as the ideal candidate for the award. But where do you start?
Here are some of the best tips to help you get ready:
Re-read your application documents carefully—Most questions may be derived from the documents you submitted, such as your essay, personal statement, transcripts, letters of recommendation, cover letter, etc. Go through every document and be ready to explain anything, for example, a low grade on your transcript
Practice responding to the commonly asked questions—The interviewers may have a different set of questions, but the practice equips you with skills that can help you be more articulate and confident on the interview day
Search for the common interview questions in your field of study
Familiarise yourself with current affairs and practice how you can respectfully present your opinions on different issues
Go through the scholarship program information and learn about the provider
Pack everything required for the interview early
Best Tips for the Scholarship Interview Day
Here are some tips to help you on the interview day:
Engage in a debate, not an argument—Always express your ideas respectfully and don't be defensive if you disapprove of something
Ask for clarification when you don't understand a statement or question
Don't be shy to admit you don't know something
Dress appropriately
Give precise and concise answers
Don't try too hard to appear like an expert
Be prepared to remain confident when faced with questions that get you off guard—It's not answering all questions correctly that helps you pass the interview but maintaining confidence in the conversation
Think of the interview as a conversation or discussion instead of a test
Don't lose your confidence if you feel like you didn't answer a question perfectly
Arrive early
Carry a copy of your application
Try not to be too worried about the outcome of the interview. Do your best and wait because you can't control the outcome.
Even if you don't pass the interview and need more financial aid, you can apply for more scholarships. DoNotPay can help you find scholarships that you are eligible for in a matter of minutes. and explore all the opportunities you qualify for compiled in one place.
Common Interview Questions for Scholarships
The goal of learning about the common questions is to know the intention behind the queries. You may be asked questions about yourself, the scholarship program, and the university. Here's how you can approach the common high school and college scholarship interview questions:
| Interview Questions | How To Answer Scholarship Questions |
| --- | --- |
| Can you tell us more about yourself? | Give an overview of your interests and most important accomplishments and hint at one that you value the most |
| Were you involved in any extracurricular community activities at school or in your community? | Talk about your extracurricular or volunteering activities and highlight the most relevant experiences |
| What is your greatest strength? | Mention something you excel at and give examples that support it |
| What is your biggest mistake? | Go for a mistake that is not too serious and show how you have improved or learned from it |
| Do you have any leadership experience? | Talk about your problem-solving skills either in a true leadership position or any other instance where you took the lead |
| Where do you see yourself in five years? | Give an answer that shows you have a plan for your life |
| Why did you choose this institution? | Mention the resources or aspects of the school that stand out for you |
| Why are you the best candidate for this scholarship? | Focus on the points described as the ideal candidate in the program information and try to fit your accomplishments into that framework |
| How do you intend to use the scholarship money? | Try to list relevant education expenses and highlight how the money will help you achieve your full academic potential, which wouldn't have been possible without the award |
| What questions do you have for us? | Ask any questions you may have prepared or that came up during the interview |
| Is there anything else you would like to add? | Add anything you haven't covered or answer negatively and thank them for their time |
Discover and Apply for Scholarships with DoNotPay
Would you like to find more scholarships that you qualify for? DoNotPay can get you a list of all the scholarships you tick all the boxes for in less than five minutes. All you have to do is:
Find the Apply for Scholarships product
Answer a couple of questions that will help in personalizing your list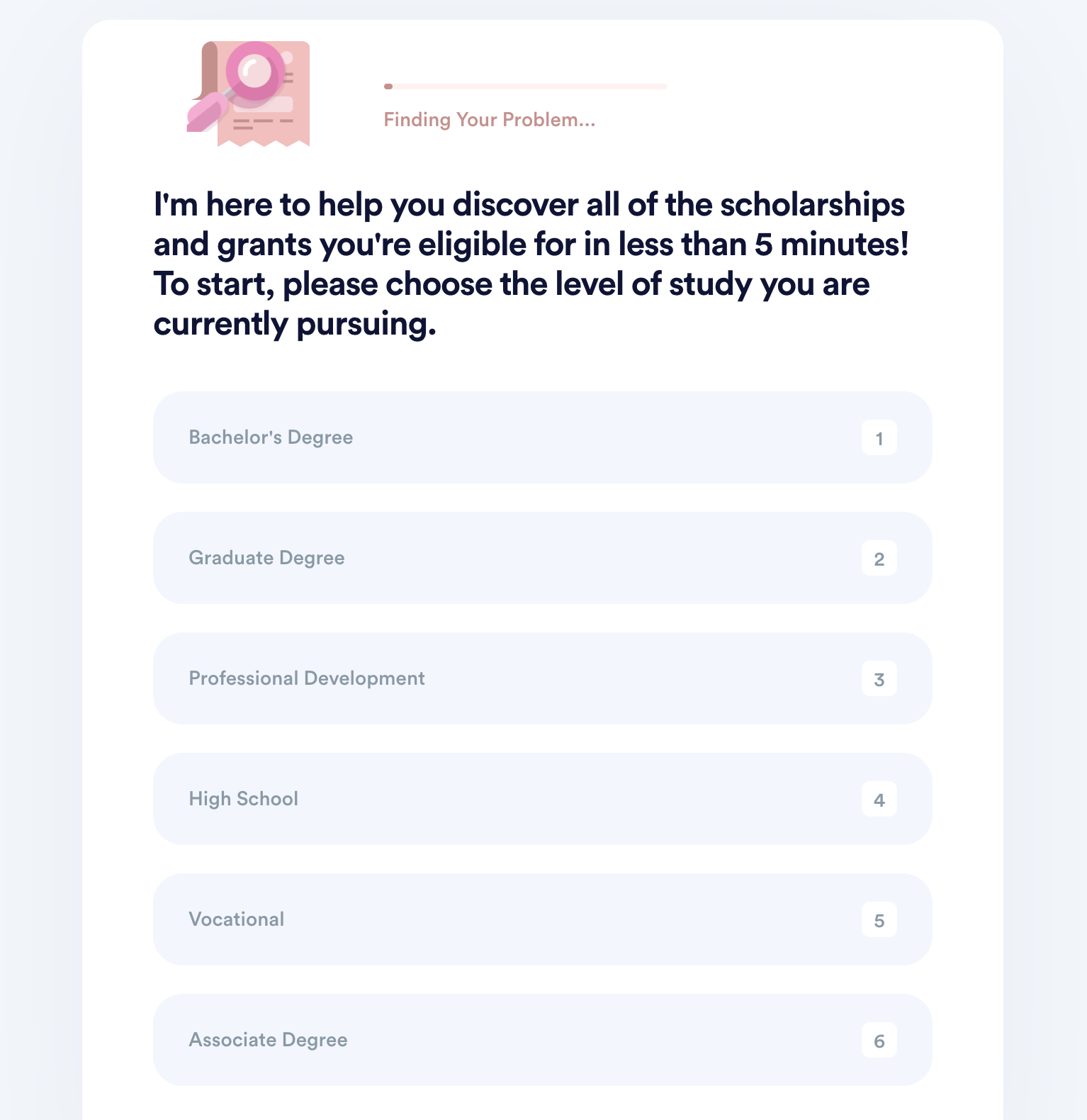 You can opt for DoNotPay to automatically send your applications for no-essay scholarships.
Are you looking for scholarships for women, moms, adults, international students, veterans, college freshmen, or graduate school students? DoNotPay can help you find the right one regardless of your major, academic level, background, or any other category.
Explore DoNotPay's Product Range
Are you looking for additional assistance from our app? We're happy to inform you that DoNotPay provides you with a number of useful tools that you can use to complete mundane tasks in the blink of an eye! Sign up for our app and let us help you get:
DoNotPay Resolves Your Financial Issues in a Few Taps
You don't have to struggle to figure out how to resolve financial problems yourself when you have our app at your disposal. In only a few clicks, you'll be able to discover any unclaimed money under your name, submit insurance and warranty claims, or request compensation for delayed flights.
But that is not all! Lowering your utility bills, appealing parking tickets, or canceling memberships and subscriptions is also something you can do in no time and with minimum effort if you use DoNotPay! Work smarter, not harder!