The Ins and Outs of Baylor University Scholarships
Baylor University awards various scholarships to its students to help them cover the cost of their education. If you'd like to apply for one, this guide will help you discover the available Baylor University scholarships and show you how to find available programs with minimum effort.
What Kind of Scholarships Does Baylor Offer?
Baylor University offers the following types of scholarships:
Academic scholarships
Specialty awards
General financial aid
Academic Scholarships
Baylor academic scholarships are awarded to incoming freshmen and transfer students based on their academic achievements. All students who apply for admission are automatically considered for the award. No further application is needed.
Baylor's academic scholarships include:
Freshman academic scholarships—Incoming first-year students are considered for the following academic scholarships based on their high school grades:

President's Scholarship
Independence Scholarship
Provost's Scholarship
Founders' Scholarship
Deans' Scholarship

Transfer academic scholarships—The award amounts for

scholarships for transfer students

depend on the GPA. One of the scholarships for transfer students is the Phi Theta Kappa Scholarship that's worth $1,000 and open to members of Phi Theta Kappa
Specialty Scholarships
The following scholarships are awarded to students who meet the eligibility criteria:
Opportunities
Details
Leadership scholarships
Incoming freshmen who prove leadership skills, among other requirements, can be awarded the following scholarships:

Carr P. Collins (minimum of $5,650)
Trailblazer Scholarship which (minimum of $5,000)

The awards are renewable every three years

Housing choice
These need-based scholarships are awarded to incoming freshmen—including international students—who live in the respective Living-Learning Centers (LLC):

The Baylor & Beyond Living-Learning Center Scholarship
Impact Living-Learning Center Scholarship
Leadership Living-Learning Center (LEAD-LLC)
Transfer Year Experience Living-Learning Scholarship
Student Engagement Scholarship—awarded to recipients of a Living-Learning Community (LLC) scholarship

Denominational scholarships
The scholarships are awarded to students who attend a Baptist church or whose parents serve there. These programs include:

Baptist Minister's Dependent Scholarship
Baptist Missionaries' Dependent Scholarship
Ministry Scholarship
Presidential Denominational
Baptist Youth Speakers Scholarship

Legacy status scholarships
The $3,000 Sibling Scholarship is awarded to undergraduate students who have a sibling concurrently enrolled at the school. To apply, send an email to scholarships@baylor.edu, and use "Sibling Scholarship" as the subject
Athletic scholarships
The scholarships are awarded by the team coaches in the school. Students interested in the athletic scholarships should call Baylor Athletics at (254) 710-1234 for more information
Departmental scholarships
Most departments at Baylor University offer scholarships to their enrolled students. You can find available programs by visiting the Departmental Scholarship Search page
Scholarship events
Baylor University offers scholarships to freshmen who participate in the following scholarship programs:

Getterman Scholars Program
Invitation to Excellence
Baylor2Baylor Medical Program
Baylor2Baylor Law Program
Baylor2Baylor Seminary Program
Distinguished Scholars Day

To participate in one or more of these programs, you must submit your application for admission. This will give you access to your goBAYLOR portal, where you can apply to participate

Military scholarships

Students interested in serving in the military can apply for the following scholarships:
Extracurricular activities scholarships
Extracurricular scholarships are offered to students who participate in the following activities:

Baylor debate program
Baylor Golden Wave Band
General Financial Aid
To be considered for more funding from the university, you need to:
Submit a Free Application for Federal Student Aid (FAFSA)
Create and complete your College Scholarship Service Profile (CSS)
Applications open on October 1, and you should send your application by November 1 or February 1. Applications submitted later than that will be considered based on the availability of funds.
The FAFSA determines your eligibility for federal student loans, work-study programs, and grants, while the University scholarships are awarded based on:
Enrollment status (full- or part-time)
Estimated financial contribution based on student's CSS Profile
Academic performance
How To Find Outside Scholarships
You can also seek scholarships offered by private organizations and companies. To find outside scholarships, follow these tips:
Consult your high school's guidance counselor
Check the programs offered by your state educational agencies
Refine your internet search with the following tips:
Look for professional associations in your field of study
The options are many, which can be overwhelming. If you would like a simplified and faster approach, use DoNotPay. In under five minutes, you will have a complete list of all the scholarships you are eligible for. Sounds amazing? now and start applying in no time!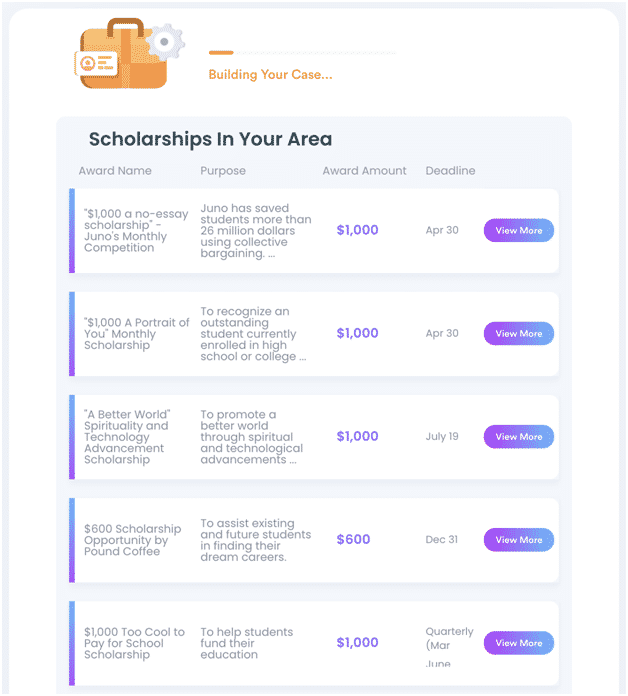 How To Apply for Baylor University Scholarships
Before applying for any Baylor University scholarship or outside financial aid programs, review the eligibility requirements on the program's website, and find out more about the application process.
In most cases, you'll need to submit the following paperwork:
Discover All the Scholarships You Qualify for With DoNotPay
If the search process makes you want to give up on getting financial aid, you have come to the right place. DoNotPay will help you find all the programs you qualify for—including the scholarships and grants that almost no one applies for. You will never have to worry about opportunities you may have missed. All you need to do is:
Select the Apply for Scholarships feature
Provide the required information regarding your academic background
That's it! We will use the information you provide to curate a personalized list of programs for you. DoNotPay can also help you apply for no-essay scholarships in a matter of minutes.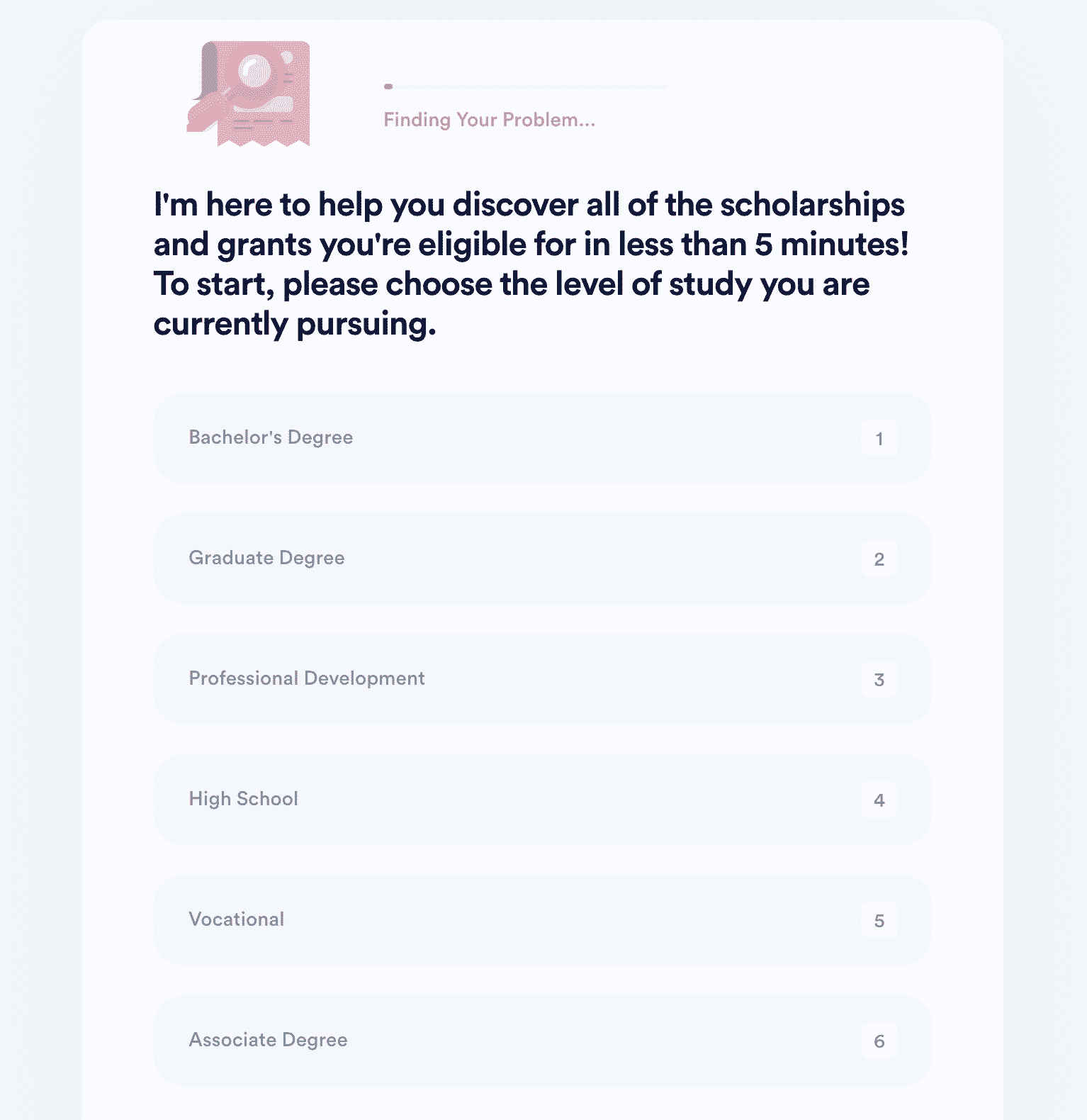 Resolve Any Other Issue You Have Swiftly With Our Assistance
The world's first robot lawyer is capable of tackling any legal or administrative task in your stead. We can draw up any legal document for you—including a power of attorney, child travel consent form, and divorce settlement agreement, to name just a few—help you sue any company or individual in small claims court, send a letter of warning to your noisy neighbors, help you reduce your property taxes and utility bills, and a lot more.
Sign up now if you want to stop email and text spam, claim any insurance or warranty, appeal parking tickets, schedule a DMV appointment in a flash, mail anything worry-free, find your missing assets, create passport photos, or contact embassies and consulates effortlessly.
Let DoNotPay Guide You Through Any Obstacle
Are you tired of corporations not taking their customers seriously? So are we, and that's why our nifty product will assist you in suing any company or individual in small claims court!
If you don't want to have any online service take advantage of you, you can sign up for any free trial completely risk-free with our virtual credit card's help, cancel any membership on time, and demand a refund or chargeback in a split second. DoNotPay can also draw up an airtight return request and send it to a company of your choice quickly.