Find a Scholarship for Dancers With DoNotPay
Studying dance in college requires talent, serious dedication, and a thick wallet. Most dancers can't afford to pay exorbitant tuition at four-year institutions or performing arts schools. If you are one of them, don't give up on your dreams—apply for a scholarship for dancers.
Dance scholarships for BA (Bachelor of Arts), BFA (Bachelor of Fine Arts), and MFA (Master of Fine Arts) degrees vary from $500 to full tuition. Scholarships and grants are also available for future dance instructors.
Whether you are a high school senior, college, or grad school student, you need to get your facts straight before applying for a scholarship. This guide prepared by DoNotPay brings answers to all of your questions.
What You Should Know About Scholarships for Dancers
The majority of dance scholarships are merit-based, meaning that your chances will depend on your academic achievements and dancing talent. Still, there are a few scholarships that take financial needs into consideration.
Scholarships for dancers can be divided into five groups based on the dance style:
Ballet scholarships
Modern dance scholarships
Tap dance scholarships
Jazz scholarships
Hip-hop scholarships
How To Get a Dance Scholarship
Dancing scholarships are highly competitive. To win one, you will need to stand out among other dancers with your academic achievements and wow judges with your dancing skills.
Before applying for a scholarship, you'll have to decide whether you want to pursue a BA, BFA, or MFA degree program. While MFA and BFA programs are designed to train students to become professional dancers, BA programs focus on the individual performing arts.
For most dancing scholarships, you will need to take the following steps to successfully apply:
Fill out an online application
Submit your school transcripts
Attach a few letters of recommendation
Write a

scholarship essay

Send your resume
While some scholarship providers will require you to pass an audition, others will evaluate a taped performance sent with your application.
Common requirements for most scholarships are:
A certain GPA score
Full-time enrollment at an accredited dance school or a specific dance program
Membership in a specific organization
There are a few full-ride dance scholarships that, besides covering the cost of tuition, often pay other school fees and living expenses.
Where To Look for Scholarships for Dancers
Students interested in studying dance in college should talk to their dance instructors about national and regional scholarships they could be eligible for.
Scholarships for dancers are provided by a variety of sources:
Art foundations
Businesses and corporations that related to the dance industry
Universities
Performing arts schools
State government
You should keep in mind that each of the sponsors will determine its eligibility requirements—some may target students from specific high schools and states, while others will be open to both U.S. and international students.
The best way to find all the information is to contact the sponsors directly. While googling can help, more often than not, the complete info is not available on the internet.
If you don't feel like searching for scholarships by yourself, . Immediately upon answering a few questions from our chatbot, you'll get a complete list of dance scholarships you qualify for.
What Are Some of the Best Scholarships for Dance?
Some of the best scholarships for dancers you can find in the U.S. are listed below:
Scholarships
Award Amount
Who's Eligible?
Dizzy Feet Foundation Scholarship Award
$10,000.00
Talented students enrolled in an accredited dance school in the United States. They must be U.S. citizens and at least 15 years old
Arts for Life! Dance Scholarship
$1,000
Talented dancers who are graduating from high school in the state of

Florida

Women in Jazz Scholarship
$1,000
Women entering the jazz industry
Francisco Gella Dance Works (FGDW) Equity Scholarship Program
Varies
Candidates aged eight to 21 who have trained ballet for at least two years (minimum of three hours per week)
CBC Spouses Performing Arts Scholarship
$3,000
Black students pursuing a degree in the performing arts
Grace Towers Scholarship for the Arts
$2,000
Lesbian, gay, bisexual, transgender, and queer students aged 16 to 25. They must be

California

residents
Beverly Miller Dance Scholarship
$500–$1,000
Citizens of the United States and Canada who are between 12 and 21
Use DoNotPay To Find College Dance Scholarships in Minutes
It's difficult to keep track of all the scholarships available and choose the best ones. Let us do it for you.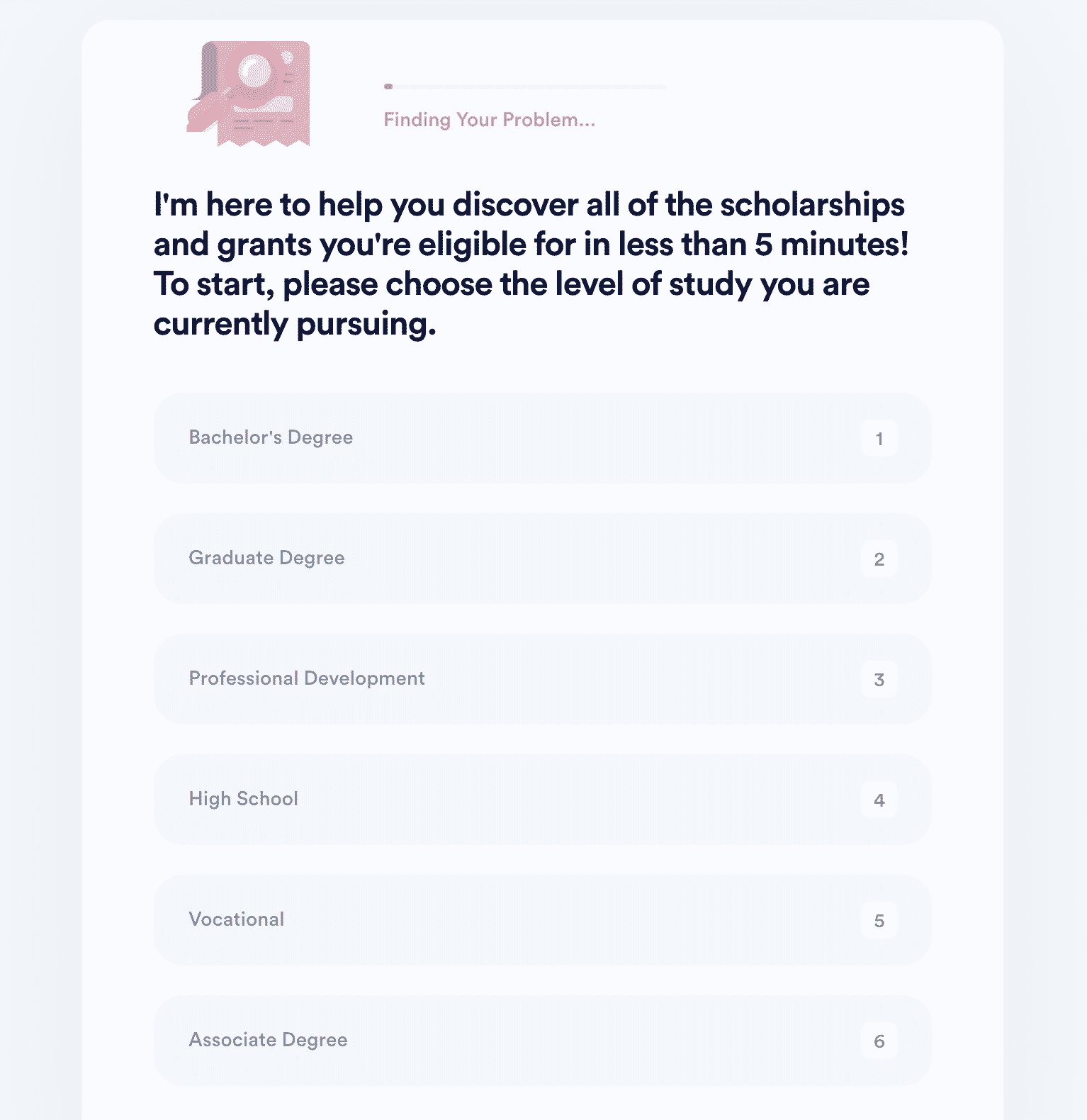 All you need to do is:
Find the Apply for Scholarships feature
Provide us with more info about your:

Special qualifications (for example,

veteran

status)
The current level of study
Expertise fields you are interested in

Click on the Submit button
DoNotPay can even apply for no-essay scholarships in your stead.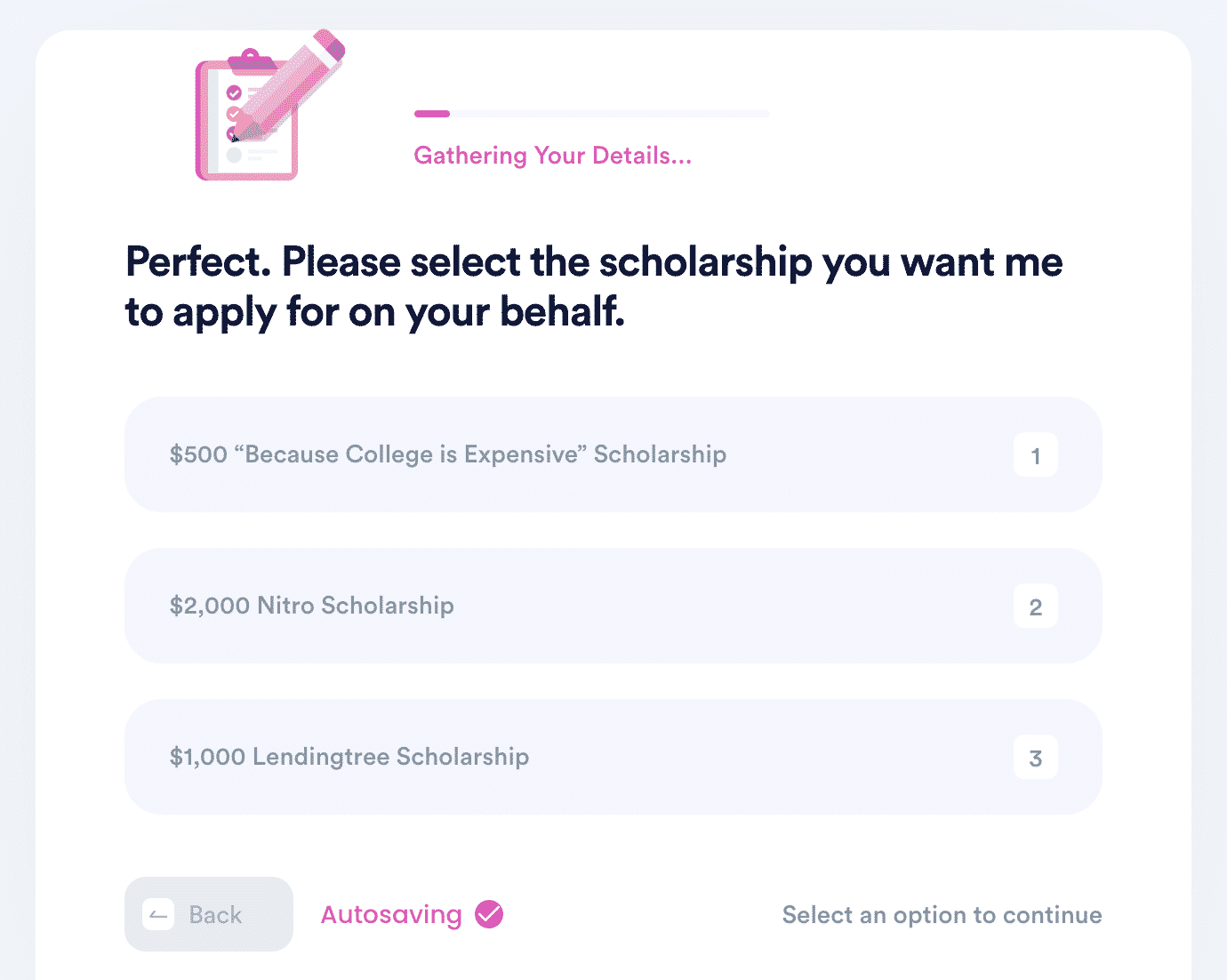 Save Time With DoNotPay
DoNotPay is not done helping you! We offer you assistance in completing a variety of tasks quickly and efficiently, such as:
Canceling Subscriptions Has Never Been Easier!
If you keep getting charged a monthly subscription fee even though you no longer want to use a certain service, don't let your money go to waste! Some companies tend to renew your subscription automatically, but that doesn't mean you have to put up with it—use our app to terminate your membership or subscription in a few clicks!
Do you want to sign up for free trials and create a virtual credit card or a burner phone number to protect your sensitive info? Once you subscribe to DoNotPay, we will walk you through the process of doing all of the above in no time!
You can also count on our assistance if you need to get rid of spam or robocalls.