Dive Into the Fabletics Return Policy—It's Not That Fabulous
Fabletics is bound for success with ambassadors such as Kate Hudson and Demi Lovato, but the Fabletics return policy should be clearer and more protective of the customers.
The company has many bad reviews that target the return process, and a lot of users expressed their wish to cancel Fabletics. For that reason, DoNotPay prepared a guide for you detailing the return policy. We can even help you return products to any merchant if you sign up for our service!
Fabletics Returns Policy—All You Need To Know
Fabletics accepts returns within 45 days of purchase. The company has three options for returning items—exchanging, refunding, or trading items for store credit or Fabletics membership.
You need to return the items in the following condition:
New
Unworn or unused
Originally packed with all the accessories and tags
Final sale and other promotional products cannot be returned, and neither can items redeemed via the Fabletics rewards program.
You can return eligible Fabletics items to any of its stores in over 50 locations in North America or by mail.
How To Start Merchandise Returns With Fabletics
You can initiate the returns process with Fabletics in the following ways:
| | |
| --- | --- |
| Can You Request Returns Via | Yes/No |
| Website | No |
| Online Chat | Yes |
| Phone | Yes |
| Email | No |
| DoNotPay | Yes |
Start Fabletics Returns Online
You may ask for assistance in returning products online. Contact the Fabletics customer support team via the Online Chat page by following the instructions:
Follow the link from above
Enter your details and email address
Type in the reasons for returning the items in the chat field
Click on Start Chat
Ask the support representative for further return instructions
Start Fabletics Returns Over the Phone
To initiate a return via phone, call the Fabletics member services at +1-844-322-5384 between 9 a.m. and 9 p.m. EST and tell the representative that you want to return an item. Ask for the address and other instructions for returning products.
How To Return Items to Fabletics
You can return items to Fabletics:
In person
By mail
Return a Fabletics Product to the Store
You can take the items and your proof of purchase to any Fabletics store and ask a store assistant for a return. If you need help locating the stores, use the Store Locator page. Click on Find Store and scroll through locations until you find the nearest one.
Return a Fabletics Item by Mail
Here's how to make Fabletics returns via mail:
Open the Fabletics website and sign in
Click on My Account
Select Order History
Find the return label and packaging slip and print them
Pack the item and the packaging slip
Attach the return label to your package
Ship the items to the address provided by the customer service representative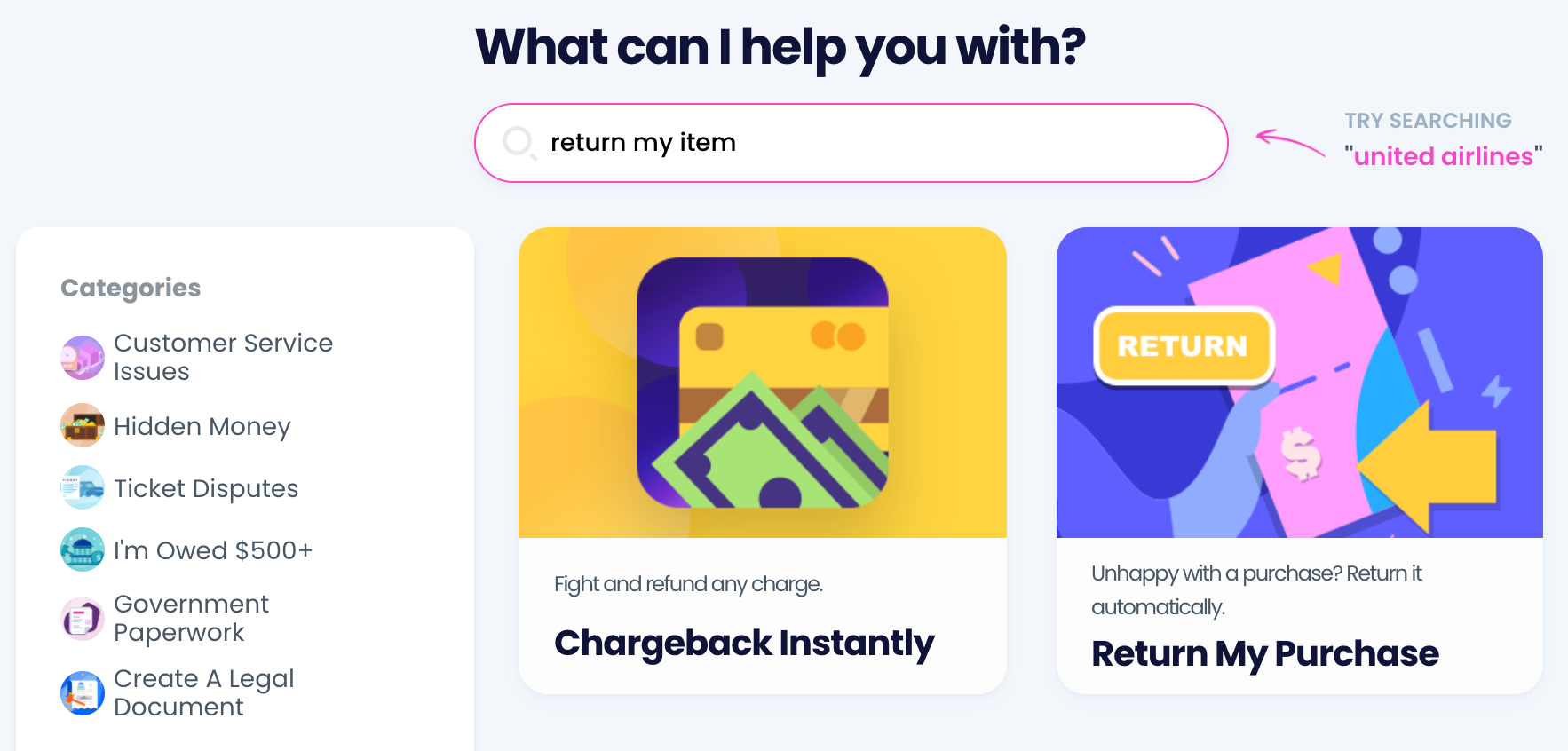 DoNotPay Can Help You Return Products to Fabletics
Returning merchandise can be a real mess, especially when a company isn't cooperating. DoNotPay is here to help send a formal return request letter to Fabletics, which will help you resolve any disputes down the line.
You can initiate the return process in only three steps:
Click on our Item Return Request feature
Enter the details about your return and submit the request
We'll create a customized letter and send it to Fabletics. You'll also get a free shipping label.
Do you need help with returning products to other companies? Here are some of our return guides: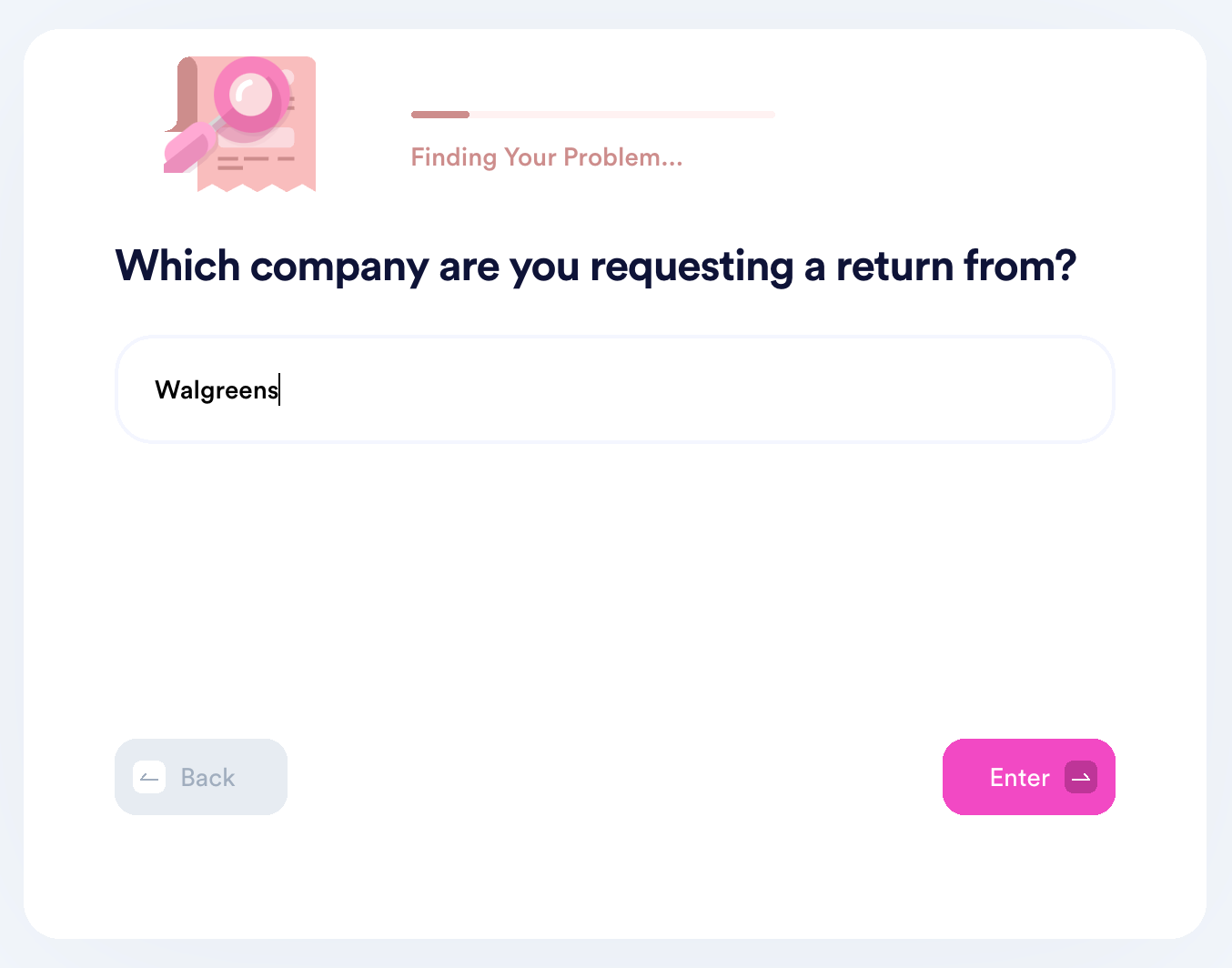 How Long Does Fabletics Take To Process Your Return?
Fabletics takes between five to seven workdays to process your return after receiving your items by mail. If you visit a store, your return should be processed on the spot.
Refunds shouldn't take more than ten workdays, so if you're waiting longer than that, contact the company and let it know.
The Fabletics Refund and Exchange Policies
Fabletics issues refunds to the original form of payment used for the purchase. You can get a full refund within 14 days of purchase with the original receipt. After that, you may exchange or trade your items for store credit or the Fabletics subscription.
Get a Refund From Fabletics With DoNotPay!
If you want to be safe and ensure you get a refund from any company, including Fabletics, it's best to use our Chargeback Instantly feature. Here is how to do it:
Open the DoNotPay website and select the Chargeback Instantly product
Click on Get Protected
Answer our questions regarding your purchase
Sign and submit the form
Did Fabletics Wrong You? Sue It in Small Claims Court With DoNotPay's Assistance
DoNotPay is the world's first robot lawyer, and it can help you sue any company in small claims court. Our app assists with:
Scripts with argumentation that can be used in court
Demand letters
Court paperwork and forms
Official complaints
Want To Save Money and Avoid Bad Purchases? Look No Further!
Aside from helping you send a return request to any company, DoNotPay can also assist you in getting a refund in a flash! We can also help you request a refund for any late, missing, or damaged delivery.
Do you want to stop wasting your money on useless services? Our app can help you cancel them and provide you with a virtual credit card that terminates free trials before companies get to charge you!
If you want to discover some forgotten assets you may have, we can help you find them in just a couple of minutes. With DoNotPay, you can both save money and earn it!
Once you sign up, you can report text and email spammers, annoying robocalls, and real-life stalkers and harassers and earn off them. We can also help you sue any company or individual in small claims court if you feel like they did you dirty.
Getting Rid of Bureaucratic Procedures Has Never Been Easier
The process of composing a return request letter is tiring, which is why you should turn to DoNotPay for help. Our app will assist you if you want to avoid similar bureaucratic hassles, such as:
Sign up for DoNotPay to utilize all of our nifty products!