What UCSD Financial Aid Tool Can Help Me Get the Award I Need?
Are you a prospective University of California, San Diego (UCSD) student in need of financial aid? Do the University's available guides seem confusing?
This guide explains how to apply for UCSD financial aid using tools that can simplify the process!
UCSD Financial Aid Tools and Tricks Explained
Applying for financial aid can be overwhelming, so we gathered some tools and sources to ease your mind:
Useful links
Financial-aid-related services
Checklists
UCSD Financial Aid Tools—Useful Links
We understand that searching for all necessary information can be exhausting, so check out the most valuable sources you will need to apply for UCSD financial aid in the table below:
| | |
| --- | --- |
| Source Category | Links |
| Application forms and web pages | |
| UCSD financial aid information | |
UCSD Financial Aid Services
The following services can help UCSD students handle financial aid more straightforwardly:
Service Name
Service Description
The UCSD Financial Aid Estimator
This tool helps full-time undergraduate students estimate the amount of financial aid they will get during an academic year. All you need to do is answer a few simple questions about your financial situation and click the Estimate Financial Aid button.

Note that entering incorrect information in the form may result in getting questionable estimates

TritonLink
TritonLink is a service designed for UCSD students specifically. It handles student information on an individual level. TritonLink can help you access your records for:

Financial aid
Chosen classes
Billing and payments

The platform has tools that allow you to:

Have insight into your available aid balance
Access your UCSD financial aid checklist
Maintain your direct deposit information for financial aid with the Direct Deposit Tool
Appeal the University's financial aid decisions and more

Handshake
This service helps UCSD students and alumni connect with employers, and it is designed primarily for students participating in Federal Work-Study and Student Employment programs
UCSD Financial Aid—Checklists
When applying for financial aid, making a checklist or using a pre-made one is crucial to ensure you take all required steps.
Here's an example of the prompts your financial aid checklist should include:
Talk to your parents or guardians about your future education
Research:

Definitions of financial aid and the ways it works

Schools you want to apply for and their study programs
Tuition and attendance costs
Federal, state, and school-specific financial aid programs
Average financial aid per student in different schools
Terms and eligibility for financial aid

Compare the tuition and attendance costs with your financial situation and available funding to find out how much aid you need
Gather all required documents, such as:

Application forms (physical or online)
Personal documents
Tax and income documents

Complete and submit your application by the required deadline
Correct the information on your application, if necessary
We picked out some checklists that should help you handle the application process better:
A Brief Summary of the UCSD Financial Aid Program
UCSD offers financial aid in the form of:
Grants
Loans
Scholarships
Work-study
Students eligible to receive funds from UCSD are:
First-year students
Transfer students
Undergraduates
If you have any doubts or questions, you can contact the UCSD Financial Aid Office by:
What Can I Do if UCSD Rejects My Application Despite Taking All Required Steps?
If UCSD rejects your application or offers little financial aid, you should:
Appeal the decision using the MyTritonLink service
An appeal letter can convince UCSD to reconsider your application if you include:
Reasons why you need more financial aid
Reasons why you chose to apply for UCSD
Other schools you applied for and their financial aid offers
Unfortunate and sudden circumstances that impacted your and your family's budget
You don't have to worry about making mistakes while writing the letter because DoNotPay created a nifty feature that generates and sends a custom appeal request to UCSD in no time!
Getting More Financial Aid From UCSD Has Never Been Easier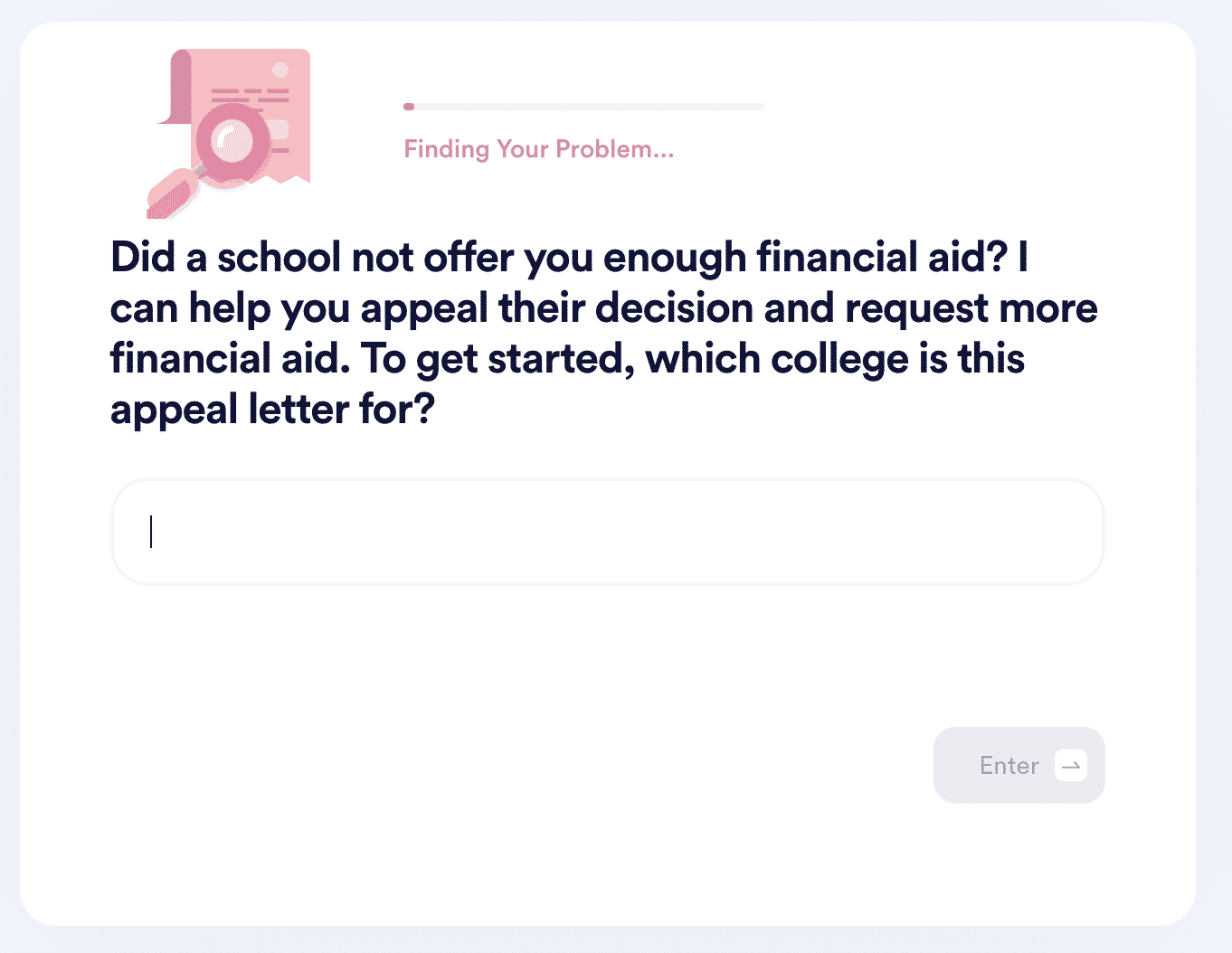 To get more financial aid from UCSD, follow these steps:
Enter Appeal for More Financial Aid into the search bar
Answer a few brief questions about your financial aid application
Upon completing all steps, the feature will ask you whether you want to send the letter to UCSD right away or receive it via email first and forward it to the university by yourself.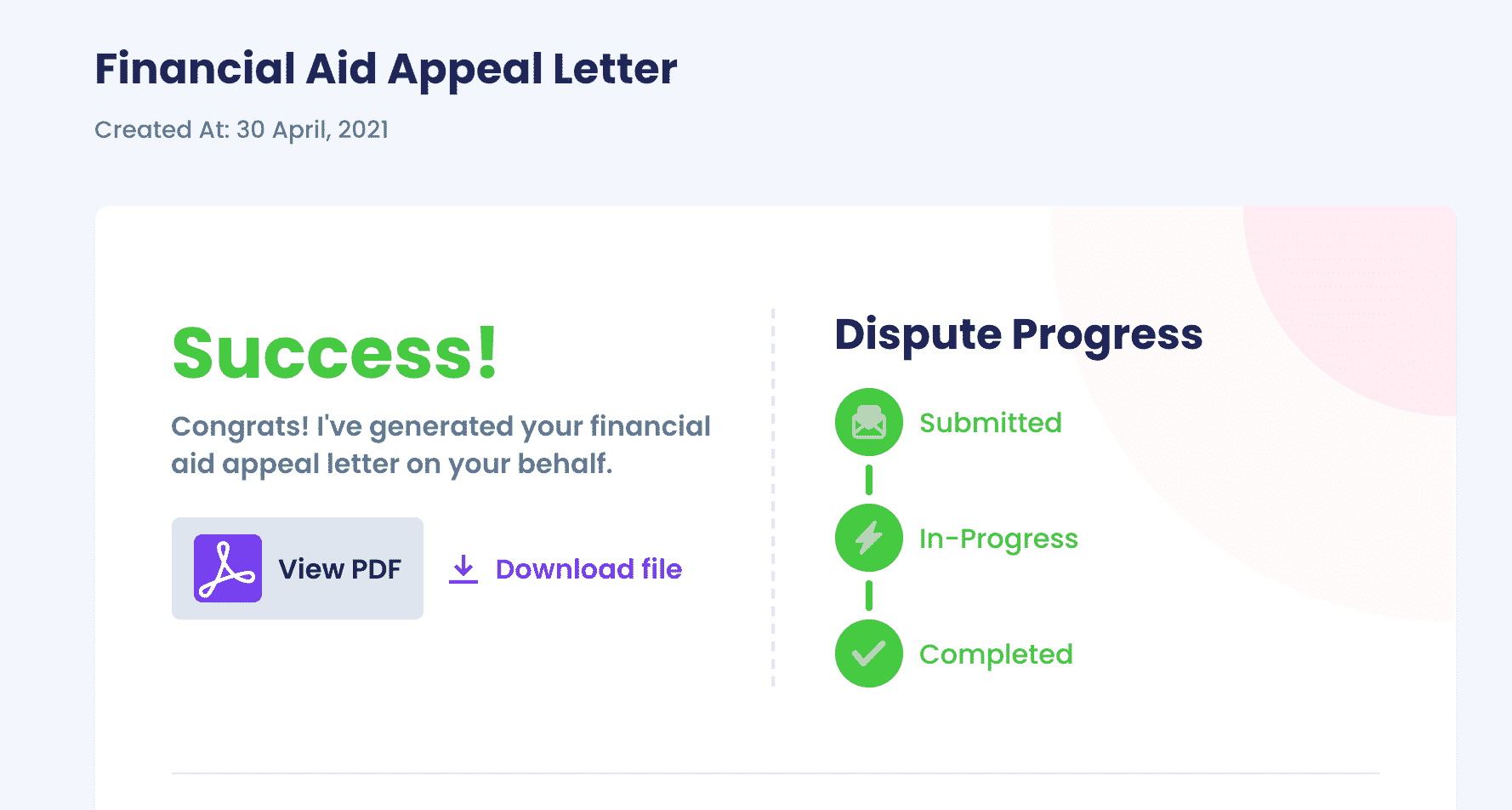 If you still have financial aid questions, use our guides to find out:
Alternatives to UCSD
Is UCSD your dream school, but you can't afford to attend it? While that may be discouraging, we offer you a table of reputable alternatives whose financial aid programs we explained in detail:
DoNotPay Turns Your Everyday Hurdles Into a Piece of Cake
Did you receive a faulty or damaged item? Why not return it with your virtual assistant? We can also help you get a late delivery refund and jump the queue if the customer service phone keeps ringing to no avail. The list of handy DoNotPay features that make your everyday life easier goes on.
By subscribing to our platform, you won't have to worry about your tedious neighbors or parking tickets. We can do it all!
Want To Save Money on Lawyers? Use DoNotPay
Most people spend big bucks on expensive lawyers to overcome their bureaucratic obstacles. Don't waste your money on unnecessary fees—use DoNotPay and take care of any legal matter in a few easy clicks! Check out some of the issues the world's first robot lawyer can help you with: