The Necessary Info About the University of Idaho Financial Aid
The University of Idaho (U of I, or UIdaho) was established in 1889 in Moscow, Idaho. This public land-grant research university has a bit under 10,000 students. To become a part of this crew, you will need to set aside $8,304 for local tuition and $27,540 for out-of-state tuition.
If this cost does not match your budget, you can always apply for the University of Idaho financial aid. Use DoNotPay to appeal the school's decision in case your application is rejected, or the offer is unsatisfactory, and you need more funds.
How To Get in Touch With the University of Idaho Financial Aid Office
The Financial Aid Office is where you can find all of the answers to your questions about financial aid. Get in touch with financial aid counselors in any of the following ways:
Phone—208-885-6312
Toll-free phone—1-888-884-3246
Fax—208-885-5592
Email—finaid@uidaho.edu
The financial aid staff is available between 9:30 a.m. and 5 p.m. from Monday to Friday.
Types of Financial Aid You Can Apply for at UIdaho
Different types of financial aid are available to you depending on what you are interested in and the eligibility criteria you meet. The table below presents your options:
Type of Financial Aid
Essential Info
Grants
Federal grants that don't require repayment are:

Federal Supplemental Educational Opportunity Grant (FSEOG)
Pell Grants

Scholarships
Scholarships also fall into the "gift aid" category since they don't need to be repaid. At the U of I, the scholarship you can apply for will depend on what type of a student you are:

Undergraduate
Law student
International student

Loans
If you apply for a student loan, bear in mind that you'll need to repay the funds with interest. You can choose between:

Graduate PLUS Loan
Parent Plus Loan
Stafford Loan
Alternative (Institutional) Loan
Alternative (Private) Loan

Work-study
Work-study is a federal and state-funded financial aid program. It is need-based and created to offer part-time jobs to students.
What Is a FAFSA Form, and Why Is It Important?
The Free Application for Federal Student Aid (FAFSA) form is used to determine your federal financial aid eligibility. Completing a FAFSA is a mandatory first step when applying for any type of aid. The University of Idaho will make a decision on how much financial aid you will get based on gathered financial and biographical info, such as:
Assets
Your family's adjusted gross income
Number of people in the household
You need to complete the FAFSA every year to keep receiving financial aid. It is also important to keep in mind the deadlines for submitting this form. For the academic year 2021–2022, the date and time to remember are June 30, 2022, 11:59 p.m. Central time (CT).
What Are the Eligibility Requirements for Federal Aid?
Since most financial aid offered at UIdaho is federally funded, to apply for it, you'll need to meet the required criteria. You must:
Be a U.S. citizen or an eligible non-citizen of the U.S.
Not have a drug conviction
Own a high school diploma or a recognized equivalent
Not owe a repayment for any federal grant program
Be enrolled or accepted for enrollment in an eligible program
Have a valid Social Security number
Register with the Selective Service (if you are male)
Keep satisfactory academic progress as defined by the university
What Happens if UIdaho Rejects Your Application or Makes a Poor Offer?
In case you are unsatisfied with the University of Idaho's decision, you can send an appeal letter. Dealing with this task on your own can be dull and time-consuming, but you have an alternative—DoNotPay can help you file an appeal in a matter of minutes!
Sending an Appeal Letter to UIdaho Is Easy With DoNotPay
If your student life is already busy and stressful, you don't need to add writing an appeal letter to the list. Even if you don't know how to properly create one such letter, you should not worry—DoNotPay is at your service! Our app will handle the entire procedure in your stead.
You only need to follow these instructions:
Choose our Appeal for More Financial Aid product
Inform us about the amount other schools offered you (if you applied to more than one)
Provide the necessary info related to your family's income and financial status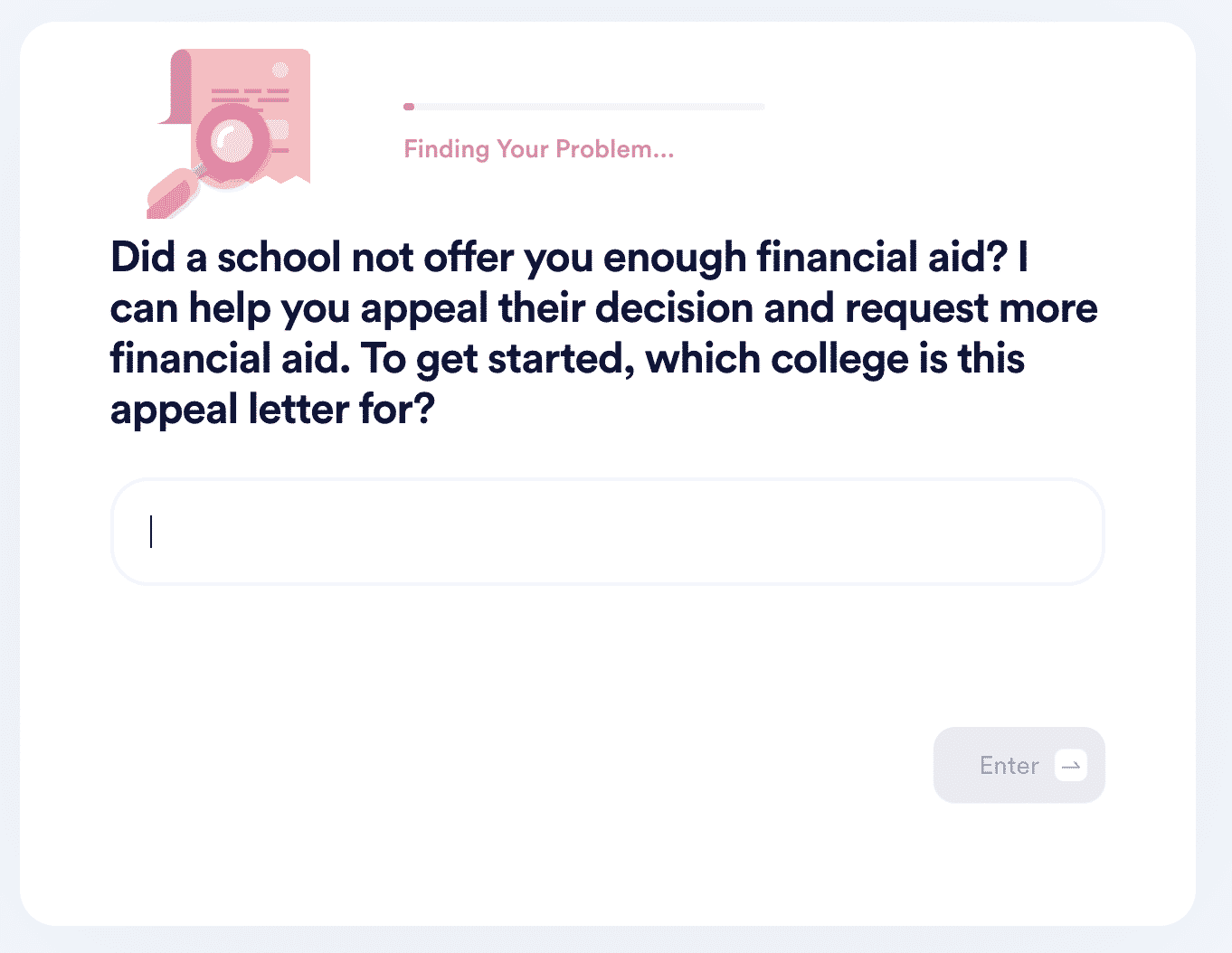 Financial Aid Available at Other Universities
Having a backup plan is a necessity—applying for more than one school gives you more options. There may be a few schools with more generous offers than UIdaho's that you shouldn't miss.
Take a look at the table below to see DoNotPay's guides on financial aid for some of the most popular schools:
Work Smarter, Not Harder!
Although there are certain tasks that are a pain but can't be avoided, such as paying your property taxes, you don't have to do them the hard way. There is always a way to make the overbearing bureaucratic procedures a bit easier. DoNotPay can find a loophole and help you cut through the red tape!
Reducing your property taxes is only one in the sea of tasks our app will make super easy to do! You can also use DoNotPay to:
Explore DoNotPay's Other Neat Features
DoNotPay offers a plethora of useful products to make your day-to-day life easier and enjoyable! Consult the list below to see what you can do using our app: