All You Need To Know About Troy University Financial Aid
Troy University may be the right choice for students who want flexible academic programs that cater to their schedules. Still, after finding out that the tuition and attendance costs can reach over $33,000, it's no wonder that some have trouble making the final decision.
Prospective students can reduce their tuition by learning how to apply for the Troy University financial aid program, what amount of support they can expect, and how to if the University underestimates their financial need!
What You Need To Know Before You Apply for Troy University Financial Aid
Troy University awards 81% of first-year students with an average financial aid package valued at $13,205. Check out the types of financial aid you can qualify for at Troy:
Grants and scholarships
Student employment programs
Loans
Grants and Scholarships Available at Troy University
If you're looking for awards you don't have to repay, check the table below for grants and scholarships Troy University offers:
Renewability
Awards
Renewable

Pell Grants
Federal Supplemental Educational Opportunity Grants (FSEOG)
Online Military & Family Scholarship
Online Transfer Award
The Scholars Award
The Scholars PLUS Award
The Sorrell Scholars Award
The Chancellor's Scholarship
The Trojan Opportunity Expanded Scholarship
Sunshine Scholar Award
Trojan Leadership Scholarship
The Transfer Merit Scholarship (students can renew it one time)

One-time

Alabama Student Assistance Program (ASAP)
Foundation Scholarships
The Alabama Girls State Scholarship
TROY Legacy Scholarship
Hugh O'Brian Youth Leadership (HOBY) Scholarship
Lion's Club Scholarship
TROY Prom Scholarship
Students participating in various clubs can check out and apply for more scholarships using the AcademicWorks portal.
Troy University Financial Aid—Student Employment Programs
Troy University participates in and states the following about the Federal Work-Study Program:
Students must not work more than 13 hours per week
The University prioritizes Pell Grant recipients with the lowest Estimated Family Contribution (EFC)
Funds are limited, and the University encourages students to apply for financial aid as soon as possible
The school's Workship program enables students who don't qualify for Federal Work-Study to acquire on- and off-campus employment opportunities. You can contact the following departments for more information:
Troy University Human Resources Department
Campus Human Resources Department
Campus Career Center
Loans at Troy University
Take a look at the table below to find out what kinds of loans Troy University offers and who can get them:
Loans
Who Can Borrow Them
Federal Direct Subsidized Loans
Federal Direct Unsubsidized Loans

Undergraduate students
Graduate students
Professional students

Federal Direct PLUS Loans

Parents
Graduate students
Professional students
Troy University Financial Aid—Application Process
To apply for financial aid at Troy University, prospective students need to take the following steps:
Apply for admission at Troy University
Complete the Free Application for Federal Student Aid (FAFSA) and include the University's code—001047
Submit any required documents listed in the Missing Information Letter (MIL), if they get one
The University suggests students file their application no later than mid-February to ensure they meet the March 1 priority deadline.
If you want to enroll in classes during the summer and receive financial aid, Troy University requires you to submit a separate application, which opens around March every year.
Should you experience difficulties during the application process, you can contact the Troy University Financial Aid Office by calling 1-800-414-5756 or sending a Helpdesk ticket.
The Financial Aid Office at Troy University Rejected My Application—What Now?
Depending on your student status, you can do the following about your application rejection:
Continuing students—Complete a Satisfactory Academic Progress Appeal form and elaborate on the circumstances that hindered you during the previous academic year
Prospective students—Submit a Professional Judgement/Special Circumstance request and include a financial aid appeal letter to explain why you need financial support and ask for an application reconsideration from Troy University
Proving your financial need is key to getting a positive outcome of your appeal, and that's why DoNotPay developed a feature that can help you write and send a convincing appeal letter to Troy University in a matter of moments!
Use DoNotPay To Send an Appeal Letter to Troy University in a Flash!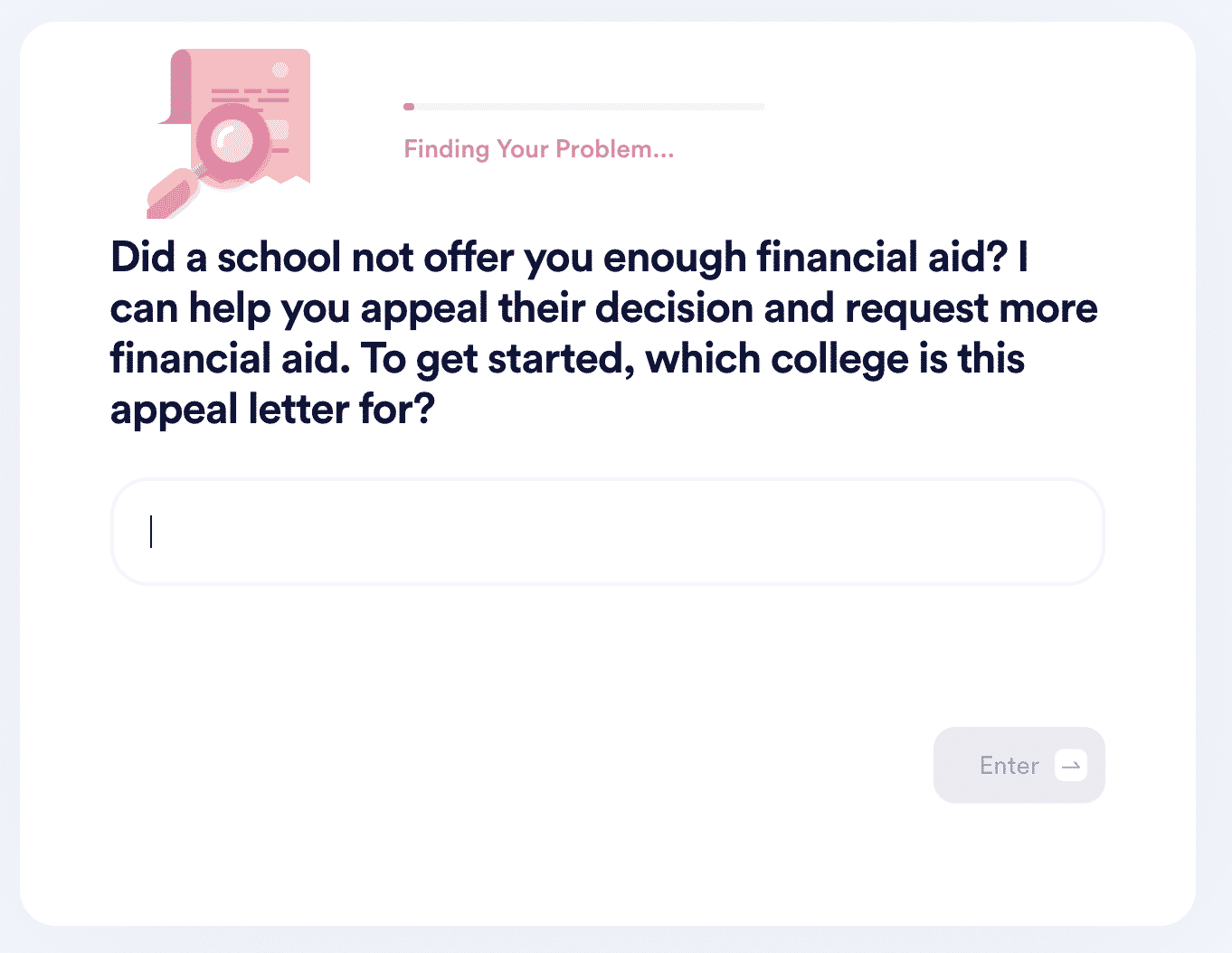 If the amount of aid stated in the award letter you got from Troy University doesn't meet your financial need, you can appeal the school's decision and request more in three simple steps:
using any web browser
Search for Appeal for More Financial Aid
Answer some questions about your financial aid application and the University's response
DoNotPay will generate and send a custom-made appeal letter to Troy University as soon as you complete all steps.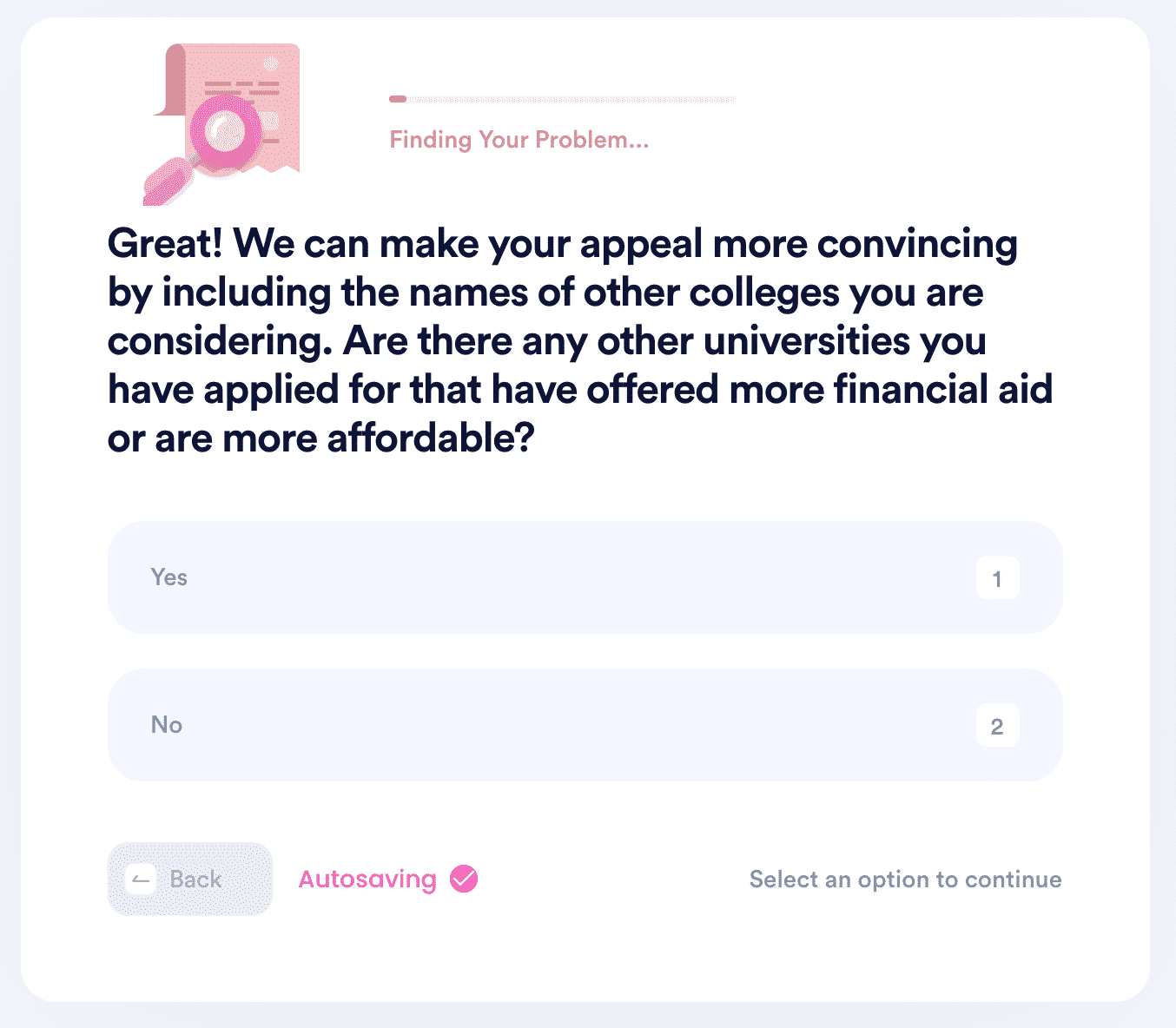 After we process your claim, you can check out our learning center to find more info about:
Financial aid opportunities in:
If Troy University didn't rid you of your financial setbacks, check out other schools that might:
DoNotPay Turns Your Everyday Hurdles Into a Piece of Cake
Did you receive a faulty or damaged item? Why not return it with your virtual assistant? We can also help you get a late delivery refund and jump the queue if the customer service phone keeps ringing to no avail. The list of handy DoNotPay features that make your everyday life easier goes on.
By subscribing to our platform, you won't have to worry about your tedious neighbors or parking tickets. We can do it all!
Want To Save Money on Lawyers? Use DoNotPay
Most people spend big bucks on expensive lawyers to overcome their bureaucratic obstacles. Don't waste your money on unnecessary fees—use DoNotPay and take care of any legal matter in a few easy clicks! Check out some of the issues the world's first robot lawyer can help you with: