The Scoop on San Diego State Financial Aid
San Diego State University (SDSU) was established in 1897. This public research university has a bit over 35,000 students who proudly believe "the leadership starts here" (their school motto). If you want to be a part of the SDSU crew, you will have to pay $7,510 for in-state tuition or $19,390—if you're an out-of-state student.
In case you lack the funds to pay for your education at this school, you should apply for San Diego State financial aid. to learn everything about how the application process works and how to file an appeal if you are unsatisfied with the school's decision.
San Diego State Financial Aid Office
The Office of Financial Aid and Scholarships provides students with the info they need about financial aid. Because of the COVID-19 global pandemic, SDSU financial aid office staff is working remotely.
You can get in touch with a counselor via the Student Financial Center Virtual Help Desk, and there is no need to make an appointment beforehand. You can talk to the staff from Monday to Friday between 9 a.m. and 5 p.m. local time.
San Diego State University Financial Aid Options Available
SDSU has plenty of financial aid options for its students. The type of aid you receive will determine the amount of financial assistance you get and the period the funds will be available to you. Check the table below for more information about SDSU financial aid options:
Type of Aid
Brief Info
You Can Apply For
Grants
This is free money that does not require repayment as long as you meet all the criteria. The majority of grants are awarded based on financial need, but there are some that ask for a minimum grade point average

Pell Grant
Federal Supplemental Educational Opportunity Grant (FSEOG)
Teacher Education Assistance for College and Higher Education (TEACH) Grant
Bureau of Indian Affairs (BIA) Grant
Cal Grants A and B
State University Grant (SUG)
Educational Opportunity Program Grant (EOPG)
Middle Class Scholarship (MCS) Program
Chafee Grant

Loans
A loan is borrowed money that you need to repay later, usually with interest

Direct:

Subsidized (undergraduates only)
Unsubsidized
Grad PLUS
Parent PLUS

Private loans

Scholarships
SDSU offers almost 700 scholarships to its students. This aid does not require repayment and is provided by generous donors. You need to apply via the school's application portal— Aztec Scholarships

Any of the scholarships listed on the Aztec Scholarships application portal for which you meet the criteria

Work-study programs
Federal Work-Study (FWS) offers part-time employment to students helping them take care of the attendance costs

On-campus jobs
Off-campus jobs
How To Apply for Financial Aid at SDSU
To successfully apply for financial aid at San Diego State University, you need to:
Complete the Free Application for Federal Aid (FAFSA). FAFSA is a form that contains students' financial and personal info and will determine your financial aid eligibility. This is a mandatory step for students of all class levels and for all types of state and federal aid. SDSU's federal school code is 001151
Use the Federal Student Aid (FSA) ID to complete, sign, and submit your FAFSA online
Respect the FAFSA federal deadline—For the 2021–2022 academic year, it is June 30, 2022
The University encourages students to submit their financial aid applications as soon as possible (applications open on October 1) and add all requested documents by December 31.
The Office of Financial Aid and Scholarships will keep in touch with you via AidLink. The account you create there will give you access to your SDSU financial aid information.
What Makes You Eligible for Financial Aid at SDSU?
To be considered for receiving financial aid, you need to meet the required criteria. Take a look at the table below for more info:
Eligibility
Ineligibility

Be a U.S. citizen, permanent resident, or eligible noncitizen
Be admitted to SDSU
Reapply for aid each year
Be eligible for aid according to state and federal regulations

Fail to maintain satisfactory academic progress
Be convicted of a drug offense while you receive federal student financial aid
Be in default on a student loan
Unsatisfied With SDSU's Financial Aid Offer? File an Appeal With DoNotPay!
If San Diego State University denies your application or doesn't offer you enough money as financial aid, you can file an appeal. Don't stress if you don't know how to write a financial aid appeal letter—use DoNotPay to handle the task!
You only need to follow these four simple steps:
Find the Appeal for More Financial Aid product
Provide the details about financial aid offers from all the schools you applied for
Give us the scoop on your family's income and financial status
DoNotPay can also help you learn about the financial aid application process for graduate schools.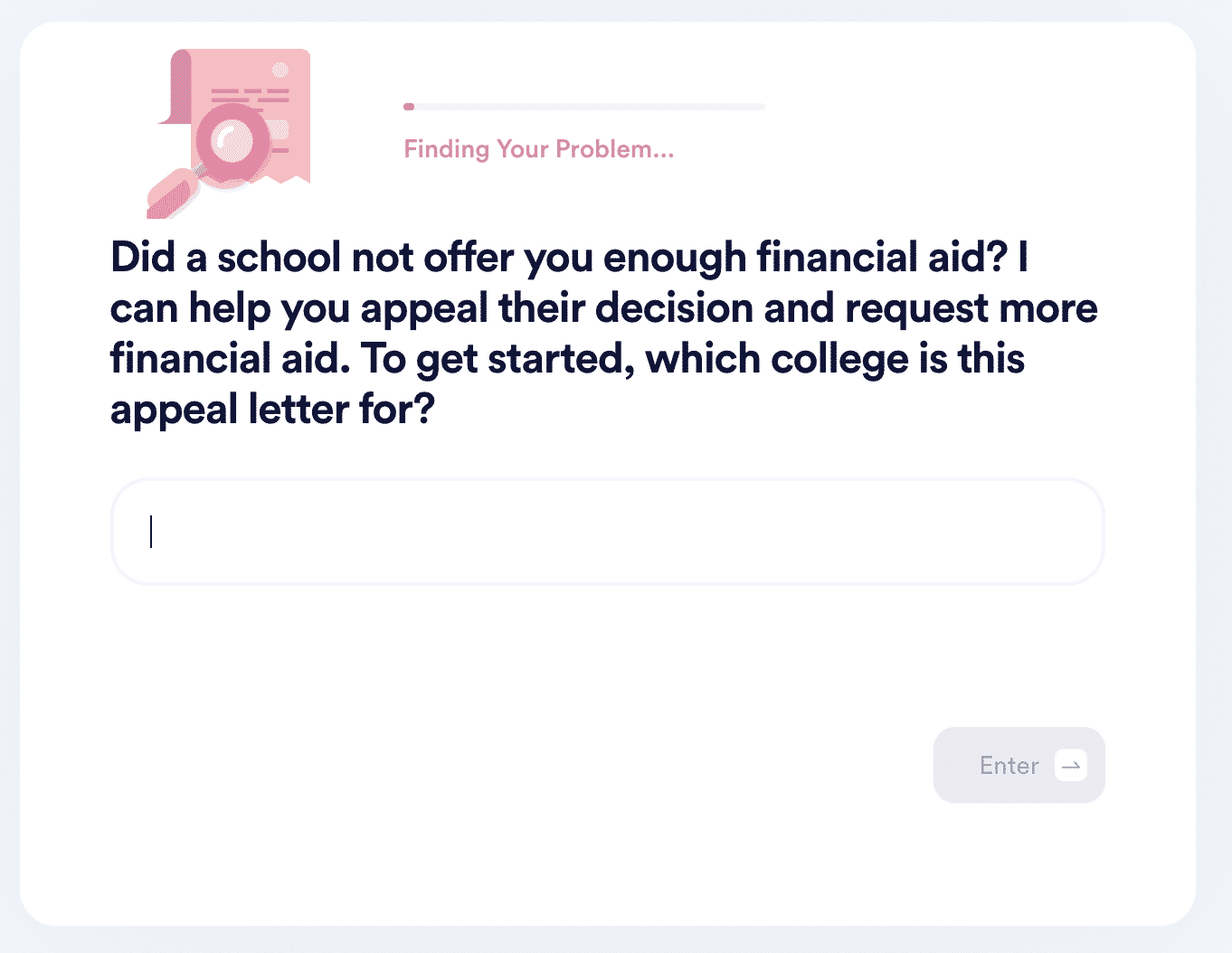 What Do Other Schools Have To Offer? See DoNotPay's Financial Aid Guides
Check out DoNotPay's guides on financial aid from other universities and don't rely only on SDSU's offer. The table below contains some of the most popular choices:
Work Smarter, Not Harder!
Although there are certain tasks that are a pain but can't be avoided, such as paying your property taxes, you don't have to do them the hard way. There is always a way to make the overbearing bureaucratic procedures a bit easier. DoNotPay can find a loophole and help you cut through the red tape!
Reducing your property taxes is only one in the sea of tasks our app will make super easy to do! You can also use DoNotPay to:
Draft legal documents

(such as

POAs

)
Explore DoNotPay's Other Neat Features
DoNotPay offers a plethora of useful products to make your day-to-day life easier and enjoyable! Consult the list below to see what you can do using our app: