A Detailed Guide to Oregon State Financial Aid
Oregon State University (OSU) is the largest university in Oregon, with around 32,000 undergraduate and graduate students. If you wish to attend this Beaver State school, you'll need to pay tuition of $11,715 (in-state) or $31,215 (out-of-state).
The total higher education expenses can be lowered if you apply for Oregon State financial aid. DoNotPay has the info you need about the financial aid application process. We're also here to help you file an appeal if you get rejected or need more funds.
Oregon State University Financial Aid Types Offered
Students can apply for different types of aid coming from multiple resources. Grants, loans, scholarships, and work-study programs are available at OSU. Take a look at the table below for more information:
Source of Financial Aid
Types of Aid Available
Federal

Grants

Pell Grant
Federal Supplemental Educational Opportunity Grant (FSEOG)

Loans

Subsidized and unsubsidized Federal Ford Direct Student Loan
Parent PLUS Federal Loan
Graduate PLUS Federal Loan

Work-study

On-campus jobs
Off-campus jobs

State

Student Child Care Grant
Oregon Opportunity Grant
Office of Student Access and Completion (OSAC) Administered Scholarships

Institutional

For new students:

Incoming Student Scholarships
Departmental Scholarships
Oregon State University Bridge to Success Program

For new and returning Ecampus students:
The amount of financial aid you receive is based on the type of aid you get. The form of aid you receive will also determine the period you can keep getting the funds.
Federal Eligibility Requirements You Need To Meet
To be considered for federal financial aid, you need to:
Be a U.S. citizen or an eligible non-citizen
Have a Social Security number
Maintain a satisfactory academic progress
Not owe an overpayment on any educational grant
Demonstrate financial need
Register with Selective Service (if you are male)
Be enrolled in an eligible program
Own a high school diploma or recognized equivalent
Even if you are not a U.S. citizen or an eligible non-citizen, you may still be eligible for non-federal aid, including grants and scholarships.
Financial Aid Application Process at Oregon State University
To successfully apply for financial aid at Oregon State University, you need to:
Meet federal eligibility requirements to receive financial aid
Fill out the Free Application for Federal Student Aid (FAFSA) every academic year. The priority FAFSA application deadline for OSU is February 28th
List OSU on your FAFSA application using the school code—003210
Apply for admission to Oregon State University
Check your inbox regularly for an email notification about your aid award letter
Accept or decline your aid offer
How To Contact the Oregon State Financial Aid Office
The Financial Aid Office of Oregon State University is available for any questions students may have. Due to the COVID-19 global pandemic, in-person meetings are not possible at the moment. If you wish to talk to a financial aid advisor, you may do so in the following ways:
Via email—Send an email to financial.aid@oregonstate.edu. Current students should use their OSU student (ONID) emails and include their student ID numbers
Over the phone—Call 541-737-2241. Current students should have their student ID numbers ready
The Office staff is available over the phone between 10 a.m. and 4 p.m. from Monday to Friday.
What Happens if Your Financial Aid Application Gets Rejected?
In case Oregon State rejects your financial aid application or doesn't offer you enough money to cover your expenses, you can file an appeal. If you wish to deal with this process fast and without trouble, you should for help!
Use DoNotPay To Send a Financial Aid Appeal Letter to OSU
Writing a financial aid appeal letter is a dull task that takes a lot of time to complete. If you'd rather not go through this ordeal on your own, use DoNotPay! Our app will provide you with an appeal letter fast and mail it to Oregon State right away. You only need to:
Choose the Appeal for More Financial Aid product
Inform us about financial aid offers from all the schools you applied to
Provide the details about your family's income and financial status
Our letter will nudge OSU to reconsider the initial financial aid decision and help you on your way to that degree!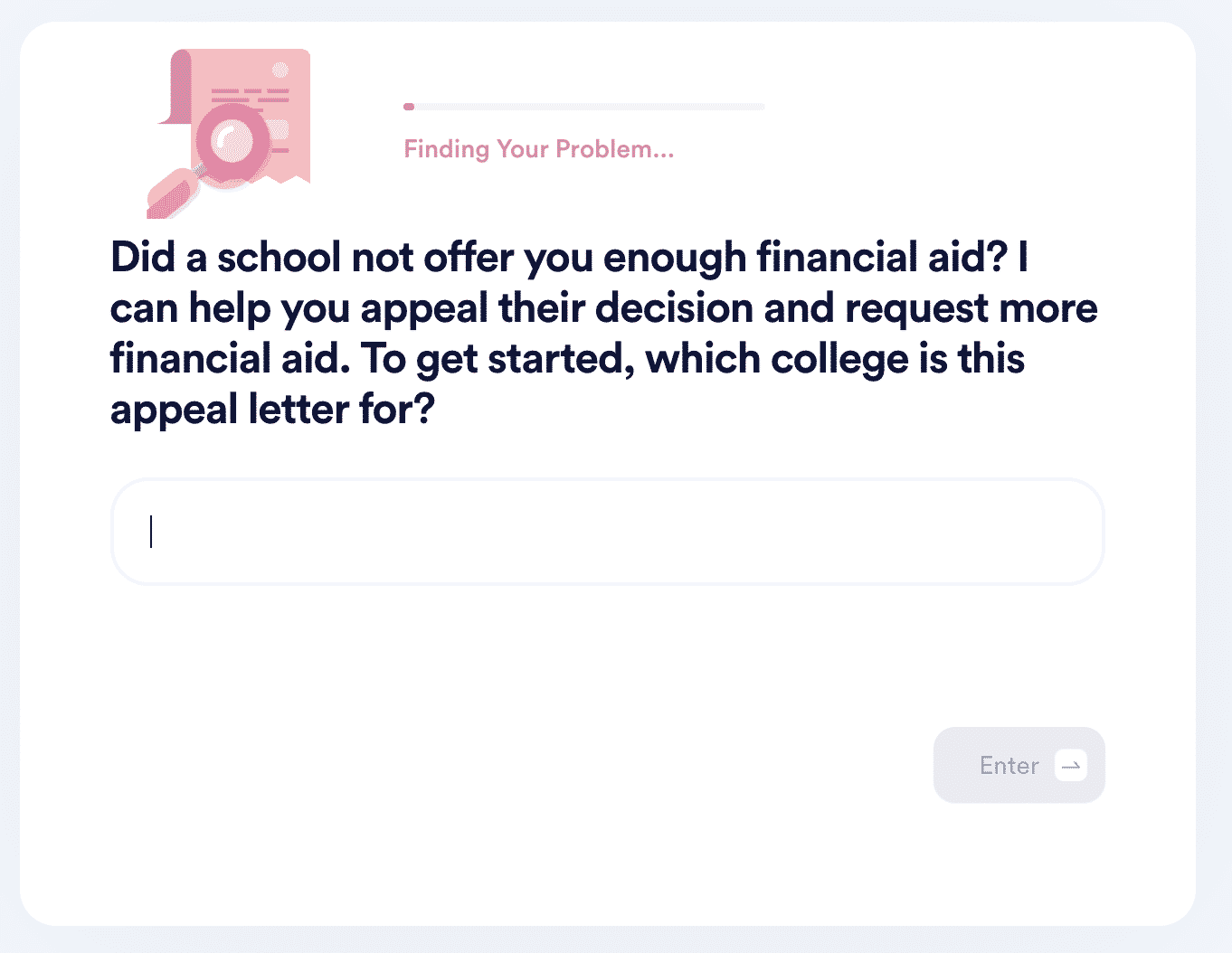 DoNotPay can also answer the following questions related to financial aid:
Financial Aid Offers From Other Universities in the U.S.
If you are curious about financial aid options available at other schools, you should take a look at some of DoNotPay's guides in the table below:
DoNotPay Is the Best Solution for Your Bureaucratic Problems!
A wide range of handy features DoNotPay offers can assist you in resolving administrative issues without breaking a sweat! Our app provides the easiest way to:
Submit a property tax assessment appeal

Compose power of attorney documents
Get What You're Owed in a Few Taps!
Shopping is fun, but retailing companies can sometimes be difficult to negotiate with, especially when things go wrong. With DoNotPay, you can reach their customer service without spending hours on hold and get a refund fuss-free! Should the merchant refuse to collaborate, we can help you get justice by suing them in small claims court.
Our app can also file an insurance or warranty claim in your name, request gift card cash back, or initiate returns for dissatisfying products.
If you want to check whether you have any unclaimed money in old bank accounts, using DoNotPay is the easiest way to do it!