Georgia State Financial Aid in a Nutshell
Georgia State University is the third most innovative university in the U.S. It may seem like a great choice for ambitious students until they find out about its high tuition.
If you are not able to pay tens of thousands of dollars a year, don't give up straight away—the Georgia State financial aid program offers several financing options to help you pay for your studies.
The Basics of the Georgia State University Financial Aid Program
There are three main types of financial aid available at Georgia State University:
Grants

Federal Pell Grant
Supplemental Educational Opportunity Grants (SEOG)
Institutional Matching Grants (IMG)

Scholarships
Federal Loans

Subsidized
Unsubsidized
Which Scholarships Are Available at Georgia State University?
Georgia State University offers four types of scholarships you can apply for as its student:
Top Academic scholarships
Presidential Scholarship
Coca-Cola First Generation Scholarship
Achieve Atlanta Scholarship
Merit scholarships
Out-of-state scholarships
State scholarships (for Georgia State residents)

HOPE Scholarship
Zell Miller Scholarship
You can search for additional scholarships offered through Georgia State and external scholarship websites by searching the university's website. If you need assistance, contact the Scholarships Resource Center at (404)413-2611 or email them at scholarships@gsu.edu.
How To Apply for Georgia State Financial Aid
Georgia State University distinguishes between two groups of students when it comes to applying for financial aid:
New students
Continuing students
Both groups are further divided into three categories:
Associate degree-seeking students
Bachelor's degree-seeking students
Graduate degree-seeking students
Whether you're a new or continuing student, you must apply for financial aid by filling out a Free Application for Federal Student Aid (FAFSA). The FAFSA priority deadline for Georgia State University is April 1. The recipients of aid are selected based on demonstrated financial need and academic achievement.
To complete the financial aid process successfully, you should take the following steps:
Fill out a FAFSA application if you're a new student and renew it if you're a continuing one
Apply for available scholarships or fellowships
Log in to your PAWS account to see if you have been rewarded
Accept or decline the offer through PAWS
Review your payment and additional funding options
Georgia State offers these additional funding options:
Additional Federal Funding
State Loan

Student Access Loan (SAL)

Private Loans

Private Education Loan Lenders

Institutional Loans

Berner Scholarship and Loan

Student Employment

Federal Work-Study Program
Panther Work Program
Keep in mind that international students may not be eligible for financial aid. They can apply for a limited number of scholarships only.
What Do I Need To Do To Keep Receiving Financial Aid?
To keep receiving financial aid, you must meet several aid requirements. Check them out in the table below:
Federal Aid Requirements
HOPE & Zell Miller Scholarship Requirements

Minimum 2.0 cumulative GPA
No more than 180 attempted credit hours
Completion rate needs to be at 66.67%

Georgia resident
Minimum 3.0 GPA for HOPE and 3.3 for Zell Miller Scholarship
No more than 127 attempted credit hours
What Can I Do if I Don't Qualify for Georgia State Financial Aid?
You can calculate the cost of your tuition with a Tuition Calculator, which will give you a good idea of how much money you'll have to pay to attend Georgia State University. If the Financial Aid Office rejects your application or offers a sum that is not enough to meet your needs, you should call the Student Financial Management Center at 404-413-2600 for further instructions.
Save your time and sign up for DoNotPay because we can create a personalized financial aid appeal letter in a matter of moments!
Not Happy With the Georgia State Financial Aid Offer? Appeal With DoNotPay!
For most people, writing a financial aid appeal is a tedious and complicated task. If you're too busy or not sure how to write a proper appeal letter, let us take over!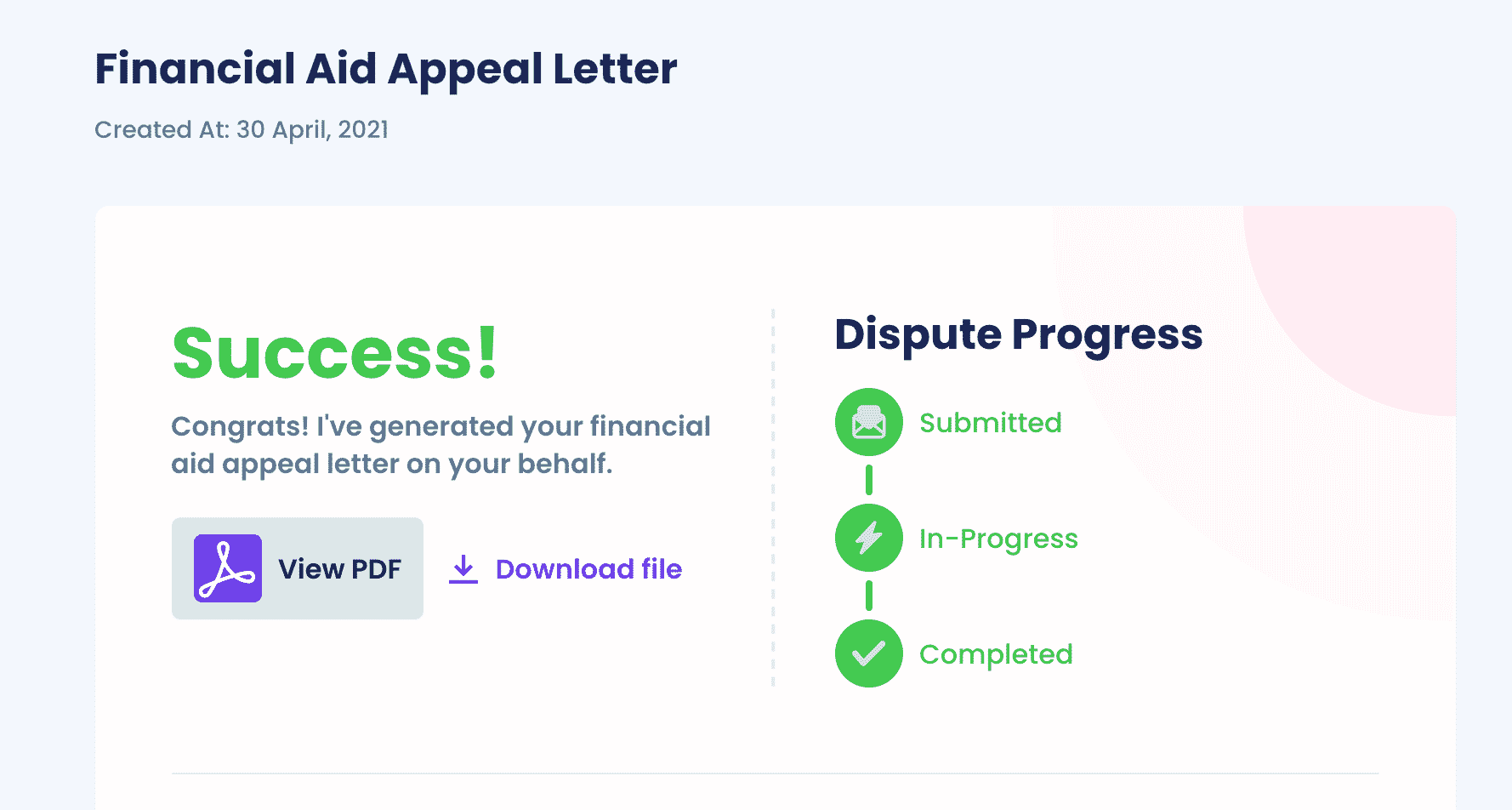 All you need to do is complete these four simple steps:
Log in to your DoNotPay account
Locate the Appeal for More Financial Aid feature
Tell us which

college

or grad school you want to attend and provide us with information about whether other schools offered you a higher sum
Answer our chatbot's questions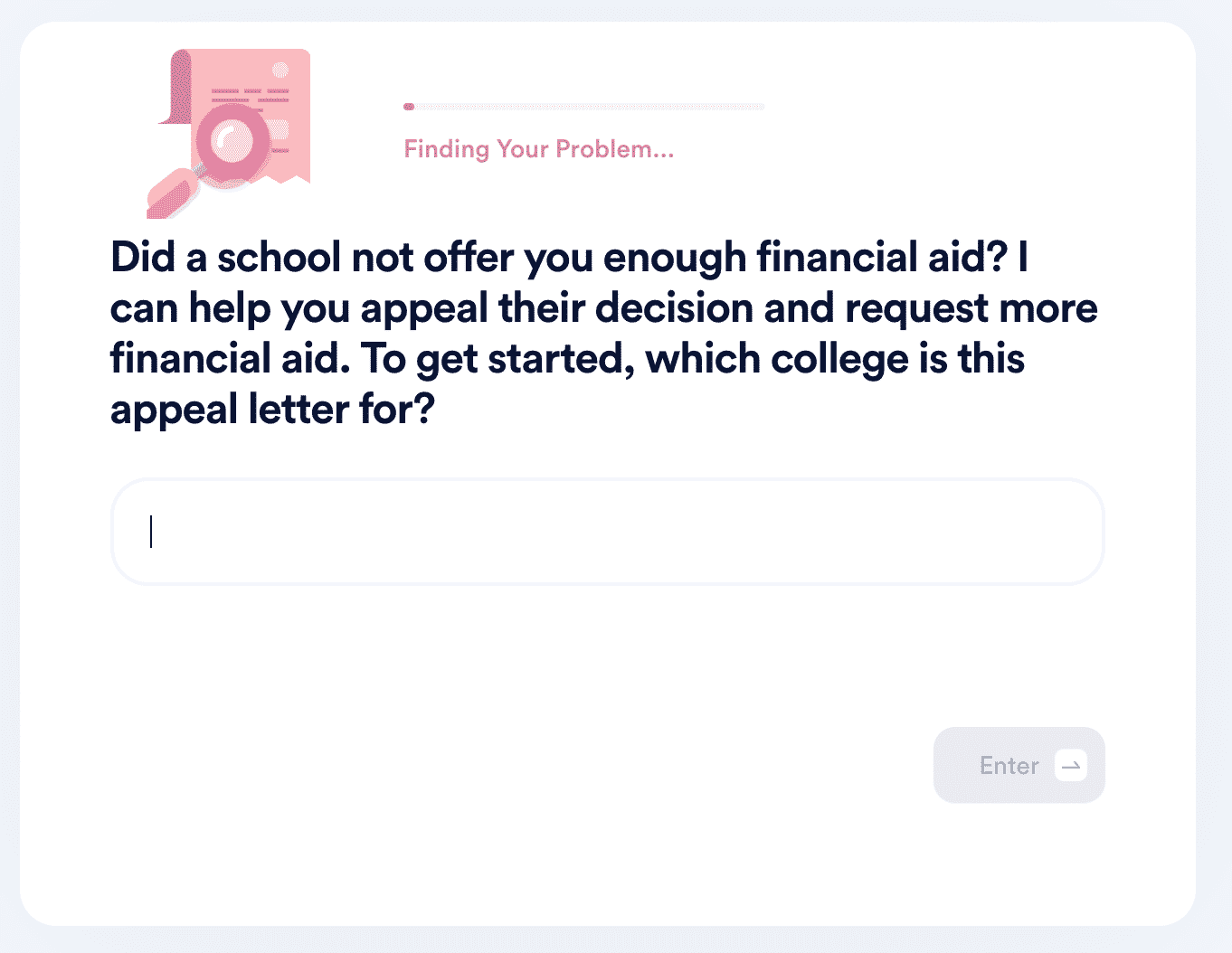 Once you've completed all the necessary steps, we will use the information you provided to generate a personalized appeal letter. We can send it to your email address or directly to the university in question—it's up to you.
Make sure to check out our learning center if you want to find out how much financial aid you can get—and for how many years—at universities other than Georgia State. They are listed in the table below:
DoNotPay's Vast Collection of Features Keeps Expanding
Determined to simplify bureaucratic procedures and help you with various daunting items on your to-do list, we created DoNotPay—the world's first robot lawyer! With us, you can:
Streamline Different Tasks by Using DoNotPay's Practical Features
Are you looking for an efficient way to gain back your unclaimed money or get a refund from a company? Do it with DoNotPay without lifting a finger! Our app provides excellent money-saving features that will increase your budget and make all unnecessary expenses disappear.
We can assist you in terminating unwanted subscriptions, recovering your unused gift card funds, reducing your bills, and requesting late delivery refunds. You don't even need to hire lawyers to write a financial aid appeal letter, an HR complaint, or a child travel consent form in your stead—our app can do all this!