Too Sick To Work but Not Sick Enough for Disability Leave? Here's What To Do
Many employers provide paid sick leave or sabbaticals to their employees if they need to take a lot of time off due to an illness (e.g., COVID-19). If your illness is debilitating to the point that you cannot work at all, you might qualify for disability assistance.
What if you are too sick to work but not sick enough for disability benefits? 's comprehensive guide will walk you through everything you need to know to tackle this situation.
When Do You Qualify for Disability?
Disability assistance is usually provided to people who cannot work for one year or more due to their condition. To qualify for disability assistance, you must meet the following requirements:
Demonstrate that you have worked in jobs that were covered by Social Security
Suffer from a condition that falls under the definition of disability
Show proof that you cannot work on a regular or sustained basis
Which Jobs Are Covered by Social Security?
Most employers in the U.S. are covered by Social Security because they either pay the monthly premium automatically through payroll or as self-employment taxes. The following groups are not covered by Social Security:
State, municipal, or county employees who have state-funded pension plans
Railroad employees
Government employees who were hired before 1984
Foreign employees who work in the U.S. as representatives of their home governments
The Definition of Disability
To qualify as disabled, applicants must be suffering from cancer or a:
Musculoskeletal system problem
Mental disorder
Cardiovascular or circulatory disorder
Nervous system and sensory organ disease
Examples of these conditions include:
Musculoskeletal System Disorder
Mental Disorder
Cardiovascular or Circulatory Disorder
Nervous System and Sensory Organ Disease

PTSD
Schizophrenia
Autism
Depression

Epilepsy
Parkinson's disease
The Definition of Regular or Sustained Work
Workers who can work on a regular or sustained basis are those who can work full-time jobs for 40 hours, five days a week, or the equivalent in shift-based work. Part-time workers can also qualify for disability if they can show proof that they earned a substantial amount—at least $1,310 per month.
What if I Don't Meet the Work Requirements To Qualify for Disability?
If you do not have past work experience that qualifies you for disability, you can take a Residual Functional Capacity Assessment (RFC). The RFC will determine if you have the physical ability to perform jobs that require you to sit down for at least eight hours a day with less than two hours of movement or the mental abilities needed to complete tasks at work.
If the RFC shows that you are physically or mentally incapable of performing a job under these conditions, you may qualify for disability assistance.
What Can I Do if I'm Too Sick To Work but Not Sick Enough for Disability?
If you're too sick to work or require long periods of rest—but you're not sick enough to get disability benefits—you can try one of the following:
Look for a remote opportunity that allows you to work from home
Work a part-time job that offers flexible hours
Apply for sick leave or use your annual leave until you feel well enough to work again
How To Apply for Sick Leave With DoNotPay
Many employers accept call-ins, while others expect emails from their employees before they grant sick leave. If you're unsure about how to go about applying for sick leave, you can use DoNotPay! To do so:
and find the Request Sick Leave product
Provide some information about yourself and your employer
Sign electronically and hit Submit
We will draft a request letter that complies with all relevant laws in your state, which you can email directly from the app!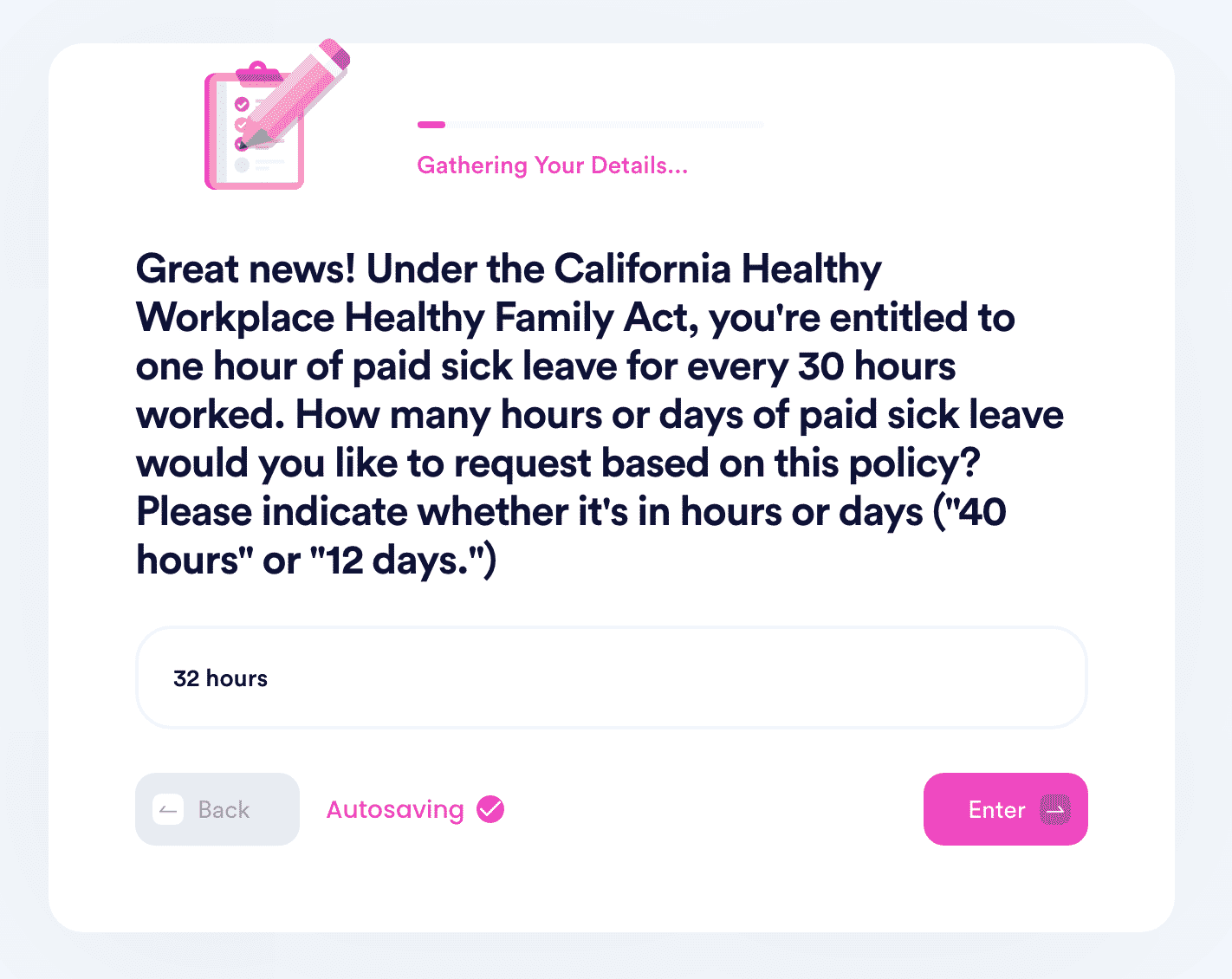 You can also check out the following table to read about the laws in different states, including:
Your Employer Refused Your Request? Sue Them With DoNotPay!
If your employer is forcing you to work sick or threatening to fire you, you can sue them in small claims court with DoNotPay! We can help you:
Draft the demand letter
File the lawsuit
Gather and fill out all necessary paperwork
Create a script you can use in court
Let DoNotPay Help You With Various Tasks
The assistance we can provide doesn't stop here! Check out the table below for more details on our services:
| Improving Your Security | Making Your Everyday Life Easier | Creating Customized Paperwork |
| --- | --- | --- |
| | | |
Struggling To Be Economical? Rely on DoNotPay!
Our app—the world's first virtual lawyer—can help you save a significant amount of money in a few clicks! Starting from lowering your bills and reducing property taxes to claiming missing funds under your name, DoNotPay will keep the cash in your pockets.
Our system will also prevent you from financing unwanted or unused memberships and subscriptions by canceling them. You will be able to enjoy free trials without getting charged for them and get refunds from any merchant or airline company due to dissatisfying service!