Everything You Need To Know About the Post Office Call In Sick Number
What should you do if you get sick at work or the night before? Some employers require emails and forms, while others allow call-ins. The U.S. Postal Service prefers that their employees let them know in advance but allows call-ins to explain absences due to illness.
How many days can you take off as a U.S. Postal Service employee as per the official rules? What is the Post Office call in sick number? will help you find the answers to all your questions!
What Is the USPS Sick Leave Policy?
Full-time bargaining and executive employees are entitled to 104 hours of paid sick leave per year. Part-time employees cannot ask for an advance on their sick leave and can only use the number of hours they have earned.
They can use this leave to:
Accommodate personal medical reasons, including pregnancy or childbirth
Minimize the exposure of other employees to a communicable disease
Care for a family member
USPS employees can only use 80 of their accrued sick hours for the care of a family member.
Sick leave is accrued annually in the following ways:
| Type of Employee | Sick Leave Accrual |
| --- | --- |
| Full-time employees | 104 hours or 13 days per year |
| Non-executive or non-bargaining full-time employees | 78 hours or 9.75 days per year |
| Part-time employees | 104 hours or 13 days per year |
| Non-executive or non-bargaining part-time employees | 78 hours or 9.75 days per year |
Requesting Sick Leave as a USPS Employee
The USPS requires all sick leave applications to be made in writing through Postal Service Form 3971. In case of an emergency, the employee can fill out the form upon their return to work but must get advance approval from their supervisor.
These forms require employees to input all necessary information related to their sick leave. If you are requesting time off to care for a family member, you should include it in the remarks section of the form.
The USPS Call In Sick Number
If you are required to take an unscheduled leave from work, you should call in and explain your absence. To do so, call the Interactive Voice Response system at 877-477-3273 as soon as you can to report your leave.
You will be required to:
Give the operator your employee identification number
State your illness and the number of days or hours you require off
You can also use your keypad to type in your responses if your illness restricts your ability to talk. Once your call is complete, you will be given a confirmation number, which will serve as your receipt.
Make Sick Leave Requests the Easy Way With DoNotPay
Requesting sick leave can be complicated. Many employees choose not to take days off because they are afraid of telling their supervisor they feel sick at work or don't know how to start. We can make that process easier!
To request sick leave using DoNotPay, and:
Look for the Request Sick Leave option
Provide some information about yourself and your employer
Sign electronically and click Submit
We can also show you state-specific information so that you can plan your absence accordingly—check out the guides below: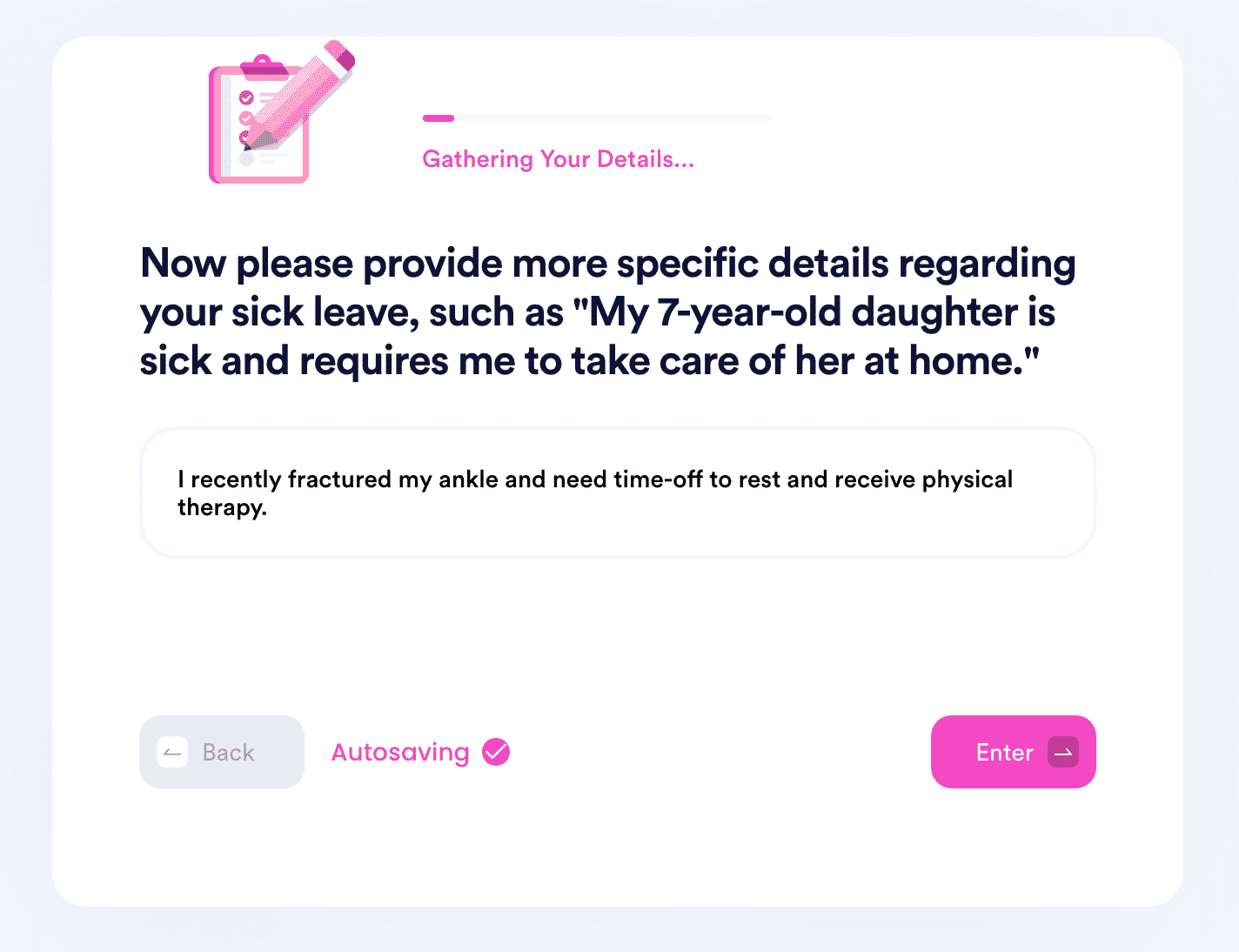 Is Your Employer Threatening To Fire You for Requesting Sick Leave? Sue Them With DoNotPay!
If you are legally entitled to sick leave, but your employer is forcing you to work, you can sue them with the help of DoNotPay! We can help you:
Draft the demand letter
Gather all information required
File the lawsuit
Construct the argumentation script to use in court
Let DoNotPay Help You With Various Tasks
The assistance we can provide doesn't stop here! Check out the table below for more details on our services:
| Improving Your Security | Making Your Everyday Life Easier | Creating Customized Paperwork |
| --- | --- | --- |
| | | |
Struggling To Be Economical? Rely on DoNotPay!
Our app—the world's first virtual lawyer—can help you save a significant amount of money in a few clicks! Starting from lowering your bills and reducing property taxes to claiming missing funds under your name, DoNotPay will keep the cash in your pockets.
Our system will also prevent you from financing unwanted or unused memberships and subscriptions by canceling them. You will be able to enjoy free trials without getting charged for them and get refunds from any merchant or airline company due to dissatisfying service!