Schedule a Meeting With a Notary in Menlo Park in Minutes
You no longer have to spend hours trying to find a nearby notary in Menlo Park! With our efficient service, you can book an appointment in a matter of minutes!
to learn all about online notary service and how to use it from any U.S. state!
What Does a
Notary in Menlo Park
Do?
Notaries are appointed by the government to provide their signature and add an official stamp proving that legal protocols related to notarization have been followed. They can perform the following legal tasks:
Verify the signer's identity

Take acknowledgments

Witness the signing of documents

Establish the signer's willingness to sign the documents

Ensure the signer is of sound mind during the notarization process and aware of document contents
The documents that notaries in Menlo Park often notarize are:
Legal Documents
Other Documents

Trusts

Advanced directives

Executorships

Court documents

Mortgage closing documents

Property deeds

Loan documents

Articles of incorporation

Memorandums of understanding

Vendor contracts

Commercial leases

Employment contracts

Construction agreements
What To Expect From a
Notary in Menlo Park
If you are planning a visit to a notary in Menlo Park, you should know how the process works and what to expect, so we'll break it down for you.
Find a nearby notary using different online registries or by visiting public places that offer notary services. You should call their office to set up your appointment and prepare all the documents you want to get notarized.
Make sure to bring your ID, passport, or driver's license and go to your meeting at the agreed time. A notary will witness the signing process and provide their stamp and signature as proof of notarization.
Notary in Menlo Park
—Types
Besides the standard notary service explained above, there are other notarization methods you can try in California:
Notarization Method

Description

Electronic notarization

An electronic notary will meet you at his or her office and

notarize your documents

. They deal with documents in digital format and add a digital stamp and signature instead of a regular one

Mobile notarization

A mobile notary will meet you wherever you want, including your home, office, or any other location, and notarize your documents on the spot. They charge

additional travel and mileage fees

for their service

Notary signing agents

A notary signing agent specializes in notarizing loan documents and can often be found in financial institutions

Online notarization

An online notary will handle the entire notarization procedure during a video meeting, and both of you will provide digital signatures at the end to finalize the process
Notary in Menlo Park
—Fees
Almost all states set a maximum fee notaries may charge for their service.
A notary in California is allowed to charge a maximum fee of $15 per notarial act. The fee excludes the costs of additional signatures and mobile notary's travel fees.
How To Locate a Nearby
Notary in Menlo Park
You can locate a notary using the methods provided below:
Online registries

—Go to

123notary.com

,

Notary.net

, or

American Association of Notaries

and enter your ZIP code to start the search

Public places offering notary services

—Visit your local

bank

(

Wells Fargo

or

Bank of America

),

AAA

stores,

UPS

locations, or law and accountant offices because they often offer notary services
Use DoNotPay for Efficient Notarization!
Forget about stressing over finding a notary ever again and use DoNotPay to book a meeting with a remote notary in seconds! We will help you schedule your appointment any time you want. All you need to do is and take three simple steps!
Here's how it works:
Select the

Notarize Any Document

feature

Submit the documents you want to get notarized

Provide your email address
DoNotPay will send a link with a timetable by email, and all that's left is to choose an available slot and book your meeting!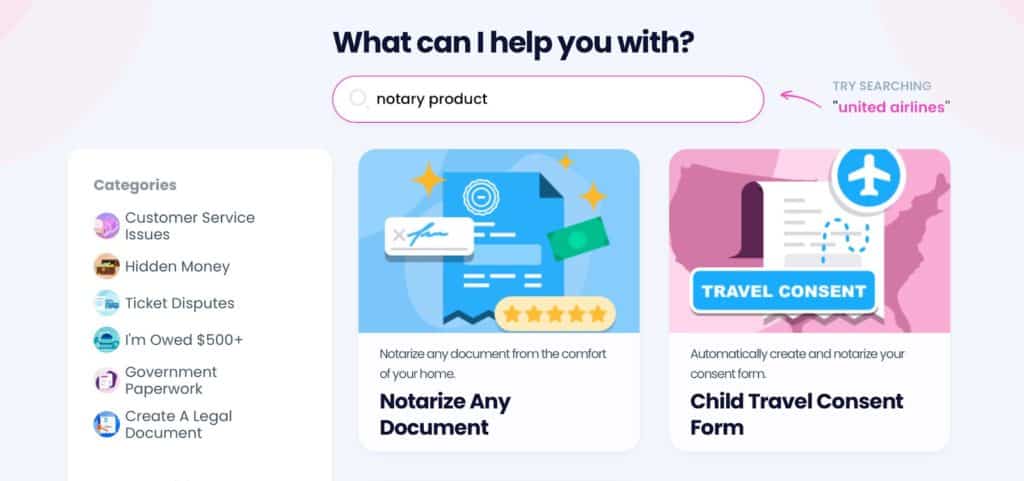 Explore DoNotPay's Vast Database
If you have additional notary-related dilemmas, we are happy to clarify! We'll answer the following questions for you:
There's More DoNotPay Can Do for You
In case you're struggling to cover your bills, our hacks may help you earn or save some extra money. Use our app to sign up for paid clinical trials in your area and try your luck with free raffle tickets. You may not even know that you have funds lying around—rely on DoNotPay to uncover your unclaimed money.
If you have any documents or letters you need to send, we can save you the trouble of using a fax machine or waiting in line at a post office, thanks to our nifty products—Online Fax and Mailing Service.
Fast-Track Your Tasks With DoNotPay
If you've been putting off your errands because they take too long or they are too complicated, we know what to do! From filing insurance claims, getting documents notarized, and getting a child travel consent—there isn't much we can't streamline for you.
You can count on our assistance even for more serious and complex tasks, such as: